Analyses
Armed Violence
News
In 2021, Northwest Nigeria Was Under Siege; What Happens Now?
The year was gloomy and tense, particularly for hundreds of children kidnapped by terrorists across Northwest Nigeria, and their parents who rode a roller coaster of emotional trauma.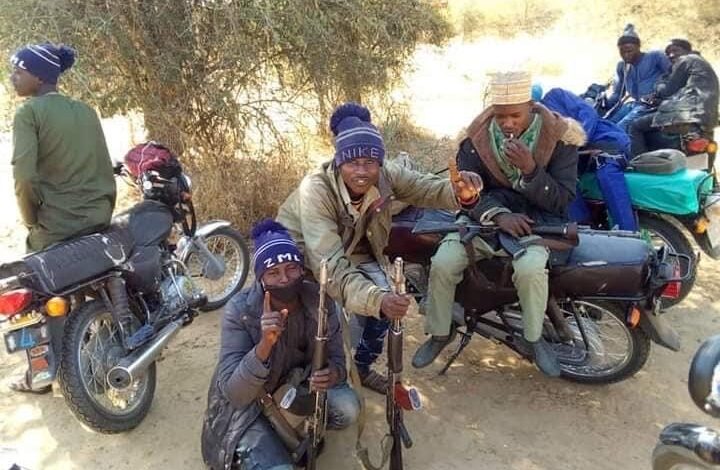 A five-year-old boy had to accompany his trekking mother for over five hours to a safer zone following several attacks on their home in Sokoto state. For her and her growing kid, it was a frightening and unforgettable experience. Their ordeal perfectly describes the dilemma faced by many residents of Northwest Nigeria. 
From terror attacks to pillaging, kidnapping for ransom, killings, and raping of women and girls, 2021 has been turbulent for millions of Nigerians in the Northwest region who have lost loved ones, migrated to neighbouring Niger Republic in search of safety, or were displaced to communities they had never visited before. 
The year was gloomy and tense, particularly for hundreds of children kidnapped by terrorists across Northwest Nigeria, and their parents who rode a roller coaster of emotional trauma. Some of them were able to reclaim their freedom after facing the threat of not only their captors, but also harsh weather conditions. 
Some of the school children kidnapped in Kebbi state are still missing. Their kidnappers claimed to have married them off to their terror comrades, putting the victims in continual danger of rape and forced labour. 
The numerous occurrences of school abductions in 2021 had a severe impact on education in a region struggling with school enrollment. Many schools were forced to close, owing to the threat of terrorist strikes or abductions. 
Terrorists currently rule over some districts in northwestern Nigeria. They levied taxes and appointed village heads. Farmers were required to pay them before they could cultivate their lands, otherwise, they would face unfavourable repercussions. Those who attempted to revolt were either slain or had their property destroyed. 
People in various parts of eastern Sokoto are sleeping pitifully because there is a government within another government in their area. Terrorists open and close markets, dictate rules, and penalise offenders. When authorities sought to stop them, they demonstrated that they could be even more brutal than before. 
Many people were massacred in the Northwest and a large number of these incidents went underreported or even unreported. At HumAngle, opted to encourage the voices of victims who had lost loved ones or had fled for safety. This was evident in our reports and podcasts. 
Kidnapping for ransom has emerged as a new source of income for terrorists operating in the Northwest. Daily, millions of Naira are lost in the effort to save loved ones. Islamic clerics were forced to issue fatwas ordering Muslims to avoid paying ransoms, but this did not succeed because many individuals could only comply with the fatwa when their loved ones were not held captive. 
More Jihadi infiltrations 
Jihadists have already been identified as being present and gaining ground in Nigeria's Northwest region, according to research. These Islamist militants have relocated from the country's Northeast and are attempting to establish a "caliphate" throughout the country. 
Northwest is particularly crucial to Jihadists since it may let them connect with some of their terrorist colleagues in Libya via Niger Republic. Before his murder, Abubakar Shekau, a notorious Jihadist assassinated in an internal conflict between Jama'atu Ahlussunnah Lidda'awati Wal Jihad (JAS) and Islamic State West Africa Province (ISWAP), had already begun a gigantic project connecting Northeast and Northwest to wage wider terrorism. He was succeeded by his killers, ISWAP. 
ISWAP began attacking a Nigerian military position in Sokoto in 2021. Some people initially assumed it was a bandit attack (a name given to terrorists by locals), but the nature of the incident led analysts and people familiar with terrorist operations to conclude that it was carried out by Jihadists. 
This attack compounded matters and exacerbated an already dire situation. Terrorists are still more dominant in the region, despite the fact that they are not ideologically affiliated, but are ethnically driven. The presence of Jihadists poses another threat of prolonging a war that everyone wants to see end. 
According to reports, Jihadists are attempting to entice other terrorists in the Northwest to join them. According to some sources, at the end of 2021, Bello Turji, a popular terror kingpin in the Northwest, advised his followers to cease using drugs and avoid smoking cigarettes. According to the story, he even compensated some sellers and told them not to sell again. If confirmed, this could be an indication that Jihadists, while not yet powerful, have begun to win the hearts of terrorists like Turji. 
Jihadism is a difficult war to defeat. Wherever it begins, it takes years to end. In fact, where it was thought to have ceased, it made an unexpected return. This was observed in various areas of Iraq and Syria. This means that if this battle finds a home in the Northwest, it may be decades of warfare. 
Failed reconciliation attempts 
Hundreds of terrorists are active in the Northwest with many of them being unrelated. Some of them even go so far as to attack each other in a bid to rule lands and resources. Terrorist kingpins are in the tens, although some are well-known, such as Auwal Daudawa, Bello Turji, Buharin Daji, and others. This has made it extremely difficult for some state governments' reconciliation plans to succeed. When certain groups are granted amnesty, others take up arms and begin criminal activity. 
Many failed attempts to reconcile with terrorists disappointed governments on a variety of levels. After the earlier attempts at reconciliation failed, the governments of Kaduna and Katsina states formally ruled out any further attempts. Aminu Bello Masari, the Governor of Katsina state, had to go the extra mile at the end of 2021, asking people to carry arms and defend themselves. This was unprecedented, but could civilians defend themselves against the terrorists' advanced weapons? 
#SecureNorth rebounds 
Since 2020, there have been unsuccessful attempts to sustain a protest against rampant insecurity in northern Nigeria, mostly online. The demonstration failed in part because of its reactionary tone and, partly, the politicisation of its goal. However, at the end of 2021, a group of women began urging the government to take a strict stance against the insecurity that has become endemic in the Northwest. 
Rahma Abdulmajid, feminist and writer, and the widow of a Nigerian soldier killed in the Boko Haram conflict, stood out and began calling on the authorities to intervene before it was too late. Abdulmajid organised rallies in Abuja, Kano, Kaduna, Katsina, Bauchi, and many other northern Nigerian states, with the help of Aisha Yesufu and other activists. 
Due to police intimidation and the appearance of some clerics who argued that protest is forbidden in Islam and questioned the leadership of women in the protest, the protests have witnessed a poor participation. 
With some religious rationale against the demonstration, these clerics discouraged the goodwill of many activists. It eventually fizzled out, but as one of the demonstrators put it, "the only thing that will stop us is if you transfer these security guards to the front lines to provide security."
However, according to Mallam Balarabe Abdallah, an Islamic scholar based in Kano, "there is nothing unlawful about protesting unless it is done in a way that infringes on the rights of others. It is just another way for people to fight tyranny and injustice," he said. 
"The Prophet Muhammad said that anyone who stands up against an unjust ruler and is murdered will be resurrected as a leader of martyrs." 
"Protest is just another technique of opposing unjust and careless authorities," he said. "We live in the twenty-first century, and if you are not a member of the elite, you will not be able to meet any leader. However, if you protest, even online, he can obviously hear your voice, even if you are from a village."
"The clerics who believe protest is forbidden in Islam do not take into account the changing times and methods of communication," he added. "They are simply literalists with little knowledge. They should read beyond the letters," he advised.
---
Support Our Journalism
There are millions of ordinary people affected by conflict in Africa whose stories are missing in the mainstream media. HumAngle is determined to tell those challenging and under-reported stories, hoping that the people impacted by these conflicts will find the safety and security they deserve.
To ensure that we continue to provide public service coverage, we have a small favour to ask you. We want you to be part of our journalistic endeavour by contributing a token to us.
Your donation will further promote a robust, free, and independent media.
Donate Here