Featured
Features
Humanitarian Crises
News
Going Missing As A Refugee In Cameroon, The Story Of Mallam Abba
As Boko Haram expanded its territory in 2015, Mallam Abba fled to Cameroon, fearing for his safety. But when he arrived, state actors picked him up together with several others. Nothing has been heard from them since.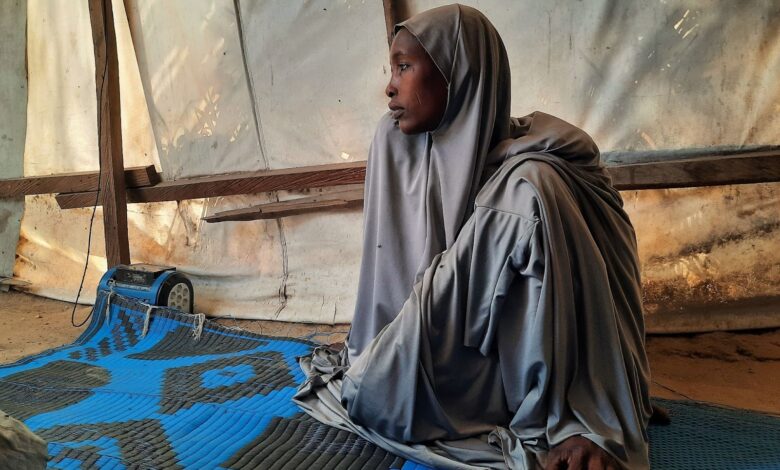 Mallam Abba Aji. Bulama Abba. Kanyima. Lawan Khadijaye. Mattaá Ya Asheye. Baana Nasarye. Mustafa Mallam Fantami.
All seven people are from Andara, a small town in Bama, Northeast Nigeria. All seven fled to Kulujia in neighbouring Cameroon as their community was swallowed into the vast area governed by terrorists. Seven years ago, as they paused to pray in a mosque in Kulujia, all seven were picked up by soldiers and vigilantes (Civilian Joint Task Force), accusing them of being members of the same group they ran from. All seven have not been seen to date.
Although it seems like such a long time ago and she is not related to all the victims, Yagana Aminaye, 35, remembers their names. "These are bad things that cannot be forgotten," she explains.
"They took off their clothes and beat them with thorny canes. According to some people, the Cameroonian military brought two vehicles and took them away. But those in Cameroon said they didn't see them."
According to the International Committee of the Red Cross (ICRC), there are at least 24,000 people documented as missing in Nigeria, most of them due to ongoing conflict in the northeastern region. This is over half the number of people recorded as missing across Africa. The figure "is only the tip of the iceberg and the full scale of the humanitarian fallout in Nigeria remains largely unknown," ICRC said last September.
One of the commonest causes is arbitrary arrests by the military of people faintly suspected of being terrorists or supporting the insurgent groups. Amnesty International noted in a 2016 report that after the Nigerian army regained control of places occupied by Boko Haram in 2015, it arrested hundreds of young men, especially people fleeing from communities in Banki and Bama.
"Witness testimony suggests that these arrests were arbitrary, largely based on random profiling of men, especially young men, rather than on reasonable suspicion of having committed a criminal offence," the advocacy group stated.
Other times, missing person cases are due to abductions by insurgent groups and the sudden and disorderly manner people are uprooted from their home communities due to worsening insecurity.
The United Nations Refugee Agency (UNHCR) estimates that there are about 187,000 Nigerian refugees in the Niger Republic, 129,000 in Cameroon, and 20,000 in Chad. But being in these neighbouring countries does not always guarantee safety. HumAngle has documented various instances of former refugees, especially in Cameroon, getting arrested and deported, despite insisting on their innocence. Upon returning to Nigeria, they are treated as terrorism suspects and detained indefinitely.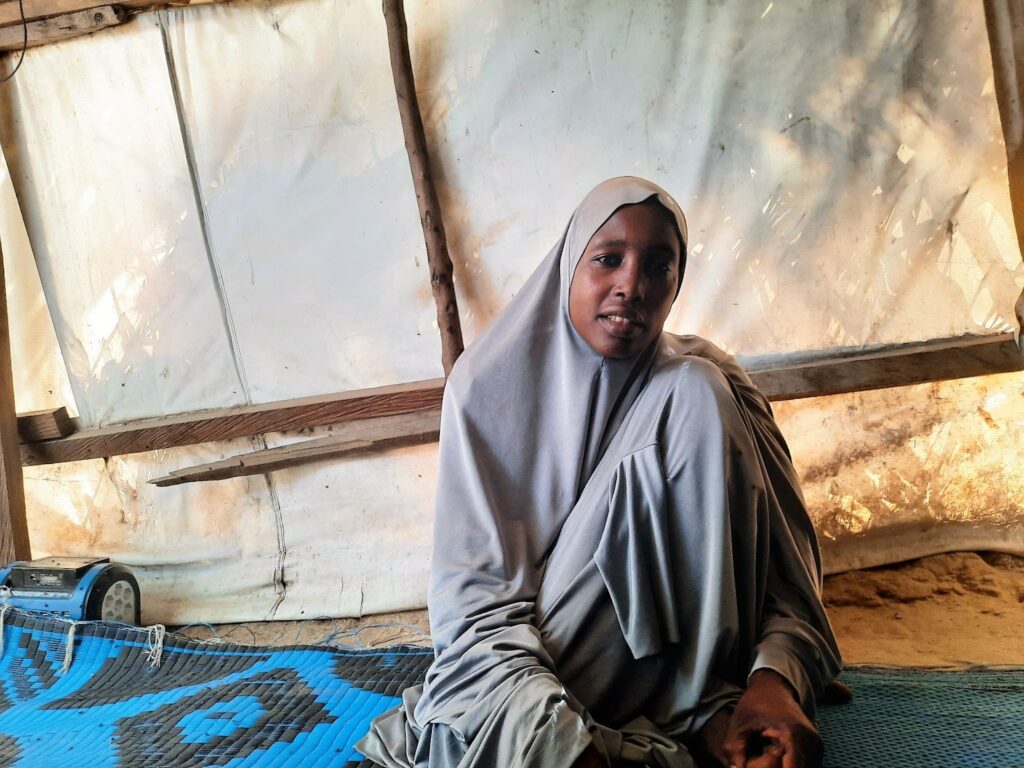 "What we need [from the government] is for them to release our people so that we would know whether they are alive or not," pleads Yagana.
The Nigerian Army did not respond to enquiries on whether it has plans to release current detainees who are not on trial or publish their names. Army spokesperson Brig. Gen. Onyema Nwachukwu did not respond to calls or text messages.
One of the victims, Mallam Abba, is her cousin. He is a short, dark-skinned man, easily identifiable by his small ears and tribal marks. He has a problem with mild stammering that started when he was little. It often got aggravated anytime he was anxious or provoked. He was a sweet soul.
"Mallam Abba attended a Qur'anic school in Andara and later became a truck driver. He lived peacefully with people," says Yagana, who grew up with him and remembers piggybacking him when they were small.
"He likes me so much. He cared for me and provided for my needs. His good deeds are too many to mention. He visited me every day and, whenever he travelled, he brought me presents." The bond between them is so tight that she named her son after him in 2013.
Whenever Mallam Abba wasn't driving, he kept busy by farming onions and selling sugarcane in the town.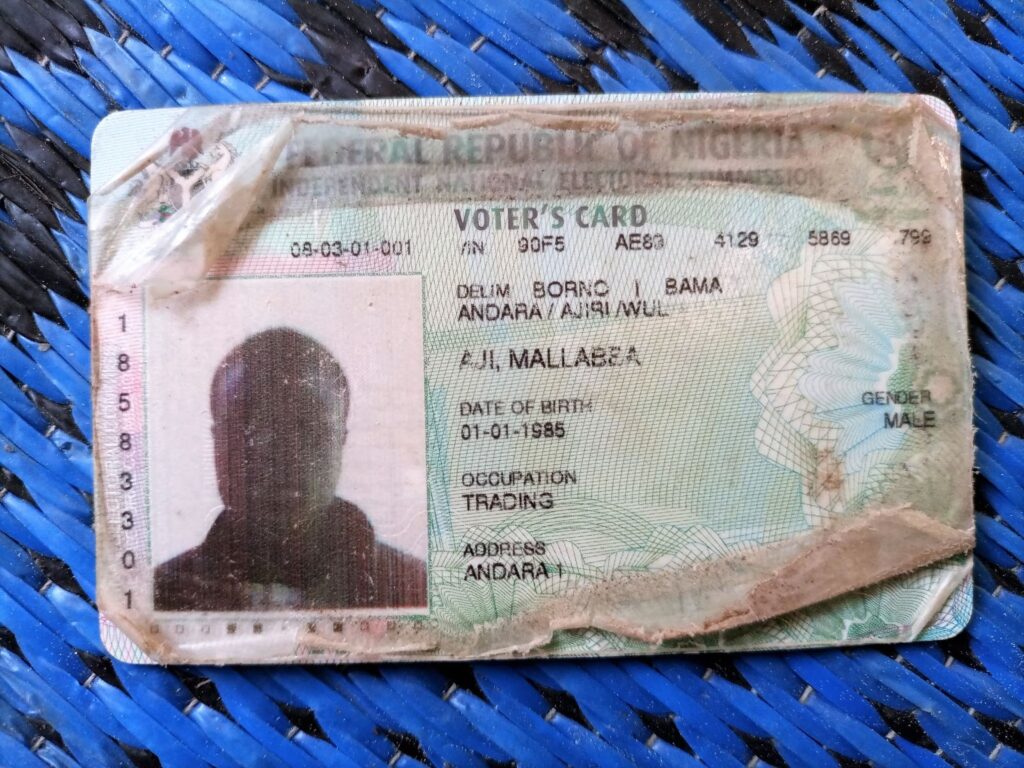 Bulama Abba, older brother to Yagana's husband, is another of the seven victims who is close to her. He is of average height and has fair skin. He ran a currency exchange business and bought the vehicle driven by Mallam Abba. A pink truck, left in the village as the family escaped.
The families left Andara because of disturbances from Boko Haram, a notorious terror group that has destabilised the region since 2009 and whose campaign has led to large-scale killings and displacements. After a military offensive in Sept. 2015 wrested Banki town from their control, the insurgents had moved to and occupied Andara. They then prevented the residents from leaving.
Because of restrictions on movement, Mallam Abba's transport business was grounded at first. He could only convey goods for the insurgents. Eventually, Boko Haram permitted the drivers to make trips to Kulli town on market days and then to Cameroon.
Though Yagana is not sure why, one day, the terrorists picked up seven of the village's nine drivers, took them to Kumshe, another community in Bama, and locked them up for over a week, flogging them constantly. "Then one of the leaders, Goni Maina, said they should be released and given last warning not to travel again. When they were released, we all decided to leave the town." This was about 40 days into the invasion.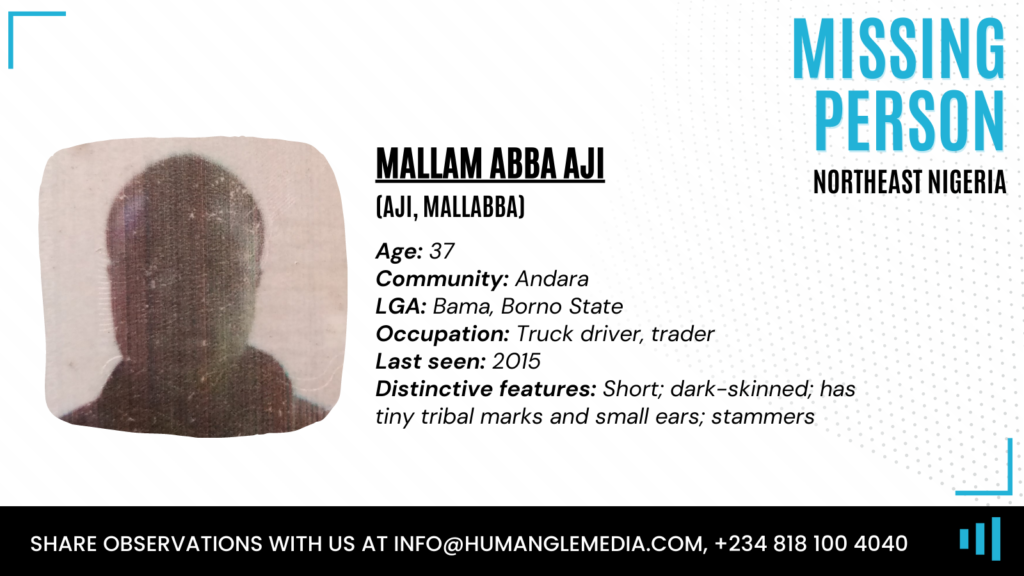 A week after the family returned to Bama from Cameroon, Mallam Abba's distraught 80-year-old father, Baba Aji, passed away. Yagana is convinced the pain from losing his first son had something to do with it. "He had been thinking a lot about his son and his condition degenerated into diarrhoea and vomiting," she recalls.
Mallam Abba's mother, Ya Jalo, currently lives in Banki and his wife, Ya Kura, who is in her 20s, in Maiduguri.
"When she is asked to remarry," Yagana says about the wife, "she always replies that she would wait for her husband." Despite her young age, she's taken over the responsibility of caring for the couple's two children, Jalo and Mallam Fantami, by herself.
Whenever the children see relatives like herself, they ask about their father. "We tell them he is alive and they say, 'Let him come if he is alive.' They make me cry if I see them."
---
This report was produced in partnership with the Open Society Initiative for West Africa (OSIWA) under the Missing Persons Register's Population and Amplification Project.
---
Support Our Journalism
There are millions of ordinary people affected by conflict in Africa whose stories are missing in the mainstream media. HumAngle is determined to tell those challenging and under-reported stories, hoping that the people impacted by these conflicts will find the safety and security they deserve.
To ensure that we continue to provide public service coverage, we have a small favour to ask you. We want you to be part of our journalistic endeavour by contributing a token to us.
Your donation will further promote a robust, free, and independent media.
Donate Here