Armed Violence
Features
Farmers In Nigeria's Zamfara Forced To Pay Protection Money By 'Repentant' Terrorist
A district in Zamfara has never before had to pay the extortion of "protection money", but the man the Zamfara state government says is a "repentant" terrorist has now arranged for terrorists to collect a levy from villagers.
A district in Zamfara that -until now- has been spared from extortion by armed groups has been forced into paying "protection" money for the first time by a man who, the state government say, is working with them to stop lawless terrorism of this kind.
A levy of thousands of naira has been placed on every married man in the villages around Keta in northwest Nigeria. They were told they must pay, or the villages would not have their "freedom".
A ₦6 Million ransom was also collected from the inhabitants of the villages to secure the release of 22 people kidnapped over a week ago.
The "protection" money and the ransom was demanded from the villagers by a man government figures say is working for them. The government claims Ado Aleru has given up being a terrorist leader and has joined the state in the fight against armed groups.
But questions are being asked about how sincere this conversion is.
During two days of "negotiations", Aleru told villagers that they would not be safe unless they paid up. The villagers agreed to pay the protection money and the ransom to one of the other leaders of the terrorist group, said by local sources to be one of Aleru's subordinates.
Aleru then ordered the leader of the kidnap gang Dogo Sule to release 22 hostages, mostly women, on Sunday May 21, people at the meeting said.
Four more hostages, two health workers on a project by the World Health Organisation and two villagers, remain in captivity until a greater ransom can be negotiated for them, sources say.
It is not the first time that questions have been raised about the role of Ado Aleru in kidnappings since he was granted a traditional title by the local emirate in 2022.
Seized
On May 13, 29 people were seized from Keta and other nearby villages in the early hours of the morning.
Victims were dragged out of their beds and whisked away on motorcycles as men fired their weapons to terrify anyone who might resist.
The raiders even went to the health centre in Keta and broke in and seized two people from their rooms.
"My husband Abdullahi, was among the local victims of the abduction. He was taken from our matrimonial bed at 3am," Hafsat Muazu told HumAngle.
"I cried loud and clear that night begging the two armed men who knocked down my love on the floor, and went with him. I insisted on following but one of them (terrorists) dragged me back."
Shortly after they were taken, three of the kidnapped men managed to escape, but the others were held in the forest.
Kidnapper's den
A week later, on Friday May 19, Aleru "invited" representatives of the families of the people kidnapped to come to his den located in Kizara village.
There he presided over a two-day meeting, at the end of which he asked the families of those kidnapped to go back to their homes and collect ₦6 million.
The representatives were also given two weeks to collect ₦5,000 from every married man in the district, as a levy for their continuing freedom, a payment for "protection" from the terrorists. Sule's men will go from village to village to collect it. It is not clear how much the terrorists will net from this extortion.
The villages which have had the levy put on them are small villages and tiny hamlets in Tsafe local government area, named as Keta, Kizara, Zamfarawan-Keta, Unguwar-Malam, Cikuraye, Ware, Kauyen-Kane, Dagalo, Musawar-Kalgo, and Kwankwado.
"He [Aleru] summoned us and briefed all the community elders that for any of us to enjoy freedom of movement, freedom of farming activities for this year, to free our farms and villages from attacks, each married man in all the villages must pay ₦5,000." Mamman Toka, 56, one of the attendees at the meeting told HumAngle.
Toka said: "Ado Aleru confirmed the residents of Keta that subject to the agreed payment of ₦6 million, their abducted loved ones would be released."
However the two female health workers taken from Keta were not part of the deal. Sim Friday, from Kafanchan, Kaduna State and Aminu Bala, staff of Midwife Service Scheme (MSS) and World Health Organization (WHO) have been kept in captivity.
Toka said they would be held "until ₦5 million is paid for each, since they were not indigenes from the area."
Two other hostages from Keta will remain in the hands of the terrorists. The family of Alhaji Sani, one of the influential members of Keta village and his son, refused to pay any ransom.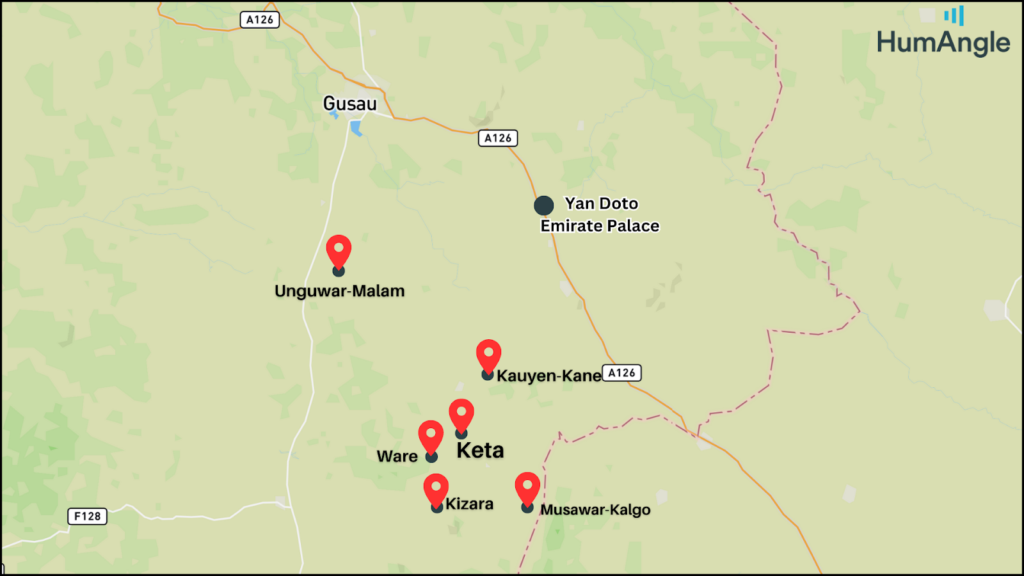 Blame
When Ado Aleru arrived in Kizara, it was with an armed escort of terrorists, witnesses said.
He went straight to the mosque for Friday congregational prayer. Shortly after, he moved to the forest den with over 300 marauders carrying guns.
The other terrorists seemed to act on Aleru's orders, witnesses told HumAngle.
"We saw an armed gang arrive in the bush from various locations representing their villages. Aleru's men forcefully made us accept blames we never have any idea," villager Ibrahim Dan-Keta recounted.
"The terrorists accused those of us from Keta that we had been inviting helicopters to their den, bombarding their huts, animals and their people." Dan-Keta stated.
Lukman Tukur said: "I was taking 'fura' around 3:30 am on Saturday, in preparation for my sahur to fast for the day. Only to discover that three men carrying guns gate-crashed into our house shooting in the air. They caught me while trying to cross the fence."
"During our stay at the terrorists den, we suffered neglect and dehumanising punishment of various kinds." Lukman told HumAngle.
Last stand
Until now Keta has been spared a mass kidnapping by armed terrorist groups, village leaders say. It has never before had to pay the extortion regularly demanded in other areas of the state.
The leaders of the district had resolved not to pay ransoms, not to capitulate to the terrorists.
Since December 2018 there have been as many as 11 attacks by terrorist gangs on the Keta district, the district head told HumAngle. There have been a number of kidnappings of individuals, but these were left to the families to resolve, village leaders said.
"There has been no case of mass abduction recorded here, that's why we kept our stand that we would not pay ransom at community level," said Alhaji Murtala. "But now with the latest incident, we have to resolve and pay."
Keta is inhabited by Hausa farmers.
Ado Aleru and the terrorist gangs are mostly from the Fulani ethnic group, and they have spoken in the past about how part of their motivation is a reaction against what they claim to be anti-Fulani sentiment.
Village leaders in the district had in the past taken a hard line against Fulani strangers in their area, including threats of violence against people of Fulani heritage, local sources say.
Part of the agreement was that Fulanis should now be allowed to enter the district unmolested.
Repentant?
In July 2022 Ado Aleru was "turbanned" by the Yandoto emirate council, and titled "Sarkin Fulani" (ruler of Fulanis in Yandoto).
The Emir of Yandoto, Alhaji Aliyu Garba Marafa, held a ceremony attended by figures from the security services and the state government.
Following an outcry, the emirate justified their decision.
They described Aleru as "a repentant bandit and peacemaker"
Since his turbanning, Aleru has been visited at his home in Yandoto by figures from the government and security services.
Emirate spokesman Lawal Magaji was reported to have said: "He has been trying to stop banditry within the emirate and we have seen positive changes. The conferment of the title of Sarkin Fulani on Ado Aleru would give him more power to control the entire Fulani people within the emirate. It will also enable him to check the activities of the recalcitrant bandits and take action against them."
But abductees say they were kidnapped by his subordinates, who defer to him.
He travels with an armed guard of men known to be terrorists, witnesses say.
In May a group of abductees from Wanzamai, another district in Tsafe local government area, said they frequently saw Aleru while they were being held in the forest.
When they were released they said the idea that Aleru was helping them win their release was "a gimmick", and he appeared to be an integral part of the kidnap gang.
Aleru in the past has partially denied being involved in kidnapping. He told the BBC documentary The Bandit Warlords of Zamfara that it was "his men" who did the kidnapping. He "only killed" people, he said.
The Emir who turbanned Aleru was initially suspended by the state governor. But in April, Governor Muhammed Bello Matawale reinstated Emir Marafa.
When this was announced it was restated that Aleru was a "repentant bandit".
---
Support Our Journalism
There are millions of ordinary people affected by conflict in Africa whose stories are missing in the mainstream media. HumAngle is determined to tell those challenging and under-reported stories, hoping that the people impacted by these conflicts will find the safety and security they deserve.
To ensure that we continue to provide public service coverage, we have a small favour to ask you. We want you to be part of our journalistic endeavour by contributing a token to us.
Your donation will further promote a robust, free, and independent media.
Donate Here