Armed Violence
Features
Terrorists Tortured Captives 'For Sport' In Northwest Nigeria
In April, 89 people were abducted in Zamfara, northwest Nigeria. Some 72 of them were released three weeks later. They have spoken about their captors' cruelty, and about the role played by a terrorist the government says has "repented".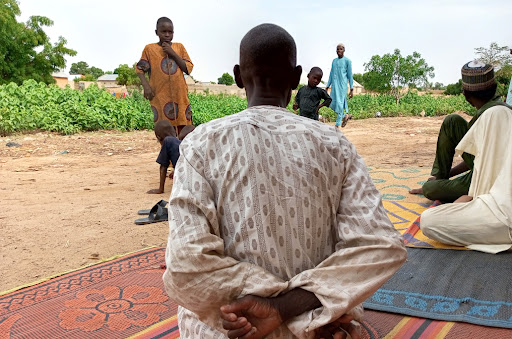 Mansur Garba, 22, says the reason he is still alive is a herbal substance that he believes gives him immunity from bullets.
Like many vigilantes and rural dwellers in Wanzamai, he believes the charmed concoction he takes prevents bullets from piercing his body. Every time the village where he lives was attacked, he was glad of its protection.
The biggest test of the potency of Garba's medicine came on April 6 when he and 89 others were abducted from Tsafe Local Government Area (LGA) of Zamfara State, northwest Nigeria.
"One of them named Dan-Isuhu shot several bullets into my body," Garba told HumAngle, "but the bullet could neither penetrate nor stab me."
But narrating his ordeal after his release, Garba said he was not completely protected from harm.
The fact that the bullets did not kill him infuriated the terrorist. "He resorted to beating me with a cable wire every day," he said.
Garba pulled off his shirt and turned around. There are deep wounds all over his back and the back of his hands.
"I went to Ahmad Sani Hospital for treatment but I cannot afford the medical bill the doctor asked me to pay. I had to leave the hospital and run back home to resort to traditional medicine. I am still suffering the pains in me because I am not responding to the local treatment," he explained.
'Repentant' terrorist?
Garba's testimony is just one of many stories of cruelty that have emerged with the released abductees.
They paint a picture of life in captivity where the terrorists turned cruelty to their captives into some kind of sport. They enjoyed meting out beatings to them, and did it as a group activity.
The victims' testimony also sheds light on the role played by an infamous terrorist leader, who was inducted into a traditional chieftaincy by emirate officials in 2022 after claims were made that he had "repented".
What the returned abductees say casts doubt on claims that he has changed his ways at all.
In July 2022, Aliyu Garba Marafa, the Emir of Yandoto in Zamfara, conferred the title of 'Sarkin Fulanin Yandoton Daji' (King of Fulanis) on the leader of a terror group named Ado Aleru.
Aleru is wanted in connection with the killing of 52 people in 2019.
His turbanning into the chieftaincy stirred up some controversy, and made Aleru famous. The event was attended by leading officials from Zamfara government, who put their backing behind claims Aleru had repented, and said he would now fight the terror groups on the state's behalf.
The Emir of Yandoto said he made the move in order to broker peace between the terrorists and locals, but it was met with objections and outrage.
Emir Marafa was initially suspended by the state government. In April this year he was reinstated.
Reinstating the Emir of Yandoto, the Zamfara state governor Bello Mohammed Matawale said the chieftaincy title was conferred on a "repentant bandit" as part of a "peace building effort".
Aleru retains his title, it is understood.
But the abductees said he was seen at their forest pen many times, comfortable in the company of their kidnappers.
'Tea break'
The abductees were subjected to systemic torture, they said.
They would take a group into the bush where they would be tied up, and declare that they were to await their "tea break".
But rather than refreshment, this meant a session of beatings where they used electric cable wires or sticks on the captives.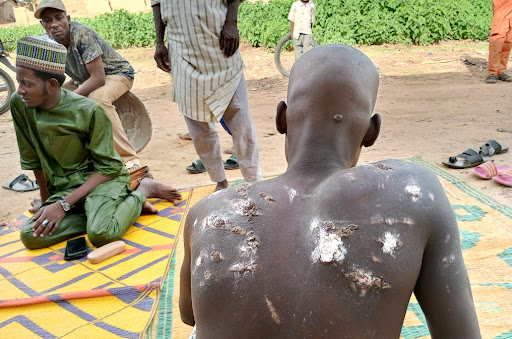 "This inflicted great pains and various degrees of internal injuries," Garba said. Two captives died while they were being tortured, he said. Others were injured and traumatised.
Some have possibly received permanent brain damage, according to their families. They have symptoms of confusion and poor comprehension of their surroundings.
HumAngle gathered that the terrorists gave their victims just a cup of water and a small quantity of garri to eat.
'Gimmick'
Aleru, the terrorist leader who politicians and police officers have said has "repented", was present at some of these beatings. He visited Dajin-Aje and Madani forest areas where the abducted were camped as many as six times, the released victims said.
"In all these visits, we were severely punished, subjected to various hardships in military styles," one of the victims said. Aleru was heard to warn his kinsmen not to harm the captives, a released abductee told HumAngle, but there was little sign that he was inclined to actually stop the violence.
Mu'azu, one of the victims, explained that he saw Aleru's efforts as a "gimmick" aimed at showing the abductees that he did not approve of their suffering, but his familiarity and frequent visits suggested he has some sort of connection with the people who carried it out.
While in the forest, the victims did form the opinion that Aleru was working as a negotiator for their release. He appeared more as an integral part of the kidnap process, they told HumAngle.
The area they were taken from is under the influence of one of the subgroups who have fealty to Aleru, locals say.
"No attack can be possible without Aleru's consent or awareness", said a family member of one of the victims who did not want to be named.
Once, a terrorist approached the captives where they were tied up against a tree.
"He told us that they abducted us en masse in order to cause confusion for the armed soldiers and vigilante groups operating in our areas." Garba said.
Their motive was money, but also revenge, Garba added: "He said the security operatives have killed their fellow armed marauders."
Man on a tree
The terrorists' cruelty was macabre.
On another occasion, a terrorist called Kiruwa Ardo, forced 29-year-old captive Bala Tsibiri to climb a tree and inch towards a particular branch that dangled downwards.
Then, Ardo moved close and started cutting a part of the same branch with a cutlass.
Startled, Tsibiri hung on for dear life until the branch was cut and he fell to the ground. He sustained a serious injury on his face and fractured his legs and right arm. He also dislocated his knee.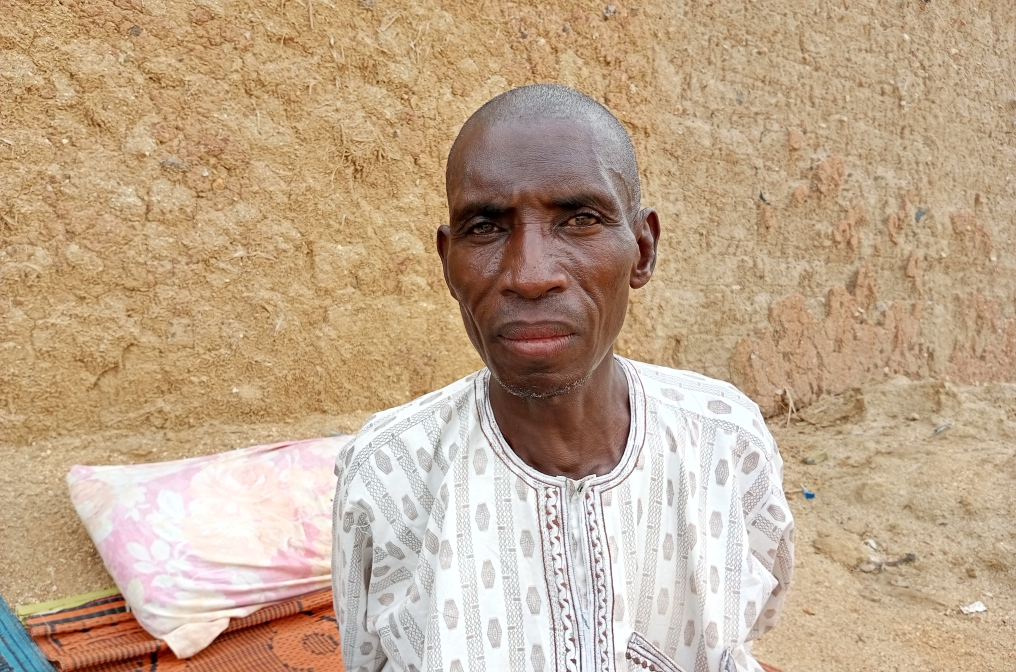 One of the other people kidnapped was Rabi'a, a 15-year-old girl. Her father, Adamu Mande narrated how she was maltreated.
Rabi'a was denied food to eat after the terrorists tried to rape her several times without success, he said.
"I often heard her helplessly crying whenever one of the gang members called my line in the name of monetary negotiation for my daughter."
Only 72 of the 89 have so far been released.
Two were slain during their captivity. 15 others including 12 teenage girls, and three young men, are still being held, according to released victims.
"Ado Aleru himself told us during one of his visits to the camp that the armed gang will not release the remaining until additional money is added and paid to them in millions," said another released victim who did not want to be named.
Release day
Halidu Mu'azu, who is a firewood vendor, said the day he was kidnapped he was looking for wood in the bush in the Tsauni area when he realised that something was wrong – farmers were running in all directions.
By the time Mu'azu understood what was going on, there was nowhere to run to because the attackers had surrounded them. "We were instantly moved to Zururu, a terrorists' camp in Tsafe LGA. We were later moved to Dajin Aje in Faskari LGA area of Katsina state," he said.
Halidu Mu'azu, 63, like Garba, was one of the lucky 72 who were freed. Each family of those captured paid a ransom of N75,000, bringing it to a total of N6,750,000 million.
The terrorists then demanded that a lump sum of N500,000 must be paid before the rest will be released.
On the day they were separated into groups of ten. Each group was kept in a different location.
"We saw over 30 motorcycles carrying new people -armed men with guns. They sorted six old farmers among us and advised them to stop armed vigilante groups in their areas. But we do not know what the terrorists told the other groups," Garba said.
Halidu cannot forget the relief he experienced when a member of the armed group whispered in his ear that he was going home.
"He said they had received payment for me."
They trekked over 45 km away from the terror camp until they reached a main road.
There they were received by a large crowd; their families, friends and well wishers with vehicles ready to carry them back along the Sheme – Funtua federal highway.
---
Support Our Journalism
There are millions of ordinary people affected by conflict in Africa whose stories are missing in the mainstream media. HumAngle is determined to tell those challenging and under-reported stories, hoping that the people impacted by these conflicts will find the safety and security they deserve.
To ensure that we continue to provide public service coverage, we have a small favour to ask you. We want you to be part of our journalistic endeavour by contributing a token to us.
Your donation will further promote a robust, free, and independent media.
Donate Here