Emergencies
Features
Cost Of Living Crisis: The Fire Risks Nigerians Face To Save Money On Fuel 
With the increase in fuel price, many Nigerians are looking for alternatives. Business owners are taking to home-conversion kits to change generators from petrol-driven to gas amid rising cost of living.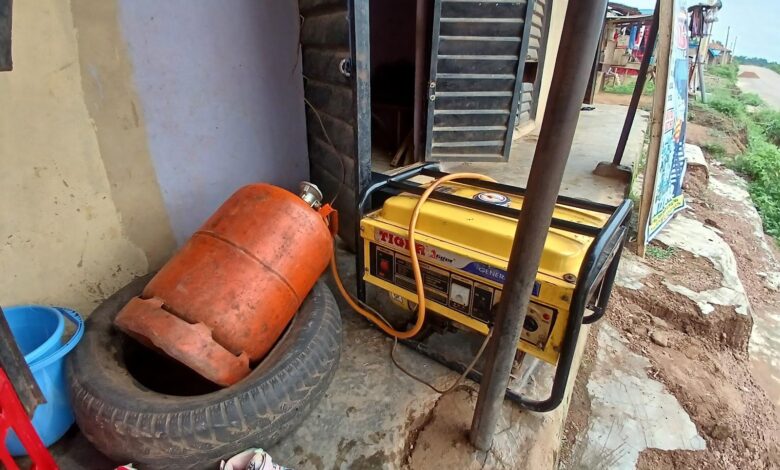 Smoke flowed into houses around Oja-tuntun market in Ile-Ife, Osun State, in the early hours of Dec 2, 2020.
Before Khudrot Azeez could make sense of what was happening, she heard a sound like thunder.
She ran out of her house that looked onto the market.
Fire!
"Everywhere was filled with fumes. While some people were reaching out to business owners in the market, many people ran to the fire station and others tried to use bowls of water to quench the fire," she said, recalling that morning.
The flames spread quickly.
"In less than one hour, many shops had been destroyed. Traders who made efforts to remove valuable items from their shops, had to run for their lives following the high rate of the fire."
Once a fire starts in a market, it can be impossible to stop.
It is every traders' worst nightmare. Their life savings invested in storerooms filled with flammable stock, the maze-like passages that make it hard for firefighters to get to the blaze, and for people to escape.
But now, to keep their businesses going after the increase in the price of petrol, market traders and shopkeepers are turning to fuels that have a higher risk of igniting a fire and causing catastrophe.
Fuel subsidy removal
Since President Tinubu announced the removal of subsidy on petrol, claiming it would benefit the poor, more Nigerians across the country have been battling for survival.
Nigeria, in 1973, introduced fuel subsidies to keep petrol cheap for citizens while the government covered part of the cost of importation.
But people with access to the system have lately made it a burden. It has distorted the whole economy. In recent years the government has spent the bulk of its revenue paying the subsidy.
In 2022, Nigeria paid ₦4.39 trillion on petrol and ₦3.6 trillion was set aside to pay for subsidies in the first half of 2023, that's a total of $10.4 billion.
After Tinubu's government removed the subsidy, the price of petrol moved from ₦194 ($0.25) to over ₦600 ($0.76), a development causing hardship on citizens and forcing businesses owners and households to convert petrol generators to gas.
The conversion
Over 22 million petrol generators power 26 per cent of households and 30 per cent of small businesses in Nigeria. With the increase in fuel price, people are looking to other fuels which haven't attracted as big a price jump.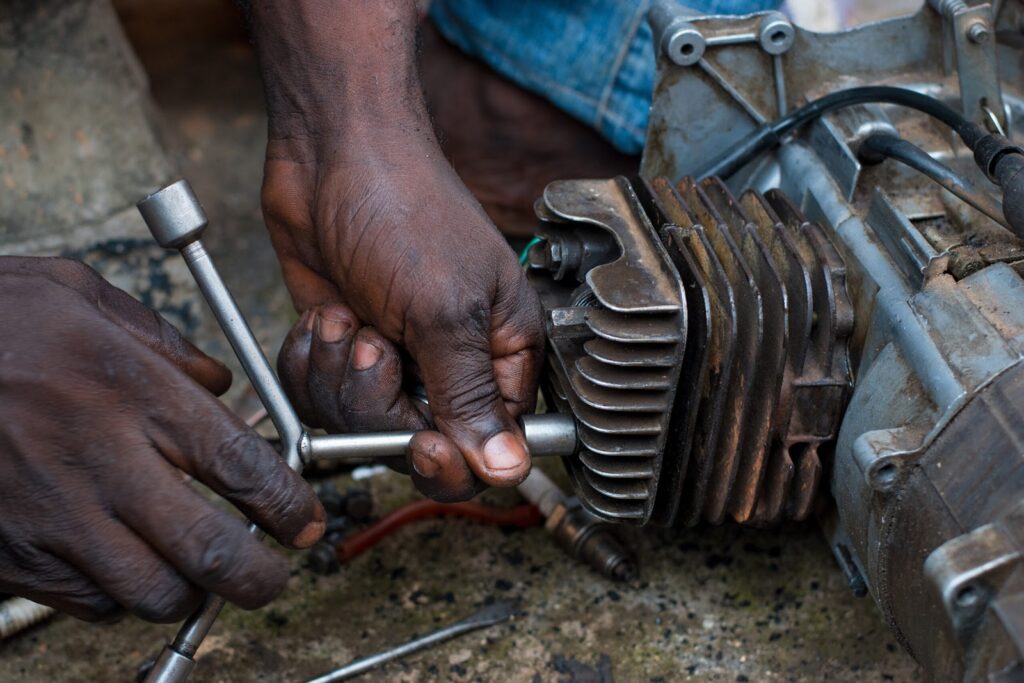 Businesses that depend on electricity, like frozen food vendors, tailors, and barbers among others are changing generators from petrol-driven to gas.
Liquified Petroleum Gas is stored in tanks at high pressure. The conversion kit reduces the pressure of the gas as it enters the engine, allowing the generator to ignite it. After fitting a conversion, one only needs a refillable gas cylinder and a tube.
Many Nigerians in the South West now also use it in their homes, arguing that it is more economical to augment poor electricity supply from the national grid than petrol.
But using it to power a generator with a conversion done by someone who may not have done it correctly, carries a risk.
Dramatic savings
Once you stack the costs of the fuels against each other the cash savings are obvious.
Oladoyin Mayowa lives in a community yet to be connected to the electricity grid so he ventured into the 'charging business'.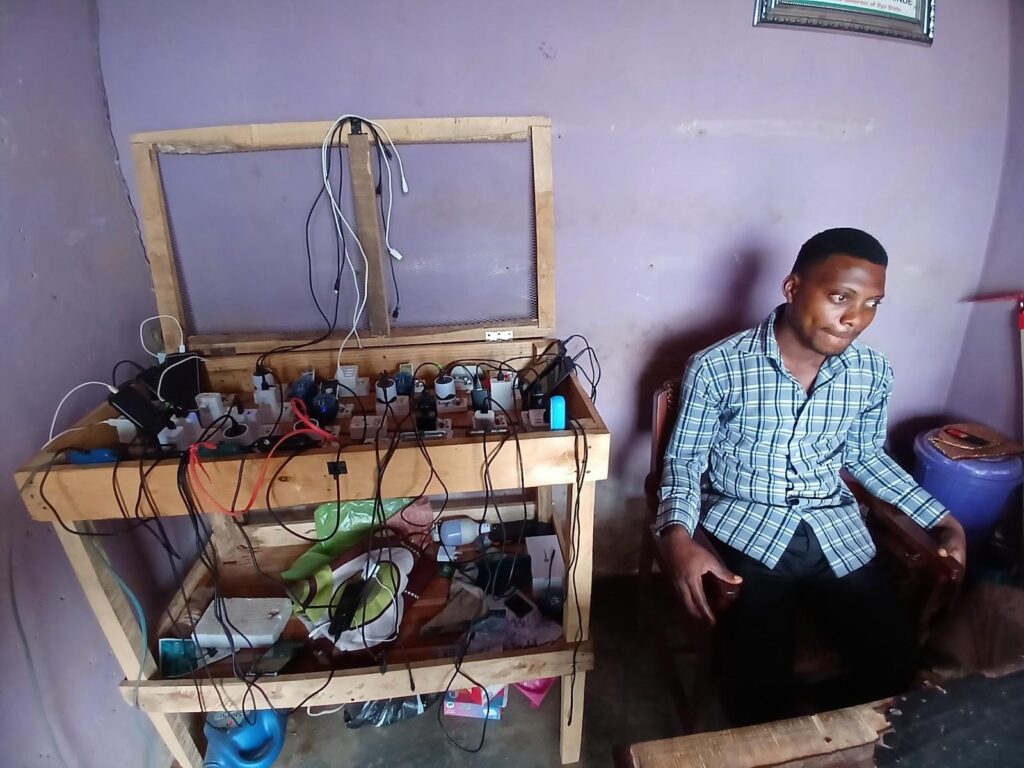 "Before now, I charged for ₦100 [$0.13] but with the fuel increment, I raised my fees to ₦150 ($0.19) but people protested. So, the money I was making was nearly impossible to support my family of five."
"Before fuel subsidy removal, I was fueling my generator with about ₦3,000 [$3.82] every day. With subsidy removal, I spend roughly ₦7,000 [$8.91] daily. So, the situation forced me to accept gas as an alternative.
"I bought a cylinder and currently use 12kg of cooking gas for two weeks and it costs just ₦7,500 [$9.55]. We are known to adapt to changes easily in Nigeria, hence, the reason for alternatives."
That works out at less than a tenth of the ₦98,000 ($128) total cost of running the generator for two weeks.
The risk
The risk of causing a fire is a major reason why Ola Adedeji, a barber in Bodija refused to convert his generator from petrol-propelled carburetors to gas.
Before the removal of subsidy, he used to spend ₦3,000 ($3.82) on fuel, which serves him for two to three days, depending on customers' patronage.
The situation has not been the same since the recent hike.
"I have been a barber for 10 years and it is a job that gives me joy. This is not the same today because I close early due to low patronage. People who cut their hair weekly no longer do so. With the removal of subsidy, I can hardly meet up with expenses for the shop and home."
"I heard about the conversion but I am scared of the risk. While alternative gas offers benefits such as cost savings, there are issues that need to be managed, including the risk of fire outbreaks, explosions, and improper handling of gas cylinders."
Extra risk
Experts in firefighting agree.
Speaking with HumAngle, Seyi Ayeni, a staff of Federal Fire Service says that a spark or even just heat from the generator can cause a fire.
LPG Gas carries more risks than petrol, he says.
"The gas has the potential for explosions if not properly handled and the risk of gas cylinders falling down and releasing their content if not placed on even flooring. It is also dangerous when left in the rain or in a humid environment. Even when exposed to direct sunlight, excessive temperature on the gas cylinder could lead to explosion."
Most gas canisters, if well looked after, will not explode, even if dumped directly on a fire. They have a safety valve that vents the high pressure gas so the canister does not become a bomb. But if a canister is not well looked after, if it is dented or rusty, the metal could fail as it heats up, causing an explosion.
In any case, the jet of flammable gas coming from the safety valve, or from an improperly fitted conversion, can become like a flamethrower, spreading the fire much quicker.
Ayeni has seen first hand the effect of a gas fire and been at the scene of an explosion. He urged the government to ban use of gas or gas stations in largely populated environments such as markets.
Burn to ashes
As the Oja-tuntun market in Ile-Ife burned, the firefighters said they did not have fuel and water in their vehicle.
Many people had to watch their goods burn to ashes.
"We have been maintaining the fire truck with our salaries and the inflation in the country could not allow us to spare money from our personal income to attend to fire outbreaks," an official of the fire service who spoke with HumAngle under anonymity because of fear of sanction said.
For anyone who was there, it remains a black day in their lives. The incident destroyed multi-million naira businesses as most buildings in the market were reduced to blackened rubble.
The cause was a leaking gas cylinder.
Witness Dunsi Ayeni, one of the shop owners affected by the fire said: "A shop stored with gas cylinders caught fire in the early morning. One of the gas cylinders exploded as a result of gas leakage. Though no life was lost because people were yet to come to their shop, many goods were burnt to ashes."
Ayeni who was selling women's hair in the market at the time, said over 200 shops were razed in the incident.
"I saw over 15 missed calls on my phone when I woke up in the morning of the incident. When I returned the calls, I was told that my shop was burning. It happened a day after I bought goods worth millions of naira. I collapsed immediately until people came to my rescue."
She told our reporter the blaze in 2020 was the second time she had lost her store to a fire, it had happened before in 2017. She had taken out a loan to restart the business.
"I never thought that a repeat of what I witnessed in 2017 was going to happen in 2020. I've been in debt since the last incident occurred and I currently depend on my husband because I am now a full house wife."
Despite repeated incidents, many retail outlets still do not know how to operate their business with minimal risks, and hundreds of gas cylinders with fit-a-home conversions in a packed market is another one to add to the list.
---
Support Our Journalism
There are millions of ordinary people affected by conflict in Africa whose stories are missing in the mainstream media. HumAngle is determined to tell those challenging and under-reported stories, hoping that the people impacted by these conflicts will find the safety and security they deserve.
To ensure that we continue to provide public service coverage, we have a small favour to ask you. We want you to be part of our journalistic endeavour by contributing a token to us.
Your donation will further promote a robust, free, and independent media.
Donate Here