Displacement & Migration
Features
News
Borno's Christian IDPs (2): Battling Mental Illness Amid Hunger
Some of the displaced do not only have to deal with the hunger forced on them by the Boko Haram insurgency in Northeast Nigeria. They also experience psychological trauma that puts them in a condition only constant care and medication can cure.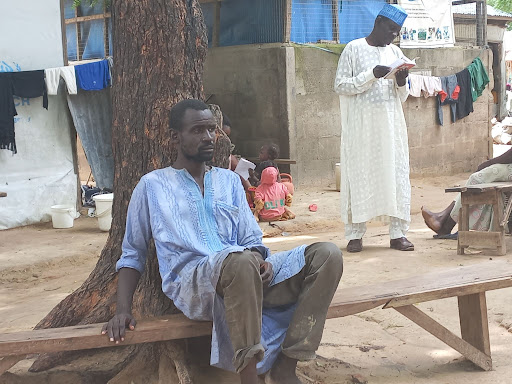 The lone man seated on a bench, demeanour like one tamed to submission, is Reuben Joseph, aged 37. He is mentally unstable. Another bit of startling information – he has no parents, siblings, or relatives he is currently aware of. Here, he shakes his head emphatically, a trace of irritation on his face at his own revelation.
Joseph is one of the 2,240 individuals among 376 households seeking refuge at the EYN CAN Centre, an Internally Displaced Persons (IDP) camp in Maiduguri, Borno State capital, Northeast Nigeria. This is one of the four shelters that evolved out of the need to give refuge to Christians afraid of living in general camps.
EYN CAN Centre is among the four camps set up by Ekklesiyar Yan'uwa a Nigeria (Church of the Brethren in Nigeria) in conjunction with the Christian Association of Nigeria (CAN).
Voices in their heads
Apart from the pangs of hunger and general lack IDPs suffer, Joseph and others in his condition have a different kind of battle to win. His sanity is something he struggles to hold on to as he fights to hush the quiet, and yet loud, voices in his head that command him to commit evil and 'immoral' deeds each time he abuses one drug or the other.
"When I began to feel sick, I started taking 'solution', and I started to feel weird. Up till now, I take sukurdai and wee-wee [marijuana]. There are some people who give me," he says haltingly. Then, in the same breath, he contradicts himself – "but it's been long since I have taken it."
Sober now, he talks about how he liked Roman figures back in primary school, and all he wants is to give his life and work for God.
Joseph has been mentally ill since 2013 in Goshe, Gwoza Local Government Area (LGA). "When he came here, he seemed normal; then it came up again. That was when he explained to us what he was going through," John Ali, a former vice-chairman of the camp, explains. "We contacted some churches who treated him for a while, and he became better. But now, intervention is low. He needs care, but that isn't available. His drugs cost about N90,000 in two months."
Then there was also the Federal Neuropsychiatric Centre in Maiduguri, which an international organisation used to help Joseph. "They have tried. NGOs deal with contracts. And when it ends, intervention ends," Ali says.
There is also the issue of hunger in the shelter Joseph calls home. Ali reveals that only the NGO, Action Against Hunger, is active and has provided the displaced with a card — though it has been four months since they last received support.
"But they too their contract can end," Ali adds. "Every family gets N9,000, and usually, the food doesn't last. No matter your numbers, it's that amount for a household."
It is afternoon, and Joseph is yet to have lunch. When he takes his drugs after eating, he finds relief. Otherwise, it hardly helps. Others in his condition face the same problem.
A pretty woman, Grace Philemon, 30, seats across from Joseph, a child strapped to her back. A thin smile plays across her lips like she finds the interview session amusing to watch. She appears healthy, but she also has her issues.
Running 'mad'
Her illness started way back in 2016 after Boko Haram had become a deadly 'phenomenon' in Borno.
Philemon's family had fled from Gwoza LGA to Benin Republic when she began to suffer trauma that led to something more serious. "It started like a fever. Then I began to feel weird and ran to the forest," she begins. In the forest where she spent a full day, the thought of returning to Borno, her home state, became an obsession.
"I heard a voice telling me to leave Benin and return to Maiduguri. So, I ran and wanted to return to Maiduguri on foot."
Philemon is much better now due to the treatment she has gotten. Unfortunately, the drugs which came through her brother-in-law have ceased. This is the type of interruption in medication Dr Nkereuwem William Ebiti, a psychiatrist in Maiduguri, warns about.
"When that happens, they recover with a deficit," he points out. "If you stop taking drugs and appear to get well, you may not be completely well. That is why we say even if they are well, they live on deficit. They may break down again, and the next episode may be worse. It keeps getting worse."
Dr Ebiti adds that the lack of a balanced diet affects a patient's physical and mental health. And "for the majority of them who're ill and not eating well or can't afford to, they will be unable to take their drugs because they need to eat to be able to do so. The problem would keep getting worse because they don't have the essential support they need in terms of food. So most likely, they are not going to be taking their drugs."
"Then even if they would be able to have a little money, they would prefer to use it to buy food rather than drugs."
Recently, Philemon experienced a severe headache and cold. "I even collected drugs from the camp clinic. I started that one but began to feel stomach pain, so I stopped it," she explains.
Amid all these, Philemon, who has schooled up to the secondary school level, wants to become an accountant if life gives her the chance.
Prone to violence
John Musa Gathackas, 40, is an intelligent and confident man despite his circumstances. This shows in the manner he talks and elaborates on a single idea. Outside the gates of EYN CAN Centre IDP camp, he shovels sand alongside a few other men working to reduce the chances of another flood in the area.
"It started when an uncle of mine, my father's elder brother, took me to Chad," he begins after he quickly explains that his clothes are dirty because of the shovelling. "We were farming then, and I was married with four children. Now I have six children."
The year was 2013 when an event Gathackas would most likely never forget happened. He was working with about 13 others, and they all laid down in a room to rest when a strange man called out, and they met outside.
"The moment we shook hands, and he left, I started to remove my shirt. Then I ran. People I was with chased after me, caught me, tied me up and put me in a car. That was how I was taken to the border and then to Bayan Dutse in Borno. I was taken to my wife," he narrates.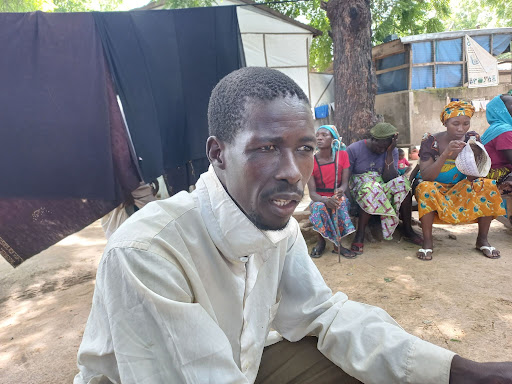 And because he was violent, his legs were bound, his hands also firmly tied behind him. "You may say something to me, and I would start throwing things. I was tied against a tree for three years."
Gathackas was taken to a hospital in Cameroon, but he was not getting any better. So, he was brought back to a psychiatric hospital in Borno, where he spent a year and six months.
"It was not like I was born with the condition. It was a spell cast on me. My wife was there all through taking care of me. She did manual labour to get money for my drugs and food," he explains.
During his sickness, in 2014, Boko Haram had attacked Gwoza, and Gathackas ran by foot to Adamawa. His wife had no idea where he had fled to all the while and kept looking for him. But it seemed his agility was not ordinary.
"I kept running from one forest to the next. Sometimes I slept in trees. I would run, sleep when it's night and take off again until I got to Adamawa."
Then people who knew Gathackas got hold of him in Adamawa and returned him to Borno, where his wife continued to take care of him. His brother-in-law took him to a psychiatric hospital. But then something tragic happened that triggered the sickness.
"It was during that time my child was killed in a car accident," Gathackas recalls. "It was after that that some pastors brought me to the IDP camp."
He remembers how his brothers neglected him while his wife continued to struggle to fend for the family.
"Sometimes I feel okay. Then some days when I wake from sleep, and I am talked to, I tend to overreact," he reveals. "Some of my drugs, WHO [World Health Organization] provides for them. But they say their work is done and I should continue buying by myself. But I am not yet okay. If rain beats me, I feel cold and begin to tremble. But it's not like that when I have my bath. My wife washes my clothes and does everything for me, and only churches and NGOs come to our rescue."
Benefits of proper care
Gathackas is a lucky man despite his present condition. Unlike several others, he has a loving wife who takes good care of him. This, Dr Ebiti stresses, goes a long way in helping a patient recover or at least live a more fruitful life.
"Generally, people need a lot of support from various perspectives. In this case, they may not have fallen ill in the first place if they had proper care. It may be that they were well employed and lived in a loving neighbourhood and around family members. This reduces the stress individuals have. A situation stresses us because we are unable to cope with the circumstance we find ourselves in," the psychiatrist says, making a direct reference to the impact of the 12-year-old insurgency that has displaced many like Gathackas.
"When they live with people they know in a supportive environment; it goes a long way. For instance, someone leaving Nigeria for another culture may have food, house and every other thing and still experience mental illness if he doesn't have people to talk to who understand him. That's why it's very important."
Here, Dr Ebiti points out the wisdom of camping displaced persons in Maiduguri according to their towns and villages, which allows them to stay together and support each other.
There are others like young Daniel Bitrus, who is much more disoriented than the others and talks gibberish, and the old Maryamu James, who was held by Boko Haram since 2014 and only just gained her freedom in June 2021.
When Maryamu returned from captivity, she experienced a speech impediment until much later, when she could share some of her story.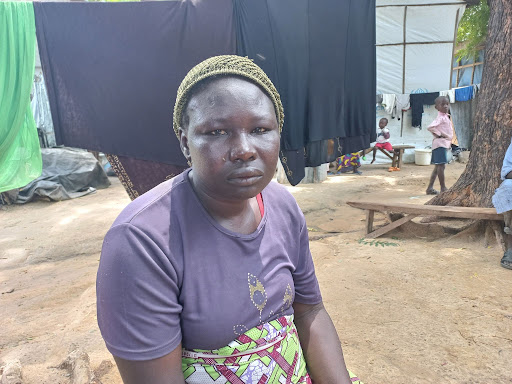 Unlike the others, another IDP, Mary Amos, suffers seizures occasionally. But she was fortunate enough to get some treatment and is doing much better. "I just want to be able to fend for myself," she says.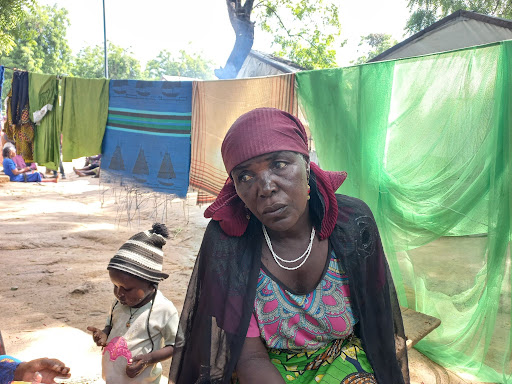 The low budget clinic
Ali, the camp's former vice chairman, tells HumAngle that treatment for the sick and lack of food is a big challenge at the EYN CAN Centre. He explains that the government helped to an extent. But then, "SEMA let go, and some NGOs came in. Sometimes an NGO may bring 10 bags of foodstuff, and it would be divided amongst us, and that would be all."
A source from Borno State Emergency Management Agency (SEMA) overseeing IDP camps explains that the state government provides condiments to the camp but usually "hands off" where NGOs are present.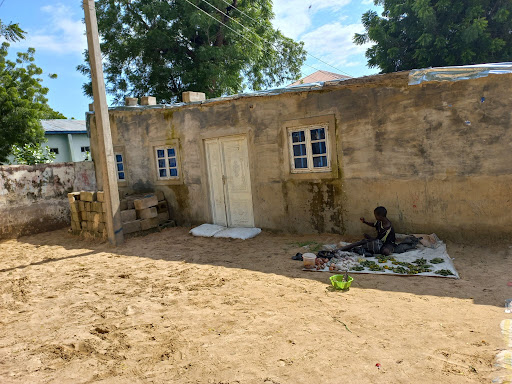 Then Ali gives some background: "It's the situation of things that makes these people suffer mental illness. You are in your village where you farm or do labour for your daily bread, then in one day everything you have is being taken away from you.
"Majority were traumatised when they came here. They were counselled by the church to take what happened as fate. Little by little, some improved due to counselling. But the trauma is still there since the displaced have needs that are not met. There's not enough food, the children can't go to school. What adds to this is that some lived comfortable lives before now in houses with four or five rooms. Even chickens had a room. Today they live in shacks. Husband and wife now live in the same room with their children. Now you can't go to the farm. This all causes trauma. When these children grow up, there is less opportunity for them."
At the entrance of the camp is a room with its door firmly shut. This is where the displaced get treatment for ailments like malaria, cough, or diarrhoea. But it ends there, Ali reveals. Any other more complicated case such as hepatitis cannot be treated there.
"Sometimes there is no medicine as simple as cough syrup," he says. "And for other treatments, they refer you, and you would have to pay yourself."
A typical example is the case of Ayuba, who just recently displayed symptoms of mental illness.
"His case is terrible because he gets violent," Ali tells HumAngle. "Data of others have been pushed already, but he's new and hasn't gotten attention yet. If he gets proper care, he could be better. He's around 25 years old and doesn't have a family. Anywhere he gets food to eat, he eats. He goes from place to place. Back when there was food in camp, he gets. But now, everyone is trying to fend for themselves. Now, he can even snatch forcefully if he sees you with food."
Dr Ebiti further adds that being an IDP worsens a mentally ill person's situation because it takes away whatever little support they had. "Let's say they were living in communities with difficulties and may have had an already existing mental illness, or something of that nature, and they are displaced. You are increasing the stress potential of that individual due to a weakened support system. That person is likely going to relapse. It gets worse."
A source at an international humanitarian organisation tells HumAngle that when it comes to providing food to IDPs, there is little that can be done because the state government is keen on closing camps, a policy which impedes the efforts of NGOs.
"NEMA provides food in those camps and delivery is sometimes irregular," the source explains. "Since NEMA does the food distribution, other organisations are not supposed to provide the same support twice."
This report is a partnership between the African Transitional Justice Legacy Fund (ATJLF) and HumAngle Media under the 'Mediating Transitional Justice Efforts in North-East' project.
---
Support Our Journalism
There are millions of ordinary people affected by conflict in Africa whose stories are missing in the mainstream media. HumAngle is determined to tell those challenging and under-reported stories, hoping that the people impacted by these conflicts will find the safety and security they deserve.
To ensure that we continue to provide public service coverage, we have a small favour to ask you. We want you to be part of our journalistic endeavour by contributing a token to us.
Your donation will further promote a robust, free, and independent media.
Donate Here