Displacement & Migration
Features
News
Borno's Christian IDPs (1): Struggling For Survival Almost Without Support
Many of them fled from the only home they ever knew in parts of Gwoza, Baga, and Chibok in Northeast Nigeria. Today they live in IDP camps with little or no government support.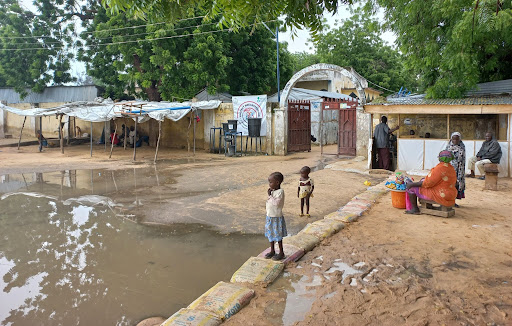 The man sits up with an air of dignity lacking in many occupants of the Internally Displaced Persons (IDP) camp, popularly called EYN CAN Centre, in Maiduguri, Northeast Nigeria.
His name is John Gwamma, 53, once a social studies teacher back in Halawa, Bayan Dutse in Gwoza Local Government Area (LGA). It is August 21, 2021. Rain had poured earlier and where he sits, close to the camp's fence, is a shelter a few metres away from the flooded entrance.
This camp is one among the four housing Christians displaced by the 12-year-old war between the Nigerian government and Boko Haram, a terrorist group that later birthed a more violent faction known as Islamic State West Africa Province (ISWAP).
The camp Gwamma seeks refuge in was set up by Ekklesiyar Yan'uwa a Nigeria (Church of the Brethren in Nigeria) in conjunction with the Christian Association of Nigeria (CAN). Asides this, there are other camps; DCC Shwari, Shagari Low-cost, and Saint Hillary.
How they evolved
On June 5, 2014, Boko Haram drove into Gwamma's settlement in Gwoza LGA in large numbers. "They wore military uniforms and used their vehicles," he recalls. So, the people shouted that the Nigerian army had come. But, "they were well-armed, took different positions and opened fire, killing anyone in sight, including women and children."
That day all the routes leading out of Halawa to Gwoza LGA headquarters and the Cameroon border were blocked by the terrorists. By nothing short of a miracle, Gwamma made it out alive. His son, 31, an undergraduate from Ahmadu Bello University Zaria, Kaduna State, was, however, not that lucky.
Gwamma lost everything, except for the clothes on his back. After reuniting with his wife and children on the Mandara Mountains where they spent 14 days, they all trekked to Madagali and then Michika in Adamawa State. Here too the terrorists attacked in droves and the family escaped death once more.
When they reached Maiduguri, there was nowhere to sleep because there were many IDPs. "Some were staying with relatives, some under trees," Gwamma narrates.
But there were IDP camps. It was just that the Christians avoided them like the plague and preferred other less attractive options.
"We could not go to the government IDP camp because some of those who pursued us, the Boko Haram, were there. It is not easy to stay in the same place with someone who killed your child and looted your property. Some of our children were abducted by Boko Haram. So, we the Christians decided to stay away. There was no food, clothing or shelter at that time for us," Gwamma explains.
The time he arrived, on June 23, 2014, the EYN CAN Centre camp was a barren land. Gwamma was the first, then other Christians started coming. "From June to October, there was no intervention, be it from NGOs or the government," he continues.
This was when Gwamma took the bold step and approached Senator Kashim Shettima, who was a governor at the time. "As camp chairman then, I laid out all our problems," he says. Soon, organisations such as Action Against Hunger and other NGOs came to the rescue.
Overwhelming fear
Gwamma's experience is similar to that of Filibus, 63, who fled to Cameroon and then back to Jos, Plateau, in North-central Nigeria, where he learned his wife had made it out alive too. His mother, on the other hand, was not so fortunate. Almost a hundred years old, she was restricted by the terrorist group.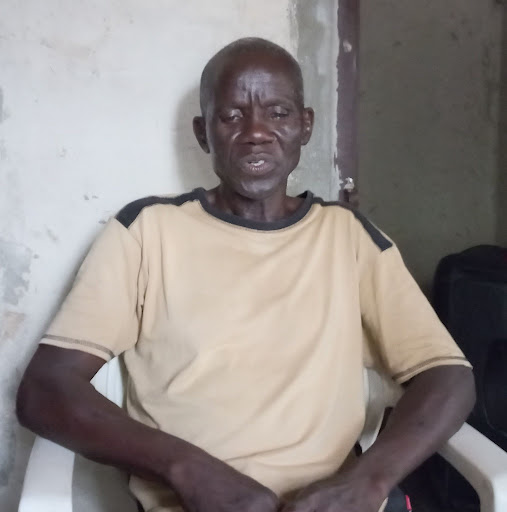 It was an 'act of God' when Filibus and his family later made it back to their home state. But this time around, they holed up in Maiduguri. Beaten and hungry from the long journey, they had nowhere to stay until they were pointed to "a field."
"When I was in Cameroon where I spent eight months, anytime I met a Muslim, I felt like I was in the presence of a Boko Haram member because of what I suffered. In fact, I didn't want to return to Nigeria but had to because of my family," Filibus says.
The father of 13, some of whom are from his late wife, adds: "My heart couldn't bear to stay with Muslims in the same camp. But gradually, as time went on, I was able to greet them with less fear."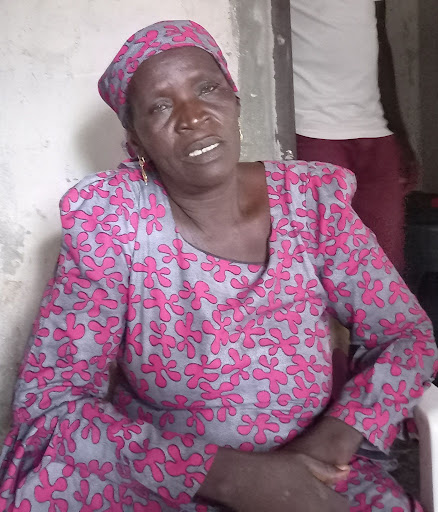 Maryamu Yusufu, a widow, experienced the same kind of fear when she came to Maiduguri. She did not look elsewhere when EYN CAN Centre had no room for her and her four children. "I was afraid of staying where there are Muslims," she tells HumAngle. And so when she learned about Shwari camp, she did not hesitate to go there.
Mounting distrust
At DCC Shwari camp, the old who can hardly do any work sit on mats chatting away while children run around the compound. Like the CAN Centre, it was also set up by EYN.
"We get food from Christian brethren," John Zira Hwara, the camp leader says. "They give offerings in their churches. CAN also does Christmas appreciation for us at the end of the year. Christian denominations do the same. For about six months, we have not even had a visit from NGOs."
DCC Shwari is under the EYN Local Church Council of Pomponari. So, Shwari camp is a District Church Council of EYN. This is where Hwara has served since he was posted in 2018 to lead the camp's church.
But the camp, which doubles as a worship centre for the displaced, has come a long way.
In 2014 when 42-year-old Adamu Yakubu, the camp's current secretary arrived, the place was surrounded by bushes with no houses or people around. "So, when the CAN Centre was filled up, people were brought here," he says.
Before then, Yakubu had narrowly escaped death in Gwoza when Boko Haram attacked his village in Nov. 2013.
"Back home, we lived behind the Mandara Mountains," he narrates. "When we escaped, we first came to Cherubim and Seraphim around the post office before we came here."
When they came to Shwari camp, his parents were still in Gwoza. Later, he learned of his father's death at the hands of terrorists when he was about to enter Cameroon. By then, Yakubu's mother was on top of the Mandara Mountains when Boko Haram captured her and threatened to sell her into slavery after she refused to marry one of them.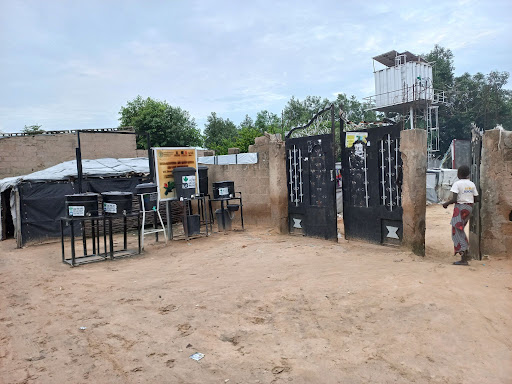 But today his mother is also at the Shwari camp, including his wife and children while Yakubu's siblings remain in Cameroon.
"In Gwoza, it was the Christians who started to flee and there was no place for us to stay afterwards," he continues. "There is no way you would see the brother of someone who killed your own brother or father and stay in the same place with that person. That is why our people kicked against it. Before we were all going to be put together in the NYSC camp. That was when Christian leaders decided to take our people to CAN Centre."
Survival of the fittest
At the start, there was no external support for the 26 occupants of DCC Shwari until the Red Cross intervened. Then their numbers rose as some churches brought more displaced persons.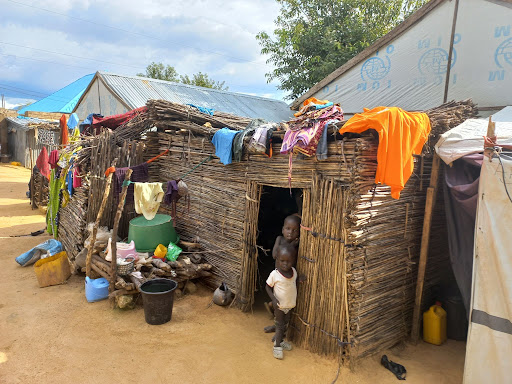 "The former governor [Kashim Shettima] used to give us food and we would cook outside. But that later stopped," Yakubu says. "Right now, food comes mainly from churches. Action Against Hunger is the only NGO that has come here. They gave us cards but we are yet to start collecting food. There is presently no government intervention here."
But the situation at Shwari is slightly different from what obtains at EYN CAN Centre IDP camp, HumAngle found out. While the latter receives some government attention, Shagari Low-cost, Saint Hillary and DCC Shwari do not.
Dauda (not real name), a staff member of the Borno State Emergency Management Agency (SEMA), gives an explanation.
He points out that the camp was established in May 2014 after SEMA was unable to put Christians and Muslims in the same place. "The Christians were afraid because those who drove them from their villages were Muslims. For this reason, there was no way they could be in the same camp.
"Most of them in the CAN Centre came from Gwoza, almost 99 per cent. From the beginning, there were five households from Margi, two households from Michika, and one from Chibok. Then more started trooping in. The government during the time of Kashim Shettima commissioned this camp. Back then, a kitchen was being run here where they eat. But after two years this ceased," he says.
Currently, every month-end, SEMA brings condiments to the camp such as cooking oil, seasoning, and other such items, Yaro explains.
In 2015, Christian Aid intervened for a year at the CAN Centre. Then the United Nations World Food Programme (WFP) took over in 2017 and 2018. There were also other NGOs such as the Norwegian Refugee Council (NRC), Danish Refugee Council (DRC), and World Health Organization (WHO).
"But for about four months they have not received food supplies because the government cannot intervene in one camp," Yaro says about the CAN Centre. "Because NGOs are coming here, the government decided to pull back and only give condiments."
He adds that other Christian camps are under the EYN CAN Centre because they evolved due to the latter's lack of space. But, "whatever is brought to the CAN Centre by SEMA does not get to the others," he says. "Since there is an NGO presence in Hillary camp, the government also 'hands-off' there."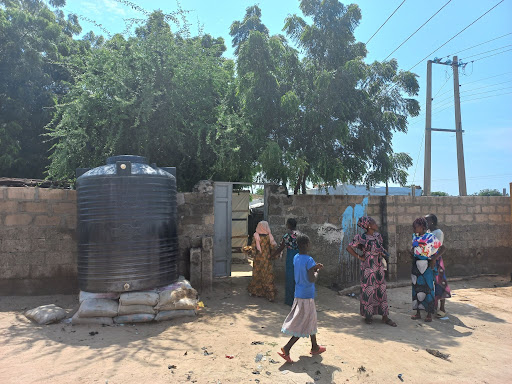 At EYN Shagari Low-cost, Naomi Yohanna, 43, and mother of six tries to engage in farming as much as the security situation permits in order to earn a living. "We cut down trees for firewood and sell," she tells HumAngle. "Sometimes I clean houses and do the laundry. I have done that for about two months and collected N3,000 per month."
But the camp was not initiated by the state government. "This Shagari low-cost camp was set up by EYN. They always pay us a visit and pray with us. They also share food for us," Yohanna says. "Churches have not forsaken us. We don't have any NGO helping us. In 2017/2018, Christian Aid registered us and gave us food for about four months before they stopped. We thank God because Jesus has told us that this world is not for us."
Why they may feel neglected
Men like Ibrahim Kulka, 53, sought labour opportunities on farms. But when they were attacked at Mailalari, they never went again. "We used to make N700 to N800," he tells HumAngle. "Now it has been six months since we have gotten food from the government. Surprisingly, some camps still get food supplies."
Samaila Ayuba Ashiffa, an IDP at the EYN CAN Centre, recalls how, from the beginning, the state government paid attention to them. From 2014, down to 2015 and 2016.
"The assistance continued to decline up till this moment," he says. "Right now, we don't get food from the state government. We don't know why, but we were promised food from the beginning during the time of the former governor, Kashim Shettima. Then, in 2015, we were convinced to vote for APC so we can get assistance and from top to bottom we voted for APC because we were promised that we would be able to return to our homes in Gwoza. But this did not happen. However, recently, some of our people returned to Goshe in Gwoza LGA.
"He [governor] promised that if Buhari becomes president and he becomes governor, he would take care of us. But this is not the case presently. We face a lot of challenges. We feel neglected, like we are not Borno State indigenes.
"Also, we face challenges in the area of schooling. There were some children who were selected for scholarships in Sokoto. But when they are selecting, they, for example, take five Christians and 10 Muslims. They don't do it fifty-fifty because they have a monopoly of political power. It is the same when it comes to the way they treat Bakassi camp and Dolori camp compared to how they treat us in EYN CAN, Shagari or Shwari camp. We however depend solely on God."
Ashiffa points across the road to where the sound of grinding machines floats from some makeshift structures.
"EYN brethren recently helped us. Some of the grinding machines we have here were idle until they came. Now we have grains to grind because of them."
But Yaro mentions a day in August when IDPs at EYN CAN Centre were given food. "Each person gets two measures of maize and rice, one litre of tin oil, a packet of food seasoning, salt and detergent," he says, and adds that it is not easy.
Then he gives an example of what may be the source of the problem. "Stadium Camp doesn't have more than four or five Christian IDPs. They are mostly Muslims there. Sometimes some Muslims take their zakat [charitable donation] there. Just like some Christians may want to give their tithes. But some Christians may think that they are ignored by the government."
A pastor who has lived in Maiduguri before the insurgency started emphasises that "Christians are not being taken care of like the Muslims."
He adds that "the camps were not separated from the beginning, but when the Christians discovered that they were not given food or clothing like the Muslims, they left the camps. Some of them left for some churches. Some left for the CAN centre or the Pentecostal Fellowship of Nigeria where a camp was later formed. Because of their plight, their lack of food and clothing, we buy things and take to them.
"We had a brother who came from Lagos on a monthly basis. He invites all of them to our regional headquarters. He buys bags of maize. And then, at a time, he decided that he was going to empower them, so he would select 40 people on a monthly basis and give them N25,000. After a month he would return to assess how far they had gone with the resources and then empower another 40. After that, he would go to Shwari camps one and two. He did that for about a year."
The pastor says a school called African Global Mission was founded by his church's regional pastor. Then a skills acquisition centre was opened a stone's throw from the camp.
"The school is free. Even if you are not from the camp, you are welcomed. Even some Muslims attend. But because the help from churches is hardly enough, you see the IDPs going from church to church when there is a welfare service," he says.
"At other non-Christian camps, the IDPs are registered with organisations where they get monthly payments and also have a place where they pick their food according to the number of their households. But the Christians fend for themselves, engage in farming, security, dishwashing, and so on. The segregation amongst IDPs is serious because of their religion."
The pastor also points out that the camps lack security personnel.
But Yaro explains that at other camps like Dalori, the United Nations World Food Programme attends to them (WFP). Then also, NEMA in camps like Bakassi and WFP in Gubio.
"Usually, where the government intervenes, NGOs don't go there," Yaro stresses. "EYN CAN Centre has 376 households and 2,240 individuals."
But occupants of the camp feel differently about the situation. It is early afternoon and some say they are yet to know what they would eat for lunch, talk less of dinner. The picture is the same at Shagari Low-cost where women sit in groups, idle and waiting for the next meal.
"By evening, this place will be flooded with men," John Ali, a former vice leader at CAN Centre says, referring to how the situation pushes young women to trade sex for daily bread.
This report is a partnership between the African Transitional Justice Legacy Fund (ATJLF) and HumAngle Media under the 'Mediating Transitional Justice Efforts in North-East' project.
---
Support Our Journalism
There are millions of ordinary people affected by conflict in Africa whose stories are missing in the mainstream media. HumAngle is determined to tell those challenging and under-reported stories, hoping that the people impacted by these conflicts will find the safety and security they deserve.
To ensure that we continue to provide public service coverage, we have a small favour to ask you. We want you to be part of our journalistic endeavour by contributing a token to us.
Your donation will further promote a robust, free, and independent media.
Donate Here