Analyses
Extremism
News
Arms Seizures, Destruction Shadow Nigeria's War Against Terror Groups In Northeast
Building the capacity of counter-insurgency forces to reduce or stop attrition of weapons while at the same time increasing the losses suffered by insurgents is essential to improving security in Northeastern Nigeria and the Lake Chad Basin region.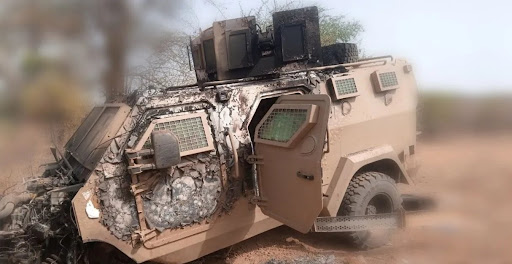 The counterinsurgency and insurgency campaigns in the shrubland of Northeast Nigeria and the wetlands of Lake Chad Basin region are characterised by frequent attrition, particularly during periods of intense fighting and raids. 
Between January and early August 2021, data from the military and open-source intelligence indicates that the military destroyed, captured, and recovered more than 200 pieces of lethal and non-lethal equipment from the Islamic State West Africa Province (ISWAP) and Boko Haram. 
Although the report which does not include ammunition recovered or lost is based on the limited information available from official and open sources, it provides a view of the attrition war in the region. 
Among the weapons seized over the past months are at least 11 Heavy Machine Guns (HMG) also known as anti-aircraft guns (AA), comprising the Soviet-designed NSV and DShK HMGs, Chinese-designed W-85, and Type 85 HMGs chambered for 12.7 x 108 mm cartridge, usually mounted on trucks as an anti-personnel and anti-aircraft weapon.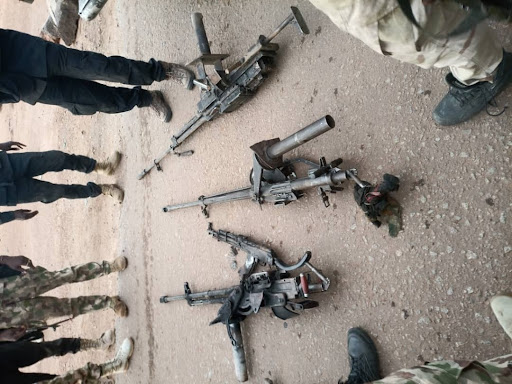 Others included over 150 Fabrique Nationale (FN) FAL rifles, AK pattern rifles and variants such as the AKM, Serbian-built Zastava M21, and the Norinco Type 56. There were also several general-purpose machine guns consisting of the PKM, Browning, and FN MAG. 
At least 20 assault rifles and two grenades were surrendered to Nigerian troops in Northeast Borno by former Boko Haram combatants fleeing their enclave following ISWAP's incursion into Sambisa that led to the death of Abubakar Shekau and the absorption of fighters. 
During the period in review, the military also recovered weapons used for deployment of explosive projectiles. These, for example, include the SPG-9 recoilless gun, rocket-propelled grenade launchers, mortar tubes and automatic grenade launchers, while a gun truck retrofitted into a car bomb was disabled. 
In June, a suicide vehicle-borne improvised explosive device (SVBIED) was captured during an ISWAP attack on a military base located in the town of Damboa. Hugo Kaaman, an independent researcher focused on SVBIED, tweeted that "an ISWAP up-armored SVBIED disabled by Nigerian forces during a failed ISWAP attack on an NA [Nigerian Army] base at Damboa, Borno. First use of camouflaged armor. Looks like armored glass from an Isotrex Phantom APC as a windshield." 
The terror group is known for removing armoured parts of captured military vehicles to fabricate car bombs used against ground forces. In February, the researcher identified another SVBIED with what appears to be armoured glass panels from a seized Isotrex Phantom 2 APC employed as windshield armour. 
More than 30 gun trucks were either destroyed, damaged or captured by the Nigerian troops with 13 recorded as the military was pushing back an ISWAP attack on a military formation in new Marte in January. A significant proportion of the gun trucks, mostly Toyota Hilux and Buffalo land cruisers, are originally those of the Nigerian military lost in ambushes and large scale attacks on units.
ISWAP usually destroys armoured vehicles after stripping them of useful parts, likely because of the vulnerability of heavy armour to airstrikes or lack of expertise, or both factors. Likewise, the Nigerian military has encountered and disabled at least two armoured vehicles used in attacks on bases. For instance, an ex-Nigerian Army Fv103 spartan tracked armoured personnel carrier used in a February attack on Askira was smashed by the military and, in Damboa, an MT-LB amphibious multi-purpose tracked carrier was recaptured. 
The FV103 destroyed in Askira bears resemblance to a similar carrier that appeared in propaganda media showing a FV103 captured in Gorgi area, located in the dreaded Alagarno forest axis.
Losses not one-sided
Security forces and support militias in the region have similarly suffered losses from attacks, with the Army suffering more – possibly connected to the central role it plays in providing security and sustaining the onslaught against terror groups.
In 2019, the Army established super camps to absorb forward operating bases or smaller units, thereby improving defensive capacity and curbing the alarming rate at which bases were dislodged that led to attrition of personnel and equipment. However, ISWAP continued to pose a threat to military convoys and adopted tactics that have enabled squads to either overwhelm, swarm or dislodge bases of varying sizes, including some with artillery and tanks.
Upon dislodging a formation, certain ISWAP units or fighters proceed to loot equipment and gears, which are reused for offensive operations against military forces in Nigeria, neighbouring Diffa in Niger republic, and the far North region of Cameroon.  
The Air Force has been able to conduct bombing runs on raiding parties during intense confrontation or after the overrunning of bases. This has contributed to the number of ISWAP offensive assets captured or destroyed by the military, as highlighted earlier. 
An analysis of combat losses is tricky due to the absence of official data from authorities as well as the risks of militants exaggerating their propaganda. 
HumAngle, however, monitored open-source data including extensive work conducted by Calibre Obscura, a weapons researcher and analyst who documented and tracked the trend of weapons losses in the region. 
ISWAP media have displayed more than 70 AK variants, FN rifles, HK21, pump-action and flintlock (dane guns) belonging to the Army, Police, and Civilian Joint Task Force (CJTF). About 19 machine guns ranging from Vz.59, M60, FN MAG, RPK and MG-1M were also looted after attacks.
The seizures included heavy machine guns consisting of about two dozen NSV, W85, Type 85 and Dshkm alongside weapon systems designed to discharge a variety of warheads like the Soviet-built RPG 7 and Type 69 launchers, Automatic Grenade Launcher (AGL), and OTO-Melara Mod 56 105 mm pack howitzers.
An estimated 77 vehicles were stripped, destroyed or stolen from security forces; police, Army and CTJF units, comprising of heavy transport trucks, pick up in normal and gun truck configuration and armoured fighting vehicles; Isotrex Legion and Phantom II, Otokar Cobra, FV-103, Panhard AML-60, Mowag Piranha, Panhard VBL, Panhard ERC-90, Steyr 4K 7FA, BTR-4, Nigerian Army built Ezugwu and Conqueror, Vickers, T-55 and T-72AV MBT. 
The number of these armoured vehicles that were unserviceable and abandoned is unknown but the diversity of the stockpile and location of incidents indicate that the vehicles were either used in defensive or offensive roles. 
The Phantom II Armoured Personnel Carriers (APC) on its part bears the scars of the military operation in the first quarter of 2021 code-named 'Operation Tura Takai Bango'  in Sambisa and Alagarno forest.
At least three or more Phantom II were destroyed or captured in fierce battles between Nigerian troops and insurgents in Alargano-Timbukwu triangle, as troops battled stiff resistance from the group in the form of counter-assault, bomb-laden vehicles, and buried improvised explosive devices.
In April,  a group of ISWAP insurgents  in multiple gun trucks and an unknown variant of a vehicle suspected to be Mine-Resistant Ambush Protected vehicles (MRAPs), launched a deadly raid on mobile and static army position in Mainok, leading to the capture of several vehicles including two or three new Legion MRAPs. 
The Isotrex armoured vehicles (Legion and Phantom II) were acquired after authorities in February 2020 replaced the acquisition of 10 T90 tanks with 60 Legion ($475,587.42), 12.7mm DSHK HMG ($18,750), Codan Radios ($6,920), and Armoured Turrets ($29,631) – 24 Phantom II APC ($385,208.67), 12.7mm DSHK AA Guns ($18,750), Codan ($6,920), and Turret ($29,631).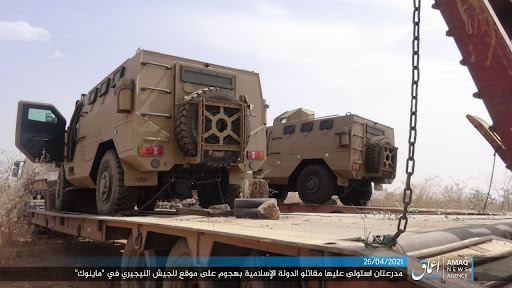 The ability of the affected states in the Lake Chad Basin region and foreign partners to drastically reduce or stop the attrition of resources belonging to counterinsurgency forces and increase the losses recorded by terror groups is vital for security and stabilisation campaigns in the region. 
HumAngle understands that this will require more training, appropriate acquisitions and use, counter-ambush measures, improved situational awareness, and rapid deployment capabilities. 
---
Support Our Journalism
There are millions of ordinary people affected by conflict in Africa whose stories are missing in the mainstream media. HumAngle is determined to tell those challenging and under-reported stories, hoping that the people impacted by these conflicts will find the safety and security they deserve.
To ensure that we continue to provide public service coverage, we have a small favour to ask you. We want you to be part of our journalistic endeavour by contributing a token to us.
Your donation will further promote a robust, free, and independent media.
Donate Here