Armed Violence
Features
News
#AK9Train: Two Mums, A Dad In Captivity Breaks Children's Hearts Across 3 Families
Sherifat Abdulfatai, Rashida Abdullateef, and Kazeem Abdulazeez have been in captivity since the unfortunate abduction of over 60 passengers from an Abuja-Kaduna bound train on March 28, 2022. Between them, they have about 11 children now missing their mummies and daddy.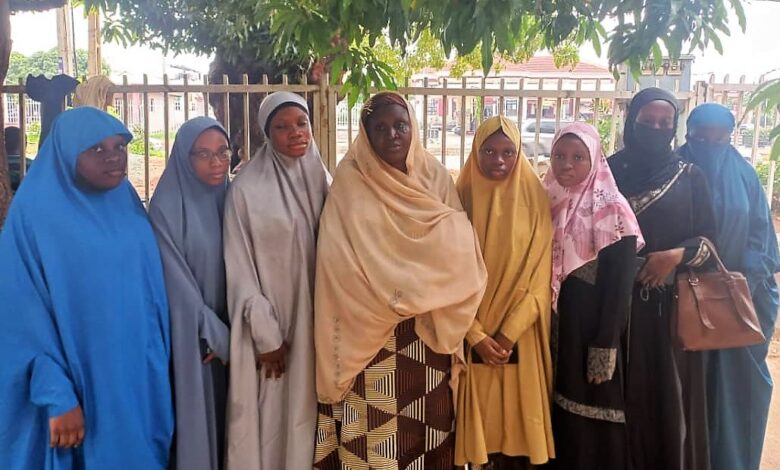 Kadijat Shehu is a strong woman. So are her nieces, whose mothers have remained in captivity since March 28, 2022, after the now-infamous Abuja-Kaduna train attack. 
Two of Kadijat's elder sisters, Sherifat Abdulfatai, 51, and Rashida Abdullateef, 49, are currently being held by terrorists who demand the release of their children from Nigeria's Federal Government and otherwise threaten to kill their victims.
Gripping automatic rifles and their faces swathed in turbans, the terrorists' appearance in several videos, released across the two months since the abduction, strikes terror into the hearts of family members.
At such a time, Sherifat's and Rashida's eight children and Kadijat are less likely to appear strong. Yet they try to be even when it gets tiring. But for how long?
Kadijat's blood pressure recently hit 170, and she has never experienced High Blood Pressure in her lifetime. According to experts, "ideal blood pressure is usually considered to be between 90/60mmHg and 120/80mmHg."
"Sometimes I have strange thoughts," Kadijat told HumAngle. This is a result of the trauma she currently experiences. Weird images she has never had spring up in her mind. Despite these, she puts up a brave face and a strong shoulder for her children and nieces to cry on.
Before the incident
The family had just finished a wedding ceremony and Kadija's sister, Sherifat, decided to travel to Abuja. This was two weeks before the train attack. "She wanted to greet people who came for the wedding. She went on Thursday and planned to return on Monday," Kadija narrated. On the other hand, Rashida had travelled to Abuja, North-central Nigeria, on a business trip.
"They told me they would be returning on Monday, so I called around 5 p.m., thinking that they had already returned. They told me they were just on their way to the station. I was in my shop, but I wasn't feeling okay, so I closed.
"Then I got a call from my younger sister who asked if they had boarded the six o'clock train. That was when she told me what had happened."
That night, some family members waited at the train station until 2 a.m. before returning. It was the next day Kadija confirmed that her siblings had been kidnapped.
Sherifat, a pharmacist, has four children. Rashidat, who is a school proprietress, also has four children.
"We the sisters are very close. We have only one brother. In the same way, our children are also very close. From the beginning, they cried almost every day. Now, when I am with them, we laugh, play and try to talk about the past," Kadija said. They do this to ward off the dark notions of terror that lurk behind their every thought.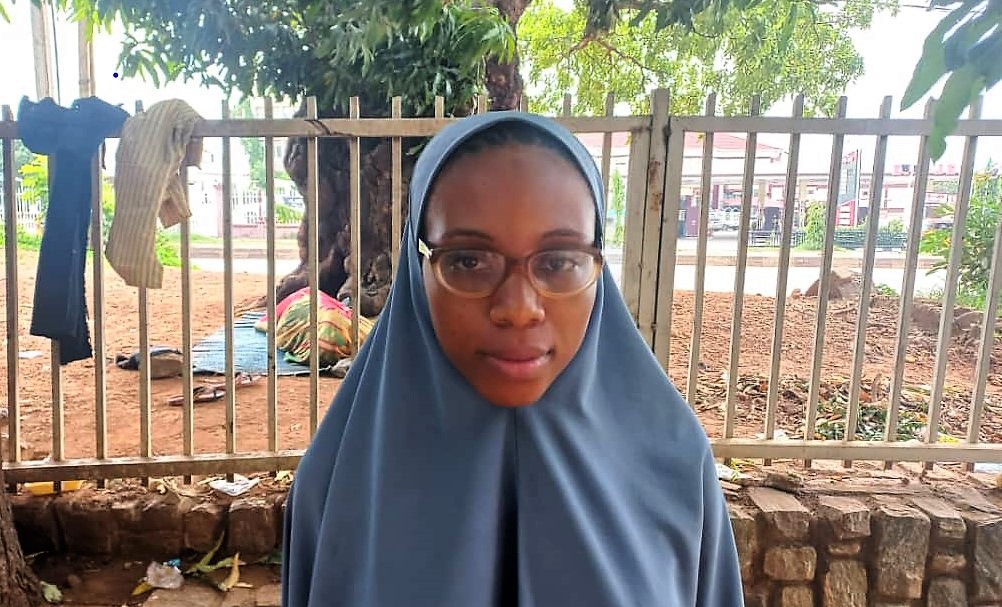 Sallah without them
Sherifat's 21-year-old daughter, Raliat Abdulfatai, remembers the sadness that came with spending the Ramadan fasting period without her mother and then the Sallah festivity that ended up not being a celebration for any of them.
"It hasn't been easy for us," she said. "If you haven't passed through it, you won't know how we are feeling. We did Ramadan without them. We were hoping they would return before Sallah but it didn't happen. Everybody was very sad on that day. We have been praying and hoping. We did things like robots."
And then the what-would-have-been thoughts set in. "Waking up for Sahur, we would say Mummy would have done this or done that. We would have started preparing for Sallah, buying this or that. But because everyone was anxious, we were just fasting and eating," she continued.
Usually, Sherifat's family has a routine where the boys go for prayers with their father and the girls with their mother. But this did not happen. It was the first Sallah the entire family did not spend together.
"We didn't even go to the mosque to pray," she said. "We all cried. We were very emotional.
"My mum is someone I can't live without. I love her so much. She's caring and is someone who likes to help others, an amazing human being."
Her cousin, Ahairab, 16, has a similar experience. "Whatever we do, they are always on our minds," she told HumAngle. She pointed out that without Rashida, their mother, the house was empty on Sallah day and remained so.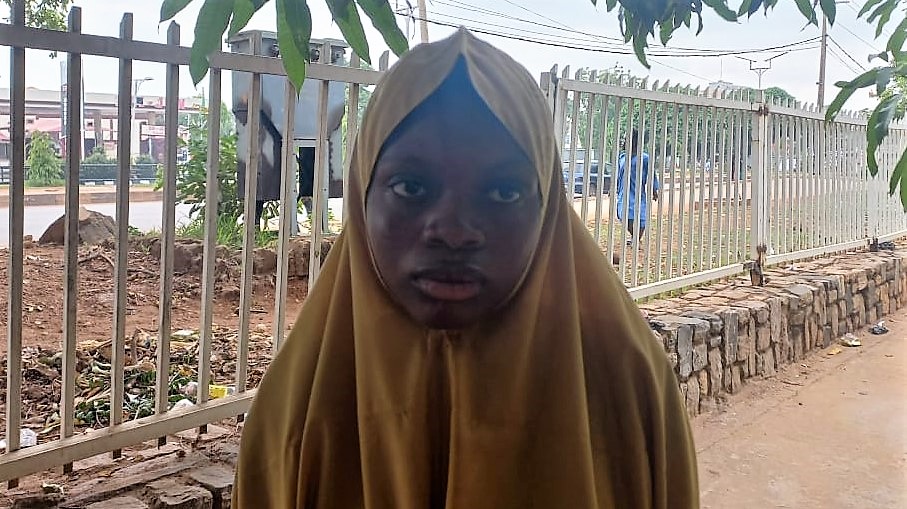 Not without him
With three children and an advancing pregnancy, Fatima Kazeem does not want to imagine life without their breadwinner, her dear husband, Kazeem Abdulazeez.
The last time she spoke to him was on March 28, when the train was attacked, when he asked her to cook rice for him because he was on his way home. But he never arrived.
"It's only God and my husband that I have," she said, sobbing. "We have three children. How am I going to survive? There's no help from the government or from anybody. We are just depending on God.
"The [Nigerian] president should have pity on us. The president is the only one who can help us. He should look at our condition and help us."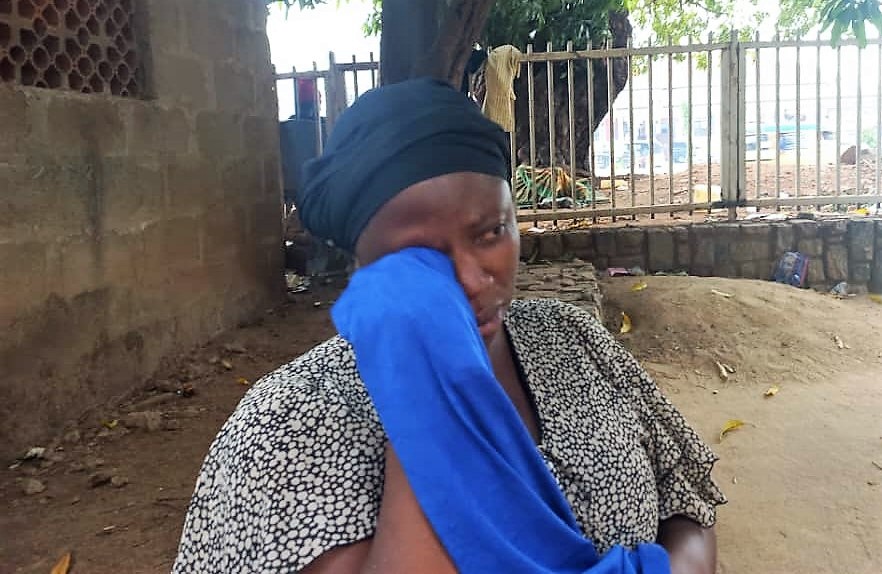 On May 24, HumAngle reported that the terror group responsible for kidnapping Fatima's husband and 60 others gave an ultimatum of seven days for their own (terrorists') children, allegedly held by the government in an orphanage, to be released.
Other videos released by the terror group have since followed, where the abductees pleaded for the Nigerian government's help.
The strain
Kazeem's mother's health has deteriorated. To make matters worse, Fatima, his wife, is pregnant.
"We are pleading with the federal government to bring back our loved ones. We are tired. My brother is in his late forties," Kazeem's sister, Rukayyat Abdulazeez, said.
Kazeem Abdulazeez is a footballer who has been going through some rough patches financially. Fortunately, a friend had offered to help, and they had travelled to Abuja together. 
But, "the friend was shot," Rukayyat said, narrating how her family went to several hospitals in search of their brother, only to discover later that his friend had been killed during the attack.
"I tried to reach him and his friend that day, but it was not possible. I knew they should have returned by then.
"I later connected to the internet and saw someone post that there was a blast along the train tracks."
Two days later, Rukayyat got a phone call, and she heard her brother's voice. The reply was cold and hard when she asked the abductors what their ransom was. "They said we can't pay them," she told HumAngle.
"The president should please come to our rescue. The road is not safe; even your house isn't safe. Everywhere isn't safe. We are just at home doing nothing. Mr President should come to our rescue and put an end to this. We are tired," she pleaded.
---
Support Our Journalism
There are millions of ordinary people affected by conflict in Africa whose stories are missing in the mainstream media. HumAngle is determined to tell those challenging and under-reported stories, hoping that the people impacted by these conflicts will find the safety and security they deserve.
To ensure that we continue to provide public service coverage, we have a small favour to ask you. We want you to be part of our journalistic endeavour by contributing a token to us.
Your donation will further promote a robust, free, and independent media.
Donate Here