Environment
Features
Solutions & Development
With Reusable Pads, A Pharmacist Is Tackling Period Poverty And Protecting The Environment
During the COVID-19 pandemic, a Kano-based pharmacist began sewing reusable pads to donate to women and adolescent girls. This has grown into a fight against period poverty, and a cause towards zero-waste menstrual hygiene.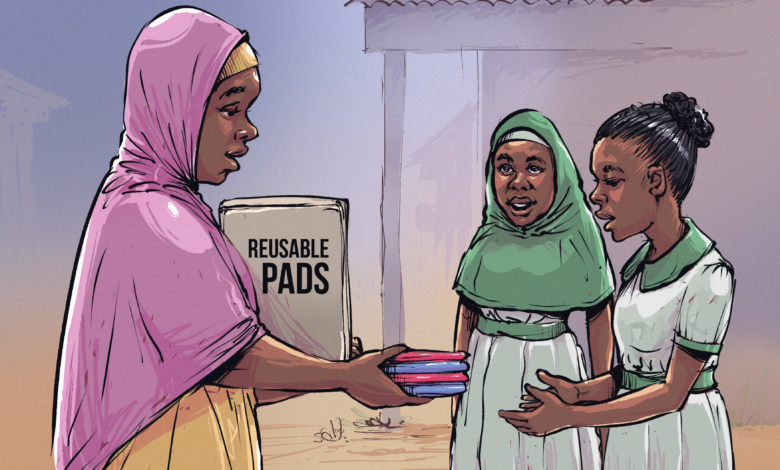 It began with an idea. During the COVID-19 pandemic in Kano, a state in Northwest Nigeria, Maryam Muhammed noticed how scarce sanitary pads had become.
Due to the lockdown, shops and kiosks remained closed and women and adolescent girls found it difficult to access safe period products.
Although this was a general plight for women, Maryam, who is a pharmacist, observed how women who were less privileged were in a worse situation.
"Pads have since become less than a necessity and more of a luxury that many women cannot afford. Just like food and water, sanitary pads are part of a woman's life."
With yards of bamboo fleece and cotton, Maryam began sewing together reusable pads to donate to women who cannot afford them.
The rising cost of sanitary pads and period products has been a long-standing issue for women and adolescent girls across Nigeria. In 2021, it was estimated that over 37 million women of menstruating age do not have access to sanitary pads due to financial constraints. Despite women accounting for nearly half of the entire population, this has not been addressed.
Period poverty has severe negative impacts.
"The impacts can be physical, emotional or even mental," Hajara Hussaini, a girls' rights activist and a volunteer for the Pad a Girl project, says.
Hajara explains that period poverty is not only the lack of access to period products but the absence of menstrual education and hygiene facilities, "and there are health implications that come with it."
Period poverty is another aspect of gender inequality, she says, adding that "when there is no access, they begin to skip school during their periods because it affects their confidence level in some ways. There is this notion that periods are shameful, it is hard for them to leave their homes and interact with society."
Hajara also adds that it is the same for women who are in childbearing age. Complications such as urinary tract infections (UTI) are becoming prevalent amongst women due to a lack of menstrual hygiene, she states.
Sustainable Menstruation
Asides from donating reusable pads to women and adolescent girls who are not able to afford period products, Maryam sells them off to women who are interested in embracing a sustainable menstrual cycle through her social media page.
It was how Aisha, 24, first found Maryam's reusable pads. She said she became inquisitive and asked about the features of the product.
The reusable pad is made up of three layers, Maryam explains to HumAngle. The first layer –which comes in contact with the body– is made of soft cotton. The second layer which is the absorbing component is the bamboo fleece and the third one is a waterproof material that blocks the blood from seeping through. It also has a button that helps in fastening the pads to the underwear.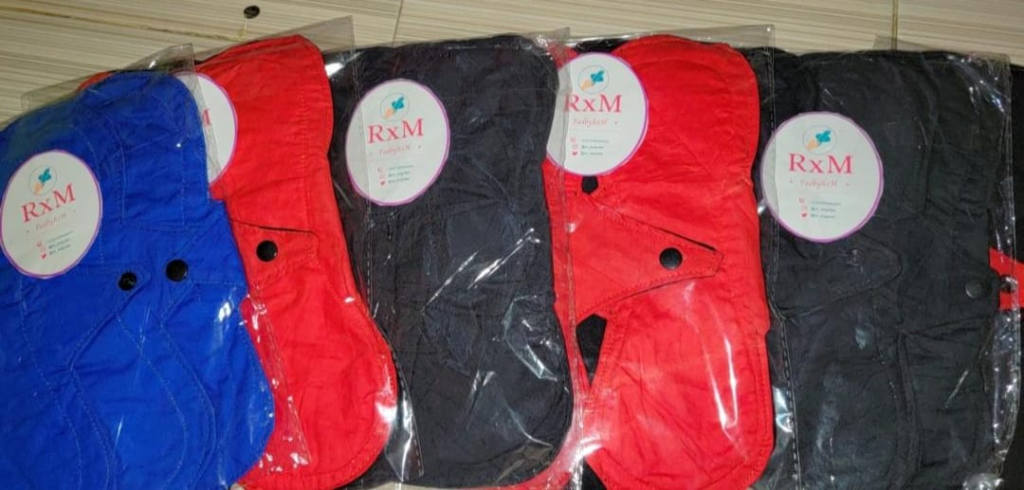 Aisha, who is a student of statistics at Ahmadu Bello University, Zaria, describes her transition to using reusable pads as the best choice. She makes a comparison between reusable pads and disposable ones.
"The reusable ones are more comfortable," she says. "For disposable pads, because of the chemicals that are added, if your period lasts for longer days it can cause a rash in the area and itching. I also used to use up to three disposable pads in a day but only two of the reusable ones."
Aside from chemicals used in disposable pads to preserve them –which are said to put women and adolescent girls at risk of a range of health ills– some disposable period products imported into Africa are found to have relatively lower quality.
In 2019, menstruators from across Africa began a #MyAlwaysExperience on social media exposing how pads from the Always brand, a staple sanitary towel brand, were giving them burns, rashes, and bruises as well as bad odour.
Despite the hashtag going viral nearly three years ago, the quality still remains the same without regard for the women who continue to suffer.
In Dec. 2022, a twitter user, @EnuAkan, tweeted, "so I'm a fan of Always pad, have been since they came to my school more than a decade ago. But [right now], Always has been giving me a rash. I didn't even know it was Always, until I shared my experience with a colleague."
Aisha told HumAngle that she purchased Maryam's reusable pads a year ago and still uses them. "It is also easy to wash," she says.
"When I was choosing a colour, I initially thought I should get a dark colour, thinking it will have residual stains but I ended up taking ones with light blue colour and it washes off well and easily."
She also noted that it has been durable without any tearing.
Challenges
While Maryam donates her reusable pads to women and girls that are less privileged, she also advocates for the usage of sustainable period products to become the new normal.
Disposable period products tend to be indiscriminately thrown away. Due to stigma and cultural beliefs, people are likely to get rid of their used menstrual products in ways that have been found to harm the environment while causing a public health concern.
It is usually tied in polythene bags and thrown away in gutters, rivers, and in some cases flushed down a toilet.
Disposable sanitary products are said to contain cellulose, super absorbent polymers, plastic covering, and adhesives which are non-biodegradable materials that remain in the environment for up to 800 years.
Some people also choose to burn their used sanitary towels but it is also a harmful practice because the plastic components release toxic chemicals like dioxin into the atmosphere.
But Maryam's gospel has been met with criticism due to the conservative nature of the community she serves. She explains that "the challenges have been [lack of] acceptability due to the stigma attached to speaking about menstrual health, reusable pads, periods and whatnot."
A report by the United Nations Population Fund (UNFPA) noted that the lack of education and awareness toward menstrual health causes first time menstruators to be unable to handle their periods with dignity.
"Common period taboos include the idea that women are impure, dirty, or sinful while they're menstruating," the report adds. "Some women are discouraged from touching or washing their genitals during their periods to eliminate the possibility that they might contaminate the water of a communal bathing area."
These harmful notions have also promoted resource limitations for women and adolescent girls. "Other products for menstruation management, like mild painkillers or hormonal birth control, may be just as inaccessible as hygiene products."
Maryam, however, says there has been progress from when she started in 2020 to now, "the men and boys are also not left out, most of them have been unlearning and relearning."
While Hajara Hussaini, the girls' rights activist, thinks that reusable pads are economical and could go a long way in bringing an end to period poverty, she also thinks that they should be accompanied by hygiene facilities that can enable people to wash them.
Hajara says the government and other stakeholders need to make safe period products free, "or free for the less privileged at the very least. Health care workers can also provide education when they can so that we have a saner environment around periods."
---
Support Our Journalism
There are millions of ordinary people affected by conflict in Africa whose stories are missing in the mainstream media. HumAngle is determined to tell those challenging and under-reported stories, hoping that the people impacted by these conflicts will find the safety and security they deserve.
To ensure that we continue to provide public service coverage, we have a small favour to ask you. We want you to be part of our journalistic endeavour by contributing a token to us.
Your donation will further promote a robust, free, and independent media.
Donate Here