Environment
Features
Wildlife Hunting, Trade Flourish In Nigeria Despite Risks To Health And Environment
The country has recently become notorious for the collection and trafficking of wildlife. HumAngle found that strong cultural practices and the weak enforcement of existing laws are some of the factors behind the trend.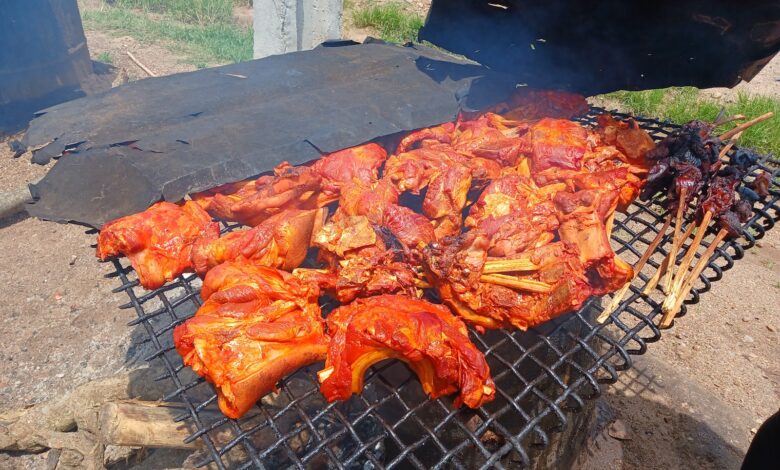 Iyabo Desire's family have survived on the business of roasting and selling bushmeat for decades. She inherited it from her grandmother and has herself been in the business for over 30 years.
She's just finished arranging her spiced meats on an iron net. Then she bends to add firewood to the fire blazing underneath to intensify the heat.
If you visit her spot in the Asejire area of Osun, southwestern Nigeria, you might be lucky to find crocodiles, bats, antelopes, tortoises, porcupines, and alligators all chopped up, seasoned, and ready to be served. But today, what's on the menu are grasscutters.
The word bushmeat refers to wild animals but in the context of food. Animals served in this manner include pangolins, elephants, gorillas, antelopes, grass-cutters, porcupines, crocodiles, and turtles. Many in Nigeria see bushmeat consumption as a part of their culture because they grew up seeing their parents doing the same. Also, we found that security personnel who are supposed to prevent this practice usually treat the matter with levity, especially along highways.
While Nigeria's government has repeatedly warned against the consumption of wildlife, many bushmeat sellers and hunters continue to carry out the illegal trade — destroying the ecosystem in the process and risking exposing people to pathogens and deadly infections.
These implications do not matter for people like Iyabo, who have depended on the bushmeat trade for many years to pay their children's school fees and fend for their families.
"I started this business as a teenager, and I have always operated from this place," Iyabo said from her shop along the Ibadan-Ife highway. She also has a bar where she sells palm wine and bushmeat pepper soup to both travellers and residents.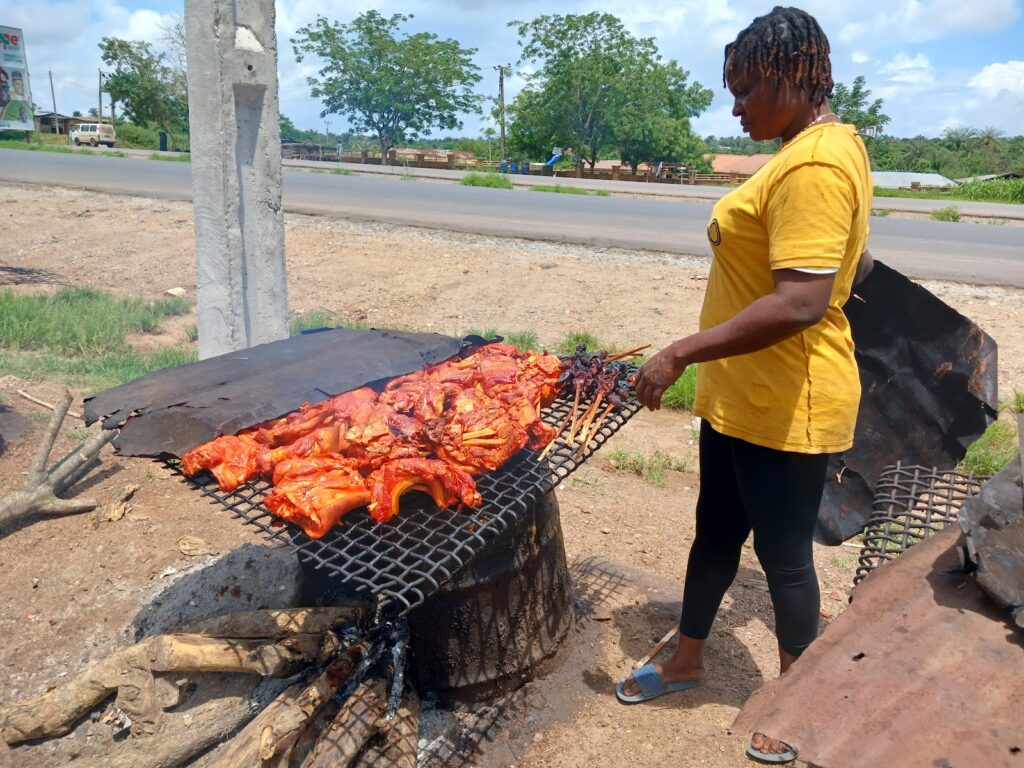 Are there implications?
Wildlife trade is sustained in many places by logging, which leads to the loss of biodiversity in many tropical regions.
Exposure to wildlife through habitat encroachment, hunting, eco-tourism, and trade has also been established to lead to the transmission of harmful microbes through what is known as zoonotic diseases. There are over 150 zoonotic diseases, and 13 of these are said to be responsible for 2.2 million deaths yearly.
The World Health Organisation (WHO) states that 75 per cent of emerging infectious diseases in the last decade have been traced to animals.
"Markets selling the meat or by-products of wild animals are particularly at high risk due to the large number of new or undocumented pathogens known to exist in some wild animal populations," said the international body.
The 2014 Ebola outbreak in West Africa was believed to have originated from bushmeat consumption. The first victim's family in southeastern Guinea hunted bats, which carry the virus.
Researchers also believe the coronavirus most likely got transmitted to humans from wild animals at the Huanan Seafood Wholesale Market, where the earliest cases of the infection were recorded in Dec. 2019.
In June 2022, Nigeria's Federal Government issued a warning on the consumption of bushmeat following confirmation of monkeypox by the Nigeria Centre for Disease Control (NCDC).
"Hunters and dealers of bush meats must desist from the practice forthwith to prevent any possibility of spillover of the pathogen in Nigeria. Transport of wild animals and their products within and across the borders should be suspended/restricted," the statement read.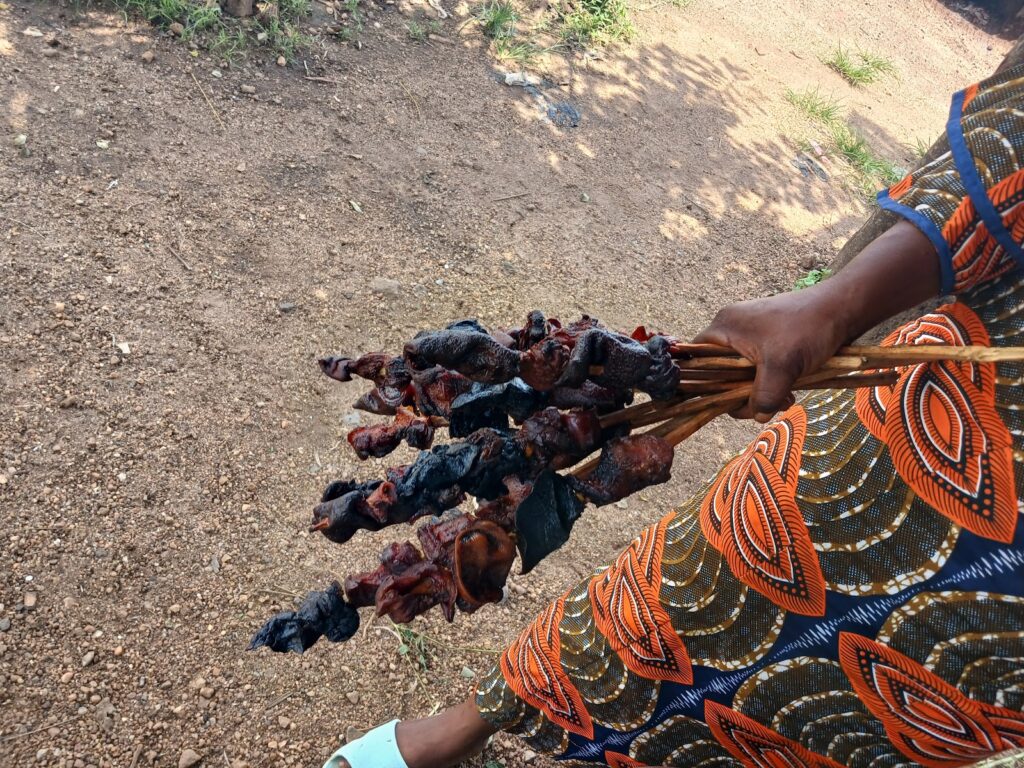 Asked if she knew the government warned Nigerians to desist from consuming bushmeat, including rodents, due to monkeypox, Iyabo described the announcement as laughable. She has no plans of quitting her business, she replied, because none of her customers had fallen sick from consuming her meat.
"I eat the bushmeat myself and I have never been sick. No customer has ever complained of monkeypox. The government and medical practitioners are only interested in spoiling our business."
Soon, a customer and taxi driver arrived who corroborated Iyabo's position. He said his family members rely on bushmeat as their source of protein, and no one has fallen sick from eating them. According to him, "Any ban on bush meats would be difficult to implement because there are a lot of people in rural communities who depend on the business for survival."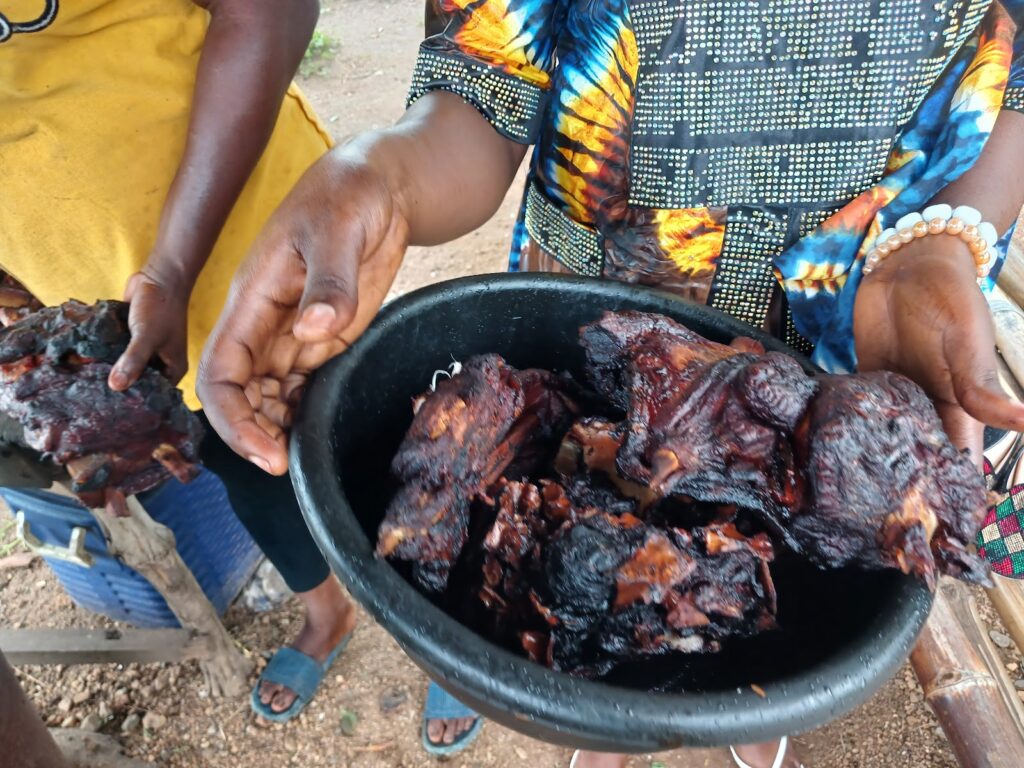 The World Bank values illegal wildlife trade worldwide to be worth between $7.8 billion and $10 billion a year. This makes it the fourth most profitable criminal enterprise after the trafficking of drugs, people, and arms.
In Nigeria, you would find the trade taking place in broad daylight along highways. There are also active bushmeat markets in Lagos, Osun, Oyo, and many other states. The country has recently been notorious for the collection and trafficking of wildlife, according to the United Nations Office on Drugs and Crime.
The sale of wildlife and bushmeat also takes place on social media platforms like Facebook. "I sell them via WhatsApp sometimes. Most of my customers in Lagos make orders after viewing what I post of my status," disclosed Iyabo.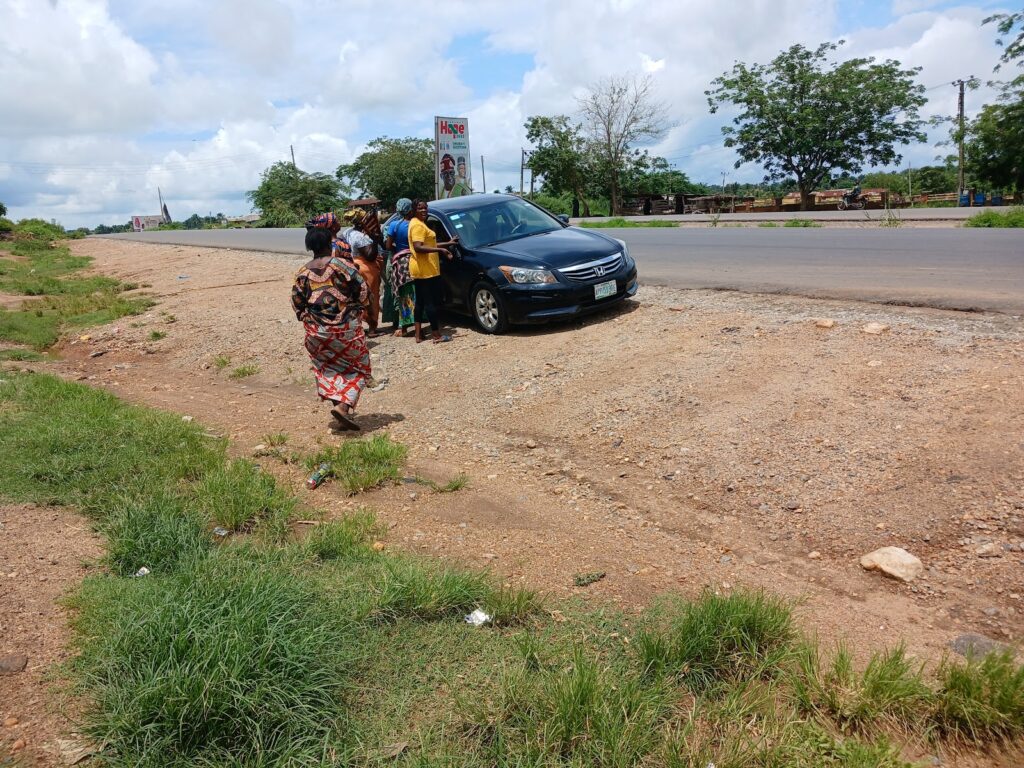 A cultural trend?
For years, hunting has been a traditional vocation passed on from generation to generation. Like Iyabo, Mufutau Balogun, a hunter based in Osun State, does not see anything wrong in killing and selling bushmeat. He described the business as the means of support for many in his shoes.
"My father is a hunter and I took after him. He raised all his children with the money he made from selling meats such as antelopes, bats, and crocodiles killed in the bush. It is a cultural thing and cannot be erased," he argued.
"Nothing can stop me from consuming or selling bushmeat. I have a family to cater for and any ban will only increase the hardship on the masses. It would also be a form of eradicating our culture. Bushmeat is what our forefathers ate during their days and there was no report of any death caused by sickness from bushmeat."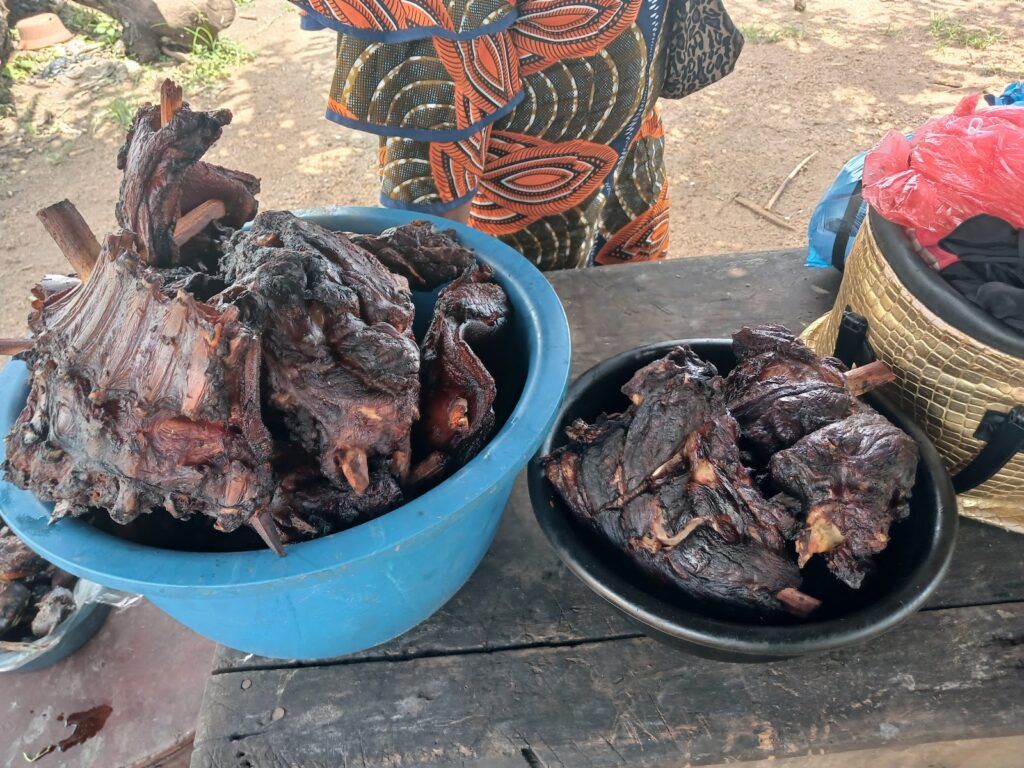 Mufutau said he kills at least one wild animal weekly through his gun or one of many traps. He sells his catch to vendors like Iyabo, with prices ranging from ₦4,000 ($5) to ₦10,000 ($13).
He explained that wild animals and their parts, such as hooves, skins, bones, and feathers, are also used to prepare medicines. "We sell them to traditionalists who use them to perform rituals and appease their traditional gods," Mufutau said.
In addition to this, the animals are used as unconventional exotic pets and for clothing accessories.
Legal framework
Nigeria's Endangered Species Act forbids the killing and trafficking of wildlife.
In 2016, the government increased the penalty for hunting or trading endangered species such as pangolins, sea turtles, civets, monkeys, and pythons from a fine of ₦1,000 ($1.3) to ₦500,000 ($660) or five years' imprisonment — or both.
These laws are, however, disregarded by the people assigned to enforce them.
For example, instead of being arrested for breaking the law, the hunter Mufutau said he, in fact, has buyers within the security sector, including police officers and personnel of the Nigeria Customs Service.
HumAngle also observed that police and customs checkpoints are situated on the highway where bushmeat is sold to motorists in Ikire.
Even when arrests take place, the rate of prosecution remains poor. As a result, hunters and bushmeat sellers are not discouraged.
One hunter in the Asejire area of Oyo who asked to be kept anonymous told HumAngle poachers arrested in the past usually returned to the forest after bribing customs officers.
"I was once arrested by customs officers working in Ikire sometime last year for killing a monkey," he recounted.
"I was locked up for three days but freed after my relatives came for my bail. I stayed that long in their custody because I was arrested on a Friday and it was late before my family members became aware. While the monkey was seized, I was released after paying them."
Need for accountability
Many agencies are involved in the effort to combat wildlife trade, but the burden of seizing wildlife shipments and those behind them lies on the Nigeria Customs Service (NCS), which is the primary agency at land and sea ports.
Though there have been various high-profile multi-million naira wildlife trafficking bursts at Nigeria's ports in the last decade, records show that only one person has faced jail term.
The convict, Felix Olame, was the forwarding agent who processed the shipment of one of the largest hauls of pangolin parts seized at the Apapa port in Lagos in Jan. 2021. He was sentenced to six months imprisonment in June 2023 without a fine option.
The wildlife parts were deceptively packaged in a 20-foot container prepared for export to Haiphong, Vietnam. The security operatives found 162 sacks of pangolin scales and claws weighing 8.8 tonnes. They also discovered 57 bags of elephant ivory and lion bones.
Despite Olame's conviction, the NCS did not declare the real owners of the cargo, let alone arrest them.
HumAngle contacted Timi Bomodi, customs commander in Lagos, for an update on the possible arrest of the cargo's owners, but he directed our reporter to the national spokesperson, Abdullahi Maiwada.
Maiwada did not respond to enquiries.
Before Olame's case, many poachers arrested in the past were given the option of fine even upon conviction. So, they often escaped jail terms.
Again, four years after the government vowed to investigate the alleged trafficking of large kilograms of Pangolin and ivory tusks that left the shores of Lagos, there's no public record of the findings of this probe.
The NCS spokesperson did not respond to enquiries on this, too.
However, a source in the customs service told our reporter that most cases were not taken to court in the past. Instead, they were settled through the payment of administrative fines. He also explained that most offenders abandoned their cargo at ports and never returned when illegal wildlife parts were discovered. 
---
Support Our Journalism
There are millions of ordinary people affected by conflict in Africa whose stories are missing in the mainstream media. HumAngle is determined to tell those challenging and under-reported stories, hoping that the people impacted by these conflicts will find the safety and security they deserve.
To ensure that we continue to provide public service coverage, we have a small favour to ask you. We want you to be part of our journalistic endeavour by contributing a token to us.
Your donation will further promote a robust, free, and independent media.
Donate Here