Analyses
Armed Violence
Development
Why Oil Crash May Spell Doom In War Fronts For Nigeria
The crashing price of oil globally will have an impact on Nigeria's war on terrorism, while spilling over into other aspects of the country.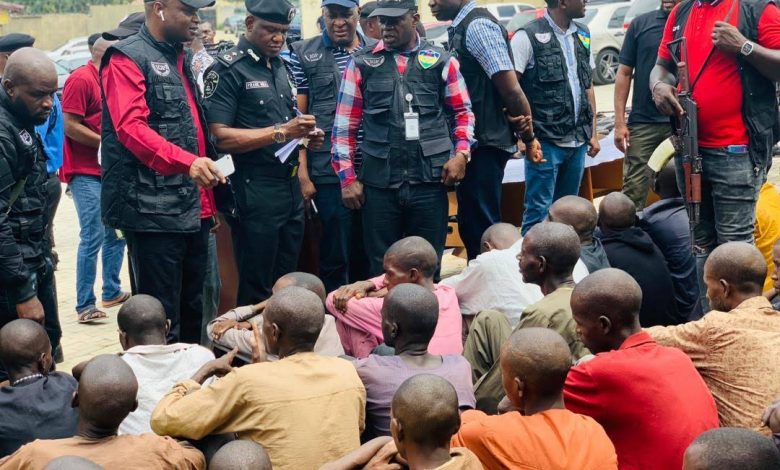 The memo is in the public domain but its implications appear veiled. The singular main source of Nigeria's economic sustenance, petroleum resources, is on a dramatic free fall in global market value. In one market day, Nigeria's Brent oil crashed from about USD80 per barrel to USD36 per barrel. All of the projections, for public servants' emoluments, procurement, servicing bureaucracy, infrastructure and above all cost of prosecuting the war on the insurgency that has steadily widened beyond the Northeast peripheral war theatre, were dependent on the market value of oil sticking to USD57 per barrel or above for all of this year. 
The Group Managing Director of the Nigerian National Petroleum Corporation, (NNPC), Mr Mele Kyari swiftly assessed the immediate and unfolding grave consequences. He announced that there was a collapse in the global oil demand. The documented pattern of Nigeria's production and supply capacity was therefore inconsequential under the circumstances. He was explicit about this and cited a disturbing example. All 12 cargoes of Nigeria's Liquefied Natural Gas consignment out for market delivery were stranded because suddenly the key element of market demand became non-existent.  
By mid-week, following the first crash, the market further contracted, putting oil price at $25 per barrel. If the situation was grim at the onset of the market shock, the prognosis for Nigeria's survival is looking steadily grave and helpless. Alarming on an equal measure with the market shock is the seeming absence of alarm in official circles. With the market plunge last week, Nigeria lost over USD335.7 million.. 
At 2.18 million barrels per day at a cost of USD57 per barrel, as captured in the 2020 budget, Nigeria stood a chance to earn about USD124.26 million daily. Right now that calculation is like a pipe dream.
The difference between the projected earnings (USD124.26 million per day) and the actual earnings (USD76.3 million daily) was USD47.96 million. With demand flickering like candle flame under a surging wind, even the figure under the actual earnings turns a mere washload. The actual daily loss may be deeper than USD47.96 million. 
Nigeria produces a barrel of oil for between USD15 to USD17 (for onshore production) and USD30 for deep offshore production which speaks to how badly its profit margin is affected by the crash. On the other hand, Saudi Arabia, one of Nigeria's competing market foes, produces at between USD3 to USD5 per barrel. 
Fundamentally, not only is the oil market crash pulling the carpet from under the feet of economic projections and livelihood for Nigeria, the country was uncompetitive in its area of economic lifewire. 
Nigeria's 2020 national budget is N10.6 trillion, a figure more likely to go up in smokes, going by today's revenue realities. The daily cost of a sustained war against insurgency and a strategy of boosting the tanking morales of troops takes a more frontal nightmare scenario in respect of the revenue realities.  
In the last four years, Nigeria had fairly increased the security budget as well as pulled out some other funds to fight insurgency when it reached its height. In 2016, the budget was N1.06 trillion and 2017 saw the allocation of N1.142 trillion. 
By 2018, the amount had increased to N1.35 trillion and in 2019, an allocation of N1.76 trillion was disbursed. By 2020, the amount had reduced to N975 billion. Despite calls from several quarters that this number would not do much in tackling the rising problem, more trouble looms as oil crashes.  
History surely repeats itself but the purpose is to educate and prepare. Nigeria has been through this dance before and the economic recession was the best catalyst for the insurgency. In 2014, oil prices, which previously averaged 115 dollars, went from 73 dollars to 65 dollars, the beginning of a downward hill ride to the recession that shook the country in 2016. 
Between mid-2014 and early 2016, the global economy faced one of the largest oil price declines in modern history. The 70 per cent price drop during that period was one of the three biggest declines since World War II and the longest lasting since the supply-driven collapse of 1986.
As Nigeria arched closer to the recession, Boko Haram intensified its attacks and began to cut the country's legs from under, forcing then President Goodluck Jonathan to apply drastic measures. 
In early 2014, the frequency and scale of Boko Haram attacks, mainly targeting civilians, increased significantly. In February, the group killed at least 59 people, when they opened fire at a secondary school in Yobe State. In March, at least 75 people were killed in Maiduguri blasts, attributed to Boko Haram. 
In April, Boko Haram gunmen abducted 276 schoolgirls from their dormitory in northeastern Borno state, merely hours after more than 70 people were killed in a bomb attack near Abuja. 
In May, three separate attacks, a Boko Haram assault on the town of Gamboru Ngala on the Cameroon border (at least 336 deaths), a car bombing in Jos (at least 118 deaths), and an attack on a military base in Yobe State (49 deaths) killed more than 500. 
Throughout June and July at least another 2,000 casualties were recorded in multiple attacks, among which was the Gwoza massacre killing at least 200, mostly Christian, in several villages in Borno State and a series of attacks in the Middle Belt of Nigeria, killing around 171 people. 
Until the end of 2014 at least another 6,000 deaths were recorded as a result of continuous violence. In early January 2015,  the deadliest single massacre to date was recorded as a series of mass killings were carried out by Boko Haram militants, destroying the entire town of Baga in northeast Nigeria, killing as many as 2,000 people.
On Jan. 10, a bomb attack took place at the Monday Market in Maiduguri, killing 19 people. The city is considered to be at the heart of the Boko Haram insurgency. In the early hours of Jan. 25, Boko Haram launched a major assault on the city. 
On Jan. 26, Media reported that the attack on Maiduguri by "hundreds of gunmen" had been repelled, but the nearby town of Monguno was captured by Boko Haram. The Nigerian Army claimed to have successfully repelled another attack on Maiduguri on Jan. 31. 
Starting in late January 2015, a coalition of military forces from Nigeria, Chad, Cameroon, and Niger began a counter-insurgency campaign against Boko Haram. On Feb. 4, the Chad Army killed over 200 Boko Haram militants. Soon afterwards, Boko Haram launched an attack on the Cameroonian town of Fotokol, killing 81 civilians, 13 Chadian soldiers and 6 Cameroonian soldiers. 
On Feb. 17,  the Nigerian military retook Monguno in a coordinated air and ground assault. They intensified efforts in conquering the insurgents and in December, President Muhammadu Buhari claimed that Boko Haram was "technically defeated."
By 2017, the insurgents returned, sacking communities, killing soldiers and kidnapping young girls and aid workers. In December of that year, Buhari secured the release of one billion dollars in additional funds to boost the fight against Boko Haram.
There is one constant and that is – war is expensive and Nigeria is currently fighting a war against insurgency. in the face of recent attacks and dwindling military resources for combat and partnerships, this is the worst time to reduce budgetary allocations for defence and security. 
Perhaps a proper reminder of the recent activities of Boko Haram and other insurgents would paint a clearer picture. In January 2019, Barnawi's ISWAP launched a major attack against several military bases, including those at Magumeri and Gajiram. 
Insurgents also overran and destroyed the refugee town of Rann near the border with Cameroon, displacing its inhabitants yet again. The destruction of Rann was initially attributed to ISWAP, but Shekau's Boko Haram later claimed responsibility.
On June 16, three Boko Haram suicide bombers killed 30 people in Konduga, Borno State. Boko Haram shot dead at least 65 people in Nganzai, Borno, who were walking home from a funeral on July 27. 
In 2020, the groups have gathered some momentum. In January, Boko Haram bombed a market in Gamboru, Borno, killing at least 30 people. Again, they killed at least 30 people in Auno, Borno on Feb. 9. 
Indeed, 2014 was a tough time for Nigeria with Ebola breathing down and the Chibok girls kidnapped. Still, the budget for that year had to be reviewed twice, an inevitable fate facing the 2020 budget. (HumAngle)
---
Support Our Journalism
There are millions of ordinary people affected by conflict in Africa whose stories are missing in the mainstream media. HumAngle is determined to tell those challenging and under-reported stories, hoping that the people impacted by these conflicts will find the safety and security they deserve.
To ensure that we continue to provide public service coverage, we have a small favour to ask you. We want you to be part of our journalistic endeavour by contributing a token to us.
Your donation will further promote a robust, free, and independent media.
Donate Here