Armed Violence
News
Why Northern Borno Remains A Tough Nut To Crack For Nigerian Military
Attempts by the Nigerian military to uproot terror groups, particularly ISWAP, in Northern Borno and Lake Chad, continues to hit a brick wall. Uprooting ISWAP's activities in the region is not solely a military task.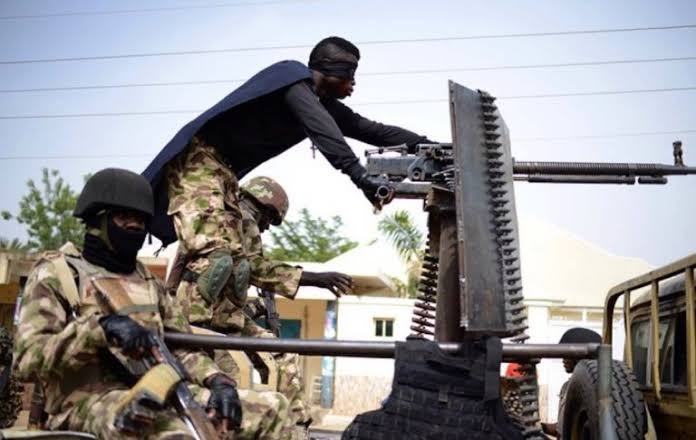 Momentum is building up within the Nigerian army for major military clashes with the Islamic State West Africa (ISWAP) insurgents, to control Northern Borno and Lake Chad.

While ISWAP remains the dominant terrorist group in the region, a Boko Haram sub-faction within the Lake Chad precinct is gaining momentum.
Northern Borno and Lake Chad Island's strategic nature for ISWAP's socioeconomic operations and insurgency campaigns has made parts of the area hard to reach for humanitarian actors, and a challenge for security forces.
HumAngle understands that the second phase of 'Operation Tura Takai Bango' by the Nigerian military was designed to expand the state grip and target ISWAP enclaves.
Ironically, Tura Takai Bango, a Hausa phrase which means 'a state where one is pushed to the wall', were the exact words used by Mamman Nur during a sermon in the days leading up to the 2009 Boko Haram uprising.
Nur was one of the group's leading preachers alongside Boko Haram's current leader, Abubakar Shekau, and Muhammad Yusuf, the founder of Boko Haram who was extrajudicially killed in the aftermath of a security operation to crush the uprising. 
Nur was also part of the Abu Mus'ab al-Barnawi breakaway ISWAP faction that moved to Northern Borno and Lake Chad after leaving Boko Haram in 2016.
Apart from ISWAP, another sub-group of Boko Haram has presence in the region and comprises fighters that swore allegiance to Abubakar Shekau and joined Boko Haram after internal feuds within ISWAP ranks.
Over the past few years, ISWAP has grown to become one of the most active Islamic State (IS) affiliates globally, and has unleashed more violence when compared with its parent Boko Haram faction. This is, despite several military campaigns to halt the terror group's advances.
Further complications in the war's prosecution were the unintended consequences of 'Operation Deep Punch' that led to Boko Haram's bleeding, ISWAP raids and looting of military bases, and attacks on military super camps strategy.
HumAngle reported how ISWAP managed fish and livestock production and distribution, which plays a vital role in sustaining the group, alongside tax and levies placed on different categories of people living in or transiting through the ISWAP sphere of influence.
The terror group also "broke" through the colonial transboundary line splitting the historic Kanem Bornu empire and its people between Chad, Cameroon, Nigeria and Niger.
The group's presence in shoreline communities around the Lake Chad Islands known as Tumbu, serves as defensive, offensive, and resource support.
HumAngle has observed the activities of Naval components of the groups located in the North and South axis of Lake Chad, facilitating their operations. Furthermore, the groups benefit from the skills of the historically marginalised Buduma who inhabit the areas, some of whom have proven their fighting skills in attacks around Lake Chad.
In the past few years, Nigerian artillery and airstrikes have targeted fighters and logistics bases in islands like Tumbun Allura, Tumbun Rego and Doron naira.
Some of the other Island locations targeted by the military include Tumbun Gini, Tumbun Sale, Tumbun Fulani, Tumbun Barorowa, Tumbun Nbororo,  and Tumbun Hamma.
ISWAP has conducted daring attacks in Borno and Northern Yobe. In 2018, ISWAP initiated an offensive campaign to overrun Nigerian military bases, loot armoury and expand areas under the group's sphere of influence.
In December of the same year, ISWAP overran the 7 Brigade Multinational Joint Task Force (MNJTF) base and Nigerian Navy base in the fishing town of Baga, close to the shores of the freshwater Lake. 
The town of Baga on Lake Chad's shores used to be known as a lucrative trading hub for grains, smoked and dried fish but is now a ghost town.
ISWAP has continued to conduct a wide range of terror activities in and around Magumeri, Gubio, Mobbar,  Monguno, Kaga of Northern Borno. While Nganzai, Guzamala, Abadam, Kukawa, Marte and Island locations are considered high-risk areas.
The Bumpy road ahead for Tura Takai Bango
Tura Takai Bango, a subsidiary of the counter-insurgency operation Lafiya dole, was launched in January 2021. With the support of additional troops and new equipment like the ST1 105mm fire support vehicles, VT-4 MBT tanks, SH-5 self-propelled artillery and Phantom II APCs, the army was able to advance into parts of the dreaded Alagarno.
It is unclear if the second phase of the operation in Northern Borno will occur concurrently with the operation in Alagarno or the military will consolidate resources for the offensive.
A significant threat to troops in Northern Borno will be the terror group's ability to deploy bomb-laden vehicles as an assault or counter-assault tool. The terror group has recently deployed bomb-laden vehicles (SVBIED) against Nigerian troops. At least three SVBIED incidents were claimed by ISWAP during an attack in Damasak and a double SVBIED attack in Wulgo town, both in Mobbar and Ngala, local government areas of Northern Borno state.
This highlights some of the challenges ahead for troops as they move into areas where ISWAP has entrenched itself over the years.
The group also poses a threat to military bases and garrison towns despite the super camp strategy. In the past few days, ISWAP has conducted three separate attacks targeting troops in Damasak, used a similar wear-down approach against soldiers in New Marte, Northern Borno, and Dikwa in Central Borno.
The military regained control of New Marte and advanced into enclaves in Chikun Gudu,  Kirenowa  and environs, as part of Phase II of Operation Tura Takai Bango.
Mounting of ambushes targeting logistics supply units, patrol units, or clearance operations, has become part of the group's modus operandi. At least 20 soldiers were killed alongside Civilian Joint Task Force (CJTF) members on March 12 after a deadly ambush between Monguno and Kukawa.
On March 15, troops conducting a fighting patrol in Gamboru Ngala Local encountered and engaged in a firefight with ISWAP elements a few days later.
The dynamic terrain of Northern Borno serves as a hurdle and advantage depending on how actors can exploit it. As the raining season begins, seasonal water bodies will increase the difficulty of accessing some locations. Also, the soil becomes muddy and unfavourable for heavy military vehicles without tracks. Simultaneously, the Savannah Shrubs and other vegetation become greener and thicker, reducing visibility and increasing the risk of ambush.
HumAngle understands that acquisitions of equipment and building tactics to overcome these hurdles is essential. Similarly, a formidable amphibious and naval presence for patrols and assaults is imperative and shortening of the Air Force response time.
Al-ameen Yaqub, an expert familiar with the ongoing military operation, said the objective is simple, restrict ISWAP's freedom of movement and cut off their supply lines.
He added that ISWAP's rear bases in the Tumbu (Islands) have to be consumed, "much of their armouries and fuel depots are there."
Yaqub says the Army has to prepare for a surge in attacks as pressure on the group grows. SVBIED usage will probably increase, as we've seen in recent episodes.
"Northern Borno is huge and will take a considerable commitment in manpower. Boots on the ground have to increase, and given Northern Borno's flat terrain, this is going to be a highly mobile fight."
Multinational efforts against the insurgents
HumAngle understands that the Cameroonian military contributes to the operation, which has extended to the notorious Sambisa forest area, a stronghold of Boko Haram once known for its wildlife population.
In Feb, The Army chief spoke about involving the Chadian military addressing troops at the Army super camp 1 Ngamdu in Yobe State. "We shall be bringing in the Çhadians to ensure the annihilation of the insurgents in the North-East soonest," he said.
In the past, the Chadian military has conducted operations in Nigeria, particularly during the pick-off military operations against Boko Haram in 2015. In January last year, 1,200 Chadian troops withdrew after their months-long mission supporting Nigerian soldiers in Northern Borno.
Previous Multinational Joint Task Force (MNJTF) attempts to dislodge the insurgents around Lake Chad and northern Borno, such as Operation Yancin Tafki in  2019. Gama Aiki, in 2016, was unable to accomplish the objectives.
A successful response to the security situation in Lake Chad will depend not only on the joint force but also on whether states can improve conditions and inspire more trust among residents of affected areas, says the 2020 International Crisis Group report.
Winning the war and peace 
Sustainable security and stability in Northern Borno and Lake Chad Basin requires a broad approach that does not solely depend on military campaign and counter-terrorism measures.
The government should assume responsibility and address long-held grievances in the region and counter ISWAP's dominance as the leading provider of healthcare and other judicial services etc as it is currently the case.
The government must be seen to be present and involved in the lives of the local population.
The decade-long insurgency has recorded over 30,000 deaths and displaced over 2 million people in north-east Nigeria and the Lake Chad region. 
---
Support Our Journalism
There are millions of ordinary people affected by conflict in Africa whose stories are missing in the mainstream media. HumAngle is determined to tell those challenging and under-reported stories, hoping that the people impacted by these conflicts will find the safety and security they deserve.
To ensure that we continue to provide public service coverage, we have a small favour to ask you. We want you to be part of our journalistic endeavour by contributing a token to us.
Your donation will further promote a robust, free, and independent media.
Donate Here