Displacement & Migration
Gender
Humanitarian Crises
News
Why It Is Important To 'Center' The Rights And Priorities Of Women During Humanitarian Response
The marking of world refugee day earlier this week was an opportunity to highlight the plight of women and girls in wartorn areas, and the inadequacy of help rendered to them. It also showed why their welfare ought to be at the centre of humanitarian response.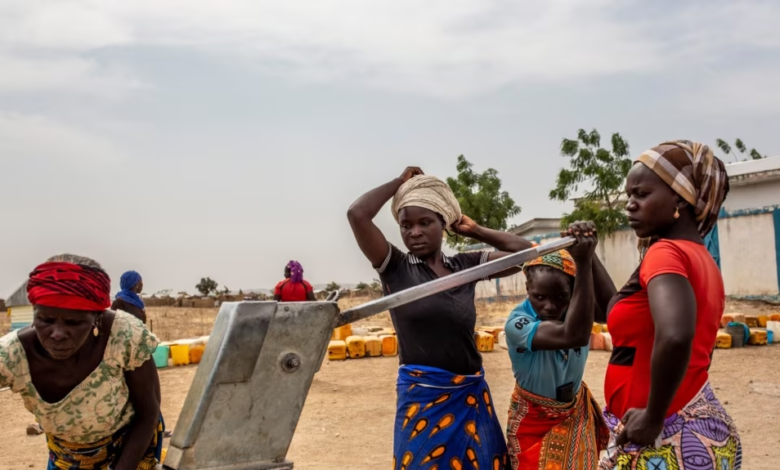 In commemoration of World Refugee Day celebrated on Tuesday, June 20, the Executive Director of UN Women, Sima Bahous said that the organisation is "determined to ensure that women's and girl's rights and priorities are at the centre of humanitarian responses."
Bahous, in her statement, also added that UN Women is equally looking to ensure that social and cultural practices which are discriminatory against women will be "transformed" and used to support the centring of their welfare.
The marking of world refugee day was yet another opportunity to highlight the plight of women and girls in wartorn areas, and the inadequacy of help rendered to them. It also showed why their welfare ought to be at the centre of humanitarian response, especially in Africa, where numerous conflicts are ongoing.
Female African refugees; a major minority
Even though women constitute up to "50 per cent of any refugee population, internally displaced or stateless population," they are considered minorities, not because they are outnumbered by men but because "they are known to suffer from discrimination and subordination because of their status."
The criterion by which women have been classified holds true for refugees in Africa, especially those in displaced persons' camps situated in hard-to-reach areas.
There are a number of ways in which women refugees are disproportionately affected.
Sexual Violence
They are often exposed to sexual violence. When seeking refuge unaccompanied, they could be violated by numerous parties including security forces and even fellow refugees. This is evident in many reports and research, such as the testimony of one refugee to researchers in 2019.
"When we left Lubumbashi from the border, I used a truck and they just put us in a container. There were five people in the container and I was the only woman with four males… I just met them inside the container. They forced themselves on me and they raped me along the way," the 38-year-old woman from DR Congo said.
When they are no longer in transit and have settled into IDP camps in their host countries, they remain in danger and are faced with the menace of sexual violence lurking within, outside, and around the camps. In the Dabaab refugee camp, for instance, the issue of sexual violence during the fetching of firewood was so much that a 'firewood project' was kickstarted in 1997, for the original purpose of checking the violations.
During forced displacement, there tends to be a shift in gender roles. This shift sees women taking up more responsibility and breadwinner positions, as their husbands who are incapacitated by displacement are no longer able to function in that capacity. Many petty trades which are usually the only options – such as firewood selling – are seen as work fit for women in patriarchal communities. These expose them to sexual violence.
"I have eight children and my husband does not work either. I have to go and line up for food rations every fifteen days, but sometimes we run out of supplies in seven days. It is difficult to have three meals so most of the time we have one meal in the evening but children eat at school during the day. I rely on my neighbours with a few people to feed to give me some supplies as we wait for the next ration," a 57-year-old mother of 8 in the Dabaab refugee camp said to researchers.
In addition to the other disadvantages they face, women refugees also "have more difficulties than males to obtain their entitlements in camp settings." A relative instance of this is the situation of female heads of households in recently closed IDP camps in Nigeria's northeast who were only given ₦50,000 by the government for their resettlement as opposed to the ₦100,000 given to their male counterparts.
This existence of unequal grounds and unequal rights among male and female refugees creates a need gap for the women which is sometimes met by engaging in survival sex with either camp officials, fellow refugees, members of host communities, or state security officials. Survival sex in itself is a form of SGBV.
Other issues
Lack of access to sexual and productive health are issues that women refugees also face. Female African refugees who are situated in High-Income areas, face difficulties such as language barriers and other issues such as Female Genital Mutilation (FGM) which compounds their health problems.
Comparative studies carried out in the past have shown that African migrants and refugees from the Sub-Saharan regions had higher risks of preterm birth, foetal and infant mortality, gestational diabetes mellitus, and perinatal mortality. They also had babies with lower birth rates when compared to their counterparts from host countries.
While some refugees in high-income communities have a level of access to healthcare, those in camps and hard-to-reach areas do not. And in some camps (such as the Dabaab refugee camp) where this is available, the language barrier poses a problem for the women who are not certain their interpreters relay the exact health difficulty that they are facing to health workers.
UN reports indicate that "60 per cent of preventable maternal deaths take place in humanitarian settings."
A 2021 regional report by the International Organisation for Migration shows that while 3000 cases of trafficking were recorded in the East and Horn of Africa over the last decade, 78 per cent of the victims were women and girls while 22 per cent were men and boys. This reaffirms the fact that female refugees are more endangered than their male counterparts.
The disparity in the experiences of male and female refugees does not end when they have returned to their homelands, as female returnees face harsher realities upon their return than their male counterparts do.
Those of them who come home with children are sometimes rejected by their communities and their children are tagged 'bush babies' by their families.
Additionally, the marriage prospects of women returnees who are rape survivors may reduce – a situation which does no good for their mental health.
In the same vein, some women who return to their homelands with new ideas, however progressive or positive, are sometimes maltreated or dehumanised.
While some are tagged "loose and shameless" as in the case of some women in South Sudan, some others, (like some female Ugandan women) are killed as a result of "marital frictions."
The inadequate representation of women in decision-making positions has also been recognised as a contributing factor to their disadvantaged positions and even when women have the desire to be or vie for such positions, "existing patriarchal norms and regressive sociocultural and gender attitudes and practices discourage or even exclude female participation."
Women also refrain from getting involved in those positions for fear of being singled out by armed groups and also because "they may have little time to get involved or assume additional responsibilities because of caregiving demands or other circumstances."
And so whether they are Nigerian, Somali, Sudanese, Congolese (and other African women) women seeking refuge within and outside of their continent, they all are in danger and deserving of policies that take their safety and utmost well-being as a matter of urgency and importance.
---
Support Our Journalism
There are millions of ordinary people affected by conflict in Africa whose stories are missing in the mainstream media. HumAngle is determined to tell those challenging and under-reported stories, hoping that the people impacted by these conflicts will find the safety and security they deserve.
To ensure that we continue to provide public service coverage, we have a small favour to ask you. We want you to be part of our journalistic endeavour by contributing a token to us.
Your donation will further promote a robust, free, and independent media.
Donate Here