Disinformation
Emergencies
News
Why Gov. Yahaya Bello's Claims On COVID-19 Vaccine Are False, Misleading
The Kogi State Governor is a COVID-19 denier, and has insisted the pandemic is a hoax, even at the risk of causing bigger problems for Nigerians in Kogi and outside Kogi State.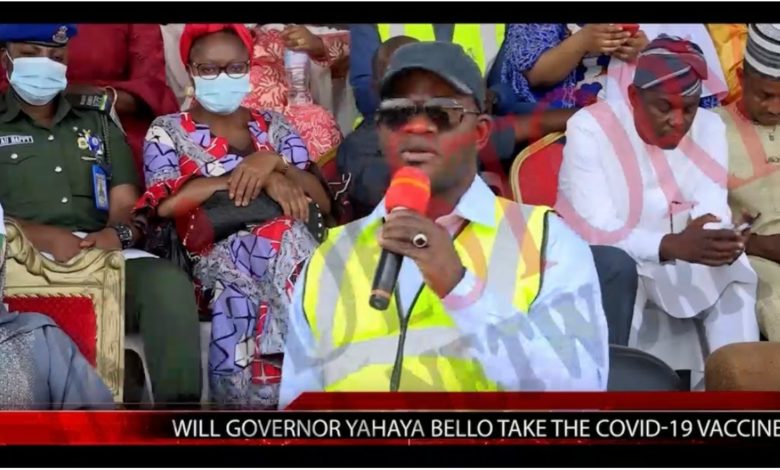 A video widely circulated on different social media platforms including Facebook and WhatsApp, shows Governor Yahaya Bello of Kogi State, North-central Nigeria, discouraging people from taking COVID-19 vaccines. 
"These vaccines are being produced in less than one year of COVID-19. There is no vaccine yet for HIV, malaria, cancer and for several diseases that are killing us," he said amidst a crowd of his supporters. 
While trying to substantiate his conspiracy theory, Bello asked people to learn lessons from "what happened in Kano during the polio vaccines that crippled and killed our children."
Speaking on Nigerian leaders taking the vaccine to show the public it was safe, he added, "If they say they are taking the vaccines in the public, allow them to take their vaccines. Don't say I said you should not take it but if you want to take it, open your eyes before you take the vaccines." 
This was not the first time Governor Bello disregarded anything associated with COVID-19. In December, he said Nigeria did not need the vaccine because the virus was not as deadly as projected. 
"We don't need to participate in this marketing of COVID-19 vaccine. We should channel the money we want to use to buy the vaccines to other things. The Presidential Task Force (PTF) should give the right advice to the President," he said in an interview with Channels Television. 
He added that it was "better to invest in tackling more deadly diseases that are killing people everyday, not COVID-19 that has 99.9 percent recovery rate."
Kogi is one of the worst states in terms of testing, which cannot be dissociated from the governor's utterances and position on the pandemic. According to the Nigeria Centre for Disease Control (NCDC), there were only five positive cases in the state. 
Last year, Nigeria's Minister of Health, Osagie Ehanire, lamented the hostile reception of NCDC officials sent to ascertain the state's COVID-19 status. 
Why COVID-19 Vaccines Were Developed Much Faster
It is true that vaccines for infectious diseases had never been produced in less than a year. But for COVID-19 vaccines, a number of factors were responsible for the quick production and availability.
First, the research that helped to develop vaccines against the new coronavirus did not start in less than one year. There were many researchers who have been working to understand related viruses like the Middle East Respiratory Syndrome (MERS) and Severe Acute Respiratory Syndrome (SARS) before the SARS-Cov-2. 
According to the science journal, Nature, "Researchers had been paying attention to related coronaviruses, which cause SARS (Severe Acute Respiratory Syndrome) and MERS (Middle East Respiratory Syndrome), and some had been working on new kinds of vaccine — an effort that has now paid off spectacularly." 
There was also "enormous funding that allowed firms to run multiple trials in parallel, and regulators moving more quickly than normal." The funding was supported internationally due to the obvious deadly and devastating effects of the virus in European, Asian and North American countries. 
"Conventional vaccines contain viral proteins or disabled forms of the virus itself, which stimulate the body's immune defences against infection by a live virus," wrote science writer and editor for Nature, Philip Ball.
"But the first two COVID-19 vaccines for which efficacy was announced in large-scale (phase III) clinical trials used just a string of mRNA inside a lipid coat. The mRNA encodes a key protein of SARS-CoV-2; once the mRNA gets inside our cells, our bodies produce this protein."
"That acts as the antigen — the foreign molecule that triggers an immune response. The vaccines made by Pfizer and BioNTech and by the US pharmaceutical company Moderna both use mRNA that encodes the spike protein, which docks to human cell membranes and allows the coronavirus to invade the cell." 
"To develop the vaccine, scientists used mRNA to encode spike glycoprotein – a conjugated protein having carbohydrate components essential for infecting human cells – to simplify the design and manufacture of the vaccine."
Instead of producing protein vaccines, companies like Pfizer and Moderna used mRNA vaccines for the first time to save years of work. 
Why There Is No Vaccine For HIV 
Decades of efforts have been spent by researchers and scientists to produce and manufacture HIV vaccines but they encountered some challenges that remain a stumbling block to its development. 
Scientists mentioned lack of natural immunity to HIV, the variability of HIV types, lack of correlates of protective immunity, and lack of an animal model that reliably predicts vaccine efficacy in humans, as major challenges preventing the development of the vaccine. 
Researchers say that unlike a person infected with measles and similar diseases, no one naturally recovers from infections like HIV, and the lack of that natural immunity model made the development of the vaccine extremely difficult and time-consuming.
Another challenge that scientists face in the development of an HIV vaccine is the frequent mutation of the virus, which makes it difficult to produce a single vaccine for the target that is genetically different from the original. 
"This poses yet another challenge, as a vaccine that protects against one subtype may not provide protection against others," scientists said. 
Another major problem that hinders the production of HIV vaccine is the inability of scientists to determine a specific immune response that is closely related to protection against the disease. 
According to the scientists, animal models are an important tool in understanding the basic pathway of infection and immune system response, but there is no reliable non-human model for HIV infection and immune system response for successful vaccine tests. 
However, scientists are currently performing trial tests for vaccines against Simian Immunodeficiency Virus (SIV), the monkey virus related to HIV, and against genetically engineered hybrids of SIV and HIV in hopes of using similar approaches against HIV.
Polio Vaccine Didn't Cripple Or Kill Children In Kano
Governor Yahaya Bello associated his conspiracy theory with a false claim that the polio vaccine had killed and crippled children in Kano State. 
There is, however, no evidence that the polio vaccine has killed or crippled a single child in the state. The major fear of Kano residents back then was fertility control which they suspected was the aim of the vaccination.
Polio vaccination in Kano in particular and Northern Nigeria in general faced resistance not because of obvious harmful effects on children but due to the deep distrust some communities have for western countries. 
Although the Kano State Government, under Mallam Ibrahim Shekarau, had suspended polio vaccination between 2003 and 2004, it was not because of any fatal effect of the vaccine as claimed by Yahaya Bello. 
Kano State had later declared it safe after a report by committees of doctors and clerics set up to test the polio vaccine following trials in South Africa and Indonesia. 
In Aug. 2004, UNICEF welcomed "the resumption of polio immunization campaigns in Kano, Nigeria" and said it "re-affirms its commitment to support Kano's state, traditional and religious leaders, as well as Nigeria's federal ministry of health to ensure the country reaches its goal of stopping poliovirus transmission by end 2004."
---
Support Our Journalism
There are millions of ordinary people affected by conflict in Africa whose stories are missing in the mainstream media. HumAngle is determined to tell those challenging and under-reported stories, hoping that the people impacted by these conflicts will find the safety and security they deserve.
To ensure that we continue to provide public service coverage, we have a small favour to ask you. We want you to be part of our journalistic endeavour by contributing a token to us.
Your donation will further promote a robust, free, and independent media.
Donate Here