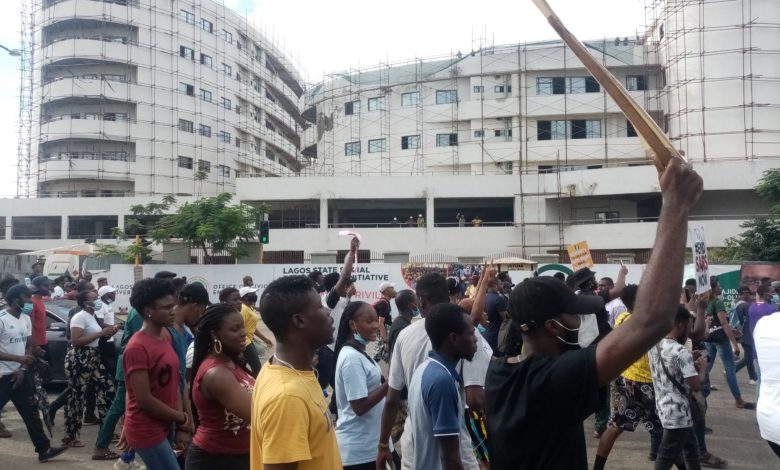 Martins, a 24 year old software engineer, stood in front of the Lagos State House of Assembly complex which was locked and barricaded by the police to protest police brutality.
It was Friday, the third day of the 72-hour sit-in protest that had been going on at the government secretariat in Alausa Ikeja, a highbrow suburb of Lagos where the majority of the state government's offices are located.
Dressed in a slim-fit top and styling his hair in locks, his gait, as he walked around the protests complaining of several harassments he has had to endure in the hands of officers of the Special Anti-Robbery Squad (SARS), showed his agitation.
The atmosphere all round was still electric despite the protest having almost run for three days in a row as protesters refused to end their chants of 'What do we want? End SARS' even without any government official attending to them.
''I am scared of leaving my house… and with that I have resigned from a lot of jobs. I tell them that if I can't work remotely, I can't work with you,'' he said.
For him, the combination of locked hair and a laptop is almost lethal because he fits into the profile of a cyber fraudster according to the practice of SARS officers. This excuse had been used to extort, harass and kill a number of people across the country, according to many reports online.
SARS is one of the units under the Nigerian Police Force. The unit is empowered to arrest, detain and prosecute people involved in armed robbery.
However, for many Nigerian youths, the description above is a far stretch from what they experience with the unit.
''I am scared of leaving my house every day. On the occasions I have to leave the house, I dress like a nerd… [so as not to fit into the profile of a cyber fraudster] yet that does not change anything,'' he said.
Due to fear and constant harassment, Martins has had to resign from dream jobs or decline many offers. He said he does not want his fate to be similar to that of his colleagues who have either been kidnapped or brutalized by SARS officers because they are profiled for using gadgets like iPhone and laptop, for having piercings, tattoos or even a substantial amount of money in their bank account.
''I tell companies that if I can't work remotely, I can't work for you. I risk my life every day I go to work,'' he told Machaha, his face taut with anger.
Martins is one of the thousands of young Nigerians who have poured out to the streets across the country to speak against continued police brutality. This protest was just one of the many that are being organized in Lagos and the rest of the country.
Beginning of a fresh agitation
The video of the gruesome killing of a young unnamed man which happened in Ughelli in Delta surfaced on the interview early October. The killing is alleged to have been carried out by SARS.
As the video trended, it resurrected the #EndSars hashtag that has been used several times in the last four years to protest against police brutality.
Along the hashtag, names of several victims who have been killed by SARS officers in various parts of the country are listed.
Kolade Johnson, Ifeoma Abugu, Tiamiyu Kazeem, Daniel Abugu, Chijioke Ilonaya, Tina Ezekwe, Aneka Okorie, Christian Anams are a few names among hundreds that have faded into statistics without justice.
Each time there is a public outcry, the government, in response, announces plans to reform the unit. This has happened four times in four years, yet nothing has changed with the reforms, the protesters said.
In 2018, the acting president, Yemi Osinbajo announced a reform of the SARS unit of the Nigerian Police Force, stating that ''any unit that emerges from the process will be intelligence-driven and restricted to the prevention and detection of armed robbery and kidnapping, and apprehension of offenders linked to the stated offenses and nothing more.''
Since then, thousands of cases of harassment, brutality, extortion, kidnapping and killings have surfaced online with videos and pictures taken covertly by on-site witnesses.
On October 6, the Nigeria Police Force via their official twitter account announced another reform, banning SARS officers from routine patrol on the street and carrying out conventional low-duties like stop and search and mounting of roadblock.
Nevertheless, on Friday afternoon despite the sun and long hours of waiting, the protesters at the secretariat persisted in their demands, seeking unequivocally an end – not reform – to the controversial unit.
David Sottin, 21, a photographer and graduate of mass communications, was broadcasting the protest on his instagram live feed to create more awareness. He held his phone in one hand and a placard in the other.
On January 3, at about 8 am, he was going back to his hostel from his home where he lives with his parents at Badagry, a suburb of Lagos close to the border of the Republic of Benin, when he was stopped by SARS officers.
''I asked for what I had done but they did not bother to respond. They forcefully grabbed my phone and started going through it, checking my mail, account balance and transactions,'' he said.
''The next thing, they told me to enter their bus. They pushed me inside. I only had N4,000 in my account, so I kept asking for what my offence was while I was forced into their car.
''It was after I resisted that one of their superiors asked them to let me off their van because I did not look like someone who has money. So I was pushed out of their van in the middle of the road.
''We know that you [the government] are not doing anything for us. No good roads, no hospitals, no electricity and everything is upside down but why are the police still killing us?'' He asked ruefully.
While David was talking to Machaha, the #EndSARS hashtag had become the biggest trend on Twitter in the world with 2.2 million hashtags already circulated and it had garnered global attention.
The trend would later garner over 6 million hashtags and involve several conversations on police reforms and justice for those murdered by police brutality.
Solidarity
On Thursday night, which was the second day of the vigil protest, the police came to forcefully take the canopies under which the protesters were gathered, leaving them exposed to the elements of weather on the cold night.
In addition, the cars parked at the protest ground were towed and the streetlights were switched off. This was after they had been assured of security earlier in the afternoon.
The protesters defied the development, made their condition known via Twitter and slept on the streets.
When news went round on Twitter, this quickly led to crowd-funding overnight to rent canopies and provide food, water and other essentials for the protesters.
The fund-raising has been done via various platforms with individuals and corporate businesses donating to different accounts.
By Friday morning, a particular account received over N500,000. When one of the organizers of the donations was approached at Alausa for comments, she preferred not to speak to the media.
''Nobody organized us,'' one of the numerous volunteers who were clearing the litters and distributing food and water said.
"We just came here and we saw that we needed to help to keep the protest going so that people won't be tired,'' she said.
Protesters had enough to eat and drink all the while they stayed there.
'They survived the interrogation'
As part of the reform promised by Yemi Osinbajo in 2018, the National Human Right Commission inaugurated a seven-man panel which was created in September of the same year.
Nine months later, on June 3, 2019, the committee submitted their report which since then has not materialized.
The non-implementation of the report continues to be a bulwark against the agitation of the masses for an end to the gross human right abuse overseen by SARS officers in the country.
In 2018, the same year the former Inspector General of Police, Idris Ibrahim, was directed to start the reform process; Ifeanyichukwu Ogu, 22, was arrested by SARS officers after a theft had occurred at the house he was staying with his friends in Owerri, the capital of Imo state. Two months later, his family retrieved his body in a morgue.
His younger brother Johnson* said he is still looking for closure when he spoke to Machaha via a phone interview.
''It was a few days after Easter Sunday and my brother and some other boys were gathered in a house,'' he said. ''There was a reported case of laptop theft and the owner of the laptop called SARS officers who were going by the road that time.
''They took my brother and two others away. Nobody knew their base, even the owner of the stolen laptop. After some time, my brother tried to reach us and said they have accused him of stealing the laptop and he must confess to the crime and name his accomplices.
''We kept calling the number and they said they are still investigating and later… that he had confessed to stealing the laptop which was not true. The two other boys were released. They survived the interrogation. When we asked of my brother, they said he was taken out of the cell one morning and he was not returned until they left there,'' he said.
The family persisted in their search for Ifeanyi and reported the matter to the village head but all their efforts were futile until one day when they called the number and the person on the other line told them the hospital to find him.
''On getting to the hospital, we were directed to the mortuary. The doctors said the day they [SARS officers] brought him, he was already critically [sic] dead and there was no way they could revive him,'' he narrated to Machaha. ''It took two months to get the body of my brother.''
Ifeanyichukwu's name did not trend on Twitter, nor did the experience of Clarence, a resident of Lagos, whose ear drum was perforated after he was randomly arrested by SARS officers in Abraka, Delta state in March 2020.
Clarence was returning from a viewing centre when the motorbike he was on was flagged down. He came down and SARS officers asked for his phone.
''They just asked for my phone and passed it around. I could not see because it was late in the night around 9 pm,'' he said. ''They did not even go through it because it was an iPhone X. They just told me to enter their van and they took me to their station.
''At their station, I was kept in a dark room with others for interrogation. That was when they started checking my emails, pictures and chats and they saw that I am a forex trader.
''They said I am into fraud and I should write a statement that I am a fraudster and a cultist. I refused to and they started hitting me from all angles. I could not see, it was one of the slaps from behind that hit me the most on my ear and I fell from the impact,'' he told Machaha.
Clarence did n0t know the slap had perforated his eardrum until much later when he started having hearing troubles.
''At the end, they asked me to pay them N300,000. I said I don't have such money. I begged them down to N10,000 and they said I should go and withdraw it from the nearest ATM machine.
''Thankfully, I had another phone. While I was outside the police station, I called two people and they came to my rescue,'' he said. ''Later when I went to the hospital, I was told each session to treat the ear will cost N20,000.''
Protests continue
The stories are infinite as the internet is flooded with people's experiences. At the protest, people exchanged their experience and some just said it loudly, as though they were addressing an invisible crowd.
Upon the expiration of the 72-hours sit-in protest at the Lagos state's house of assembly on Friday, the protesters have reconverged every day since with even clearer demands.
''Is this the way we want to continue?'' David asked. ''The special anti-robbery squad is supposed to protect us but they are killing people.''
As Martins left the protest, he recounted his last incident with SARS. It was on December 28, 2019 when he was returning from work.
'' I was forced to alight from my Uber. It was a pay-day and I had just received my salary. When I was stopped, I had to break my ATM so that they don't force me to withdraw the money,'' he told Machaha.
"They went through my emails and started interrogating me. I was able to escape because they saw someone driving a bigger car and they ran after him," he added.
Protesters have noted that they are not backing down although the Inspector General Police announced on Sunday that SARS had been dissolved.
The people are demanding to know specifics and totally end Police brutality. More protests are still being held across the country.
*Name changed to protect the speaker's identity.
Ope Adetayo is a writer and journalist based in Lagos, Nigeria. This story is supported by Gatefield #EndSARS mini grant.
---
Support Our Journalism
There are millions of ordinary people affected by conflict in Africa whose stories are missing in the mainstream media. HumAngle is determined to tell those challenging and under-reported stories, hoping that the people impacted by these conflicts will find the safety and security they deserve.
To ensure that we continue to provide public service coverage, we have a small favour to ask you. We want you to be part of our journalistic endeavour by contributing a token to us.
Your donation will further promote a robust, free, and independent media.
Donate Here