Armed Violence
News
Why Are Nigerian Policemen Killing Each Other?
Lagos police spokesperson says the incidents are isolated and the state command is generally "doing well".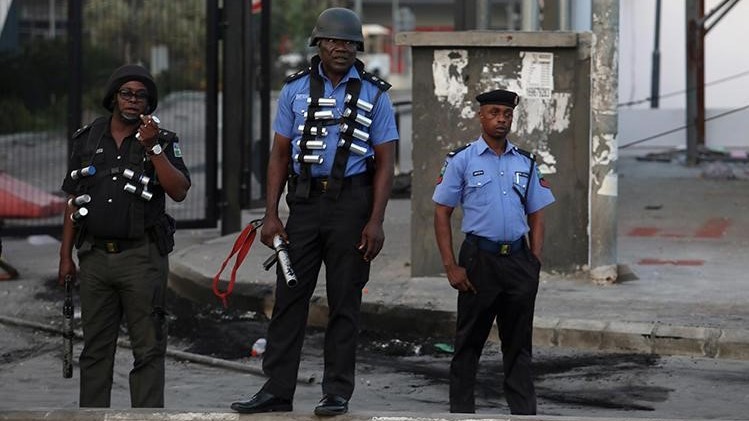 Hardly has a month passed since November, 2019, without a policeman in Nigeria killing his colleague(s) or himself ㅡ or both. 
Experts say the trend may be due to accumulated frustration from the job,  anger or the absence of an alternative way of venting grievances.
In December, 2019, John Markus, a police inspector who was working under the Dutse Police Divisional Headquarters, Abuja, fired shots into the air while on duty. 
When he was cautioned by Mathew Akubo, a corporal, Markus shot him in the head, causing his death. 
Abdullahi Ovanu, a superintendent of police, came out of the office to confirm what was going on but he was also shot in the arm. Markus then committed suicide by firing into his mouth.
A similar incident happened in February. 2020. Okon Essien, a police inspector in Lagos, took his own life while in detention at the State Criminal Investigation Department over a murder allegation. 
According to reports, he had shot and killed Hassan Usman, a suspect who had been intercepted. Lagos police spokesperson, Bala Elkana, said Essien committed suicide to "avoid trial".
On Sunday, March 22, another police inspector in Awka, Anambra State, Kenneth Enamika, committed suicide after killing his ex-girlfriend, Oluchi Aputanze, whom he accused of deceiving him and marrying someone else. 
He also killed the husband, Cajethan Aputanze, and left an AK-47 rifle and suicide note at the murder scene.
In April, Sergeant Bitrus Osaiah shot a policewoman, Lovender Elekwachi, who was attached to Eneka Police Division in Port Harcourt while she was on traffic duty. 
Osaiah was an officer of the Rivers State Task Force on Decongestion. The circumstances that led to the killing are still not clear.
The following month, a Nigerian Security and CivilDefence officer, identified as Femi, killed a policeman, Edward Mgbekem, with whom he was on night duty at the Obalende-Falomo axis of Lagos after a quarrel broke out between them. Mgbekem was a father of three who had served in the Nigeria Police Force for 18 years.
Again in May, a policeman from Abuja who was on special duty in Lagos, Monday Gabriel, reportedly "went berserk and opened fire on his colleagues" after a disagreement, releasing over 30 bullets. One sergeant, Felix Okago, lost his life as a result of gunshot injuries he received.
Realising what he had done, Gabriel took a patrol vehicle and drove towards Third Mainland Bridge, shooting as he approached it but was disarmed and arrested along Akoka.
"The corpse of the deceased sergeant is deposited in the mortuary for autopsy while the inspector is taken to Police Hospital for medical examination as he presented signs of mental depression," Elkana had said.
In June, there were at least two reports of policemen turning on their colleagues. First, an unidentified police officer said to have been drunk hacked his colleague, Francis Adekunle, to death with a cutlass in Lagos. The deceased had intervened after the officer picked a quarrel with his neighbour. 
Second, unidentified operatives of the Special Anti-Robbery Squad (SARS) in Delta State were reported to have killed seven police officers in Ughelli "over alleged involvement in armed robbery operations in the area".
About the last incident, the Civil Liberties Organisation, a human rights advocacy group, remarked that it was suspicious that no casualties were recorded on the side of the SARS operatives.
"We are suspicious of the whole incident. It is also difficult to accept that they were killed and their rifles still left with them. We really doubt the circumstances surrounding the killing of these seven policemen," the non-governmental organisation said last week.
These tragic events are taking place against the backdrop of extrajudicial killings where civilians are often at the receiving end of police violence.
A recent study by TheCable showed that at least 92 unarmed Nigerians were killed by policemen between March, 2019 and February, 2020.
The Nigeria Police Force Public Relations Office, DCP Frank Mba, did not respond to enquiries from HumAngle on what the force is doing about the developments or to prevent the recurrence of police-on-police crime.
Officers more prone to mental health problems
A 2015 study published by the Spanish Journal of Psychology states that because of how demanding the job of a police officer is, they are more vulnerable to developing mental health problems, and is especially the case in Nigeria.
"This is because their duties involve frequent exposure to stressors, critical incidents, traumatic events, and threatening situations on and off-duty," it explained.
The study further suggested that poor mental health could lead to negative outcomes, including reduced job satisfaction, absenteeism, increased drug abuse and antisocial work behaviour.
Another study released in the same year by the African Research Review said police officers in Nigeria often did not seek professional help to cope with stress and advised that medical centres in police stations and barracks be strengthened to reverse the trend.
"The increasing reports of police harassments of members of the public, numerous cases of extrajudicial killings, extortions and other vices from police officers may be consequences of poor judgment occasioned by the use of alcohol and other addictive behaviours of the police officers," the publication added.
Seun Oladeinde, a private psychologist, agrees that policing comes with a lot of frustration and also mentioned drug abuse as a possible cause of violent behaviour.
The murders are isolated cases ㅡ Lagos police
The Spokesperson for the Lagos Police Command, Elkana, described the incidents of aggression between policemen as "isolated" and said they had no direct impact on the general performance of the force.
"You can't expect to have a completely perfect situation anywhere or not to have one or two issues coming up over time. But if they are in large numbers, that is when they become worrisome but these are isolated issues that happened under different circumstances and were all dealt with separately," he told HumAngle on Thursday.
Elkana explained that the Nigeria Police had put mechanisms in place to make the work less stressful.
One of those measures is that policemen run shift duties that give them time to rest and be with their loved ones, he said.
Depending on the duty post and nature of the work, workshifts can be split into between two and four in a day. Then, officers who are assigned to secure office environments and have places where they can relax at work often work four 24 hours while taking a day off after each shift, Elkana explained.
"One other thing we do is setting up medical facilities for police and even their families. We have police hospitals in Lagos and spread in a number of locations. They go for medical checks and their family members also are taken care of under the National Health Insurance Scheme. If those measures are not in place, you won't have a healthy police service," the spokesman stressed.
He also said the Police Command in Lagos State after conducting a training needs analysis, introduced emotional intelligence as part of training for its personnel in 2019 to help them cope with stress.
"All these could account for us recording even less cases of such issues you are raising. If you compare the population of over 20,000 policemen and you have two or three isolated cases, then you know that on the average we don't even have a pass mark, it is a distinction. That is, we are doing well," Elkana said.
In late 2019, the Nigeria Security and Civil Defence Corps (NSCDC) conducted a series of psychological tests for its officers across the country. The Commandant-General, Abdullahi Jubril Gana, explained that the screening was to measure the emotional wellbeing of the officers, properly assign responsibilities, and improve performance.
There have been calls from the civil society for a similar measure to be taken by the Nigeria Police Force. 
The Deputy Inspector General (DIG) of Police in charge of Training, Emmanuel Inyang, however, said in 2018 that new applicants would be required to undergo a mental evaluation, personality test, and drug screening. 
This, he explained, was to prevent accidental discharges and the recruitment of criminals into the force.
Are some policemen angry about the system?
The Nigeria Police Force recruits three categories of personnel into its cadres – constable, inspectorate and officer cadres. While constables are persons with low academic qualifications, such as secondary school certificate or lower, the inspectorate cadre is filled by persons with intermediate level certification and the officer cadre by those  with degrees or equivalent qualifications.
In order to enhance their career prospects, many in the lower cadres embark on self-improvement programmers in the hope that they would join the officer cadre by obtaining higher educational qualifications, especially as a majority of former senior police officers benefited in the past.
Some persons believe that many policemen of the inspectorate and rank and file cadres of Nigeria Police Force are frustrated because of limitations placed by the police establishment on their career progression path.
Those in this category are policemen who believed that they could improve their career fortunes by obtaining higher educational qualifications to enable them to cross over to the officer cadre.
There are also youths, who in spite of holding diplomas and degrees, enlisted in the police force as constables because of the need to find something to do after many years of graduation without a job. This group are in the force because of nothing else and hope that an opportunity might come for them to use the skills they acquired in school to achieve their life ambitions.
In 2014 and 2015 the police establishment requested that policemen who had obtained higher qualifications while in service present them for assessment and upgrade to the officer through the Police Service Commission (PSC). 
In response to the call, 13,386 policemen who had obtained diplomas, first and postgraduate degrees responded but the process was halted in 2016 by the Chairman of PSC, Mr Mike Okiro, a former Inspector-General of Police.
Okiro was said to have stopped the process because of pressure by politicians who wanted to hijack the exercise to ensure that only their candidates benefited since not all that were qualified for upgrade would be promoted because of the vacancies in the force.
In the past, when vacancies occurred for appointment of Assistant Superintendent of Police (ASP) cadet (officer cadre) occurred in the force, policemen who had obtained higher qualifications while in service filled them, especially when few had such qualifications.
Information available to HumAngle suggests that the first graduate officers of the force enlisted in 1974 and that was the reason a majority of retired senior police officers who were university graduates in the 1990s or earlier were persons who obtained such qualifications while in service.
The law gives policemen who obtain higher qualifications priority to be appointed into the ASP cadet cadre before anyone else. 
Section 39 of Part IV (Appointments) of the Police Act and Regulation states:
"When vacancies in the establishment of Assistant Superintendents of Police cannot, by reason of unavailability of suitable candidates, be filled by promotions from within the Force, the Inspector-General shall so inform the Nigeria Police Council and may request it to arrange for the posts to be filled by direct entry."
The situation is no longer the case as the police establishment prefers to recruit ASP cadets through direct entry whereby fresh graduates are engaged and trained to perform police duties.
Observers say many policemen are not happy with the arrangement which places them as subordinates of less experienced persons who are younger in age biologically and academically.
'All officers should be profiled'
One of the reasons for the use of unreasonable force by policemen, Oladeinde observed, was that they were not necessarily profiled before being assigned to duties that might require them carrying arms. 
He advised that more attention should be paid to the hiring process.
"I believe that is the first point of call because if you have a level-headed person who knows the job and knows what it entails to protect lives, you would have it easy. But if you give someone who feels that he is doing it to survive, that access, you will always have problems because everyone is standing in his way to success," Oladeinde said.
He said the remuneration of officers needed to be reviewed upward and their standard of living improved. 
"There should be easily accessible record-keeping so that the medical history of officers can be tracked even if they are transferred from one division to another," he advised.
Oladeinde also recommended that there should be avenues for policemen to discuss their emotional wellbeing with experts within the force, adding that experts could also advise senior management on what decisions to make regarding each officer.
"People feel that psychologists should only be talked to when you have gone crazy. They don't believe in talking when the thing is just festering. When we empower these people to provide solutions beforehand, you will quell most of the anger," he said.
Additional reporting by Chukwudi Ekezie
---
Support Our Journalism
There are millions of ordinary people affected by conflict in Africa whose stories are missing in the mainstream media. HumAngle is determined to tell those challenging and under-reported stories, hoping that the people impacted by these conflicts will find the safety and security they deserve.
To ensure that we continue to provide public service coverage, we have a small favour to ask you. We want you to be part of our journalistic endeavour by contributing a token to us.
Your donation will further promote a robust, free, and independent media.
Donate Here