Displacement & Migration
Featured
Features
When There Are Too Many Mouths To Feed, Parents Send Their Children Away
Displaced parents in Borno, northeast Nigeria, reduce the burden of hunger by taking the hard decision to send their children away to uncertain futures. But in the hard living conditions of displacement camps, they say there is no choice at all.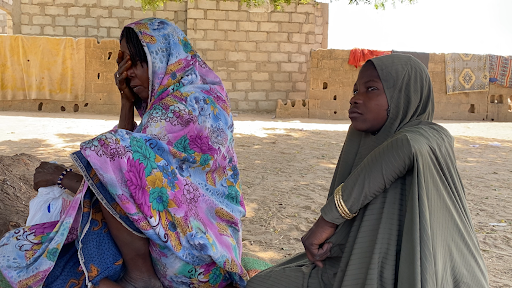 Hajjah Maimuna cries when she talks about her grandchildren.
She looked after the four boys and one girl when her daughter and son-in-law were killed in a terrorist attack several years ago in Baga, Northeast Nigeria.
But the four boys are not with her now, she sent them away. She had no choice, she said. There were too many mouths to feed.
They have gone to an Islamic boarding school known as Tsangaya, because she can't take care of them.
Tsangaya is the local term for informal schools that people say provide education in Islamic teachings. Some of them are just a couple of pupils and a teacher, or Mallam. Others are internationally known and attract pupils from other countries.
They are mostly unregulated and controversial.
The many young children living on the streets in towns all over the north of Nigeria are one of the easier observed indicators of the region's poverty. Most of the young boys are supposed to be attending Tsangaya schools, but are sent out to beg at junctions and markets for their Mallam's living.
Hard way
Maimuna lives in Shuwari V, an unofficial settlement on the outskirts of Maiduguri, populated by internally displaced people who fled for their lives from places all over Borno when they were attacked during the conflict with Boko Haram.
Life is getting harder in the tented shanty town where she has lived for eight years now.
According to Maimuna, the last time they had food support in the camp was two months ago. They have been surviving the hard way since then.
Thinking over the decision, tears fill her eyes and drop down her cheeks. She groans the deepest remorse. "I wish to bring them back, but I cannot until I get enough food to cater for them," Maimuna said.
The Tsangaya they went to is near Dikwa, 90 km away from Maiduguri.
"I have to travel to Badar (the local market) to scavenge before I get something."
But, she said, when she goes out to beg, she hardly gets anything. Most of the time, she returns to the camp empty-handed, tired and hopeless.
She is aware of the unpredictable living conditions her grandchildren will have. They will be begging on the streets and could face life-threatening risks.
"But what can I do?" she asked.
Even though four of the children were sent away, living is still a struggle. She has to beg across the nooks of the markets and streets across the city to feed the granddaughter that stays with her.
The girl started crying when HumAngle asked if she wanted to go to school.
Almajiri
Maimuna's story is replicated wherever there are internally displaced parents living in makeshift camps.
The practice of sending young boys away to become almajiri, or people who migrate for Islamic knowledge, is an old one, common before the Boko Haram crisis in the northeast. Many people, abroad and in other parts of Nigeria, see the practice as a moral dereliction. Parents are failing in their duty of care to their children, it is said.
But the parents say they are compelled to send their children away in order to give their children a chance at survival. If they stay, the children will sicken and die.
Although they make a decision, the parents don't feel they have a choice.
Every time the food crisis escalates, and the amount of humanitarian aid disbursed reduces, more people are placed in the same situation.
HumAngle found out that some of these IDP camps have not received aid for as long as four months. Others, living in host communities after their camps were shut down in 2022, have not received anything at all.
Too young
Aisha Mohammed also sent four boys to a Tsangaya.
She has seven children, including two orphans she adopted. She sent three of her own children away, and one of the orphans. The other child she adopted is also a boy, but he is currently too young. More than likely, he will be sent away when he becomes old enough.
The place they have been sent is far away, in Gashua community in Bade local government area in Yobe state. She says the head of the Tsangaya is a credible Quranic teacher. She believes her children will get a religious education.
She told HumAngle how she adopted the two orphaned boys. Their father went missing nine years ago in Baga after a Boko Haram attack while their mother died as a result of maternal health complications after she gave birth to the younger child. "We searched for their father later, but we could not find anything about his whereabouts," she said.
Talking with Aisha about sending the children away, she knows they will end up begging to feed themselves. When she feels bad about sending them away, the idea that they will get a religious education makes the situation forced on her seem more acceptable, she said.
"What can I do? That is the only way I could get relief from the burden and at least they are learning too. But when things used to be normal in the camp and we had enough food, I didn't allow them to beg on the streets," Aisha said.
Begging
Yagana Bukar, living in Muna Kumbiri IDP camp for the past seven years since they fled Marte in the northern part of Borno, said the last time they had food interventions in the camp was more than a year and this has affected her and her three children.
"We send them to Tsangaya because of the hard times we are facing as a result of the food scarcity in the camp," she said.
She explained that sometimes she spends the whole day without anything to eat. She said "access to food is difficult for us, sometimes we get what to eat, other times we have nothing to eat. We eat once a day and sometimes you don't get to eat the whole day or even more in most cases."
Even if they are not sent away, the young boys often end up plying the roads of the city, begging to get themselves and their parents something to eat on the day.
"The younger ones help us, too, while their elder brothers are away. We send them to beg in the streets so that they can get us what to eat for the day," Yagana said, adding that that is what her youngest child does, and it has saved the family from starvation.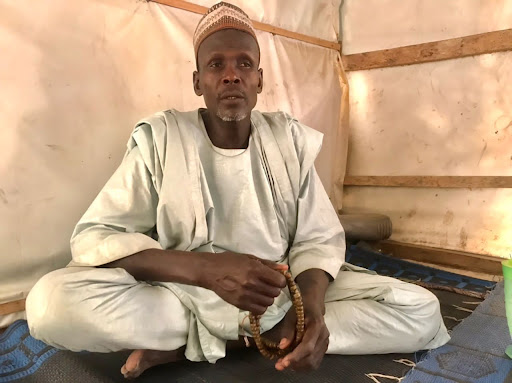 Mallam Yasami, leader of the Muna Kumbiri IDP camp in Maiduguri along Dikwa Road. Photo: Ijasini Ijani/HumAngle.
Mallam Yasami, chairman of the Muna Kumbiri IDP camp, narrated to HumAngle the food crisis situation in their camp. He has been in the camp for eight years with his 15 children.
According to Yasami, the majority of the occupants in the camp who fled Boko Haram in the northern part of the state are farmers and herders. The displacement has destroyed their livelihood and forced them to bear the bad living conditions in the camp.
There are about 700 households in the camp, Yasami said. This added up to around 5,000 people in Muna Kumbiri.
Helpless
On a sunny day, Yasami was using his beads, chanting prayers when HumAngle met him and had an interview about the hunger striking the camp he leads. "There is a food crisis in the camp. We are helpless. We used to be traders, farmers, and herders until this armed conflict terrorised us and displaced us," Yasami said.
He described the aid reaching the camp since it was established eight years ago as "indiscriminate", he said even when it does come, many don't receive it as there is not enough to go around.
"Since we settled here, we have those that have never gotten anything. Even those that get the food assistance, it has never been enough for a household," he said.
The last time they received humanitarian assistance was about three months ago.
"We have a lot of parents that have sent their children to Tsangaya just because of the hunger in the camp, it is unbearable indeed. Many of these children are sent as far as Dikwa, Mafa, Monguno and Gajiganna," he said.
New Naira
The locations he mentioned are as far as 130 Km and some remain volatile because the environs are ISWAP/Boko Haram occupied territories.
He also mentioned that those communities too send their children here just for better living conditions to get basic needs like food.
Aside from hunger and lack of adequate food aid, the cash crisis currently gripping the nation is having a negative effect.
"Every money transaction is now all online transfer," he said.
Most displaced people are not able to get a bank account, and are held in the cash economy. They have been hit hard by the policy that has seen the old naira withdrawn and not enough new notes put back.
It has affected prices for the little agricultural produce that displaced people can sell.
During the harvest, IDPs go to work on farmers' land. Often they are paid only in sacks of chaff, like bean husks, which they then sell as animal feed.
"What we used to sell at the rate of N3,200, is now slashed down to N1,500." Yasami said.
According to him, feed buyers take advantage of the cash crisis to force the prices they offer down.
Even the few IDPS who have access to digital banking cannot process transactions because of the poor mobile network coverage in the bush and remote local areas where they go for business.
"We are frustrated," he said.
Falmata Ali Modu lives with seven children. Every day she goes to the bush to collect firewood and sell it in the city. Sometimes she works at farms for a wage so she can feed the family.
"Life used to be very easy for us in Marte before we fled in 2017. We ran away because of attacks, many of our neighbours were killed but we managed to escape with my children" Falmata remembered how life used to be outside the camp.
"It's been about four months since I got food assistance in the camp," she said "We are hopeless even though our children go and beg to get us what to eat".
"Our children go to beg. Most of the time they come back empty and starve, the people hardly assist them with alms" she added.
---
Support Our Journalism
There are millions of ordinary people affected by conflict in Africa whose stories are missing in the mainstream media. HumAngle is determined to tell those challenging and under-reported stories, hoping that the people impacted by these conflicts will find the safety and security they deserve.
To ensure that we continue to provide public service coverage, we have a small favour to ask you. We want you to be part of our journalistic endeavour by contributing a token to us.
Your donation will further promote a robust, free, and independent media.
Donate Here