Features
Humanitarian Crises
'We Always Think Of Home', Nigerians Stuck In Sudan Express Worry As Crisis Continues 
As the war in Sudan continues to take a toll on residents, some Nigerians who stayed back during the evacuation say life in the country has become difficult with price hikes, intermittent power and water shortages, as well as poor internet connectivity.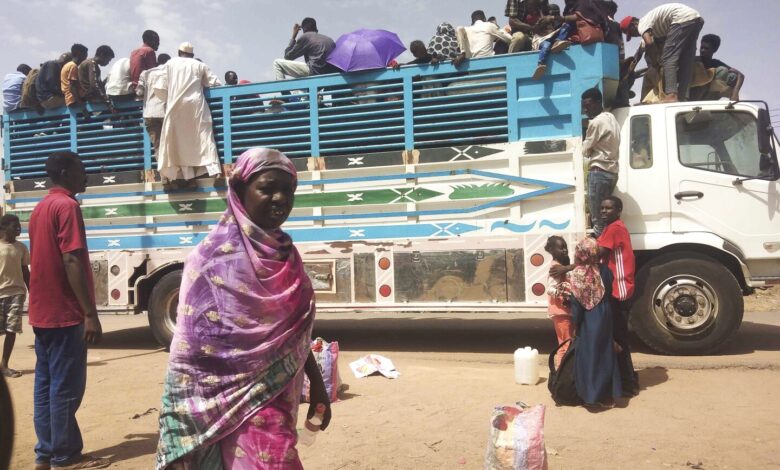 Sometime in April this year, Farida Muhammad* left her home in Khartoum to visit relatives in another state within Sudan. A day after, war broke out in the country.
She did not think to travel with her passport because she did not anticipate she would need it for any reason. Then the war broke out and she was stuck. By the time she returned to Khartoum, when it was relatively safe to do so, all her fellow Nigerian students had been evacuated from the country by Nigerian authorities.
While with her relatives, she made several attempts to move out of the country, but she was prevented by the fact that she did not have her passport.
Even when she returned to Khartoum, it was difficult to retrieve her documents because the area where she lived in Khartoum was surrounded by men of the Rapid Support Force (RSF).
It was only recently that Farida was able, through a broker, to pay one of the fighters to bring her documents out.
"It is indeed a great humanitarian crisis," she says now.
"The health care system collapsed, and the education system is failing. Unfortunately, most services were centralised in Khartoum so as Khartoum collapsed, everything collapsed," Farida narrated to HumAngle.
'Strenuous'
Unlike other students whose educational pursuits were truncated by the war, Farida's case was different as the crisis started weeks after she graduated from the university.
"I was very lucky to collect my certificate just a few weeks before the war broke out," she said. Other students have found themselves evacuated from their university in the middle of their studies, without a transcript to transfer to other schools.
The 23-year-old graduate of electrical engineering from the International University of Africa told HumAngle how living in the northeastern African country has become strenuous for her since the war broke out. Farida plans to come back to Nigeria by air through Port-Sudan airport to Ethiopia and then book another flight to Kano, now that her documents are handy.
"Life is ongoing normally outside Khartoum," she continued, saying markets are open and hospitals are also accessible outside the country's capital.
According to her, inflation has caused significant price hikes in basic necessities like food and groceries. "As you know, many factories were burned down but some goods are imported from Egypt and Ethiopia," Farida told HumAngle through a social messaging app from Sennar, a state at least 382 km from the country's war-scarred capital.
'Missing you'
"Unlike when the war started, there is food and groceries in some markets," Muhammad Sani Ibrahim, 35, a Nigerian businessman who has lived in Sudan since 2013 said. He knows two different Nigerian families whose family members have been killed during the crisis, and many others who sustained gun injuries, he says.
Ibrahim lives in the country with his Sudanese wife, so they considered staying back in Sudan when the war first broke out; his sister-in-law was in their house in Khartoum. When people were being evacuated, the road to the evacuation rendezvous site was not safe, and that sealed their decision to stay back in Sudan.
But now he wants to go back to Nigeria, his family members there are concerned about him staying in the war-torn country. "I consistently call them on the phone to allay their fears," he said, because they always show how scared they are of seeing him there.
"We are missing you. When are you coming back?" is one of the things his family in Nigeria ask him when they get the opportunity.
He said he wishes for nothing more than to come back to Nigeria to be with his family. According to him, because he had been influenced by their questions, he tried to leave Khartoum on June 25.
"On coming out, I sustained bruises on my leg while scampering for safety following a gunfight between them (SAF and RSF)." That stopped him from travelling.
"If I tell you I know the exact number of Sudanese that I know who were killed during the war, I am lying. But the number is too much," he told HumAngle.
Since April 15, the Sudanese Armed Forces under the chief of the ruling Military Council General Abdel Fattah al-Burhan and the paramilitary Rapid Support Force, under General Mohamed Hamdan Dagalo have been fighting. Several attempts at ceasefires have failed, a development that continues to take a toll on innocent civilians.
Hundreds have been killed, while electricity, water and the internet have been cut for long periods of time. About 4 million people have been uprooted from their homes, with many refugees fleeing to neighbouring Chad, Ethiopia, South Sudan, and Egypt.
HumAngle has reported how Nigeria safely evacuated 2,518 of its citizens in the weeks after the war broke out.
Halted humanitarian intervention
Médecins Sans Frontières/Doctors Without Borders (MSF) is warning that it might be forced to withdraw assistance from the Turkish Hospital in Khartoum because of bureaucratic delays in issuing visas to its workers.
Visa applications for emergency staff, including surgeons, nurses, and other specialists have been pending for more than eight weeks, the medical NGO said in a statement. It added that the travel documents of some of its staffers are close to expiring, which if not renewed will force them to leave the country.
"The MSF team who are currently present inside the hospital have worked tirelessly with our partners in the Ministry of Health for more than two months to keep the facility open – and to expand the services it provides. They have stayed even in the wake of a serious incident in which our team suffered an assault, death threats, and theft," said Claire Nicolet, MSF's emergencies manager for Sudan.
Farida said life has become incredibly challenging, with dangers lurking everywhere and constant stress and anxiety weighing on her. "Ever since the war broke out, we have been forced to abandon our homes and seek shelter with others. Moreover, our access to stable network and internet services has been disrupted, adding to our difficulties," she added.
As for electricity, some cities have relatively stable supply where the cut-off is usually just a few hours, which is still unbearable for many. In other places, whole days go by without power. On such days, people tend to bear with the hot weather and charge their phones in any available nearby power source.
"Mostly, generators or solar and internet are luxuries," she said.
According to the UN World Food Programme (WFP), 20.3 million people in Sudan are now suffering from severe acute hunger, unfortunately confirming dire warnings about the country's rising hunger. This is due to food shortages brought on by the conflict.
However, in a recent statement by RSF's General Hamdan Dagalo, otherwise known as Hemedti, the paramilitary leader accused of human rights violations, announced the launch of a humanitarian agency.
"Considering the tragic humanitarian conditions resulting from the war imposed upon us by the former regime and its allies in the leadership of the Sudanese Armed Forces (SAF), and understanding the dire necessity for seamless humanitarian operations within regions of military engagement or under the control of the Rapid Support Forces (RSF), and to express the adherence of the RSF to international humanitarian law," said in a tweet through his verified Twitter account while explaining the decision.
But, General Burhan has appeared on Sudanese TV to accuse Dagalo's RSF of war crimes. He accused Dagalo of committing war crimes while claiming to restore democracy.
Can't leave them
"My father-in-law is a soldier who is now in Khartoum and my brother-in-law is also a soldier who is now serving at the border between Egypt and Sudan. My sister-in-law came to visit us while the evacuation was going on," Nigerian businessman Muhammad Ibrahim said.
But the road is risky and that was why they didn't make an attempt to go with the Nigerians who were airlifted.
"We can't go and leave her," he told HumAngle speaking about his sister-in-law, who would not have been allowed on the Nigerian evacuation flight.
He said his wife advised him to go with their only daughter, and she would follow later, but he was not comfortable with the decision.
"I don't know the situation she will find herself in when I leave," Ibrahim said.
But he told HumAngle that he has sent his wife to Port Sudan to stay with her relatives now and when he gets a safer route, he will meet her there so that they can work their way back to Nigeria.
"There is an improvement in electricity now. In the past, we would spend a week without electricity but now if they interrupt our power supply, it doesn't take more than two days, they will bring it back," he continued.
But he said the internet is still problematic. "I sometimes hang my router up before my network gets stable."
He advised the warlords to sit down and reflect on the number of lives and property that are lost because of them daily. "If all of them are saying they are doing it in the interest of their country, they should think of the damages the war has done to the country," he said, adding that fighting is not a solution.
"I have never seen unrest like this," he said.
But Farida said her wish for General Burhan and Hemedti is to "suffer miserably" for his role in the violence.
---
*Name changed for fear of victimisation
---
Support Our Journalism
There are millions of ordinary people affected by conflict in Africa whose stories are missing in the mainstream media. HumAngle is determined to tell those challenging and under-reported stories, hoping that the people impacted by these conflicts will find the safety and security they deserve.
To ensure that we continue to provide public service coverage, we have a small favour to ask you. We want you to be part of our journalistic endeavour by contributing a token to us.
Your donation will further promote a robust, free, and independent media.
Donate Here