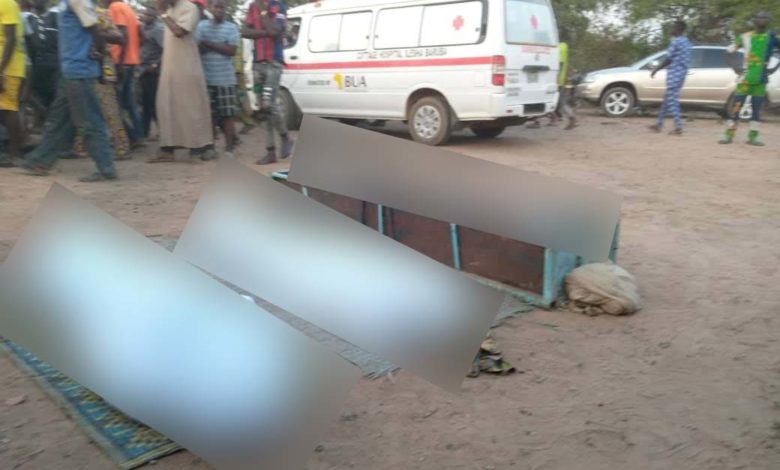 Steven Adeniyi was heading to a television viewing centre to watch an English Football Association Cup match between Liverpool and Aston Villa on Friday, Jan. 8, when he heard a deafening sound that later overtook Ilesha-Baruba community.
At first, he thought it was an accident – probably from a burst tyre – but the sound continued reverberating in the entire community for close to 30 minutes.
It could not still be an accident, Steven reasoned and concluded that something was wrong. He turned back and headed home for his safety. He later learnt the sound was from gunshots from operatives of the Federal Government Joint Task Force on Border Patrol.
But Abdulqudus Muhammad, 21, Hakeem Muftau in his 40s and Zubair Ibrahim, 20, were not as lucky as Steven. They fell to the bullets of the men who are paid to protect them.
Zubair was an apprentice barber at a popular barber's shop in Ilesa-Baruba where he kept himself busy as he prepared to further his studies after secondary school education in 2020.
On that fateful day, he was about to call it a day when news filtered into the community that his uncle was being beaten by security operatives for allegedly not parting with N200 bribe.
He was swept off his feet. He joined members of the community who headed to the security checkpoint to appeal for the old man's release.
However, the 20 years old did not return alive. He died with his dreams as bullets from the operatives pierced his body and he laid lifeless.
"They killed him because of N200," his guardian, Ibrahim Kazeem, said on behalf of the deceased youth's father who is yet to come to terms with his son's death. The father kept nodding his head as his reddened eyes locked with the reporter's.
"Zubair was very nice to everyone. He lived with me after he finished secondary school. I enrolled him in a barbing salon to keep him busy while we prepared for the tertiary school he would attend.
"That Friday, he was even telling me he wanted to visit our grandpa in Saki. He had not closed for the day before the incident happened so he closed the shop to join them.
" I was personally attending to those who were shot, not knowing that my son was lying dead, " Kazeem said.
Abdulqudus Muhammad, a vulcaniser, who was Zubair's friend, also joined the group after learning that his friend's relative was being punished for an offence he did not commit.
The 21-year-old had no idea he would not make it back home, his uncle narrated.
"He has never been in any act of indiscipline, he was only a victim of a failed system. His father died some time ago," the uncle said.
"The bullet has already gotten me where I don't think I'll have any energy to help myself again. Just leave me here and go. Just try to help yourself," were the last words Hakeem Muftau uttered after he was hit by a bullet in the head, one of the survivors, Hussein Abdulrasaq, who was with the deceased in the car and also has a gunshot wound, told HumAngle.
Survived by two children, a wife and an aged father, Muftau, a driver, just came back from Ilorin when he learnt about the dispute between the driver and men of the Joint Border Patrol team.
Without meeting his family, he joined the irate youths, but never to return to the embrace of his wife who was waiting for him.
The dead and 11 other residents of Ilesa-Baruba who suffered gunshot wounds, were branded by the Nigerian Customs Service, Kwara State Command, as "a group of smugglers and organised mob," following a clash between personnel of Sector 3 Security Operations and commercial divers in the community.
Ilesa-Baruba is a Baruba-speaking community in Baruten Local Government Area of Kwara State, North Central, Nigeria. The community which shares a boundary with Saki in Oyo State, Southwestern Nigeria, is 132km away from Chikanda, Nigeria's border town with Benin Republic.
The genesis of the crisis
News broke out early on Saturday morning that five civilians were allegedly killed at Ilesha-Baruba, Baruten Local Government Area of Kwara State, during a clash between men of Sector 3 Security Operations conducting stop and search at a checkpoint along Saki-Ilesha Baruba and commercial drivers on Friday evening.
HumAngle learnt that three persons died and 11 others were receiving treatments for gunshot wounds at Shagunu Mailafia Medical centre.
The clash was as a result of a misunderstanding over a N200 bribe which personnel of the Joint Border Patrol team allegedly demanded from a commercial driver, identified as Abdullahi Hussein, HumAngle learnt.
When HumAngle interviewed Hussein at Shagunu Mailafia Hospital, he said he was going to Sinawu Market, a weekly market, where food items such as yam flour, garri and yam tubers were sold when men of the Nigerian Customs Service on the outskirts of the community stopped him.
He said he was asked to pay N500 when he was on his first trip for the day and that his offence was that he was carrying seven passengers in his vehicle.
He said instead he dropped N200 which was the agreed 'booking fee' between the union of transport workers in the community and the security operatives.
Commercial drivers plying the Ilesha-Baruba/Chikanda Expressway pay at least N200 depending on the number of passengers and goods at each of the checkpoints – three in Ilesha-Baruba alone, HumAngle learned.
"I was conveying people to Sinawu when I was first stopped at the checkpoint. We go to Sinawu Market every Friday. Each time we get to the checkpoint, we would stop and drop N200 whenever we are going and coming back till the third trip.
"When I was going in the morning, I paid N200. One of the immigration officers asked me the number of passengers in the car, I told him they're seven. He asked if there were any foreigners, I said there was none. He then asked me to pay N500, I told him I could not pay N500. Our agreement with the union was N200. I dropped N200 into the box," Hussein said.
Angered by his refusal to pay more than the agreed sum, Hussein said the immigration officer asked him to unpack the loads in his car for proper checking. He said that he obliged, and after the officer checked it, he packed them back and drove off.
"Later in the afternoon when I was coming back, I stopped, because we know it is our obligation to pay, I dropped another N200 and left. If we're going back empty, we don't pay," he said.
As the day rolled into darkness, Hussein said he took the last batch of passengers waiting for him at Sinawu, down to Ilesa-Baruba. Seven passengers – four at the back seat, three shared the front seat with him.
When he got to the third immigration checkpoint, he was flagged down by the operatives but he shrugged them off. He had paid his dues and his car had developed a fault along the way, Hussein said.
But it dawned on him that he had stirred the hornet's nest when he saw the immigration officers after him. They chased him and took him back to the checkpoint, multiple accounts told HumAngle.
But the Public Relations Officer of the State Command of the Immigration Service, Mr Chado Zakari, said he fled the scene in a statement he released in Ilorin.
"During the pursuit, the driver abandoned the vehicle and fled the scene. After a short period, the driver mobilised a large mob of organised smugglers and errant youths armed with sticks, stones and locally made weapons and attacked the operatives and overran the checkpoint," Zakari said.
However, Hussein said he could not have fled the scene as he was ordered to drive the car back to the checkpoint, beaten and bruised.
"I was pursued and dragged back to their point. When I got back to their point, I was asked to park my car and sit down. I put a call across to our secretary that I've been arrested. That he should come and beg the officers. He came to beg the operatives," he said.
News spread to the town that he was being held and beaten over N200 bribe. While this was going on, he saw hordes of people heading towards the checkpoint.
Then the operatives engaged them with guns, Hussein explained. He said he sprang up from where he sat and fled for his life.
"Before we knew what was happening, the officers saw a bus full of people coming towards the place and started firing. I had to run for my life, it was where I hid that I was hearing gunshots. When I came out I realised that my car had been taken to the main town. I saw my people being killed and injured," Hussein said.
Three of the seven passengers in Hussein's vehicle corroborated his narration and so did the Chairman of the local branch of the Road Transport Employers' Association of Nigeria (RTEAN), Suleiman Bio Baare.
"I was in the bus when he stopped on his second trip to Sinawu, he parked and went to meet them. Whether he gave them N200 or not, I don't know. But when we were coming back in the evening, they flagged him down but he was signalling to them that he could not wait, his car had broken down on the way.
"They pursued us till we reached the police station where they overtook us. Before he could say anything, they started beating him to the extent that a grownup man was crying.
"We (passengers) were asked to get down and they drove him to their checkpoint, " Rahmat,
one of the passengers said.
Dispute over identity of cargo
The Nigerian Customs Service, Kwara State Command, said 20 bags of rice were found in Hussein's car, a Volkswagen Golf, when it was searched. When HumAngle interviewed residents, including the passengers and the Emir of the community, Prof Halidu Abubakar, they described the agency's statement as "a joke taken too far."
Rukayat was at the community's main park to discuss with the RTEAN Chairman, Baare, to facilitate how their goods would be released by the Customs Service.
Together with three other passengers, she said her goods were mainly body creams and bar soap. Another passenger said his were electronic goods such as MP3 player music boxes, torches and solar items, Paul* said he had Igbo food items such as ogbono, egusi and fish as well as a bucket and grinding machine in the vehicle.
"There was nothing like rice in the car," Rukayat said, adding that "the rice they said was found in the car was definitely dumped there.
"He didn't carry any rice. I was there when he was loading the car. My goods were cream and soap. We were both coming from Sinawu with these Igbo men.
"We are here to work on how we'll collect our goods. All my creams would have melted. There are (loaves) of bread, soft drinks and many other things that may get spoilt in the car."
Hussein also denied the claim that he carried bags of rice in the vehicle. In an emotion-laden voice, he said: "I am not a smuggler and I didn't carry rice. Let them bring Quran, I'll swear with it."
HumAngle visited Sinawu Market to confirm if rice was sold at the place. Traders said that the major food items sold in the market were yam, garri, yam flour, grains, among others.
The Emir, Abubakar, also repudiated the customs position that the clash was between "organised smugglers" and its personnel.
Abubakar said that the community was only being used as a transit route by smugglers who ferried contraband through the community into Oyo Sate.
"The customs are overemphasising this aspect of smuggling; that the whole thing is about smugglers, but it is not.
"Unfortunately, there have been smuggling but our people in our own community have not gone into that area.
"People smuggle and pass on to Oyo State and when there is a crisis, we bear its brunt. Honestly, our people are not smugglers. If they are talking of smuggling, it is not from this community," the emir said.
Residents allege operatives are thieves in uniform
When HumAngle visited Taofeek Garuba at Shagunu Mailafia Hospital in Ilesa-Baruba, he had a patch on his thigh where a bullet hit him. All Taofeek wanted was to help, but his big heart almost cost him his life.
"We had not got to the point before they started shooting. They are powerful, how can we say we want to go and fight them? I watched as they shot people while I was groaning on the ground.
"They are disturbing us. How much are we making per day that we would be giving them money every time? Is Ilesa the border town? Why are they here? They are simply thieves."
The view was reinforced by Kazeem, one of the deceased persons' guardians. He said the security operatives were exploiting innocent commercial drivers in the community in the guise of tackling smuggling.
"Ilesa is not the border. We have been asking why they are in the community. If a driver should carry biscuits, they would claim the person is either coming from Benin Republic or going there and should drop some money.
"Chikanda is the bordertown, why are they stationed here? A driver would collect N1,200 from passengers in the car, he would be forced to drop N200. How much is left to buy fuel and take care of his family?" Kazeem asked.
Many drivers who spoke with HumAngle also expressed frustration over alleged acts of extortion against them by immigration and customs personnel.
The reporter took a ride in a cab from Ilesa to Sinawu – 16km away – to confirm the allegations of the drivers against the operatives.
The driver upon reaching a checkpoint would stop for routine security check but no check happens. A check only occurs when a driver refuses to part with the N200 bribe. Instead, the driver gets out of the car to meet the operatives in their canopy to drop what is called "booking fee."
"They are thieves in government clothing. Whenever we get to their point, we must drop N200. If not for the fight that happened on Friday, they would have asked me to pay N1,500 for the seven passengers and loads I took. All the passengers paid is not more than N1,600 but they request for N1,500," Sheu Abdullahi, a driver, said.
HumAngle could not meet with the Divisional Police Officer in the community after two visits to get their comment on the development.
They Have Overstayed Their Welcome – Emir
Abubakar, the Emir of Ilesa-Baruba, said the incident was spontaneous as against the position of the Nigerian Customs Service that the attack on its personnel was organised by smugglers and youths in the community.
"The whole incident was spontaneous. It was not planned by the boys, not even the military people. It was just so unfortunate. We have had a very good rapport with the military except for this one,"
Abubakar said.
He said that the presence of the military in the community had impacts on the economic activities of the community as well as the education of the children. He, however, said that the security operatives had "overstayed their welcome."
The emir said the people had been crying over the continued presence of the Joint Border Patrol team despite the reopening of the country's land borders by the Federal Government, especially because of the children whose primary school was taken over by the military for camping.
"The government in its own wisdom brought these people here, it is not within our power to tell them to go. Our people are asking why the men are still here when the border has been reopened. But I know government policy statements are one thing, passing the instrument of implementation is another thing. If these people don't receive a signal, they cannot leave here.
"But we will be pleading to the government that since the border has been reopened, these people should go. In fact, they have overstayed their welcome.
"We are at the receiving end of their stay. It is one of our primary schools that they commandeered – the one with the best building. They said it is government property, they are also doing government work, so they have a right to take it. As such, we are educationally backward. Where the school children are supposed to attend in comfort, they are seeing guns and weapons," Abubakar said.
He urged the relevant authorities to constitute a panel to investigate the root causes of the crisis, adding that he was aware that the officers were extorting commercial drivers in the community.
"These are the costs we pay. We expect the government to constitute a panel, whether administrative or judicial, to look into what happened so as to know that they are concerned about us, " the emir stressed.
---
Support Our Journalism
There are millions of ordinary people affected by conflict in Africa whose stories are missing in the mainstream media. HumAngle is determined to tell those challenging and under-reported stories, hoping that the people impacted by these conflicts will find the safety and security they deserve.
To ensure that we continue to provide public service coverage, we have a small favour to ask you. We want you to be part of our journalistic endeavour by contributing a token to us.
Your donation will further promote a robust, free, and independent media.
Donate Here