Development
Features
UCH: Federal Workers In Nigerian Hospital Not Paid In 34 Months 
Non-clinical staff of the University College Hospital in Ibadan, southwestern Nigeria, are facing hardship following the government's failure to pay their salaries since 2021 till date. While some have become beggars as a result of the prolonged non-payment, others are depressed because they are surviving on debt.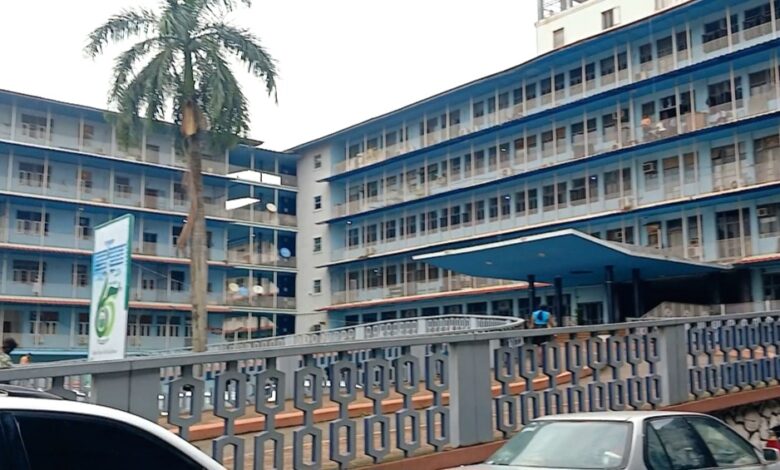 Ayo Adedeji can barely afford to feed his wife and four children despite his role as an accountant at the University College Hospital (UCH), a federal teaching hospital under the University of Ibadan.
This is not because he is an irresponsible husband and father. It is also not because he is lazy.
It was a cloudy and windy morning on Oct. 9 in Ibadan, the third day of an unrelenting rainfall in the capital city of Oyo State, South West Nigeria, yet Adedeji showed up for work. Worthy of note, though, is the fact that he looked depressed. And the reason was obvious – the Federal Government had not paid his salary for 34 months.
Adedeji had borrowed money from his church members the previous Sunday so he could transport himself to the office on the day he was interviewed by HumAngle. For many other non-clinical staff like him, it was another day to 'work in vain'.
From plenty to nothing
Prior to 2020, Adedeji had his life planned as a staff of Lekki Concession Company (LCC) Limited in Lagos. He was making enough money to take care of his wife and children. In fact, all he prayed for was to be healthy enough to live with them till old age. However, his decision to quit his job at LCC for a Federal Government job at UCH returned him to ground zero.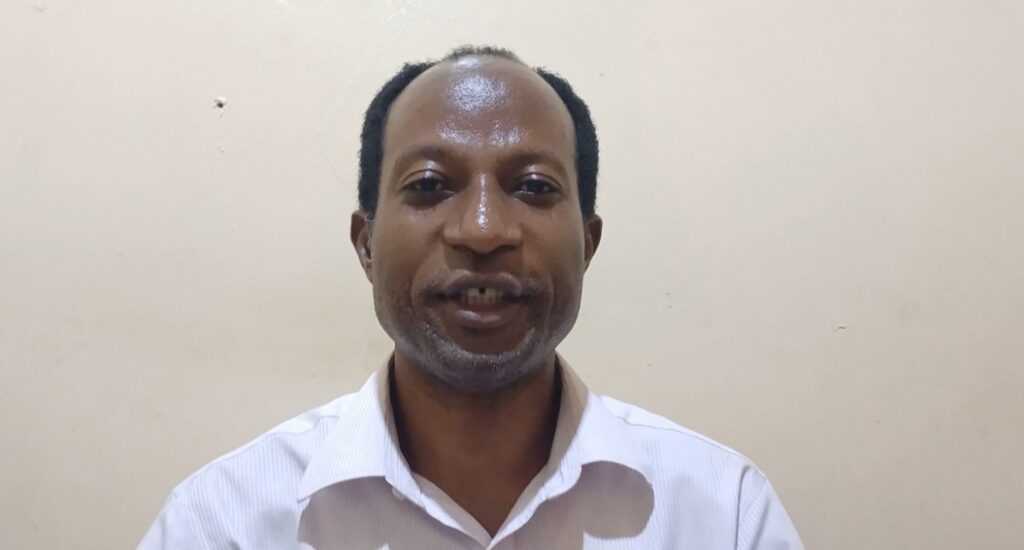 When Adedeji saw an advertisement for staff roles at UCH in two national newspapers on Aug. 15, 2019, he took interest in the opportunity since it's a Federal appointment. He discussed the offer with his wife and later that week, he applied for the role of an accountant. In Feb. 2020, he got a call from UCH, inviting him and other applicants for a test. The COVID-19 disease outbreak at the time would later delay the recruitment exercise for months. However, the hospital contacted qualified applicants four months later for immediate employment.
"We were given employment letters, ID cards, and letters of assumption of duty to individual departments," he told HumAngle. After receiving his appointment letter, Adedeji resigned from LCC and immediately relocated with his family to Ibadan. "I started receiving my monthly salary and my wife, a nurse, looked for another job opportunity here. Things were fine with us and I felt proud that I have become a Federal Government staff. The first six months were great."
However, the things took a drastic turn in Jan. 2021 when Nigerian authorities migrated their payment from the Government Integrated Financial Management Information System (GIFMIS) to the Integrated Personnel and Payroll Information System (IPPIS) platform, an IT-based system for budget management and accounting.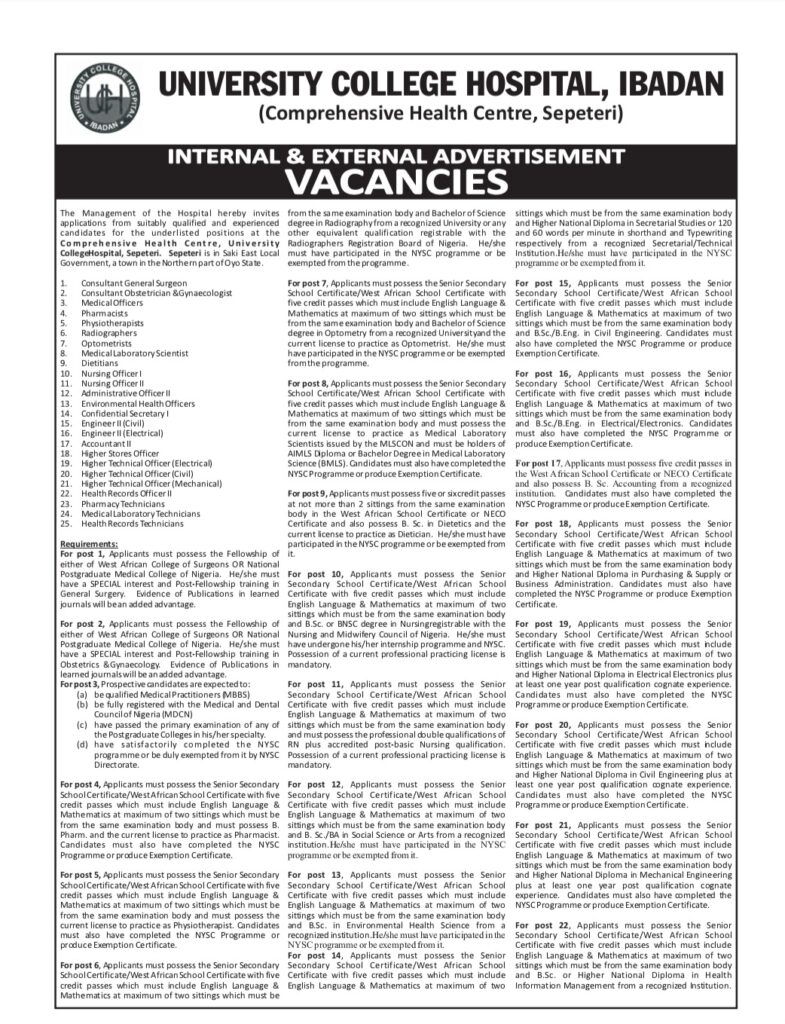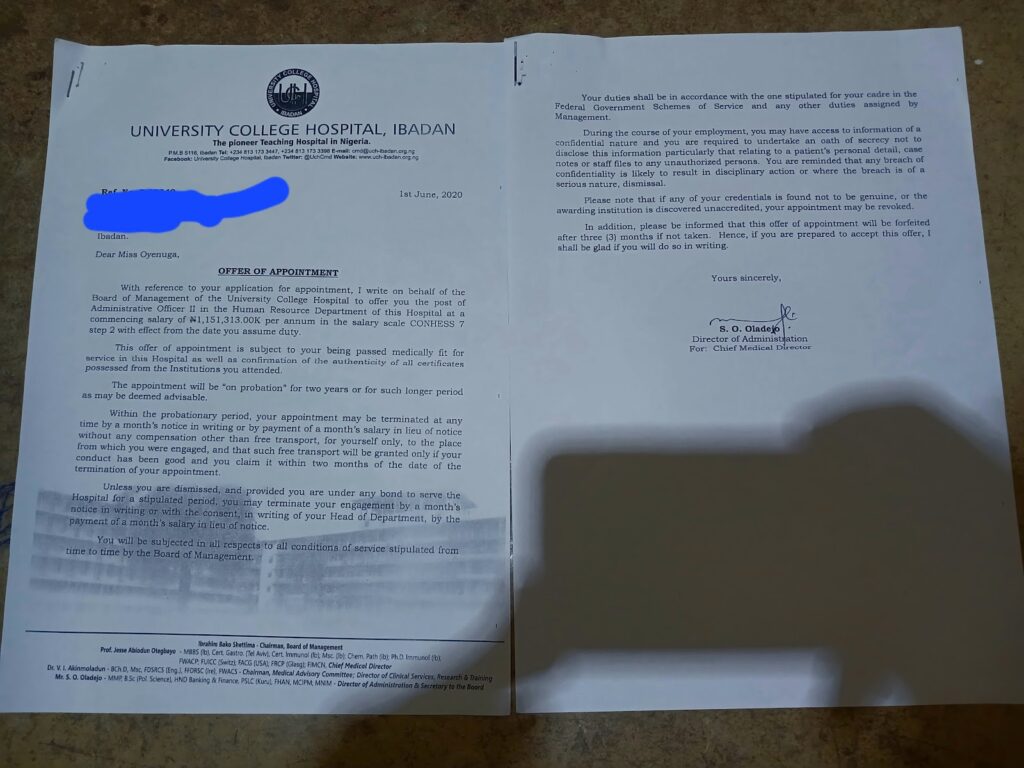 The Federal Government says it conceived IPPIS to provide a reliable and comprehensive database for the public service, address the problem of 'ghost workers' – those who are workers only by name but not by deed, and eliminate manual record and payroll fraud. The department, which is within the office of the Accountant-General of the Federation, pays salaries and wages directly to government employees' bank accounts.
"We waited for nine months before the IPPIS came to capture us in the last week of Sept. 2021. They eventually captured both clinical and non-clinical staff. While they started paying the clinical employees, we were left to suffer for 34 months and still counting," Adedeji added.
HumAngle learnt that the non-clinical employees affected are 81 in number and they include Electric Engineers, Civil Engineers, Accountants, Executive Officers, Administrative Officers, Confidential Secretaries, Store Officers, and IT Officers.
Despite non-payment of their salaries, they continue to go to work daily, borrowing money from relatives to survive. Some of the affected persons have become beggars as a result of the prolonged non-payment and many were evicted by their landlords and are currently displaced. Also, a majority have sold their valuables to feed their families.
Humiliated husbands
Adedeji told HumAngle that he had two vehicles before joining UCH but both have been sold. Despite selling his properties, he is still struggling to provide basic necessities at home. In fact, his wife who always relieves him of many of his financial burdens has threatened to divorce him on several occasions.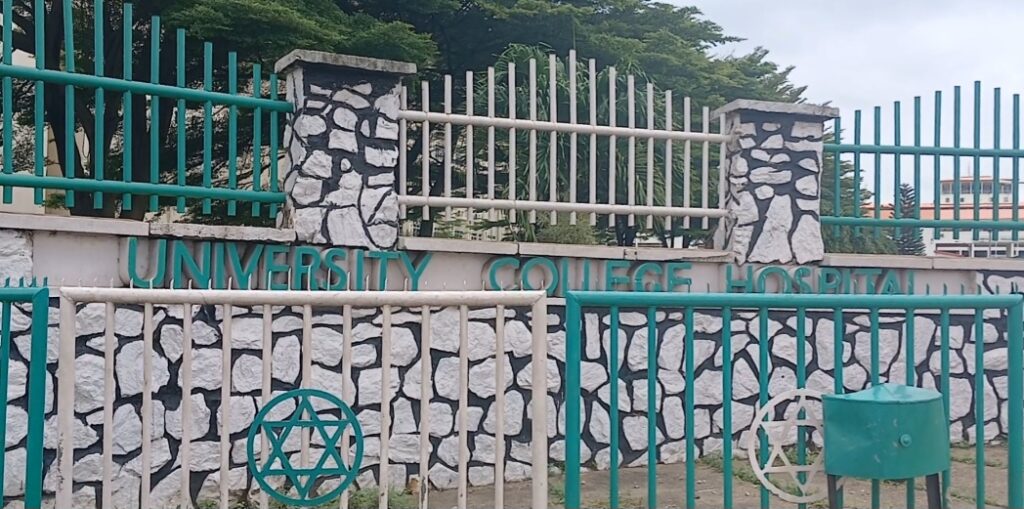 "Life has not only been difficult for me, my marriage is on the verge of collapse. I can no longer take care of myself let alone four children. Two of the children are struggling in university. I am humiliated every day at home because I cannot perform my duties as the head of the family. When there's a need to make donations to my parents, I am the only child who never makes a contribution. This has become really embarrassing for me."
Adedeji also told HumAngle that his reputation has been damaged online by multiple loan companies which lent him over ₦2 million to meet some of his needs. They declared him wanted on social media, accusing him of absconding with millions of naira borrowed for family upkeep.
There's also Fakayode Oluwatosin, an administrative officer who objected to a video interview because he's avoiding a number of loan organisations who have also declared him wanted since last year.
"I owe almost all online loan firms and they have declared me wanted for a long time. They call me a rapist, a paedophile and all sorts of names," he said. "I am living in penury. In fact, my wife and six-year-old daughter are no longer with me because I can no longer cater for them. They have returned to my father-in-law's place, as I now ask strangers for money on the road. I owe my landlord over a million naira for three years' house rent and he's threatening to arrest me.
"I have tried to look for another job but no company is willing to employ a staff older than 40 years old and that's why I keep coming every day. We even sign a salary log every month, hoping that we would be paid when they see our commitment to work. I am frustrated and angry. If you don't have money, you are hungry and if you are hungry, you are angry," said Oluwatosin.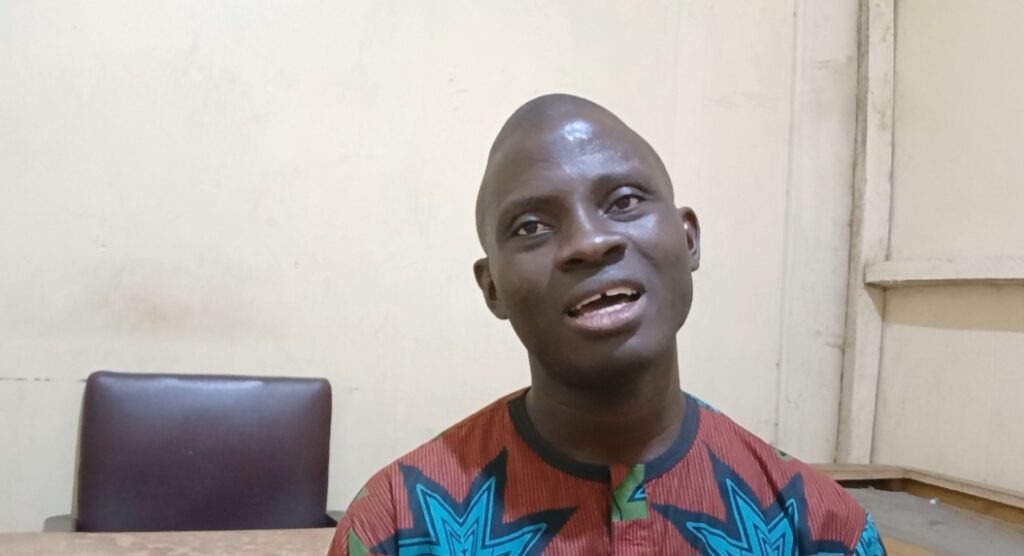 There is also Ifeoluwa Johnson.
Since 2021 when the government stopped paying his salaries, survival has been tough. Though Johnson works at the accounting department of the hospital and has helped a lot of people resolve issues surrounding salary delays, he's yet to find any solution to his own challenge.
He told HumAngle he continues to work based on hope and prayers that his condition with other non-clinical workers would be addressed. "I feel humiliated each time I see my wife taking charge. To feed myself is difficult. I have a lot of debt. I've got a lot of loans through my wife. It's over ₦2 million."
Sick parents
Before resigning from the Education Advancement Centre in Ibadan, Olajumoke Oyenuga was making enough money to take care of her two parents who were battling cancer. Many months after joining UCH as an administrative officer, her parents' health started deteriorating because she could no longer provide money to meet their treatment despite obtaining loans from several firms.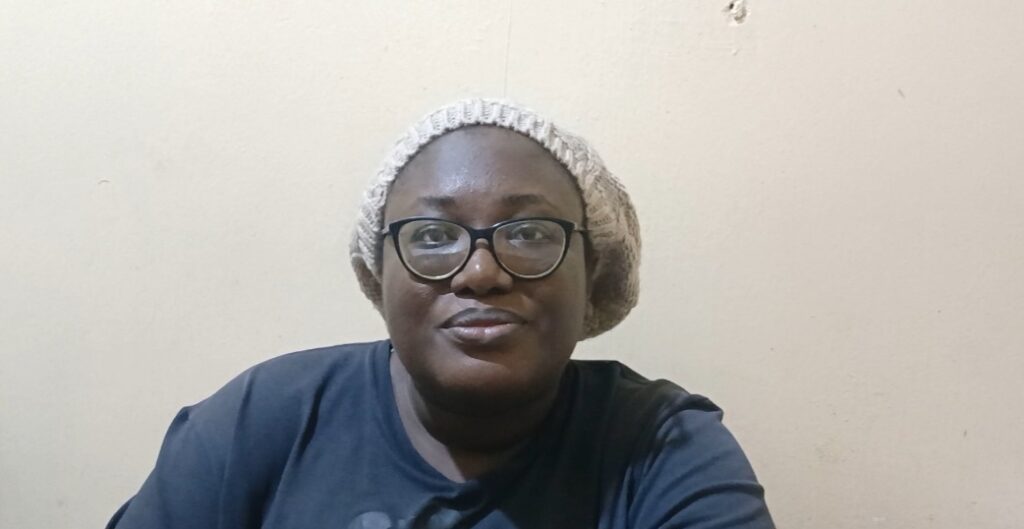 Oyenuga is scared that her parents may pass away anytime soon because she finds it difficult to follow through with their prescribed chemotherapy sessions.
"It's disheartening working in vain but we continue to come to office because we usually hear that the Federal Government does not owe salary. But now, I live on charity with a heap of loans around my neck. Though not married yet, I have parents battling with cancer. I sell their properties to meet up with treatment. I have tried some freelance work including cleaning service," she narrated.
Despite living in uncertainty, she says she cannot quit because many organisations willing to offer her a new job are asking for a payslip from her previous employment as part of the requirements. She has no recent payslips to present due to prolonged non-payment of her salary. She also shared that she has become an object of pity, forcing her to avoid social gatherings.
Another pathetic case
By mere appearance, it was evident that Wasiu Rabiu, a higher technical officer (electrical) needs to be constantly consoled. According to him, his parents are suffering from diabetes and he has no other means of getting money to pay for their frequent medical expenses. After his two children were sent away from school due to his inability to pay their fees, his sister-in-law accused him of not being a responsible father. Each day he remembers all of these, he is overwhelmed with worry and depression.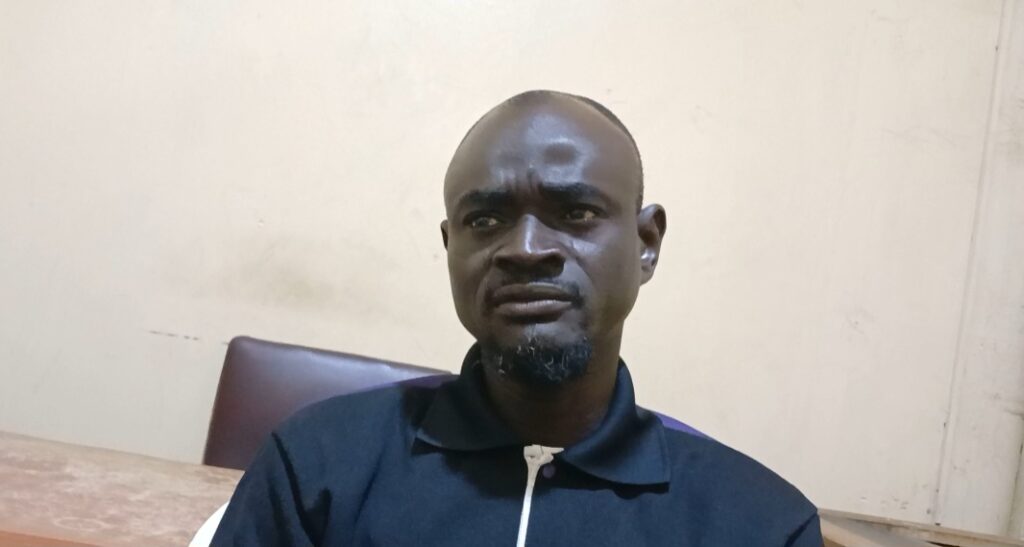 Now he depends on the ₦15,000 monthly salary his wife receives from her job as a cleaner in a private primary school. Since the money is not enough to cater for their basic needs, let alone the school fees of his two children, Rabiu got a motorcycle on hire purchase to keep his children in school. "I'm over 40 years of age. Which company will employ me? Which job do I want to apply for?" he said.
Suffering children
Though Olusola Ojebode is still able to keep his two children in school after selling some of his properties, including his phone and wedding rings, the children lack the necessary stationery to aid their academic performance. The former staff of Oyo State Water Corporation told HumAngle that his inability to buy textbooks for his children makes them miss crucial assignments. When examinations are close, Ojebode makes photocopies of textbooks for them.
"I feel bad and depressed anytime I remember all of these. No parent would be happy to see his or her children borrowing textbooks. My first child is in JSS 3 and would need to write external examinations. I was inspired to join UCH because I consider a Federal Government job better than where I was before. I have an identity card and schedule of duty yet no payment at the end of the month," he said.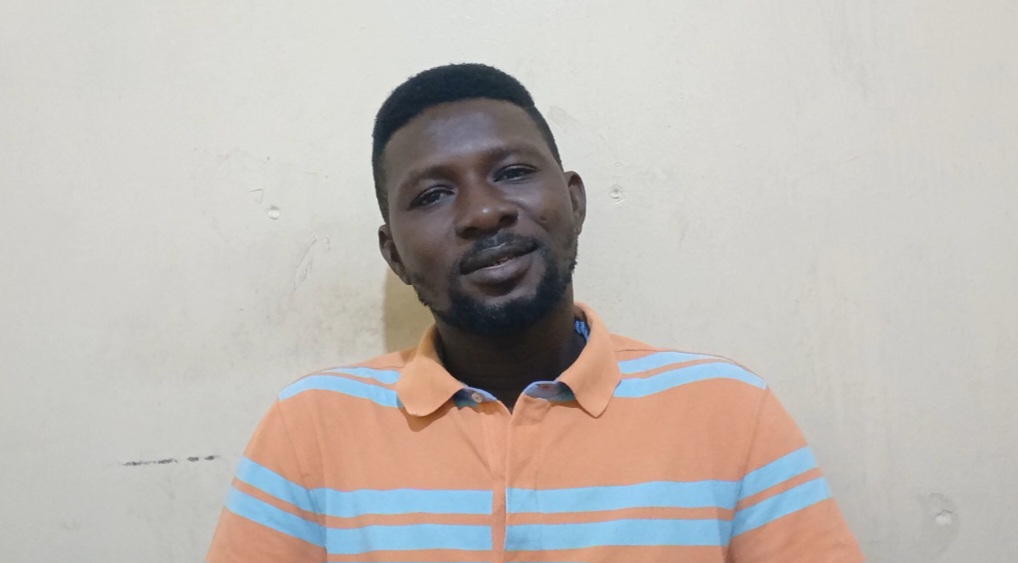 Ojebode is a supervisor at the water and electrical department, so he works daily without salary. "I've sold properties, including land worth over ₦3 million to survive. I sold my mobile phone, I sold my television and even my wedding ring. My children now see their mother as the head of the family. They are taught in school that their father takes financial responsibilities at home but what they see in reality is otherwise."
Speaking with HumAngle, a storekeeper who simply identified herself as Omotunde said she can no longer sit comfortably in her office because she's overwhelmed with an inferiority complex. The single mother of three whose first child is studying Marine Engineering at the University of Lagos says the recent increment in tuition fees may force her son to drop out of school.
"I cried last year when my colleagues got their hazard allowance. Painfully, my colleagues started contributing money for me when they saw that I was crying. I have prayed and fasted on several occasions but still nothing."
Displaced
Most of the staff who spoke with HumAngle have common challenges – inability to send their children to school, unaffordable medical bills, public shame, and backlogs of house rent. In the case of Bakare Mutiyat, she has been evicted by her landlord because she and her husband who also works at UCH could not afford their rent for the last two years.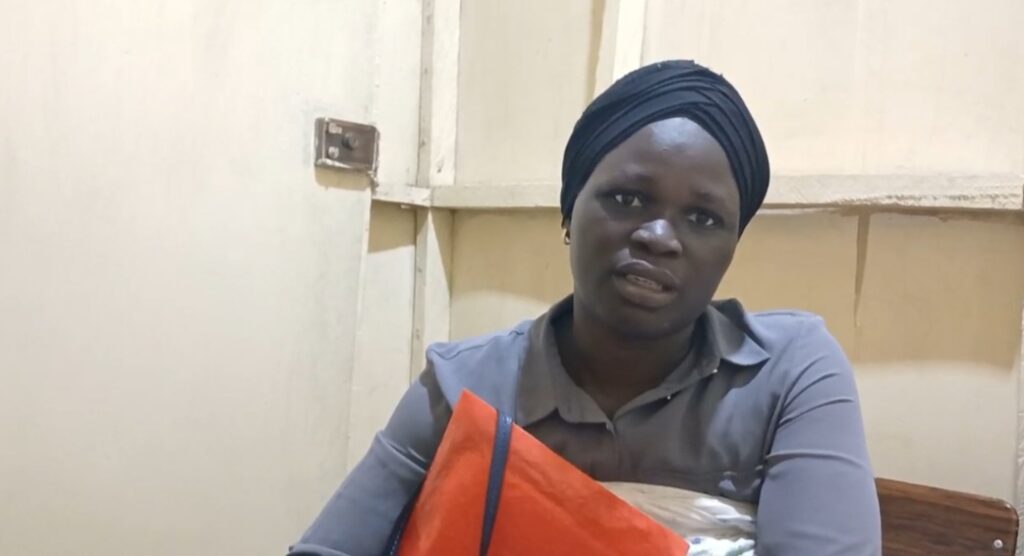 The family of four have relocated to UCH staff quarters where they squat in a studio apartment assigned to them by a senior staff member. As HumAngle conducted interviews with them, their properties were under the rain and sun in their former house because they had yet to gather enough money to transport them.
"We keep hoping that everything will be fine but it's getting tougher. I met my husband here too. We have been displaced by our landlord and our family members are tired of helping us. There's no money to buy food let alone diapers for my children," said Mutiyat.
For Woju Adeolu, an electrical engineer at the hospital, his challenges are not only physical and financial but also psychological. After he was sacked by a Lagos branch of Polaris Bank in 2019, he saw the UCH job advertisement and applied. Upon resumption, he relocated to Ibadan alongside his wife and children.
However, life has since been difficult for him, as he struggles to perform his duties either as a husband or as a father to his children at home. According to him, his wife determines the running of the family and he's fast becoming a 'housemaid'.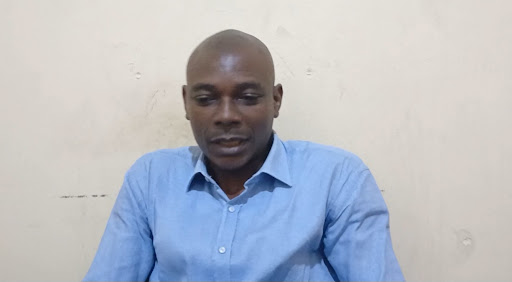 "My siblings have been helpful but they are tired. My childhood friends no longer answer my calls because they believe I am always calling to ask for help. How long will I continue to live at the mercy of people? I have become a perpetual beggar with a lot of loans on my neck.
"Imagine your daughter saying 'Daddy, don't be angry' before asking for her rights. This is because I act like a madman at home and my children are always careful when they are around me. There was a night my wife came to ask for money for dinner and I was practically shouting. We all went to bed that night without eating," he said, adding that he has also been displaced by his landlord.
Expressing her pains over the prolonged non-payment of her salary, a store officer who simply identified herself as Funmilola said she has developed high blood pressure, a condition in which the force of the blood against the artery walls is too high.
"I am depressed because I have been working without a salary. It's not easy for my husband alone and I have two children. I can't meet up with my responsibilities to my children let alone my aged parents. I'm depressed. I need help. I want Nigerians to help me. The doctors said I had high blood pressure. I was advised to stop bothering myself but how do I stop when I am not getting my salaries? I was told not to eat some foods for medical reasons but I can't afford the ones I was advised to eat."
Efforts
In a bid to address their concerns, the aggrieved staff had on several occasions met with Jesse Otegbayo, Chief Medical Director (CMD) of UCH, but he usually told them "the management is working on their case".
"The CMD and the Director of Administration were always telling us that they were working on our salaries and also encouraged us to continue to carry out our necessary duties. If they had informed us early enough that they do not have the power to resolve our problems, we would have cried out long ago," an aggrieved staff member who spoke under anonymity, because he does not want to be targeted, said.
When contacted for comments on the neglect of the staff, Otegbayo evaded questions. Instead, he asked HumAngle to speak with the spokesperson of UCH. Meanwhile, the hospital's spokesperson, Funmi Adetuyibi, did not respond to enquiries despite informing her that the CMD directed our reporter to her for updates on the neglect of non-clinical employees of UCH.
Earlier this year, the affected employees met with Ooni of Ife, Adeyeye Ogunwusi to intervene. Though the king promised to resolve the matter, nothing seems to have been done since June.
"We also wrote a letter containing our challenges to the 9th National Assembly and we were invited three times by the House of Representatives committee set up on public petitions. While all other invitees appeared, the Head of the Civil Service of the Federation, Folashade Esan did not honour the invitation. So, the issue could not be resolved," an aggrieved staff member added.
HumAngle also contacted Alaba Balogun, the spokesperson of the Federal Civil Service Commission (FCSC) to seek clarification, but he also did not respond to questions.
While many are left to suffer, UCH management did a fresh recruitment exercise for 250 new employees who have already been captured by IPPIS. Yet, those who have been coming to work every day since 2021 say they continue to labour in vain.
"We plead earnestly with Nigerians to help resolve this issue between the Head of Civil Service of the Federation and UCH management so that we can receive our 34 months outstanding arrears. We want Nigerians to intervene in the sufferings, agonies and pains we are going through for being responsible and hard-working staff members of UCH," Adeolu said.
He added that, even if they are paid, the debts many in his situation have incurred would choke them, not to mention the constant increase of market prices for basic commodities.
---
Support Our Journalism
There are millions of ordinary people affected by conflict in Africa whose stories are missing in the mainstream media. HumAngle is determined to tell those challenging and under-reported stories, hoping that the people impacted by these conflicts will find the safety and security they deserve.
To ensure that we continue to provide public service coverage, we have a small favour to ask you. We want you to be part of our journalistic endeavour by contributing a token to us.
Your donation will further promote a robust, free, and independent media.
Donate Here