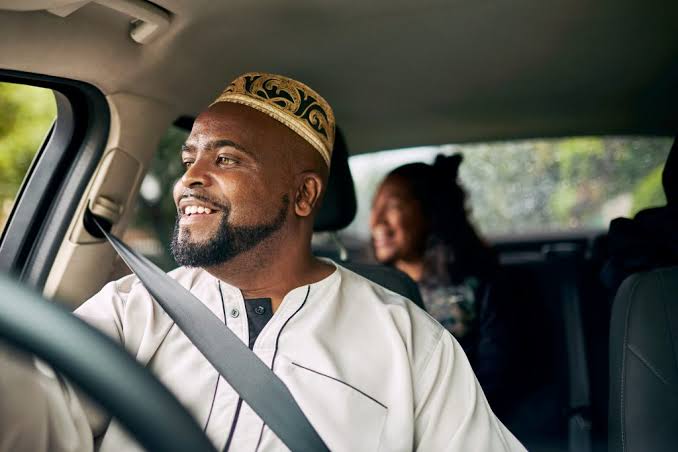 One moment, you are checking your car engine and getting ready for the day's work. You may get a good day, hopefully. The next moment, you are terrified and staring down at five men who look ready to kill you.
This is the life of the average ride-hailing app driver in Nigeria's Federal Capital Territory, Abuja.
They must know how to plead, for the safety of their cars and their lives. It is a more important skill than knowing how to drive as they navigate traps set by touts in strategic locations of the city.
Ayotunde Oladimeji felt his blood go cold when he was attacked by five angry looking men as he steered his car to stop under a pedestrian bridge on Airport Road.
He had heard a funny noise in his car and wanted to check. Stopping was a rookie mistake.
The men did not wait for the car to stop, they swooped on him and two struggled to put their hands through his two front windows.
In confusion, Oladimeji applied the brake and his attackers seized the moment to force open the doors of the vehicle.
Within seconds, two were sitting inside the car, one stood by his door, another stood in front of the car and the last stared down at him from the passenger's window. He was trapped.
Oladimeji started working as a Bolt driver in June after the lockdown was called off. Like most Nigerians, he had lost his 9a.m. to 5p.m. job to the COVID-19 pandemic and driving a taxi became his recourse.
For a university-trained, self-described introvert, staying with the other drivers in motor-parks was not an option
The controlled work environment and safety a ride-hailing app afforded was important. However, he was not informed that dodging touts was a part of the job.
The men began to shout and attempted to snatch the car key. They cornered him and ensured he felt powerless.
"I have never felt so small, so powerless. I suddenly had no idea what to do. It was like I was dreaming. There was no way I could have anticipated it.
"I started thinking of all the offences I might have committed but these were not security agents. They were "agbero" (touts) and that worsened the shock," Oladimeji said.
They threatened to take him to their office and claimed he had broken a rule of the Road Transport Employers Association of Nigeria (RTEAN) that prohibits Uber and Bolt drivers from operating around vicinities that its members operate.
All efforts to explain that he was not intending to carry anyone proved abortive and he had to cough out N5,000, the only cash he had on him.
They had initially requested for N20, 000 but let him go after they realised he had just that sum at that point.
They took all his earning up to that moment with receipt or proof of payment given him. He was free but scarred.
Oladimeji told HumAngle that he no longer stopped by the roadside, not even for a car check to avoid similar experience.
He is not alone. All over Abuja, tales of Bolt and Uber drivers assaulted for no reason and lured into places where they are assaulted abound.
It has nothing to do with a law. It is the by-product of the rivalry between RTEAN- memer taxi drivers who feel cheated since ride hailing apps became popular in Nigeria.
Lured and lynched
As part of this investigation, the HumAngle correspondent boarded 20 cabs in one week moving from one popular hotspot to another.
Kubwa Bridge, Dei-Dei, Galadimawa Roundabout, Federal Housing Junction, Lugbe, and Area 1 Roundabout are popular locations that Uber and Bolt drivers would rather not discharge or take in passengers.
In 15 of those trips, the drivers fearfully navigated the hotspots and only agreed to drive through such areas after being assured of their safety.
It is a sport. The aim of the touts is to collect money, which they see as reparation for the "stealing of their customers."
The remaining five drivers, like Oladimeji, said they were oblivious of the system and were taught unforgettable lessons.
Some drivers recounted their ordeals to HumAngle, especially about their experiences at Galadimawa Roundabout.
The area is under construction and has several parks flanking the sides.
When the touts in the area realised that the drivers became too scared to pass and stop at the bridge, they devised new methods to trap and extort them.
Francis Obuh is one drivers who was a victim.
"Some of the educated touts download the apps and order for rides.
"The moment you arrive to pick them up, unsuspectedly, the others jump around your car and detain you till you empty your pocket.
"Now, if those of us who know see requests from around that roundabout, we do not take them because it is a trap," he said.
Drivers who know avoid the trouble spots but new victims emerge daily.
What happens to the customer?
The practice undermines the purpose of convenience a ride hailing app is expected to provide customers, who sometimes are stranded because drivers are thinking of their personal safety.
Racheal Chukwusom is a student who lives around Dei Dei. Due to the bad road leading to her estate, she walks to the expressway and stands on the pedestrian walkway, where she orders her cab.
"I have to order at least three times before I get a driver who is bold enough to pick me up.
"My parents insist on me taking private cabs because they are cleaner and with COVID-19, we have to be as cautious as possible.
"The drivers ask where I am and once I mention, they beg me to cancel saying they cannot start their day with "wahala" (trouble).
"If I am in a hurry and don't want to wait, I have to take a bike far off from the glare of the touts and take a cab," she said.
Desmond Aniete told HumAngle that he used to take the RTEAN cabs until they started charging him exorbitantly and he could not predict the pricing for his budget.
"I used to take the other cabs until I noticed they were overcharging me. My friends referred ride-hailing apps to me and it had better regulated prices.
"The cab men felt abandoned and made it a duty to attack any Bolt or Uber driver who picked me up.
"They even told me that I had abandoned them and did nothing to work on the prices. I had to start stopping some blocks before mine so the touts don't attack the driver," he said.
With safety and precaution threatened, customers told HumAngle that they were beginning to feel that if they did not stay in gated estates or stayed at tout-free places, they might get lynched alongside the drivers.
'They stole our customers' – Touts
"They are stealing our customers. We do not want them. Since they began operations, our customer base has drastically reduced," one tout told HumAngle.
He was wearing a badge that read 'official' with the logo and RTEAN inscribed on it.
Like the others, who introduced themselves as fellow RTEAN workers, Airport Road Division, he spoke angrily and loudly.
HumAngle had asked for a proper official and was told that the buck stopped at the table of this man named Tunde, who refused to give his full name.
Everyone at the park called him 'Baba' (leader) and he seemed like a leader of some sorts for the movement. He flashed his identity card and offered to speak on behalf of the others.
Baba is not a driver. He sits at the park like a tax collector and is given a percentage of whatever the boys 'roger' (extort) from an unsuspecting driver.
According to some drivers, RTEAN employs them to help maintain law and order.
Before he decided to talk to HumAngle, he had stepped into a situation where a driver was dragged to a Mobile Money point to withdraw N4,000 to give the touts since he had no cash on him.
Baba had to intervene because his colleagues were getting roudy and smashed the driver's windows.
"I just pity am. He has not really worked today. Make him find small thing comot," he said in Pidgin English to his colleagues to enable the driver to leave.
The victim paid the money and sped off, lucky to have been relieved by Baba's intervention.
"They are stealing our customers and we must get some of the money," Baba told HumAngle with others nodding in agreement.
"Bolt and Uber can work but they must respect the drivers that they met on ground before they started. It is all we are asking for.
"RTEAN is a recognised body by the government and the money we are collecting are levies for violating the code of conduct. Everybody is supposed to know their place and maintain it," he added.
When HumAngle asked why the drivers did not get on the ride hailing apps, Baba said, "The prices are too cheap and it does not favour us.
"They don't also accept our kind of taxis and customers prefer their cheap and fine rides. Air conditioner go dey blow on top N400 trip? he asked in Pidgin English, and added; " We cannot do that one.
"That is why we don't want them to come and entice our customers because once people know they can operate in our territory, no one will patronise us and we will go hungry."
Baba, however, pleaded for mutual understanding so "everyone can eat" and called on the Ministry of Labour to intervene.
Long-standing rivalry
Over the years, several reports have documented pockets of rivalry between traditional cab drivers and their ride-hailing app counterparts.
The operations of Uber drivers have come under attack at Nnamdi Azikiwe International Airport (NAIA), Abuja, following resistance from the resident car hire service providers.
Uber drivers were harassed continuously by the task force of resident car hire services at NAIA for operating "illegally".
"The task force impounds the cars and hands over the drivers to the police who fine the driver the sum of N25,000 over the charge of picking passengers illegally from the airport," an Uber driver, Temitope Ayoola, said.
"They told us that we are illegal and that we are not expected to come and pick up any passenger or carry out our operations at the airport.
"It has been on for sometimes so we just manoeuvre our way to pick up our passengers but in the last two months or let me say, early July, it became something else as they started arresting my colleagues.
"The issue is that they are doing it in connivance with the police. They would hold our cars and also hand the driver over to the police standing on the grounds that, according to FAAN (Federal Airport Authority of Nigeria), if we are not making money for them we cannot work at the airport," Ayoola said.
Aside not being registered with FAAN, Saka Abdulahi, a task force official of one of the car hire services, Airport Car Hire Association (ACHAN), admitted that the group impounded the cars and arrested Uber drivers because "they are depriving them of customers", Premium Times reported in 2017.
In 2019, FAAN reportedly banned ride-hailing operations inside the airport which generated criticism from Nigerians.
The airport authority reportedly erected a signpost warning Uber, Bolt (Taxify) and other ride-hailing drivers against operating in the airport or face a fine of N10,000 if arrested.
There has been disagreement between the airport authority and ride-hailing drivers who have often complained about their mistreatment at the airport by FAAN.
Hours after the ban announcement trended online, FAAN reacted via its official Twitter account, stating that the message on the signpost carrying its logo did not originate from it.
The airport authority said, "Uber and Taxify (Bolt) are free to drop passengers at our airports."
The agency did not, however, deny the existence of the billboard inside the airport It rather said, "The signpost has been removed, be assured the issue would be addressed."
Meanwhile, HumAngle investigations have shown that the issues have transcended the airports and ride-hailing cab drivers constantly face victimisation around the city.
---
Support Our Journalism
There are millions of ordinary people affected by conflict in Africa whose stories are missing in the mainstream media. HumAngle is determined to tell those challenging and under-reported stories, hoping that the people impacted by these conflicts will find the safety and security they deserve.
To ensure that we continue to provide public service coverage, we have a small favour to ask you. We want you to be part of our journalistic endeavour by contributing a token to us.
Your donation will further promote a robust, free, and independent media.
Donate Here