Displacement & Migration
Featured
Features
News
Twice Widowed, Now An IDP After An Encounter With Terrorists
Thousands of women have been widowed by the ongoing terrorism in Northern Nigeria, throwing them into extreme economic hardship. Aisha Saleh is one of them.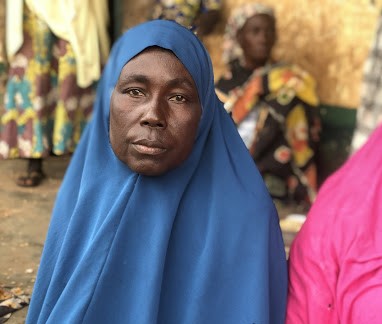 At the premises of a primary school in Shiroro Local Government Area (LGA) of Niger State, North-central Nigeria, there is a crowd of women and children as if a celebration is about to happen. 
Some women sit on the cemented corridors, breaking melon seeds out of wraps; others launder clothes and dry them on the bare grass and many others sit or stand idle. They are internally displaced people (IDPs) who were forced to flee their homes in Basa, Zangoro, Gurmana, and other towns within Shiroro LGA. They are camped at Dr Idris Ibrahim Primary School, a place once swarming with pupils. An administrator of the IDP camp who pleads anonymity tells HumAngle that the students have been moved to the next school and merged with others there. 
As they mill about, two buses drive in and park. The occupants are dressed in customised white shirts that have NIRC written on them. The acronym stands for Niger IDPs Response Coalition, a coalition of non-governmental organisations and individuals providing help to the IDPs. As they come down from the bus, some of the faces in the crowd light up.
The IDPs file into an orderly queue and present their Identity Cards (ID) to the newcomers. When it gets to a young woman's turn, one of the volunteers notices an irregularity on her ID and tells her gently to stand aside as they verify her records. But she takes offence, becomes defensive, and rude. 
When the volunteer asks how come there is an extra passport on her ID, she says "How am I supposed to know? If not because of Allah's will, what would one even be doing here?"
Even though her utterances are angry, it seems more like pain that has not found a way to make peace with itself. Later, she tells this reporter that both her husband and father had been killed by terrorists. "That's why I am here. If not, all this one will not be happening."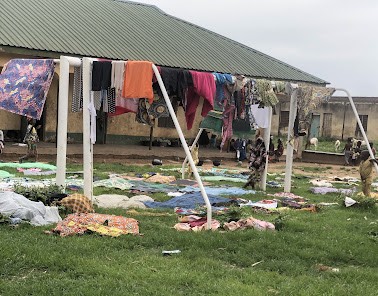 A few steps away from the crowd, a woman seats on a cemented corridor, looking forlorn. People occasionally approach her to offer greetings and sympathy. She is bereaved, and her name is Aisha Saleh.  
The last time Aisha Saleh spoke to her husband was over the phone. It was a Thursday, and he had left her with her co-wife at the Kuta IDP camp to attend a wedding ceremony in a neighbouring village. After the ceremony, he contemplated the fact that his hometown where he had grown up all his life, where he had a house in, and where he had had to flee a year ago because of terror attacks, was nearby. He could not resist the nostalgia and the urge to go to the village and once again sit in the house that he had built.
"I warned him not to go," Aisha Saleh tells HumAngle. "I begged him not to go. But he insisted, he said there was something he wanted to pick up from the house. In the end, I could not stop him."
It was the last conversation they would have. They had been married for twelve years, she says. She had married him after her first husband passed away. 
The few people who had stayed back in the village and who saw Alhaji Saleh that night would later tell Aisha that he had slept peacefully that night, and that the following day he went to a neighbor's house and borrowed a matchbox. With it, he lit the lamps in his house to enable him to see properly. He was still in the process of lighting the lamps when the terrorists attacked. Him and the neighbors whom he had borrowed the matchbox from began to run. Some of them were able to escape, but not him. 
The terrorists shot at him a couple of times but he was not hit. Then they began to throw knives at him but even those missed. They hopped on their bikes then and began to chase him. No matter how fast he ran, he could not outrun the speeding motorcycles. People told Aisha that he was tied to one of the motorcycles, and the criminals sped recklessly around the village with him strapped to the edge, dragging him along. Those who witnessed it said the terrorists seemed determined to make his death as painful as possible, Aisha says.
Eventually, they stopped. And then they ganged up on him and began to beat him up. After, they found boiling hot water and poured batteries into it and allowed it to cook. Then they poured it on him, burning him to death.
"You know the funny thing? When our children found his body the next day after they called us and told us what they did to him, they found his wallet complete with his money and his phone. They did not steal anything from him. Only murdered him gruesomely. Just like that," Aisha says.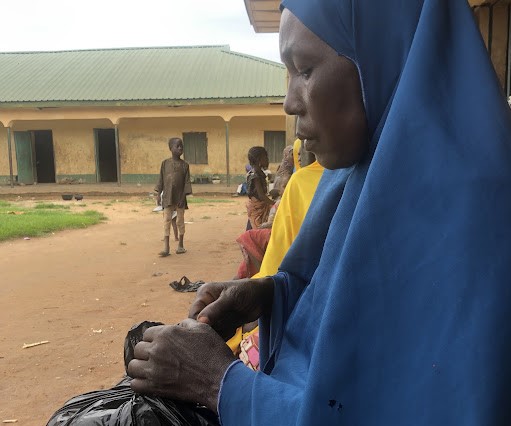 For the past five months, she has struggled with wrapping her head around the gruesome manner in which her husband was killed. Sometimes, she has intrusive thoughts about it. "It is even as if I had been there, the way the images come to me," she tells HumAngle.
Tired of the deplorable conditions they live in in the IDP camp, with no food and only occasional help from organisations like the NIRC, she decided that she would go back to their hometown, Zangoro, and see if she could make herself useful. It was there she experienced firsthand, the ruthlessness of the terrorists.
First, she made the pap with which she intended to feed her co-wife's baby whom she had traveled with. And then she left him outside by the pap, and went in to fetch something. It was then she heard the screams, the running, and the stampede. "I just knew immediately," she says. She ran out to meet her step-child and saw the armed men already swarming the house. She took the baby, strapped him to her back and attempted to run. She was sure she could not outrun them, but still she kept running.
"They caught up with me. One of them slapped me so hard I staggered. I think the intention was for me to fall down completely, but I didn't. So he slapped me again, more forcefully than before and this time I fell down. I couldn't even hear or see anything for a few minutes. Maybe I fainted, I really don't know." She wipes a tear from the corner of her eye and turns away. 
He beat her up even as she tried to hold on to her baby, she says, when she regained her composure. So she started to beg. She was unsure what her offense was, but she asked them nonetheless to forgive her and not kill her. "I begged them, I asked them to forgive me, that I was sorry." By some miracle, they let her go.
She says she had to walk for ten hours to arrive at the IDP camp in Kuta. 
Surviving as a widow with eight children in these times has been difficult for her. Thousands of women have been widowed by the ongoing terrorism in the north of Nigeria, throwing them into extreme economic hardship. Their status as women further limits their chances at making money as a result of lack of empowerment. However, their chances become even slimmer when they are widows, Aisha laments. 
"They stigmatise us a lot because we don't have husbands. They give us pity instead of opportunities to make money."
---
Support Our Journalism
There are millions of ordinary people affected by conflict in Africa whose stories are missing in the mainstream media. HumAngle is determined to tell those challenging and under-reported stories, hoping that the people impacted by these conflicts will find the safety and security they deserve.
To ensure that we continue to provide public service coverage, we have a small favour to ask you. We want you to be part of our journalistic endeavour by contributing a token to us.
Your donation will further promote a robust, free, and independent media.
Donate Here