Features
Humanitarian Crises
News
Tunani: How A Teen's Death From Cholera Unearths Memories of Terror
Cholera cases in IDP Camps in North-central Nigeria continue to rise amid neglect and lack from the government.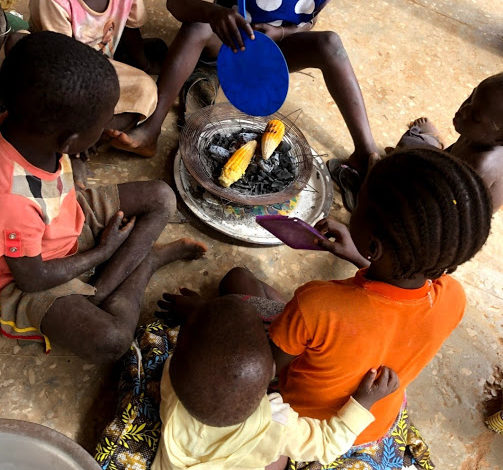 Her name was Tunani. She had been visiting her family at the Internally Displaced Persons (IDP) camp in Gwada, Niger State, North-central Nigeria, all the way from Kaduna in the Northwest, where she was schooling.
Three weeks ago, she came down with Cholera. "It all happened so fast," her mother remembers. She was taken to the hospital the day the illness began because of the severity of its attack on her health. She died the following day, still at the hospital. 
She was 13.
"Tunani" is an unusual name. It is the Hausa word for "think/thought/thinking." And so, when she was baptised at church, she was christened Sawaima instead. She became Sawaima Gullus. 
Sawaima was from Kaure town in Erena, Niger State. Kaure is a border town between Niger and Kaduna States, separated by a river. Past government administrations have made weak attempts at building a bridge over the river. For now, residents continue to cross over using canoes.
About two years ago, occupants of the town started to flee to other parts of the state due to terrorist attacks. 
They had been prevented from farming by terrorists, Samaila, an IDP, explains. "I remember that day after we had harvested the maize, we had even used our machines to process them, and these thieves came on powerful motorbikes and asked us who permitted us to farm on the land. Did you hear that? They asked us why we were farming on our lands. Someone with their house, you are trying to chase them away from it?" His face oddly contorts into a half-smile, as though he is on the verge of laughing at the ridiculousness of the memory. 
Later, they sought the terrorists to their settlements and tried to meet with them to reach an agreement that would enable them to farm without harassment or violence. They had heard that in other communities, an agreement was usually successfully achieved, and a specific tax was paid periodically by residents.
"They told us to bring two million naira. Where were we to get that kind of money?" he asks. 
The terrorists seized and burned their houses, their food, their farms. In April 2021, the attacks reached their peak after terrorists, confirmed by the Niger state governor, Abubakar Sani Bello, to be members of Boko Haram, drove everyone from the town and mounted their flag. It was at this time that the state capital, Minna, experienced an influx of people who had been displaced as a result of the attacks. 
They were subsequently relocated to displacement camps in Gwada and Kuta, both neighbouring towns. 
"These attacks had been going on for about five years, and we kept waiting for it to end, but it only got worse. Even at the time we left, we did not leave to stay away for this long. We left some of our things behind. To make it easier to continue life when we go back. It's been almost two years now."
The camp in Gwada itself is a primary school called Central Primary School. The pupils were vacated from their classroom, and the classrooms were given to the almost 1,000 displaced persons to camp in. Classes now held in the open space, long wooden benches lined in the middle of the compound in two clusters, a makeshift roof made of sewn sacks hanging above. It looks like it will collapse in the face of a rainstorm. But displaced students seem more manageable than displaced residents. 
When you enter the school, you are confronted with large cooking pots, other utensils, and dishes. There are about seven blocks, only one block remains dedicated to pupils schooling — nursery pupils. The rest of the pupils make use of the open space makeshift classroom to learn. 
Children are playing around; some have tried to make charcoal to roast corn. A young woman has mounted a large pot on the fire and is making Awara, a cheese-like delicacy also called Tofu. 
Early last month, Gwada began to experience incidents of cholera. "So many people died. I cannot give a figure, but people died," says Mr Habeeb, a resident and an officer managing the IDPs. 
At first, there were nine cases at the camp. And then there were an additional three cases, totalling 12, and one death — Tunani. 
This figure, as claimed by Mr Habeeb, tallies with the records of the Development Initiative of West Africa (DIWA), a non-governmental organisation based in Minna, catering to the IDPs in both Gwada and Kuta. The CEO, Mr Daoda Kanneh, explains to HumAngle that their records are highly detailed. They know the number of people suffering from malaria, cholera, those who are pregnant, and those who are vulnerable to certain diseases. They visit regularly and have staff stationed there from time to time to do on-the-ground reporting and documentation.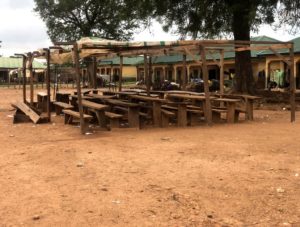 They have also created voucher-like ID cards for the IDPs for security reasons, documentation, and to enable them to get access to the food and goods they bring to them from time to time. 
"They treasure their cards very highly. Some hide them in neat nylons and don't bring them out until it is their turn in the queue, then they open the nylon carefully and unwrap it from the card before presenting it to us," Mr Kanneh explains. 
However, after the increased number of Cholera cases, he said, they saw the need to collaborate with the public health department of the Ministry of Health, as well as the Niger State Emergency Management Agency (NSEMA). They met with them last week. 
During the meeting, the health ministry disputed the number of cholera cases at the camp, claiming that there were only two cases and that Tunani's death was not related to Cholera. The NSEMA, however, corroborates that there are indeed 12 cases and one death. 
HumAngle's visit to the camp discovered that both Tunani's mother and three siblings struggled with the disease, even though they are now recuperating. IDPs also explain that the last intervention of food or supplies they have had from the government was four months ago. Only the DIWA have been in close and regular contact with them. Therefore, it is more likely that the DIWA would have a more accurate report.
According to an NCDC report, as of July 25, 2021, there were a total of 27,186 suspected cases, including 653 deaths, since the beginning of the year. These figures reflect a 47 per cent spike in the number of issues.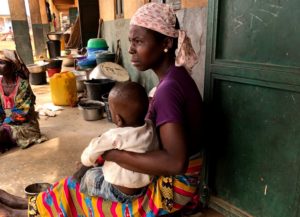 Tunani's mother sits in front of the room allocated to her, her mother, and her children, her legs stretched in front of her, a baby sitting on her thigh, sucking from her breasts, another sitting on her other thigh. For some reason, she hardly says Tunani's name. Instead, she says, "The one that died."
"I would show you a picture of the one that died," she says in broken and accented Hausa, "but it was my mother who put it away, I don't know where she kept it, and she isn't around."
Still, she spends up to twenty minutes in the room, ransacking it all in search of the picture. She comes back empty-handed, distressed. She says, "I can't find it. It's with my mother," and she looks like she will cry because she can't find it. It seems like the kind of grief that is oblivious of itself. 
---
Support Our Journalism
There are millions of ordinary people affected by conflict in Africa whose stories are missing in the mainstream media. HumAngle is determined to tell those challenging and under-reported stories, hoping that the people impacted by these conflicts will find the safety and security they deserve.
To ensure that we continue to provide public service coverage, we have a small favour to ask you. We want you to be part of our journalistic endeavour by contributing a token to us.
Your donation will further promote a robust, free, and independent media.
Donate Here