Displacement & Migration
Features
News
Tse-Yandev: No Hope In Sight For Benue IDPs Suffering Health Challenges
Displaced persons in a North-central Nigeria IDP camp suffer a health crisis amid general lack.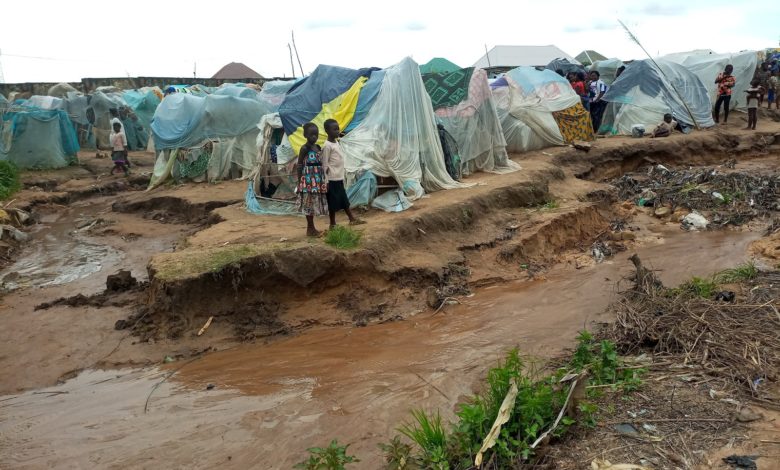 The displaced in the Tse-Yandev IDP camp in Benue, North-central Nigeria battle illnesses that remain unattended. 
Paulina Tyokuu, 48, a mother of seven, for example, now has bloodshot eyes that remain teary. Her temperature is also high. She has been this way for days.
To regain her health, Tyokuu turns to local herbs.
"I used to be a very strong woman, attending to my farms and daily activities but the sickness increased the moment rain started falling on us in our tent," she laments.
"General weakness of the body, pain all over my body, reddish and watery eyes, headache and sometimes belly aches is the way to describe myself right now. " 
Currently, she has not received any medication. "I have gone to the chairman of the camp but he told me he doesn't have money to give me. Even my children are all suffering from different diseases. We only boil random herbs sometimes and drink but it's not helping again."
Mama Kumase, 68, has excruciating chest pain and a headache that prevents her from interacting with others. Her legs shake uncontrollably. "Whenever they are sharing clothes and food, I don't always go there to collect them. My body always does as if I would fall at any moment. I wish I could be strong again so I will live normal like others in the camp," she says.
At the moment, she has been able to equip her tent with a tarpaulin to prevent the rain from entering but this is not always within her control.
But she was not always like this
Before now, Mama Kumase could farm and take care of herself. She was a popular cassava farmer who used to make at least N250,000 per annum. She was known to be industrious and capable of taking care of her home. But that has changed. She now lives at the mercy of donors. 
However, even when donors come, she is mostly unable to join the queue because of her health condition. When she is lucky, the camp officials collect food and other necessities and give them to her.
Sometimes Mama Kumase wakes up during the night to prevent the rain from flooding her tent, and she gets drenched in it every time. She too depends on herbs. "But it isn't working," she says.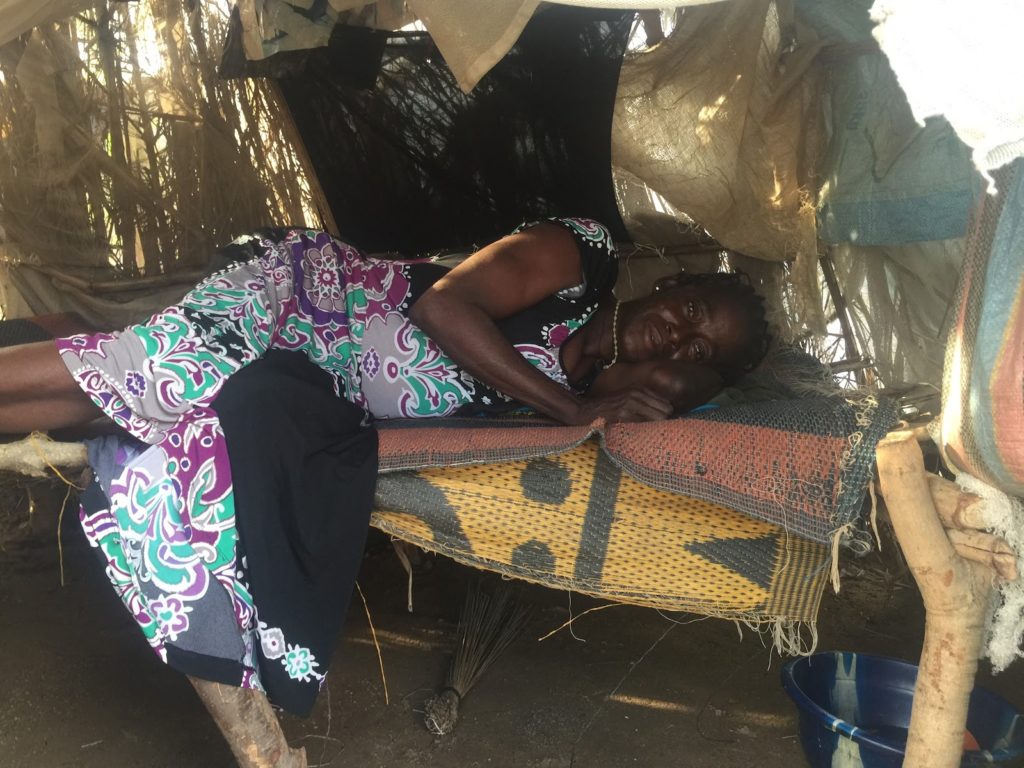 Iember Terwase, 20, had three children but lost one to a sickness she cannot describe. Now the remaining two are suffering from the same symptoms and she views it as a spiritual attack on her family. For this reason, she does not seek a medical solution.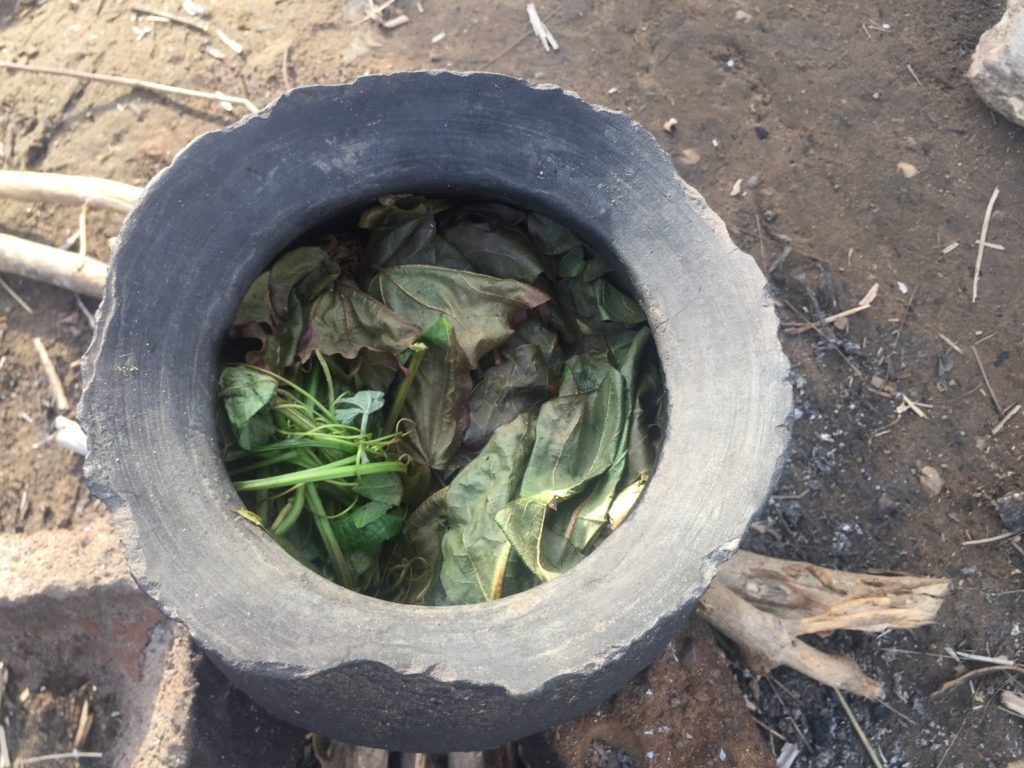 "This is not physical, it is spiritual because we have been treating it with herbs. Sometimes it will go but will return days later," she says.
"I have given up on them. Whoever seems to be fighting my family should continue. God will answer them."
"Some of them didn't want to take herbs and others are still very small to take," Veronica Agbado, another IDP explains.  
"It affects my seven children in different ways. They have a loss of appetite, falling and forgetfulness, loss of weight, and high temperature," she says.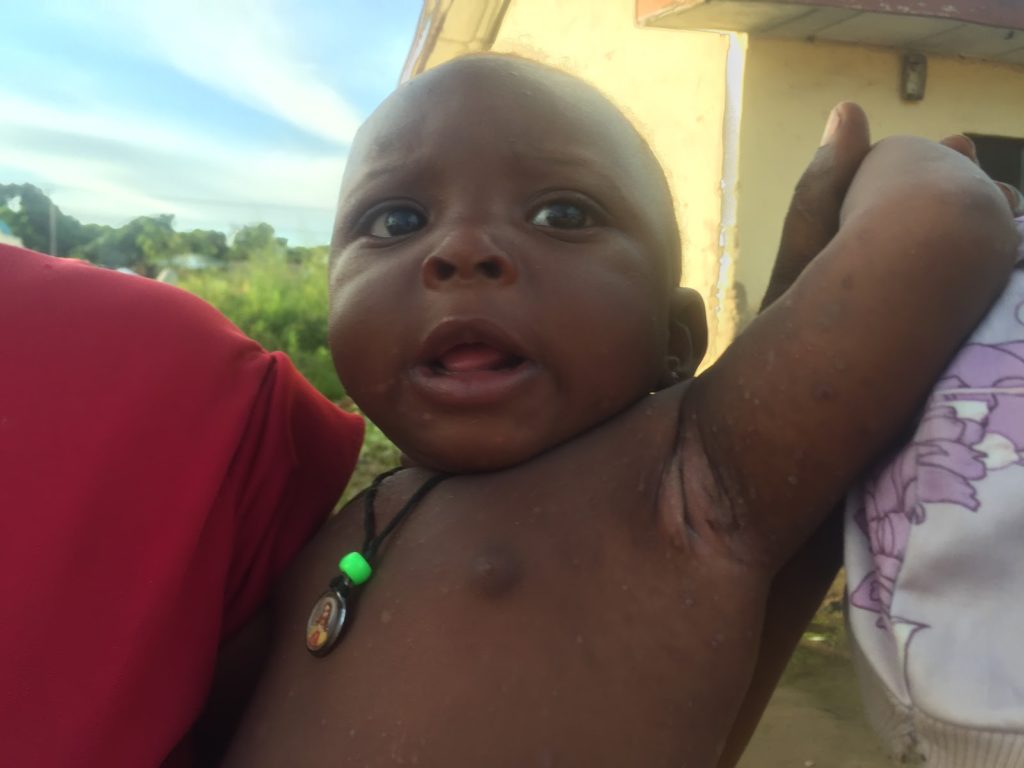 "When it happens, the only thing they can eat is liquid food like pap. I have tried many times to get them to drink herbs but no, they wouldn't listen."
Further health risk
When Pa Terzungwe, 69, was diagnosed with high blood sugar in 2017 at a laboratory in the Gbajimba area of Guma Local Government Area (LGA), he was told to avoid starchy food, especially the ones made from cassava and others that contain high calories. 
This instruction was difficult for Pa Terzungwe to follow. Still, he was able to switch immediately to less starchy food and resolved to get more fibres and vegetables back home. This turned him into a vegetable farmer. 
Then Pa Terzungwe was displaced due to the farmer-herder crisis in Gbajimba in 2018. Now he lives in Tse-yandev IDP camp in Makurdi where his life is no longer the way it used to be. He can no longer choose what to eat and lives at the mercy of others. 
"The only available food most times is garri [cassava flakes]. I do take garri every time I am famished without minding the pain. I urinate most times twice in an hour, depending on how I choose to drink water. I feel weak every time I eat and my mouth is always bitter. I then yearn for water, but Immediately I take some, I will urinate," he tells HumAngle.
Pa Terzungwe also wets his bed several times before daybreak.
"Whenever it comes, the pain is always so excruciating that I won't know when I will urinate on my bed," he says.
This has been going on for about two years. 
A widower, Pa had lost his wife 15 years ago and since then his two children migrated to the western part of the country in search of greener pastures. He is all alone.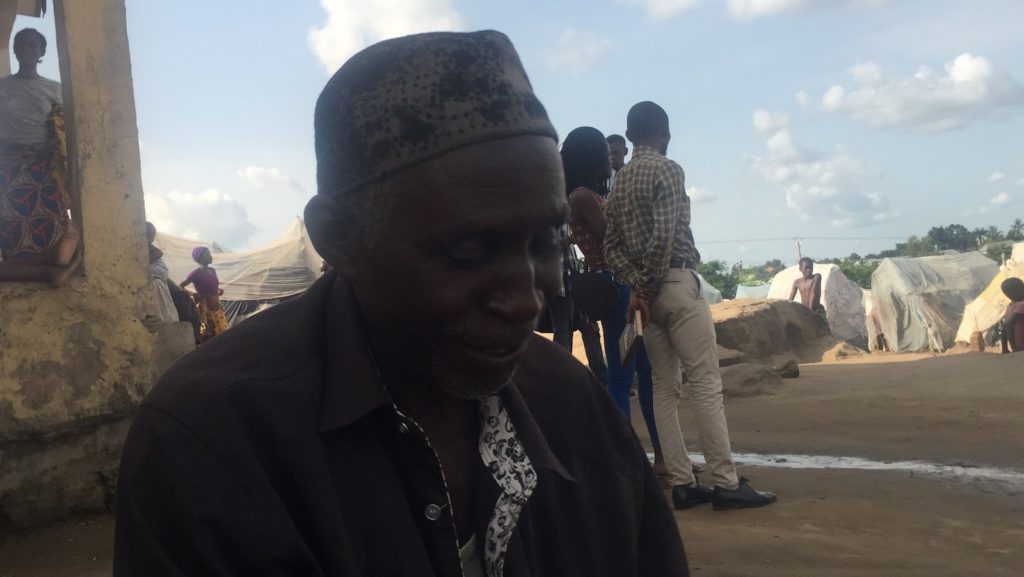 A pale and hungry-looking Josephine Gbaarurum, 57, sits hopelessly at the entrance to the camp's auditorium. When she and her three children came to the Tse-Yandev camp in Feb. 2021, she hoped to engage in menial jobs for survival. 
She had lived in Ukpian camp for two years before relocating to Tse-Yandev camp. The first three months in the camp were not hard for her because she worked people's farms for a daily pay of about N500. 
"My heart seems to me like it is burning. I now have a general weakness of the body and heartache. This has continued for months without medication except for some local herbs I used to boil. It has been a week now and I haven't taken those herbs because the only place I found them has been cleared to be used as farmland," she says. 
Child labour
Gbaarurum's children, aged five and seven have become the providers of the family. They sell sachet water along highways daily. Sometimes, strangers give them money. Sometimes, their customers do not collect their change.
Ngoide, the older sibling, said she and her brother struggle to cross highways and sell within the city's North Bank round-about daily. 
"We buy a bag of sachet at the rate of N150 and sell it for N200. Sometimes I sell like three to four bags a day and my brother sells like two to three too. It is because our mother is not feeling fine and we need to eat," Aule, the younger brother, chips in. 
Like Ngoide and her brother, many other children engage in child labor in the camp, an act known to have serious consequences.
According to the United Nations International Children Fund (UNICEF), "Displaced persons and refugees are prone to child labour and many of whom have been uprooted by conflict, disaster, or poverty also risk being forced into work."
Tarlumun Solomon, 76, is father to a 10 and seven-year-old who are in the camp with him. They hawk too but are currently sick.
"They haven't been able to go out for a few weeks. They have been complaining of headaches for weeks now. I haven't been able to give them medication because I haven't been well enough to go look for herbs to boil," Solomon said.
Then there is Ngodoo, 58, who was displaced during the 2018 farmer-herder clash in Guma LGA. The crisis led to the mass burial of 72 persons in Benue State.
She made a living through petty trade but her hopes were dashed when her health began to deteriorate due to malnutrition. 
"The only thing that seems like a relief for me is whenever I see painkillers like Panadol to take," she says, adding that she feels pain all over her chest region. Then there is that feeling she gets like she wants to fall, Ngodo confesses.
"The pain is always within my chest region down to my spinal cord. It affects my breathing space most of the time. I can't eat sometimes. Eating food causes excruciating pain for me. And if I don't eat, it is still a pain. There is no way I can get medication except when people come to the camp for medical outreaches. I always beg them for drugs. None of the drugs have been able to solve it."
But Mrs Grace Rimamnura, a medical consultant with Benue State University Teaching Hospital (BSUTH) explained that rainfall, the weather condition the IDPs are mostly exposed to, breeds mosquitoes in the environment.
"Mosquito bites often result in malaria with symptoms like loss of appetite, body pain, high body temperature, and headache, among others," she explains.
"Being exposed to rain results in having a cold and this causes respiratory tract infections with symptoms like chest pain, cough, and so on. High blood sugar is potential acute diabetes that needs to be checked. Many of those who were on a special diet needed to adhere to it. There is type one and type two diabetes. Type one later becomes type two if it's not checked properly."
"Its symptoms are frequent urination, sore throat, weakness of the body after eating, and difficulty breathing."
Elija Ipiav, one of the camp chairperson, said that the Benue State government has not done anything to help their present situation. 
"Almost everyone in this camp is sick and suffers from one sickness to the other. The only relief we have is when individuals decide to render humanitarian services to us," he tells HumAngle.
---
Support Our Journalism
There are millions of ordinary people affected by conflict in Africa whose stories are missing in the mainstream media. HumAngle is determined to tell those challenging and under-reported stories, hoping that the people impacted by these conflicts will find the safety and security they deserve.
To ensure that we continue to provide public service coverage, we have a small favour to ask you. We want you to be part of our journalistic endeavour by contributing a token to us.
Your donation will further promote a robust, free, and independent media.
Donate Here