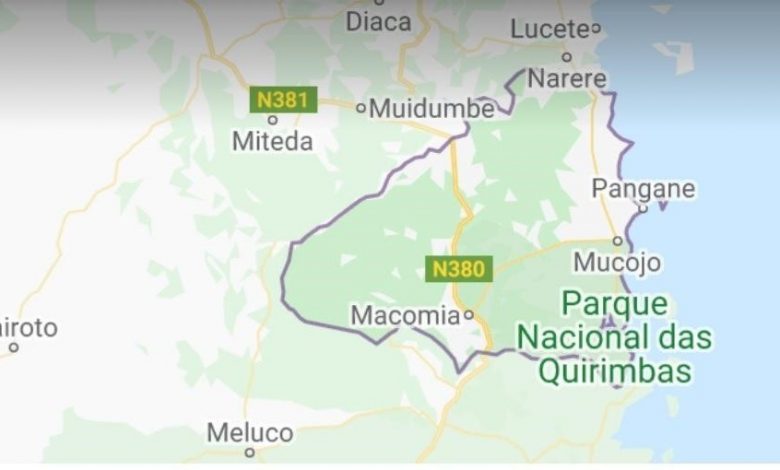 For three days last week Islamic insurgents occupied the village of Macomia, where they ransacked, destroyed government buildings as well as key infrastructure, such as electricity and communication towers.
They entered the village by 1a.m. on Thursday, May 28, 2020, without resistance from government defence and security forces and left on Saturday, May 30, 2020, after confrontation with government forces.
Up to now, little is known about casualties, although at least eight civilians are feared to have been killed, according to a witness.
However, the government through the Ministry of Interior, claimed the security forces killed 78 Islamists, including two top leaders, of Tanzanian nationality.
This was the first time insurgents operating in northern Mozambique occupied a territory for days. In previous incursions, in other villages they attacked, they stayed for some hours and left. Also, according to HumAngle sources, apparently, for the first time, they used sophisticated reconnaissance gear, (drones), before launching the attack.
A trail of destruction, this was how some residents, who dared to, described the scene in Macomia upon returning home, after hiding for three consecutive days (and nights) in the bush to escape the assailants who stationed from Thursday to Saturday.
As of now, without electricity, without the usual hustle and bustle of people, the village is unrecognisable. It is literally a ghost town as many public infrastructure and private property were destroyed, razed or reduced to dust, sources said.
The attack of Macomia District was predictable following the recent brazen incursions throughout the coastal villages of Mocímboa da Praia and Quissanga
as well other parts of the interior of Cabo Delgado in March.
It appears to be a show of strength and to show that the jihadists can strike anywhere they want, even close to the capital city of Pemba.
These brazen and sophisticated attacks show that the terrorists are expanding their territorial dominion over the Province of Cabo Delgado.
Before they launched attacks against towns and villages on the coast, mainly inhabited by Muslim communities, they now make inroads into the areas inhabited by other ethnicities and non-Muslim groups and close to the center of power, observers say.
It is difficult to have a clear picture of what really happened as there is scarce information due to the lack of communication with local residents as the terrorists sabotaged the electricity substation located at the entrance to the village, leaving the centre and north of Cabo Delgado in total blackout, including the gas rich area of Palma.
Upon entering the village, according to a witness who talked to media in Cabo Delgado, the insurgents occupied all strategic places, entrance and exits of the village, including on National Road No. 380. Then from the early hours of Thursday they began their destruction spree which included those key infrastructure.
"We started hearing gunshots at dawn. We sough hideouts in the bushes around the village. Government forces tried to respond but were at a disadvantage because they were also surprised by al-Shaba," said one witness.
"Darkness and fear of targeting civilians hampered their efforts. Around 7a.m., Dyck Advisory Group helicopters began to fly over the village of Macomia but also faced difficulties in identifying the enemy. The terrorists entered clad in the government forces uniform and mingled with the population," HumAngle learnt.
Cape of Fear
A day before the latest incursion, Mozambique's Interior Minister Amade Miquidade acknowledged that ªthe situation in Cabo Delgado was still complexª because the terrorists resorted to guerrilla tactics and normally wore defence and security forces' uniform, used the population as a shield and drones for reconnaissance.
As Luis Lisboa, the Catholic Bishop of Cabo Delgado explained in a local TV show, "It's true the defence and security forces beefed up their presence in the area. But lately the enemy fire comes from various locations simultaneously, as they are divided in small units, making it difficult to counter them."
The bishop's view was corroborated by Portuguese political analyst, Nuno Rogeiro, who recently launched a book on the conflict in Cabo Delgado, and said Mozambican forces ªwere not tailored for this kind of conflict, they were tailored for internal issues, and it's an army for public security, a kind of pretection force."
And that is exactly what they did when targeting the village of Macomia, making it difficult for the army to respond faster and effectively.
"We heard helicopters firing over the village," another witness said, adding that "they left because it was still dark. With the village practically under control, terror began. They started the sabotage: looting, vandalising and burning commercial buildings and houses."
"There is a lot of destruction in the village. Many cars, schools, the local market turned into ash, a bank branch was also torched," said another witness who fled to Pemba.
He said that he saw at least eight bodies lying on the ground when he was fleeing.
Another witness added that "the terrorists dominated the village. Government forces response was timid. Some soldiers took off their uniforms, buried their weapons, fled and mingled with the population and ran away into hiding escaping certain death."
Up to now, reports indicate that many people have not yet returned to the village. Some managed to slip away and went to the other districts neighbouring Macomia and others went as far as to the capital city of Pemba, according to Lisboa.
"We are facing a humanitarian crisis because of displacement of these people who left their goods, homes, as they fled. We are talking about 200,000 plus people," he said.
"Fear is a constant here, you can tell by the look of their eyes. Every Cabo Delgado citizen lives in fear, those fleeing, and those sheltering them feel the darkest fear of this insecurity.
"It is a humanitarian crisis. How can we get food and shelter for so many people? Feeding 100 is one thing, but feeding hundreds of thousands is another thing, it is a herculean task," the bishop said.
He added that in Pemba over the last three days because of the attacks in Macomia, hundreds of people came in.
"Sunday, I went to one of our aid facilities and there were 35 children who fled Macomia, they've lost contact with their parents," the bishop added.
"We ran away and went out in Meluco (district that borders Macomia). We walked for two days in the bushes, without water and without food. Children were feeling sick and hungry. We don't have the strength to walk back to Macomia, we need help," reported a primary school teacher, quoted by the CDD bulletin.
After leaving the insurgents went on to attack Chain Administrative Post, a place that symbolises the beginning of the National Liberation Struggle and two more villages in the same district and Mocímboa da Praia. In the town of Awasse, the terrorists filmed videos showing a combat vehicle suggesting that Mozambique's forces might have killed the jihadists' top leaders.
Leaders killed
Mozambican security forces might have killed the leaders of the Islamist militants who have terrorised communities in the central and northern districts of Cabo Delgado, President Filipe Nyusi said from Mueda at the weekend.
"We have information that senior officers of this (Islamic) force have been slaughtered, which we can consider to be the leadership, but the Defence and Security Forces will confirm this at a proper moment," Nyusi said.
The president added: "we are learning how to deal with that force and we are encouraging the Defence and Security Forces to fight them."
Since 2017, a shadowy Islamist group has wreaked havoc in communities in the gas-rich north, burning huts, decapitating villagers and killing more than 1,100 people, according to the Armed Conflict Location & Event Data Project (ACLED).
According to the political analyst, Rogeiro, it is important to know that it is a minority that has a perverted and militarised version of the Quran trying to pass it on the community.
"They don't have a substantive support, although they may have military and family support from their communities of origin, as one knows its few people," Rogeiro said.
He added: "one can't ignore that they also play around the discontentment of many people in Cabo Delgado" who were discounted "with the Mozambican state for other reasons that had nothing to do with Daesh or religion".
He named other causes of discontent among the populace as the absence of state services and the lack of transparency in the deployment of mineral income as the province had been receiving significant income from the extractive industry.
Despite being potentially one of the richest provinces of Mozambique, Cabo Delgado is one of the poorest in terms of development with a high rate of illiteracy, poor healthcare services, communications, among others.
In Cabo Delgado there hasn't been construction of roads, bridges collapse and it is also the worst hit areas by Kenneth cyclone that befell the region last year.
"There are many reasons for unhappiness in Cabo Delgado and these groups take advantage of this discontentment to win over popular support.
"A conflict like this, which is essentially political and military, which is not only fought with weapons, but is fought with ideas in an attempt to convince people cannot be won in the military front, it must be won through development," he said.
The Mozambican government in the initial phase of the attacks, 2017 to 2019, never believed that the movement was serious but regarded it as a group of angry youths who had only internal reasons, with no international connections.
It downplayed its cause, saying that "they did not have an agenda, a face, and a programme." But in 2018 the group started to contact Daesh, and DRC Congo, Nigeria and Tanzania.
"From there Mozambique began to be concerned. Mozambique only began to be aware of this conflict then and ever since is doing a lot of things lately to counter it but these are being done in a hurry.
The "Mozambican state is beginning to react, but let us see if it's not too little too late, probably no, as the group has no (real) capacity of conquering Cabo Delgado, but honestly it can cause huge damage," the analyst said.
For a long time Mozambique thought it could solve the problem alone and internally or with the traditional military partners and through technical and military support from some countries with which it has cooperation such as Portugal, Russia, Brasil and Italy, the analyst said.
"So they saw that this was not the right path. It proved to be short of real power to do so, that's why it now requested some support from SADC (Southern African Development Cooperation) the regional grouping. It is a very slow process, there hasn't been enough progress," he stressed.
---
Support Our Journalism
There are millions of ordinary people affected by conflict in Africa whose stories are missing in the mainstream media. HumAngle is determined to tell those challenging and under-reported stories, hoping that the people impacted by these conflicts will find the safety and security they deserve.
To ensure that we continue to provide public service coverage, we have a small favour to ask you. We want you to be part of our journalistic endeavour by contributing a token to us.
Your donation will further promote a robust, free, and independent media.
Donate Here