Analyses
Armed Violence
News
Tiv: The Rise Of Self-Help Groups And How It Expands The Circle Of Violence (2)
Clashes among ethnicities across the country have given rise to armed groups often ready to offer their communities protection or carry out reprisals. Here, HumAngle looks at the Tivs and the activities of self-help groups amongst them.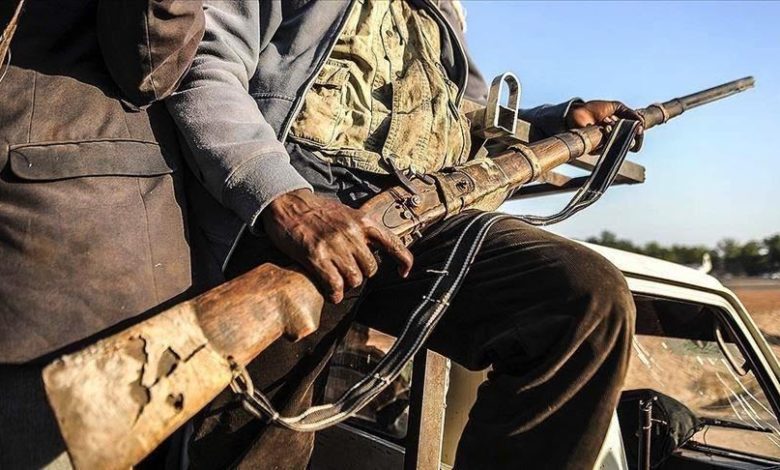 Less than two months after the Nigeria Defence Headquarters revealed that its troops raided a suspected Tiv militia camp in 2020, Salome Solomon from Tsokondi, Taraba State, said in an interview that gunmen alleged to be Tiv militia killed her three children on their farm.
The April 23, 2020 release by the Defence Headquarters revealed that troops of its Operation Whirl Stroke carried out a special raid on "a suspected militia camp located at Anku Mbagen in Atera-Jange Torov Council Ward of Ukum LGA of Benue State and recovered large cache of arms, ammunition and other items."
"This is sequel to timely and credible information received on the activities of Tiv armed militia operating around the border areas of Benue and Taraba states," it explained.
The Defence Headquarters' announcement included details on the types of arms and ammunition recovered from the Anku Mbagen operation, which shows a high level of preparedness on the side of the group. This begs the question: how are they able to acquire arms and where do they get the funds?
Illegal trade
Crimes are often triggered by a problem and Nigeria's porous borders, where arms are smuggled through, is one. Speaking on acquisition of arms, Joachim MacEbong, Senior Analyst at SBM Intelligence, explained: "through our borders, a lot of small arms pass through, particularly after the fall of Gaddafi." 
Money to acquire these arms comes in different ways. There is kidnapping for ransom, cattle rustling — stealing and selling of cows, illegal mining activities in places like Zamfara, where gold is exchanged for arms are examples. "In the South, there's the exchange of arms for crude oil," MacEbong added.
"A significant portion of such arms are also bought from money gotten from politicians who need them to rig elections, the security analyst alleged. Light weapons, AK-47s, rocket-propelled grenades are accessible and fuel the emergence of armed groups", MacEbong said. "And the situation is even worse because the police are lacking enough manpower and weapons."
To prevent people from arming themselves instead of depending on the security agencies, the security expert emphasises that there must be a clampdown on the multiple sources of funding criminals get. "It can't be solved without stopping kidnap ransom payments," he said. "As long as it persists, there will always be resources for criminals."
There is also the matter of prosecuting the various patrons who recruit or finance armed groups. MacEbong insisted that security agencies know them and need the political will to put such sponsors away permanently. "Also, when the arms are intercepted, they should not be allowed to be rerouted by corrupt officials," he said.
Armed groups
Like their Jukun neighbours, the Tiv ethnic group, found mainly in Benue, Taraba, Nasarawa and Plateau states, seem to have an armed self-help group for conflicts. As is the case with their neighbours, its existence cannot be dissociated from the Jukun/Tiv decades-old crises. There is also the implication of the long-drawn farmers/herders clash which has claimed thousands of lives and "destroyed properties worth billions of naira."
Reports show that the Tiv/Jukun conflict has existed since 1959. Unlike the emergence of other armed self-help groups that claim to seek the interests of a particular ethnicity, the existence of a militia-styled group with affiliations to the Tiv ethnic group appears more plausible as a result of the activities of late Terwase Akwaza, also known as Gana — a dreaded militia leader. But this could also be seen in a different light.
Barr. Joel Awoke, Chairman, Jukun Wanu Association, Abuja branch, says he does not see Gana as a valid case study because there are people like him everywhere, even among the Tivs. "They simply have not come to the limelight yet," he said.
He pointed out that Gana, who was referred to in media reports as a bandit or Tiv militia leader, became popular because he was used repeatedly to stoke trouble, even by government officials. "Even he (Gana) had revealed that he was part of different ethnic wars," Awoke said.
About the labelling of such gangs in Nigeria, Awoke gave the instance of everyday criminals who eventually serve as self-help groups in times of conflict. "These are criminal elements found in every society that, over time, are involved in crime and are of little or no benefit to the society. So, whenever the opportunity presents itself, they are easily available to be used or go ahead to do what they want to do because they are used to carrying arms," he said. "I don't think there is a Tiv militia because I have not met them. This has always been a subject of contention."
A Taraba State indigene, Tony Johnson (not real name), said Gana was a bandit because he used to steal from his own people and so cannot be accurately described as the head of a Tiv militia. He added that reprisals do occur among gangs from the Tiv and Jukun side, but "you can hardly point to a particular group."
Sam Tyav, a Tiv resident in Makurdi, maintains that there is no organised armed group in Benue founded by an indigene. "During crises, when others run to the bush, a few courageous ones return to defend themselves," he said. "When Ortom came to power, he brought about the policy of amnesty and a lot of people surrendered their arms. But there are still some bad eggs even among those who claim to have repented."
What reports say
There are several incidents that point to the rise of armed self-help groups among the Tivs.  
The Sun reported the killing of Pastor Emanuel Beliya and his wife, Juliana, while they worked on their farm at Maraban Baissa in the Douga Local Government Area (LGA) of Taraba State, by a suspected Tiv militia. This happened while a reconciliation process was ongoing between Tivs and Jukuns.
In 2001, Zaki Biam was hit the hardest after soldiers attacked seven towns and killed civilians in what was reported as revenge after the killing of 19 soldiers by some Tiv militias.
Also, suspected Tiv militias were reported to be responsible for the killing of not less than five persons in a 2019 attack on Jukun villages in Taraba. Responding, the Caretaker Chairman of Wukari LGA, Daniel Adi, said according to records, over 40 people were killed in recent times by Tiv militias. "Enough is enough! We will defend ourselves now because we have been pushed to the wall," he added.
Adi's reaction is a typical example of the influence such attacks may have on victims, their relatives and other natives who consider them attempts at ethnic cleansing.
Why armed groups rise
In Benue, there are forest guards given arms by the government to enforce open grazing laws, Justin Tyopusu, who is Tiv and lives in Taraba State, explained. "Some of them can go out of their way to defend their communities. But there is no such organised group in Taraba trying to complement the efforts of security agencies."
Tyopusu pointed out that kidnapping is high in Southern Taraba, even among the Tivs. There is a strong possibility that it is carried out in partnership with other groups, he suggests.
"I don't subscribe to the fact that criminality can be ascribed to a tribe," he said, adding that a war situation pushes untrained persons to fight back, especially when they find soft targets. He recalled one incident, "a mere disagreement over a woman in Kente," that stirred up a clash between the Jukuns and Tivs. "When the police made arrests, the Jukuns burnt the police station and demanded the release of their tribal man. That was how it escalated and became an ethnic crisis."
He pointed out that any aggression against the Jukun is tagged a Tiv militia attack, and when the Jukun youth organise themselves and fight, it is tagged a Jukun militia attack. "But they are not organised, unlike Gana's gang where you could point at them because they had a face," he added.
Dennis Tyo, a Tiv youth mobiliser, however, says the killing of Gana by soldiers has given rise to other armed groups who feel aggrieved. "Their question is that why should he be killed after being made to lay down arms and given amnesty," he said.
Tyo points out that this violent approach by authorities is what leads to the rise of self-help groups. "If a leader is killed, the followers would want revenge," he said, advising that if there are people with grievances, there is a need for dialogue to find a solution. But if the government is adamant, it would not be solved. "Giving attention to the cause of a problem and getting to the root of the matter is the best way to solve it," he recommended.
An anthropologist, Dr Chris Mtaku, observed that Nigerians are becoming conscious of their environment but in a wrong way. "This is evident when people say some are natives and others are settlers," he said.
Dr Mtaku emphasised that the demarcation of Nigeria into six geopolitical zones must again be looked at carefully. He noted that citizens try to claim their right in the wrong way, which divides the country. "It's just like what happened many years ago in Berlin where some people sat with a ruler and drew boundaries," he said. Adding that in Nigeria there are issues of boundaries and also appointments into key positions where people look at it from a religious, political or zoning perspective. Then there is the issue of federal character, which he opined, does not seem to be helping because, in the end, it causes protests and violence.
The police viewing any ethnic group as having a militia can be viewed as stereotyping, the Police Public Relations Officer (PPRO) of the Benue State Police Command, DSP Catherine Anene, told HumAngle. She, however, added that there are self-help groups who organise themselves for the protection of their interests and the police sometimes conduct raids to round-up armed groups.
---
Support Our Journalism
There are millions of ordinary people affected by conflict in Africa whose stories are missing in the mainstream media. HumAngle is determined to tell those challenging and under-reported stories, hoping that the people impacted by these conflicts will find the safety and security they deserve.
To ensure that we continue to provide public service coverage, we have a small favour to ask you. We want you to be part of our journalistic endeavour by contributing a token to us.
Your donation will further promote a robust, free, and independent media.
Donate Here