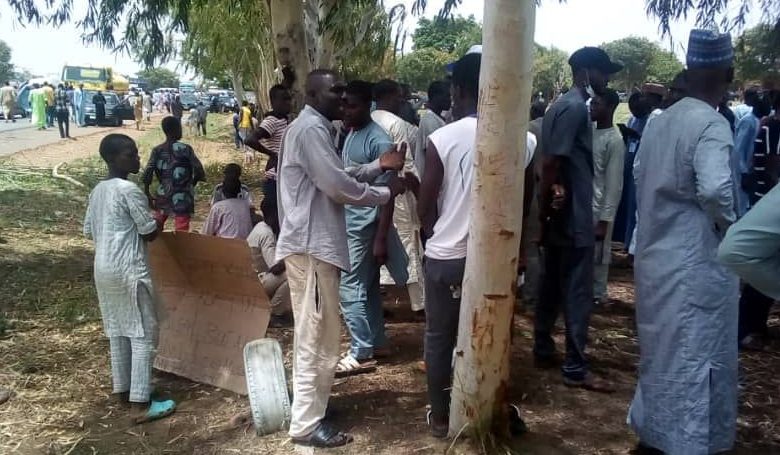 Frustrated by constant attacks and destruction in their communities in spite of peace accords with armed gangs, the youth in Katsina State have taken up the challenge to confront criminals terrorising their communities by enlisting in vigilance groups and other non-formal security organisations.
Zubairu from Gamba village in Dandume Local Government Area, told HumAngle: " nobody forced me to join the group.
"I just realised that my community needs my assistance if not we will keep watching this group killing us, raping our women and destroying community.
" I have survived many attacks by the group. There was a time they attacked us and killed more than 20 vigilantes but God saved me.
" As for me now, I am not afraid to face them anywhere, there is no type of death which I have not seen in my three years in this job."
Hamidu from Faskari said he was once in an Internally Displaced Persons (IDPs) in camp in Dandume.
"In March 2019, the group displaced us which paved the way for the total destruction of my community. So, I decided to join this group to stop the escalation of the conflict."
" They normally take drugs and drink alcohol before launching an attack; in fact, majority of them have no specific direction," Hamidu said.
He said farming activities had been disrupted by the conflict in the area in the last five years with production at about 25 per cent.
"Over 100 shanun huda (farm animal) were rustled in my community and this left more than five communities stranded.
"So how can we be safe in Dandume?" Hamidu asked.
He said a Fulani informant of the terrorists would take the people's belongings, including cattle they rustled, to the criminals' camp, adding that it was common for a Fulani man to sell two or three cattle to buy a new motorcycle worth between N350,000 and N500,000.
Zubairu said the gang members were known and sometimes mixed with members of the community.
He said that few days before the attack on Kadisau village in Faskari in which more than 60 persons died, the criminals came to town and interacted freely with members of the community under the pretext that they had abandoned their trade of committing atrocities against the people.
"Though I am not an indigene of kadisau, I have friends and family in the community.
"During the last "sallah'' (festival), I prayed at Kadisau and saw one of the bandits and he is among the three ( Ibrahim, Kesha and Alhaji Bala) most notorious gang leaders attacking people in Sabuwa and Dandume.
"I asked them who are these people? They said his name is Kesha and the other man, Alhaji Bala, with a boy named Ibrahim, who live near Kadisau village.
"They were decently dressed to the extent that you would not identify them as Fulani unless by their accent. I asked my friend what they were doing in town and he said they had repented.
"I told him, you have problems because these people are still with the gang , may be they changed group and areas of attack."
Kesha is a well-known bandit in Sabuwa and Dandume areas.
" I actually knew them, even police in Dandume knew them because we had several encounters with them in Kakala bush, Macikan Dutse, Kwalakwangi, Yandoka, and they are still perpetuating crimes in Zamfara and some communities in Katsina," Zubairu stressed.
He said the terror network run by a notorious gang leader, Adamu Alero Yanguzo had connection with the group which attacked Kadisau community.
" Yankuzo is living between Kakala and Dorayi camp and even some of the gang members are suspecting him (Yankuzo) because he does not stay in one camp.
" I personally know Adamu Yankuzo but I don't know where exactly he is now. I know his son who recently killed one person because of N20 coconut," he said.
Zubairu added that " there is serious mistrust here. These people normally attack people after the security personnel finish their patrol, some even pass the securities on the road before perpetrating their deadly act."
Informants, Collaborators And Logistics suppliers
A village head in Faskari Local Government Area who refused to be named, told HumAngle, "we have informants from within that feed the bandits with information.
"So far, three people were arrested in relation to the recent attack in the Bangi community that led to the death of over 23 people and displaced over 3,000.
"In fact, one of them is a friend to my husband's," said Hairatu Aminu of Bangi village in a Faskari IDPs camp.
In June 2020, the Katsina State government blamed the conflict on informants who supported the criminals.
The Governor, Malam Aminu Bello Masari, said: "most of the hoodlums receive information from the people before launching deadly onslaughts on communities across the state."
Within the same month, Presidential Spokesperson Garba Shehu also said " some traditional rulers in the state are aiding the bandits conflict."
A traditional ruler from Batsari said: " Some of us are in critical condition. Both the security and bandits are treating us the same way.
"Bandits are assaulting us everyday thinking that we are giving out information to security agents, security personnel call us collaborators and informants.
"We have no option sometimes than to meet the demands of the bandits for us to avoid deadly events and kidnapping."
Meanwhile, a policeman in a Faskari IDPs camp said: " We have arrested 22 women in relation to the Kadisau attack – seven arrested in Batsari and eight in Mairuwa village. All are informants and collaborating in killing their people and looting properties.
The police Officer at the gate of Faskari Model Primary School camp said, "we arrested over 14 women as informants here in our IDP camp.
They disguise as victims as well as food vendors to provide bandits with necessary information, especially on the issue of reintegration of the local farmers in their communities.
" There is a wide gap and poor relationship between most local civilians and security agents fighting the terror groups, this also is fueling the conflicts.''
In May 2019, Katsina state command arrested four women serving as informants and cooking for the bandits in the state
Sex and Gender Based Violence
So far, the IDPs camps have been spared of sex and gender-based violence as the vigilance groups have provided inmates enough cover.
"We have no rape cases; there is full vigilance by the security groups. Not everyone is allowed to enter into the camp.
"Before you are allowed to go inside you must be able meet our demand and also able to answer some questions," Kabiru Faskari, an aid worker with Red Cross at Faskari Model Primary School IDPs camp said.
There is maximum security services in the camp, especially at the entrance gate.
HumAngle reporters sighted police vans stationed at the main entrances of the camps.
A police officer who spoke with HumAngle Reporter on condition that his name is not said: "there are 30 police officers here but it is a joint operation from four local governments, namely Faskari, Sabuwa Dandume and Funtu'a. We also have civil defense, Hisbah, and Muslim corps members.
"Therefore, getting in will be difficult. There is assurance for safety of life of the IDPs'" the officer said.
"No one is permitted to go out when it is 6p.m. We have adequate security agencies helping us to track any suspicious movement within and outside the camp," the Dandume camp,Desk Officer, Sanusi Akimbo, said.
Maryama Zuru from Bangi village in Faskari Local Government Area shared her experience with bandits in relation to rape and gender violence.
She has witnessed several times how the group raped her daughters and other women in the village. They mostly use her as the mouthpiece and negotiator with other women in the community.
"I migrated from Bangi as a result of assault and harassment from suspected Fulani herdsmen. My husband and other people from our community trekked hours from Bangi to Faskari here, these bandits steal from us, threaten and harass us sexually.
"We, the women, at arrival, they keep chanting that the government is aware of their mission. They always ask us to give them our phones. Whenever we say we do not have phones, they ask us to give them our thing. When we ask what is our thing, they uselessly reply to us as I quote 'as women you want to tell me you do not know what your thing is. We mean your pride. As women you decide to be poor because you know what to do to be rich and gain your freedom.'"
"They attempted to rape me but one of them warned them of dangers of doing such considering my age. They normally keep young women in one place in the middle of the compound and have sex with them one by one without any protection.
"What upset me was the way they rape minors. They spoil our daughters, rape their mothers in their presence and sometimes they ask their husbands to remove their wives clothes and then watch how they will have sex with them."
A woman from Mazoje in Matazu Local Government Area said "more than six of them raped me in front of my husband and three years old daughter; my husband deserted me since that day.
"There is serious stigma around our communities, always people looking at us with disrespect," said Ramatu Haruna.
"We see them and we know some of them like yellow, Ado Alero, Aminu Dogo, Marwanu and the rest." Ramatu said.
Some members of the communities narrated to HumAngle how the terror groups started molesting and abusing minors in their localities.
"Before the issue became so complex, they did visit us around 12a.m or even in the afternoon when our husbands were busy in the farms. They raped young girls, especially those aged 10 to 13 years," Saudatu Halliru from Safana said.
"I cannot remember the number of girls they raped because some of them do not disclose it for fear of stigmatisation," Maryam said.
"On our way to farm in Maigora, we met some of them on the way, they stole from us and collected our food items and gang raped me," another victim said with tears on her cheeks.
Hajia Indo from Maikwama village said, with tears running down her face that " they raped my 12 years old step-daughter which led to her early grave.
"She lost her mum when she was three months. I can't erase this terrible experience in my entire life."
Villages seal pacts with terrorists but disappointed
Some villages in Faskari Local Government Area established engaged in peace and reconciliation efforts with bandits' representatives at the beginning of the rainy season in the year 2019.
Peace talks took place in Bangi village with village heads from affected communities, not only in Faskari, but communities in Dandume that share boundary with Faskari.
Abdullahi Adamu Kogo, a key stakeholder in the talks with bandits, said " we noticed that before the rainy season every year, our people were facing serious bandits' attacks which prevented us from farming and doing other businesses.
"We called various village heads and other influential elders from each community affected by the conflict in order to strategise and find the way forward. At the end of the meeting, we decided to reach out to one of the notorious gang leaders, Adamu Alero Yankuzo.
"When we called him on phone, he agreed to sit down with us to reach some agreement but he later sent his father and some people to have the conversation in one forest close to Bangi village.
"We agreed to give some amount of money and grains, he promised to leave our communities but three weeks after the peace deal, we were badly attacked by his fleeing members from Zamfara State."
In Danmusa Local Government Area, similar peace talk was initiated with some gang leaders in some communities like Dan Ali and Gidan Ema village but the condition was entirely different and varied with communities and gang leaders.
In Dan Ali village, Rukayya Tanko revealed that "they reached out to our elders and they asked them to offer the most beautiful young girls in the village for us to have peace.
"They agreed with their condition and married off one young girl aged 14 to the gang leader.
"Whenever such deal is sealed, they destroy the girl`s father`s house and rebuild him a new one in case any charm is buried in the house."
In Matazu and Batsari local government areas, the groups imposed monthly levies on communities for peace to reign.
Yasir Usman Batsari said " we had this issue last three years. The group asked us to be paying N150,000 monthly under a peace deal. Failure to pay any month would attract serious bloody attack from them.
"For now, the group demands nothing from us apart from killing us, raping our wives and daughters and destroying our property," he said.
Failed peace deals
In 2015, the Katsina State Governor, Masari, offered amnesty to cattle rustlers The programme yielded some results at the initial stage as many rustlers dropped their weapons, cows returned to their owners and people returned to their communities but "repented rustlers" moved into neighboring states.
When the rustlers resumed attacks on communities, the governor said they "learned how to kidnap from security agents " who arbitrarily arrested herdsmen and released them only after being bribed.
In August 2019, the administration engaged representatives of different armed gangs in the eight frontline local government areas to the dismay of citizens.
On July 7, the Secretary to the State Government, Mustapha Inuwa, said" we spent over N30 million on amnesty on the repentant bandits and cattle rustlers in the state before the programme collapsed.
"The fund was spent on buying of weapons from the repentant bandits and cattle rustlers in order to disarm and discourage them from engaging in criminal activities."
The governor said recently that he was disappointed with the groups and that his "administration will no longer engage in any negotiation or peace talk with bandits as they did not honour the agreement they signed with us."
Meanwhile, Inuwa, who is the Chairman of the Amnesty and Peace Committee in the state, said " the programme is not sustainable, there is a serious challenge in the process because you can see one person with more than 300 boys under him all with firearms, tell me how he can control them?
" They are used to getting money through the rustling of animals or kidnapping, now they claim to have stopped, what do they get? Do they continue selling the already rustled cattle for their survival or what?
" I believe they are not honest and trustworthy, this programme is just a temporary relief for the government but not a permanent solution.
"The only solution to this thing is to end it by facing the bandits and the only way is for the military to engage them to make sure that they deal with them decisively" he said.
Amnesty programme not well conceived
Aminu Kankara, a civil society activist, said that "amnesty is a good idea but there is no transparency and accountability in the process, especially the terms and conditions of the programme."
He said the governor rushed the deal without digging deep to understand the root cause of the conflict.
"Katsina banditry might be difficult to resolve if the government continues with the current strategy without considering the various factors involved in the conflict." Mohammed Abdullahi, a violence and conflict researcher based in the state, said.
He said that the authorities needed to address issues of population growth and climate change in the state to deal with the conflict.
Abdullahi said, "first, there is explosive population growth and climate change. These issues are exacerbating economic anxiety and fomenting lawlessness, especially in the communities on the border with Niger Republic like Jibia."
"There is no restriction in these areas. Nigeriens can come to Nigeria, commit any sort of crime and go back to their country.
"Corruption plays a significant role here because some security personnel collect bribes from Nigeriens and grant them access without proper checking and investigation," he added.
---
Support Our Journalism
There are millions of ordinary people affected by conflict in Africa whose stories are missing in the mainstream media. HumAngle is determined to tell those challenging and under-reported stories, hoping that the people impacted by these conflicts will find the safety and security they deserve.
To ensure that we continue to provide public service coverage, we have a small favour to ask you. We want you to be part of our journalistic endeavour by contributing a token to us.
Your donation will further promote a robust, free, and independent media.
Donate Here