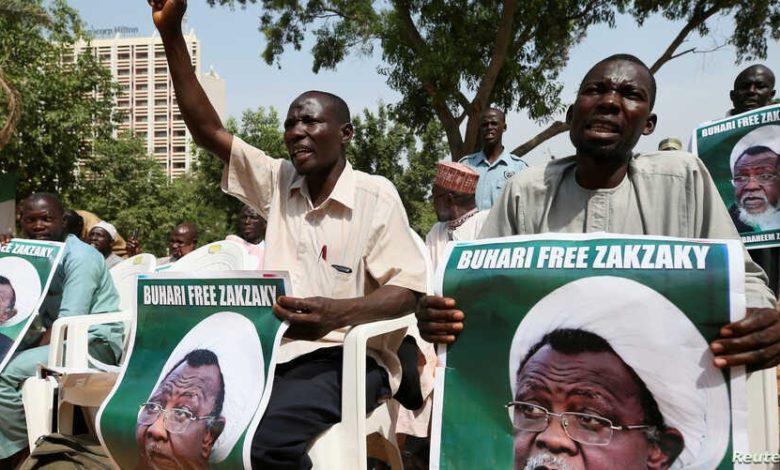 After a long-running battle with the state government, the High Court in Kaduna finally acquitted Ibrahim El-Zakzaky and his wife, Zeenah, on Wednesday, July 28 of charges brought against them.
El-Zakzaky is the leader of the Islamic Movement of Nigeria (IMN) also known as Shiites.
As search engine analytics from Google Trends shows, the name 'El-Zakzaky' only shot into nationwide and global limelight in December 2015. This was when the infamous Zaria massacre took place, leading to the death of hundreds of Nigeria's Shi'ite Muslims, including some of Zakzaky's children. 
Following this incident, he was arrested and detained on charges of culpable homicide, unlawful assembly, and other allegations. The long period between his arrest and acquittal witnessed demonstrations by IMN members, clashes with state forces, deaths of the group's members, police officers, and civilians, multiple rumours of Zakzaky's death, the outlawing of IMN by the government, among other events. 
HumAngle takes a look at how the events unfolded in this timeline.
***
July 25, 2014: IMN says, while it is still gathering information, at least 11 members were killed by the Nigerian Army, including a woman with a baby strapped to her back.
July 26, 2014: Zakzaky says two of his sons, Ahmad and Hamid, were killed extrajudicially after their arrest by soldiers, following the Shiites' annual Quds procession. One other son, Mahmud, had been shot dead earlier, and a fourth, Ali, sustained leg injuries.
August 1, 2014: Defence Headquarters says it has initiated a preliminary investigation into allegations of extrajudicial killing, "deeply commiserates with the families of those that lost their lives in that unfortunate incident."
September 9, 2014: Zakzaky says President Goodluck Jonathan apologised to him but insists on seeking justice.
October 24, 2014: UK-based human rights commission reports that soldiers murdered 34 unarmed IMN members and injured over 100 others in Zaria, Kaduna, between July 25 and 26.
***
December 12, 2015: Nigerian military launches attack on IMN after thousands of members held a march in Zaria, Kaduna State, which blocked a convoy of the Chief of Army Staff. (The Army says it was an assassination attempt.) Troops firebombed the group's religious centre and had a night-long battle with members at Zakzaky's house.
December 14: 2015: Nigerian Army says Zakzaky and his wife are in their custody following raids on at least three locations.
December 16, 2015: Senate sets up an ad-hoc committee to investigate the killings in Zaria.
December 18, 2015: Chief of Army Staff, Lt.-Gen. Tukur Buratai, says Zakzaky is no longer in the custody of the Nigerian Army.
December 22, 2015: Human Rights Watch (HRW) accuses the Nigerian military of killing and hurriedly burying at least 300 Shia Muslims in mass graves.
December 23, 2015: Military spokesperson denies killing anyone in Zaria.
***
January 19, 2016: IMN says it will not participate in an inquiry by the Kaduna State Government into the incident until its leader is released.
January 20, 2016: Chief of Army Staff tells the National Human Rights Commission (NHRC) the Army acted within its rules of engagement. The Army had previously said only seven IMN members were killed and 10 others sustained severe injuries.
April 5, 2016: His lawyer, Femi Falana, says Zakzaky is now half-blind, losing his left eye to the army raid.
April 11, 2016: Kaduna State Government says 347 IMN members were killed and secretly buried en masse.
April 12, 2016: Zakzaky still missing and in detention since his home was raided by soldiers.
April 22, 2016: Amnesty International says over 350 people were unlawfully killed by the Army between December 12 and 14, 2015.
August 1, 2016: Kaduna Judicial Commission of Inquiry report confirms that the Nigerian Army killed 349 people during a three-day clash in Zaria using excessive force.
November 2, 2016: IMN members protest in Abuja to demand Zakzaky's release.
December 2, 2016: Federal High Court in Abuja orders Zakzaky's immediate release following an action filed by his lawyer, Femi Falana.
December 6, 2016: Kaduna State Government labels IMN an insurgent group after members storm Abuja courthouse following an order granting the leader's release.
***
January 16, 2017: Amnesty International urges the Nigerian government to comply with the court ruling ordering Zakzaky's release.
February 26, 2017: Nigerian government appeals High Court ruling mandating the release of Zakzaky.
April 11, 2017: IMN members protest in Abuja over Zakzaky's continued detention.
May 24, 2017: Presidential spokesperson Garba Shehu says Zakzaky is still being held "for his own safety".
June 16, 2017: Information minister Lai Mohammed says Zakzaky is in a house built by the Federal Government, not a prison.
July 6, 2017: Federal High Court in Kaduna strikes out Zakzaky's suit against the Army over abuse of court processes.
November 9, 2017: Femi Falana says Zakzaky and his wife need urgent medical attention and should be released.
November 11, 2017: IMN accuses the Nigeria Police of attacking members during a procession held in Abuja.
***
January 11, 2018: IMN says Zakzaky suffered a stroke in detention and is in urgent need of medical attention.
January 12, 2018: Femi Falana dispels rumours that Zakzaky was dead, but says he is "very sick."
January 13, 2018: Zakzaky makes first public appearance in years, says he is getting better.
January 18, 2018: IMN members and other civil society advocates protest in Abuja to demand Zakzaky's release.
April 16, 2018: Police confirm arresting 115 IMN protesters, says it will charge them to court.
April 26, 2018: Kaduna state government files fresh charges against Zakzaky in state high court asides existing case of criminal conspiracy, accuses him of guilt in the death of a soldier.
October 27, 2018: Video shows Nigerian Army shooting live rounds into a religious parade of IMN members in Abuja, killing an estimated over 10 people.
October 31, 2018: IMN says 42 of its members were killed during a two-day crackdown in Abuja by state forces.
October 31, 2018: Amnesty International says its investigations showed Nigerian soldiers killed at least 45 IMN supporters using excessive force around Abuja.
November 7, 2018: Kaduna High Court denies Zakzaky bail, saying medical evidence produced was not substantial.
November 8, 2018: Information minister Lai Mohammed says the government spends N3.5 million every month to feed Zakzaky.
***
July 7, 2019: Two people reportedly killed and eight others injured after IMN members protested at the National Assembly quarters in Abuja.
July 10, 2019: Lawmakers at the House of Representatives ask the government to release Zakzaky in compliance with court rulings.
July 23, 2019: Several people, including a police officer, are killed during a clash with IMN protesters in Abuja where security agents fired their ammunition.
July 26, 2019: IMN says at least 20 of its members were killed during a series of protests held in the week, including three who died of bullet wounds while in detention.
July 27, 2019: Federal Government obtains court order to proscribe IMN and describe its activities as acts of terrorism.
August 5, 2019: Zakzaky is granted leave to travel to India for medical treatment.
August 12, 2019: Zakzaky leaves Nigeria for media treatment.
August 16, 2019: Zakzaky leaves Indian hospital and abruptly returns to Nigeria.
September 19, 2019: IMN says 15 of its members were killed after police fired at them during different processions earlier in the month.
***
January 14, 2020: Five IMN members reportedly shot during a protest in Abuja.
January 21, 2020: One person, a journalist, killed as IMN protesters clash with police officers in Abuja.
February 6, 2020: Kaduna court adjourns trial of Zakzaky to February 24 and 25, 2020.
June 28, 2020: IMN members protest the prolonged detention of Zakzaky and his wife in Kaduna.
August 30, 2020: IMN says heavily armed police officers opened fire on members, killing two, in Zaria and Kaduna.
September 29, 2020: Kaduna high court rejects Zakzaky's no-case submission, orders continuation of trial.
October 19, 2020: IMN members embark on a protest in Kaduna to mark the fifth anniversary of the clash with the Nigerian military.
October 25, 2020: IMN dispels the rumour of Zakzaky's death and says he was visited by family members at Kaduna prison.
November 18, 2020: Two soldiers testify at Zakzaky's trial at Kaduna high court where he is arraigned on culpable homicide, unlawful assembly, disruption of public peace, and so on.
November 19, 2020: Kaduna court adjourns trial to January 25 and 26, 2021.
December 16, 2020: IMN members stage a protest to demand Zakzaky's release in Kaduna State.
***
January 24, 2021: Documents surface showing that Zakzaky's wife contracted COVID-19 while in detention.
January 25, 2021: Police fire teargas canisters to disperse IMN protesters in Abuja, one killed.
February 10, 2021: Police arrest five IMN members in Abuja for allegedly attempting to attack others, vandalise public properties. 
March 30, 2021: Clash between IMN members and the Nigeria Police in Abuja lead to the death of one person.
May 7, 2021: FCT Police Command says one officer was killed while it tried to restore peace following an IMN protest.
June 10, 2021: As Zakzaky spends 2000 days in detention, his daughter, Suhaila, laments her parents' worsening health conditions.
July 28, 2021: Kaduna high court discharges and acquits Zakzaky, granting his counsel's no-case submission.
---
Support Our Journalism
There are millions of ordinary people affected by conflict in Africa whose stories are missing in the mainstream media. HumAngle is determined to tell those challenging and under-reported stories, hoping that the people impacted by these conflicts will find the safety and security they deserve.
To ensure that we continue to provide public service coverage, we have a small favour to ask you. We want you to be part of our journalistic endeavour by contributing a token to us.
Your donation will further promote a robust, free, and independent media.
Donate Here