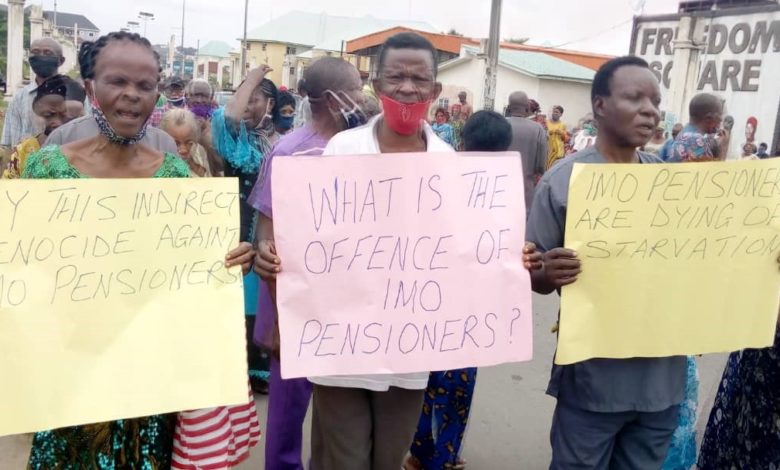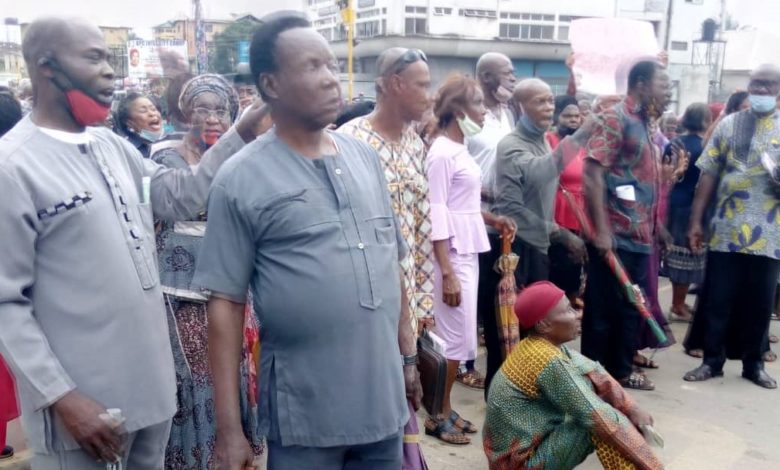 For the third time in six weeks, pensioners in Imo State, Southeast Nigeria, embarked on street protests in the capital city, Owerri, to express their frustration over years of irregular and unpaid pensions and gratuities, owed them by succeeding administrations. In one of the protest marches, the senior citizens were beaten, witnesses said.
Investigations by HumAngle reveal that the senior citizens are not paid their gratuities and pensions, and whenever the latter is paid, the process is not coordinated and characterised by corruption.
For example, the immediate past administration in the state, led by Rochas Okorocha, currently a senator in Nigeria's National Assembly, failed to pay pensions for four years of its eight years tenure.
Okorocha had told pensioners that they did not need state pensions but should rather depend on their children whom they had invested on their education or vocational training to cater to them in old age. But Imo State has one of the highest unemployment rates in Nigeria in spite of its huge human resources.
With a literacy rate of 74.3 per cent by 2010, the state had 28.2 per cent unemployment rate in 2018 and underemployment of rate of over 15 per cent in a population of 5.4 million people by 2017, according to the National Bureau of Statistics.
The Gross Domestic Product was 14.2 billion dollars in 2007 and with a weak economy, most of its manpower work and operate businesses outside the state and return home for holidays. Perhaps, this accounts for the large number of hotels and restaurants which remain under-patronised for most part of the year.
Chikwendu Uwa, a 78-year-old, retired from the state Civil Service 26 years ago as a Chief Administrative Officer on salary grade level 14. He is entitled to a monthly pension of N50,000. He was paid his gratuity when he retired.
His wife, Stella, a teacher, retired on salary grade level 15 and is entitled to between N80,000 and N100,000 pension per month. But she neither gets pension nor been paid her gratuity of N1.5 million since she retired in August, 2008. She has paid bribes to get the gratuity but has not succeeded.
When asked about why his wife has yet to get her gratuity, Uwa said, "It is only after you have drunk tea that you ask for `over tea'," a local joke of saying that one can only ask for bigger things when their smaller demands had been met.
The couple has three children who have graduated from tertiary institutions but have remained unemployed for between five and 10 years. This is in addition their health challenges.
Andrew Ndukwe and his wife are luckier than the Uwas considering that while there is no pension or gratuity for the pair after retirement more than 20 years ago, they have a son who took his parents with him to the United States to enable them to manage their health in old age.
The Uwas and Ndukwes are among the top grade of pensioners in Imo State, where the majority of seniors earn from N3,000 to N10,000 monthly having retired as drivers, gardeners, messengers, clerks, among other low level cadre workers in the Civil Service.
HumAngle learnt that Okorocha's administration faithfully paid pensions in its first tenure (2011 -2015) but began to falter in the second term (2015-2019) when he was overwhelmed by the ambition of playing politics at the national level.
It was at that point that he told the seniors that anyone among them who had not raised a child who could take care of them in old age should die, a pensioner, Eronini Ugochukwu, told HumAngle.
HumAngle learnt that before the expiration of his tenure, Okorocha carried out numerous verification and physical payment of pensioners during which they received fractions of their entitlements.
During such periods, pensioners were issued cheques to cover two or three months pension but some bounced when they were presented in banks and required further authentication to be cleared for payment.
The short-lived Emeka Ihedioha administration, which lasted from May 29, 2019 to January 15, 2020, attempted to pay pensions by verifying those who should benefit. It paid three months arrears around August, 2019.
When the Hope Uzodinma administration, replaced Ihedioha's following a Supreme Court judgment that removed Ihedioha, the pension payment was disrupted. Uzodinma began another pensioner verification process and for three months no one was paid.
When it resumed in July, 2020, chaos set in as some people received their stipends and others were left out. But that was not until the seniors protested over their frustration on June 23, 2020.
On July 28, the pensioners protested again with a group identified as Pensioners Intervention Committee, protesting against "staggering pension" payment by the government.
The Secretary of the group, Mr M.C. Amaechi, said the "Shared Prosperity Administration" of Uzodinma was owing five months arrears of pension and called on the governor to stop the idea of paying some pensioners and leaving out others.
He said some pensioners received May, 2020, pension only, while some got two or three months pension and others did not get anything.
Amaechi, called on the governor to return pension administration currently handled by his office to the Office of the Accountant-General which had information about all pensioners in the state.
Addressing the State Commissioner of Police, Isaac Olutayo Akinmoyede, who represented the governor at the entrance of Government House, Owerri, the Chairman of the Pensioners Intervention Committee, Mr C. I. Ohalete, implored the police chief to take the group's s messages to the governor.
Akinmoyede promised to deliver the message and prayed that God would not allow the senior citizens to die without enjoying the fruits of their labour.
The police commissioner expressed regret that the governor could not personally address them because of exigencies of office and pleaded with the protesters to call off the action to allow vehicular movement, which had been impeded in the town.
The pensioners carried placards and blocked the Government House roundabout. Some inscriptions on the placards read: "Why this indirect genocide against Imo pensioners?" ; "What is the offence of Imo pensioners?"; "Imo pensioners are dying of starvation", among others.
Before the protest, the Commissioner for information, Mr Declan Emelumba, a week earlier, said the state government had paid all pension arrears up to May to those qualified to get.
Emelumba said the governor had decided to remove " ghost pensioners", whose data could not be verified from the payroll.
However, HumAngle learnt that some of the "ghost pensioners" (non-existing pensioners) include those like Ndukwe and his wife who left the country after many pension verifications which yielded no results and others who died without receiving their gratuity or pension.
On Tuesday, August 4, 2020, the pensioners returned to the streets but were allegedly molested by thugs, who considered them as nuisance.
During the protest at the Government House, the pensioners were allegedly beaten by the youth who accused them of being used by opposition politicians to embarrass the administration.
The action of the youth is generating tension in the state and has attracted criticisms within and outside the state.
The youth allegedly flogged and beat the pensioners after efforts to disperse them by pouring dirty water on them failed, HumAngle learnt.
Some witnesses told HumAngle that the thugs also attempted to snatch the pensioners' bags and other personal belongings in the process but were stopped by the arrival of the Assistant Commissioner of Police, Imo State Police Command, Mr. A. J. Moses, and his team.
Some of the pensioners, mostly aged above 70 years, sustained injuries but Moses and his team of anti-cult policemen arrived at the scene to disperse the youth, witnesses said.
A pensioner, Dr. Ebenezer Ibekwe, accused the state government of hiring thugs to disrupt their protest over unpaid pensions.
"How can you owe an old man like me and declare me ghost pensioner and still don't want me to demand my entitlements?
"Already, they detained our leaders using the DSS (Department of State Services personnel)," Ibekwe said.
"The thugs they hired were flogging pensioners with canes because we said we are not ghost pensioners as they are tagging us," he said.
Ibekwe explained that the thugs also poured dirty water on the protesters at Freedom Square in order to stop them from reaching the Government House.
But the Senior Special Assistant to the Governor on Print Media, Modestus Nwamkpa, denied that the government sent thugs to beat the pensioners although it was unhappy about the protest which was "sponsored by the opposition".
He said the government had high regards for the senior citizens and respected their human rights.
Nwamkpa said: "Government has discovered that most of the protesters are not pensioners but members of the opposition being used to discredit the performances of the Hope Uzodimma administration in the state."
Additional Report By Eustace Okere
---
Support Our Journalism
There are millions of ordinary people affected by conflict in Africa whose stories are missing in the mainstream media. HumAngle is determined to tell those challenging and under-reported stories, hoping that the people impacted by these conflicts will find the safety and security they deserve.
To ensure that we continue to provide public service coverage, we have a small favour to ask you. We want you to be part of our journalistic endeavour by contributing a token to us.
Your donation will further promote a robust, free, and independent media.
Donate Here