Analyses
Election Security
News
Thuggery Hurting Political Activities Ahead Of Nigeria's General Elections
As the 2023 election approaches, politicians in Kano, Northwest Nigeria, are enlisting the help of thugs. HumAngle found out how their operations could result in more violence and a lower voter turnout.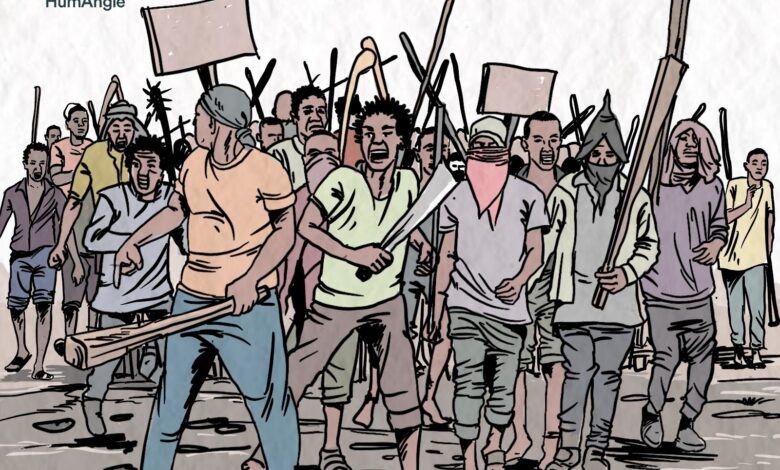 On May 26, Sha'aban Ibrahim Sharada, a gubernatorial aspirant and outspoken critic of Kano state governor Abdullahi Umar Ganduje, went to the All Progressives Congress (APC) primary election held at the Sani Abacha Indoor Stadium. For the first time since the long period of the intra-party skirmish between Sharada's and Ganduje's factions, Sharada was in a face-to-face encounter with the governor. He had wanted to apologise, he said. But that was a bad idea. Instead, what he thought would mark the end of the feud turned out to be a violent turning point.
Sharada said security intelligence warned him not to attend the primary election a day after. Still, one of the party leaders organising the event encouraged him to participate.
When he arrived, he claimed that his security guards had been removed and that, as he was entering the election venue, armed thugs following his political rivals descended on his own "supporters" with cutlasses and sticks. The outcome was a violent clash that killed at least two people and injured many others among his supporters, including one whose arm was amputated.
Two weeks later, the Kano state government of Northwest Nigeria prohibited thugs from attending political gatherings after thugs engaged in new violence during the Kano-Gwarzo-Dayi road flag-off ceremony. The thugs had displayed dangerous weapons such as sticks, swords, knives, and cutlasses.
"We will not accept this, and I assure you that I will deal with any politician that violates this warning. I will personally order the arrest and prosecution of anyone caught wielding weapons at the event," the governor said.
But Kano residents such as Hussein Gambo, who lives in the Dala area, believe the statement was an empty threat. "They are just doing politics with it. Everyone knows they are not serious about ending the political thuggery they are benefitting from," he said.
Many thugs in Kano follow politicians to different places. While the events they attend may be peaceful, sometimes their presence leads to bloody encounters.
"Moving with a swarm of thugs, dubbed as supporters, for a politician, with or without a security guard, is regarded as a symbolic action intended to send a signal to any potential attacker, sometimes to threaten opponents. It is not always intended to be an attack device, but it does provide protection," said Balarabe Abdallah, a resident of Kano and a local politician.
"It's also a free time for the thugs to consume drugs [and] for the addicts among them [to use illicit substances] without fear of being arrested by police."
Political thugs in Kano state are typically hired by a local politician who knows them, and cars are brought to convey them wherever they need to go. This happened to Ashiru Aikawa, who was recently picked up by his politician-neighbour to attend the APC Special Convention, where its presidential primary election was conducted in the country's capital, Abuja.
"We were taken first to Kwanar Maggi [the Kano APC headquarters] and then loaded onto several buses bound for Abuja. We were not allowed into the election venue when we arrived, but we were each given ₦10,000 ($24) and told to sleep somewhere else. That day, I slept outside the venue," Aikawa stated.
It doesn't always end well. Some thugs lose their lives due to such long journeys, but politicians rarely compensate their families or even pay them condolence visits. An example is Danlami Tanti of Jakara, Kano Municipal, who was hired by politicians in 2013 to attend a by-election in a Kano village. While returning, the car he was in was involved in a fatal accident. He left behind a pregnant wife, who had only recently married after being without support as a widow for more than seven years.
The clash of thuggery
Political violence is not new in Kano State, but it has recently taken on new dimensions.
Previously, it was typically associated with the disruption of electoral processes or attacking electoral bodies through armed raids on voting and collation centres, as well as disrupting campaign events.
In 2011, post-election violence in Kano escalated into a short-term religious crisis, beginning with attacks on police stations and electoral bodies. However, "from 2016 to date, it has become political clashes between thugs of the same or different parties and that lead to a full cycle of post-electoral criminality," said Muhammad Sadi, a political observer in the state.
Researchers have found that politicians typically hire drug addicts and village hunters to attack opponents. They disguise themselves as ordinary supporters, wearing political party insignias, and initially concealing their weapons. "Campaigns are organised with a plan for violence, and when two opposing factions or parties meet, it is difficult to part in peace," Aikawa, who had previously participated in some of the clashes, said. "As you see them approaching with cutlasses and other weapons, you begin to prepare to defend yourself. People are killed as a result of the process."
According to Aikawa, the thugs are paid based on their work, usually per campaign activity. It is rarely more than ₦10,000 per activity, which he describes as "a lot for them."
People like Aminu Bahago, however, do not always require the assistance of politicians in cash. Despite what happened to the supporters of Sharada recently, he says he is still loyal to him "because he is kind to his supporters. He is the only politician who sits and eats with his supporters, regardless of their backgrounds. That down-to-earth attitude of his is what inspires me to fight for him."
Ganduje and his former boss, Dr Rabi'u Musa Kwankwaso, split politically in 2016, triggering internal clashes between their supporters that resulted in many deaths. What began as minor clashes led to an increase in the number of thugs participating in violence, with the Kano State Police Command claiming to have arrested 950 political thugs in just nine days before the 2019 election.
According to Aikawa, violence in the 2023 election could be worse. "You've probably heard about what happened to Sha'aban Sharada and his supporters. It's a warning sign. Even though Sharada stated that he had withdrawn from the election, it is clear that when two opposing parties meet again, it will be a bloodbath," he told HumAngle.
Aikawa said certain politicians have bought the loyalty of some thugs by helping them out of prison. According to him, local radio stations report the activities of these politicians as a philanthropic service to humanity while, in reality, they are done for another purpose. "These thugs would automatically be joining politics and can do whatever they are demanded to do just to pay back," he explained.
Edozie Ifebi, a political analyst with Avenue Strategies, an Abuja-based policy research and consultancy firm, believes that the longer campaign period provided by INEC will deprive politicians of resources that could be used to hire thugs. "The candidates will bear the brunt of the long period of waiting and campaigning. This will almost certainly reduce the tempo and intensity that could lead to violence," he argued.
Self-defence or democratisation of thuggery?
In 2019, Kano state gubernatorial election was declared inconclusive, necessitating a re-run election in some polling units, most notably Gama Ward of the Nassarawa Local Government Area. Observers concluded that the re-run election was extremely violent, with thugs stationed throughout the major voting districts. The Civil Society Legislative Advocacy Centre (CISLAC) called the incident "highly disappointing," accusing police of failing to protect voters.
As a result, people like Sani Allazi, a local politician from Kano Municipal, believe they have no choice but to defend their votes in any way they can, even if it takes fighting violence with violence.
"In 2019, a party chairman in Kano described the election as a do-or-die affair, and we have seen what happened. He recently made a similar remark, saying he was not praying for peace," Allazi said.
He added that they would protect themselves and go to any length to ensure that their votes are counted.
Asked why his party is not seeking police protection, Allazi replied that they have lost faith in the police. "An active commissioner of police was deployed in the state and was arresting political thugs, but he was removed as a result. The police officers are working for the violent politicians," he alleged.
Prior to the 2019 election, the chairman of the ruling party in Kano was severally accused of instigating violence through political hate speeches. The Center of Information Technology and Development (CITAD), a non-profit organisation monitoring the trend of hate speeches in Nigeria, issued statements condemning his call for winning elections through violent means. "The remarks constitute serious danger to the election and period beyond as they licensed the listening youth to beat up anybody they so wish because soldiers and police will do nothing to them," CITAD stated.
Ifebi admitted that the 2019 election is a fresh wound in the minds of Kano residents, and, though it may not result in violence, it may discourage voter turnout. "The thuggery we saw at the last general election in Kano was an unfortunate event that serves as a bad reminder of how far our elite would go to suppress voters in order to retain power," he said.
"This is where the problems are," an opposition party member in the state, Salisu Hotoro, said. "We'll just have to wait and see what happens. We hope for the best but are also bracing for the worst. We simply cannot fold our arms and allow thugs to attack us while [there is] no one to protect us. We will defend ourselves, even if it means moving with armed supporters. This is known as self-defence."
---
This report was produced in partnership with HumAngle Services.
---
Support Our Journalism
There are millions of ordinary people affected by conflict in Africa whose stories are missing in the mainstream media. HumAngle is determined to tell those challenging and under-reported stories, hoping that the people impacted by these conflicts will find the safety and security they deserve.
To ensure that we continue to provide public service coverage, we have a small favour to ask you. We want you to be part of our journalistic endeavour by contributing a token to us.
Your donation will further promote a robust, free, and independent media.
Donate Here