Features
Solutions & Development
This School Is Changing The Future Of Herders In Nigeria's Borno    
Displaced and impoverished, their parents, who are of Fulani origin, work in construction sites, some as security guards. But now, there are over 500 of their children enrolled into a school specifically tailored for them. What difference would this make? HumAngle finds out.
In 2016, when Boko Haram seized control of Abadam, a local government area in Borno State, North East Nigeria, Aisha's family fled, leaving behind their livestock, farmland, and more.
The family sought refuge in Maiduguri, the state capital. They found shelter at the Shuwari II IDP camp, joining thousands of others who had been uprooted by the conflict, Malik Hassan, Aisha's father, told HumAngle.
Aisha was not benefitting from a formal education back in Abadam. She would have continued to tend cattle and, maybe, sooner than later become a milkmaid. She may also have been married off at the tender age of 12. These are trends noticed amongst people in the community and circumstances Aisha was in.
But now, as the eldest child in her family, she is the first to have the opportunity to go to school. Today, Aisha Malik is a Junior secondary school II student, among over 500 enrolled in the 'Fulani' school in Maiduguri called Aisha Buhari Integrated Secondary.
"I want to become a medical doctor to help my people, I also want to become a journalist to be seen on social media. In fact, I want to be everything," she said.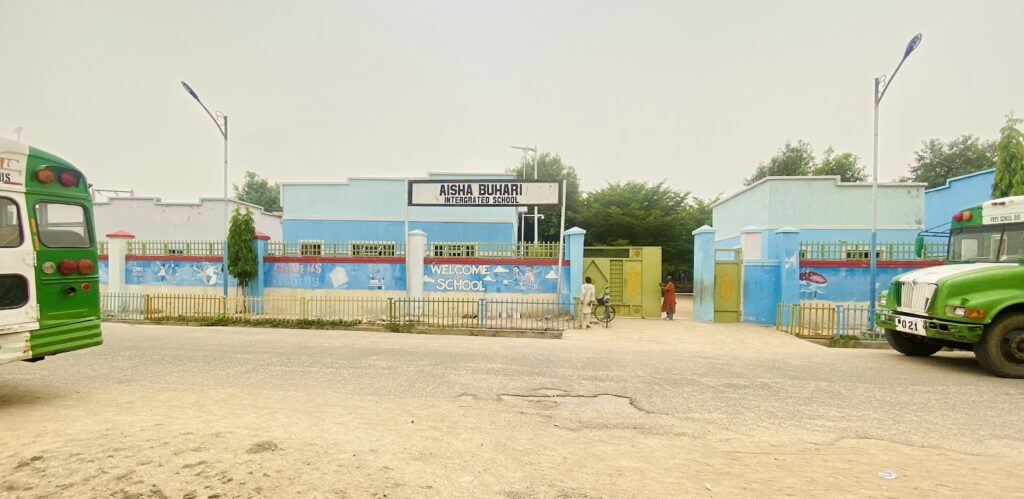 Baby steps
The school was founded by the Borno State government in 2018, during the tenure of Kashim Shettima (currently the country's Vice President), with additional assistance from the Tertiary Education Trust Fund (TETFund) in the area of providing meals to the pupils, HumAngle gathered. It exclusively admits children from Borno's Fulani community. Shettima explained in 2017: "The aim is to break the cycle of intergenerational poverty and illiteracy among the Fulani community in Borno State."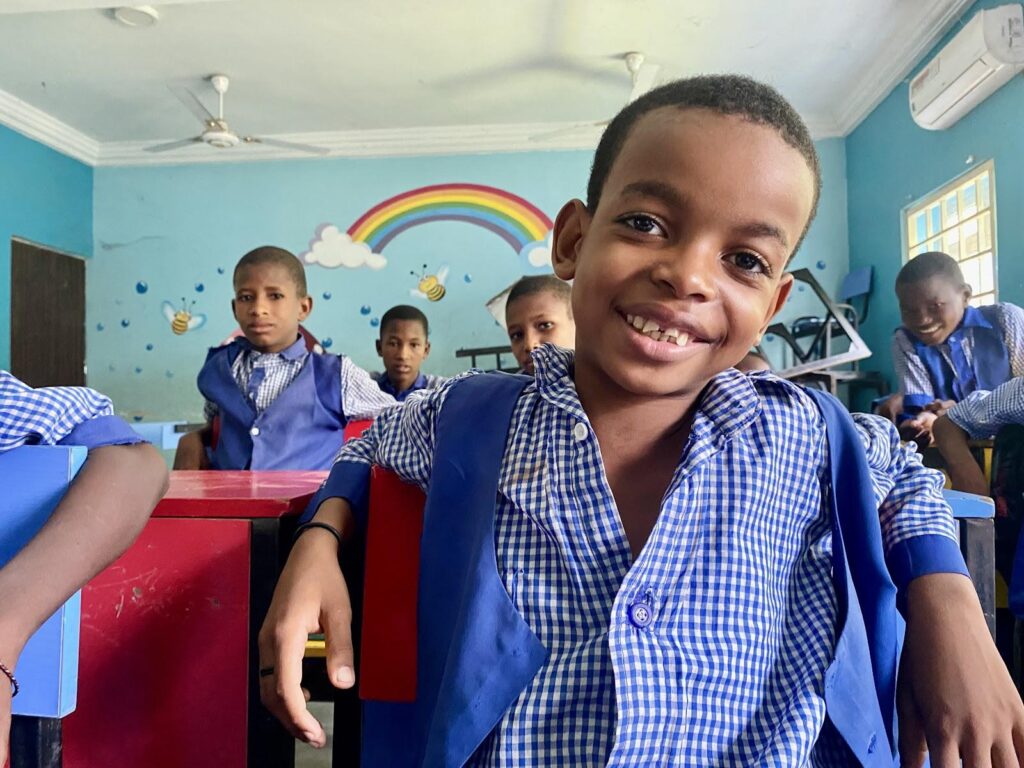 Named after a former First Lady of Nigeria, the school is adorned with colourful murals that spark creativity and curiosity among its pupils. Motivational quotes on portraits of renowned personalities across the world grace its walls, inspiring students with the stories of those who have achieved greatness. From Malala Yousafzai's unwavering dedication to promoting education for girls and women to Mae Carol Jemison, the first African-American woman to venture into space and later become a founder in technology. Then also, in the world of music, the legendary Billie Holiday.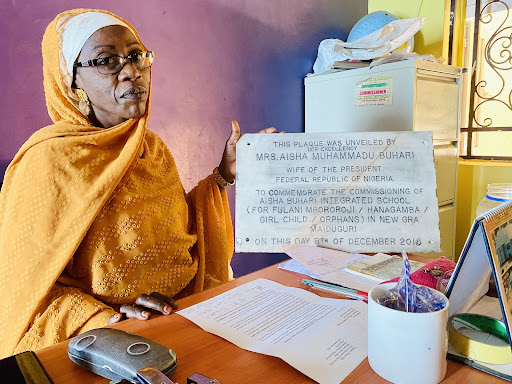 The classrooms are equipped with air conditioning systems, vibrant murals, comfortable seats, and motivational portraits. Every classroom is designed to foster a thirst for knowledge.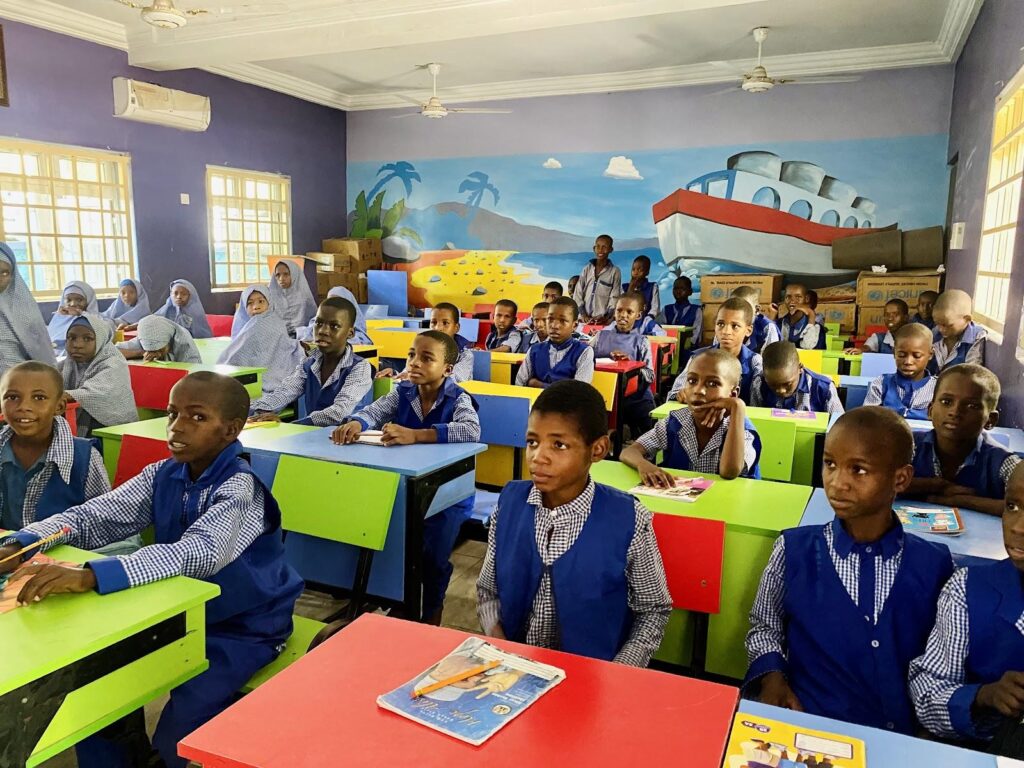 Three school buses transport students from their respective locations every morning to the school and back. The school also provides breakfast and lunch.
Their aspirations
Abubakar Mohammad Bello is the first to attend school in his entire family. "I aspire to become a nuclear engineer, enabling me to safeguard my country in the future against potential threats and insecurities from foreign nations," he said.
All the pupils interviewed by HumAngle are the first to attend school in their families. Some of their parents work as property guards, earning as little as ₦5,000 (approximately $5) per month, and also engage in selling tea. Despite their hard work, they are unable to afford to send their children to formal schools.
Another student, Hassana Mai Agolla, a member of the school's press club, said she wants to become a journalist because she is passionate about newscasting. Then there is Mohammad Usman Yunusa, who desires to become a school teacher. He justified his choice by quoting a hadith: "The best among you are those who learn and teach it". He added, "I want to teach all that I am learning to my younger ones."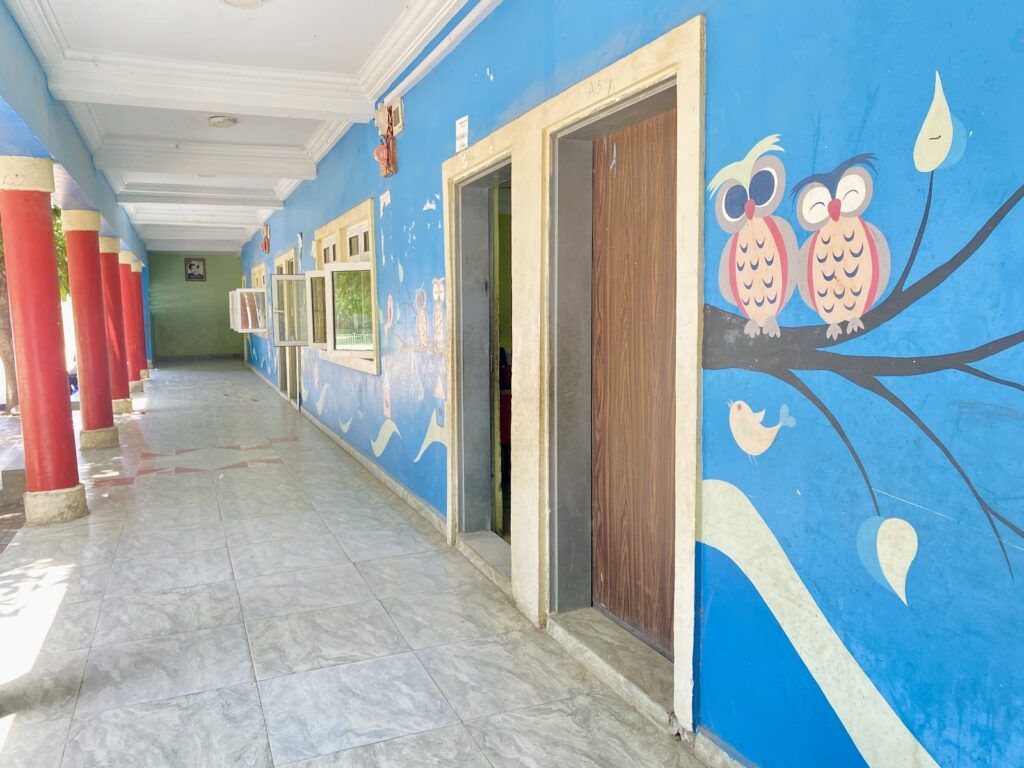 The desire to defend their country appears to resonate with some of the pupils. Abubakar Mohammad, a primary 4 pupil, hopes to someday join the Nigerian military in order to contribute to national security.
Losing it all
Several parents told HumAngle how they lost their cattle to the insurgency that has ravaged the state for more than a decade. In 2016, one of them, Usman Yunusa, was jolted awake by the echoes of heavy gunfire in Abadam. Boko Haram had seized control of the town, prompting him to gather his family and abandon his livestock. They trekked for over a day before they reached Maiduguri.
Upon reaching Maiduguri, Yunusa and hundreds of others settled in Shuwari camp II. He spent a year frequenting the cattle market, desperately hoping to reclaim his lost cattle. Regrettably, his efforts proved fruitless, there was no trace of his prized possessions.
Displaced, many others occupied construction sites and uncompleted buildings. They became security guards and labourers. They also hawked tea on the streets. But these were not enough for them to give their children the upbringing that would enable them to have a chance at a bright future. School seemed like a tall dream.
Reflecting on that period, Yunusa remarked, "The most positive outcome since losing 40 cattle is witnessing my daughter attend school."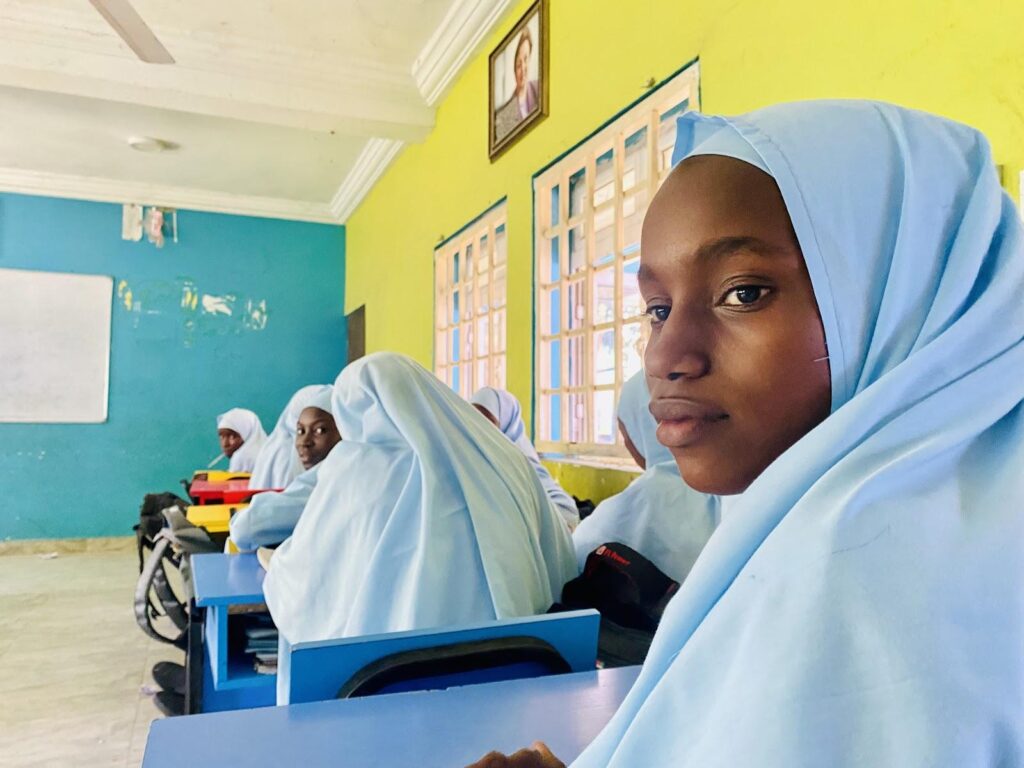 In the vastness of Nigeria's landscape and its diversity, the Fulani community is known for their unique way of life. Traditionally known for their nomadic lifestyle, they have roamed the West African plains for centuries, tending to their cattle. But insecurity and climate change have rendered many of them pastureless and unable to continue the trade, they have to come to cities and try to adopt lifestyles that are alien to what they are used to.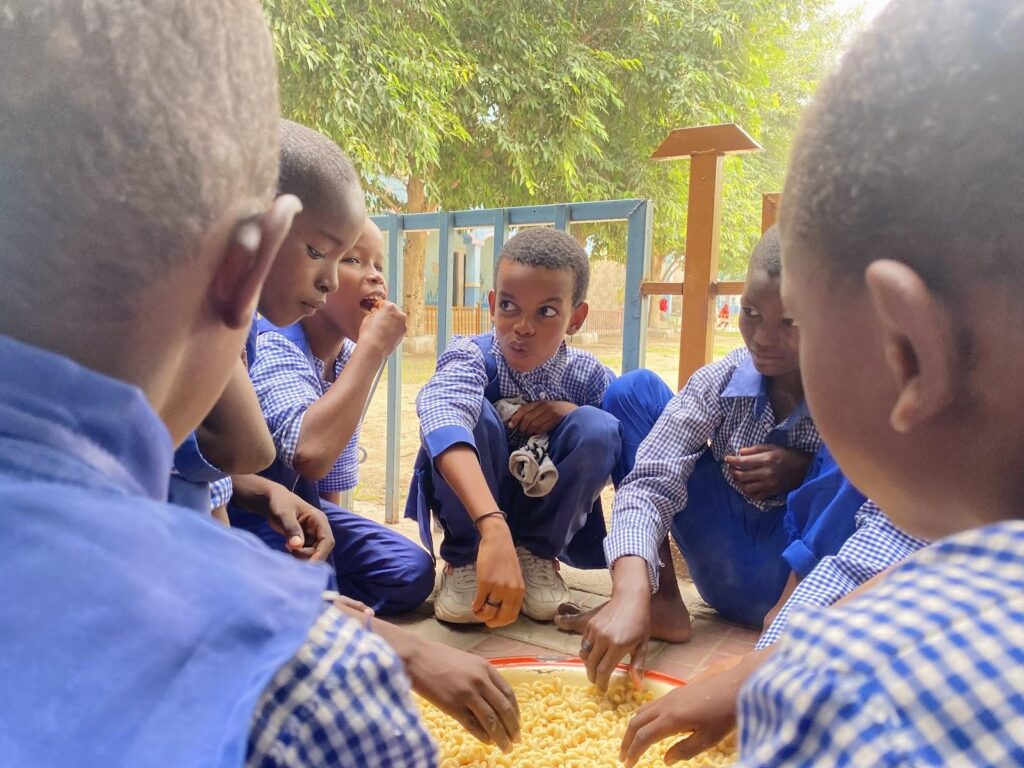 However, while their nomadic traditions have deep historical roots, they have also posed significant challenges, particularly in the area of education. The Fulanis' migratory lifestyle, dictated by the needs of their livestock, has made access to formal education a major hurdle for their children.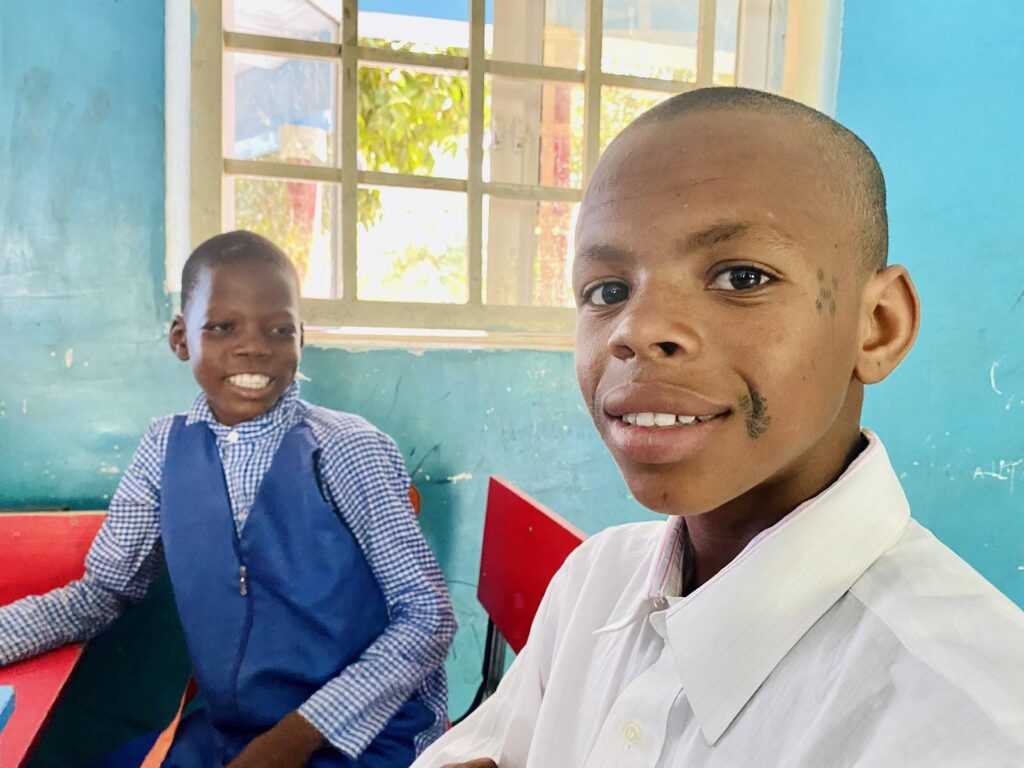 The head of Fulani settlers in Borno State, Zanna Rebo said, "Whenever the word Fulani is mentioned in Nigeria, the first thing that comes to mind is banditry and kidnapping. The Fulani people were unfairly associated with these criminal activities, without being given an opportunity like others. But here in Borno, our children are given opportunities to obtain an education. These children would have grown up without skills and knowledge to cope with the new world and might be exposed to criminal activities, but now they are rescued from such calamity."
Photographs of Martin Luther King Jr., Mae Carol Jemison and Billie Holiday with a motivational statement to arouse curiosity and hard work among the pupils and students. Photo: Abubakar Muktar Abba/HumAngle
"The livestock that they inherited have been rustled, and their farmland cannot be accessed anymore all because of Boko Haram insurgents. They are not educated, the system has cheated them. The narrative has been changed for some of these children, now all they think of is how Nigeria will progress," he said.
Zanna Rebo observed that, before now, the children didn't even know how to say "come" in the English language. Today they speak in English, Arabic, and other local languages.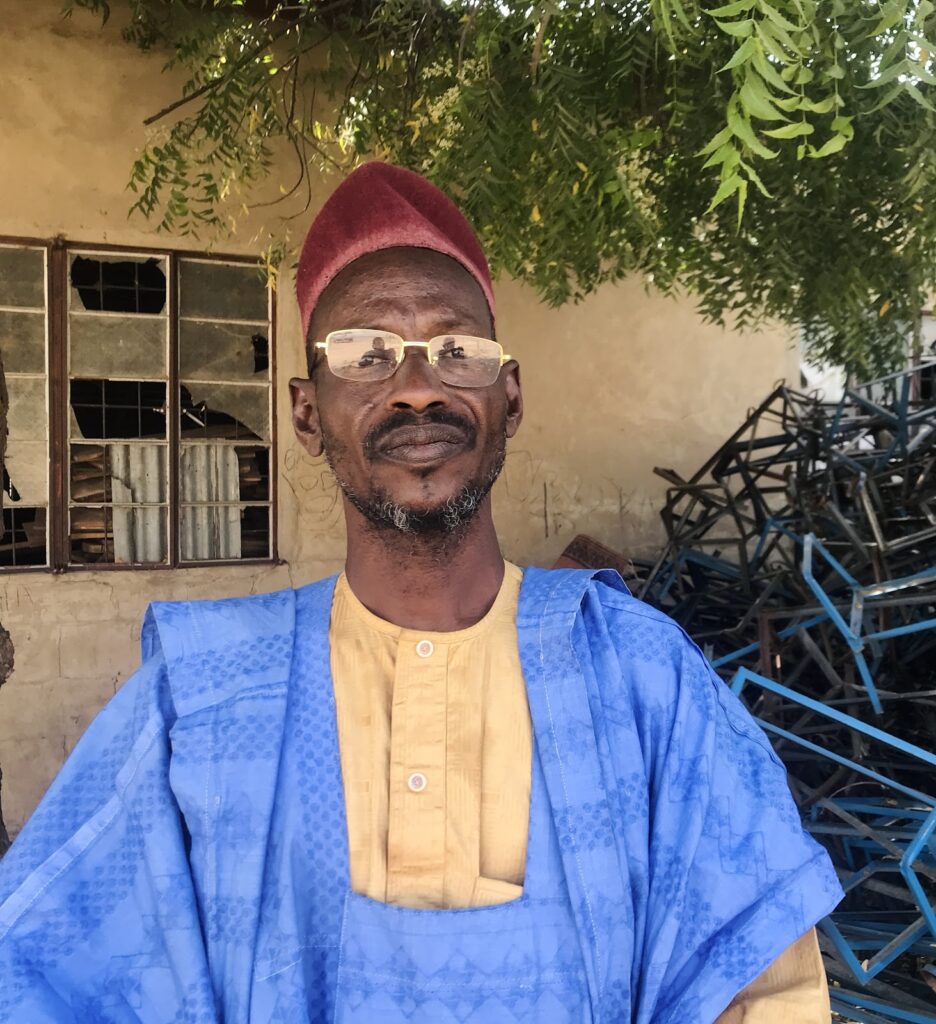 "The opening of Aisha Buhari Mega School has brought hope to the future of our children in Borno State. They now have access to education, digital skills, and self-realisation," he added.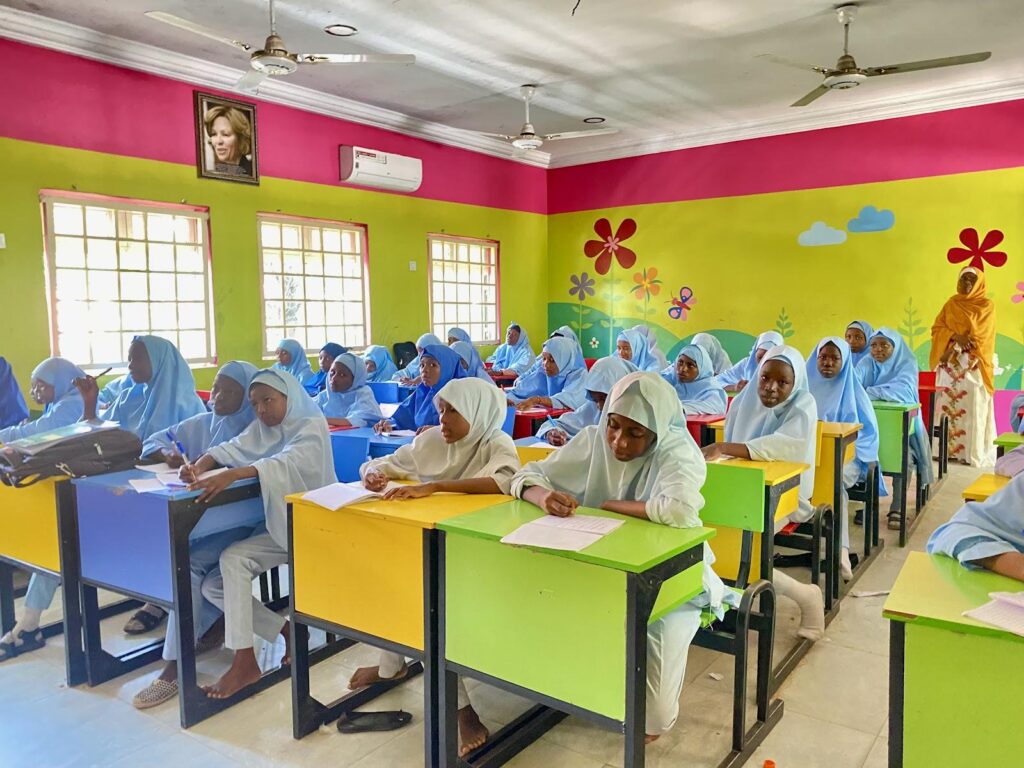 "In other places, we hear of Fulani tribesmen engaging in kidnapping, armed robbery, and other vices but, in Borno State, we have been treated differently for a long time, which highly contributed to our peaceful coexistence in the region," said Ferroje Ahmed, a parent. He currently has three daughters enrolled in the school and has lived in Maiduguri for over 20 years. "I feel hopeful when I remember that my children will not suffer the consequences of lack of education when they grow, they now have equal opportunities with others, " he added.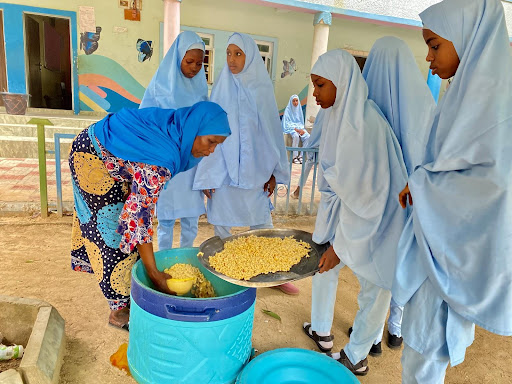 Ahmadu Yugudu, a displaced Fulani farmer from Kukawa local government area has two children enrolled. "I couldn't have sent them to school if not for this scheme. The Fulani school is the only hope my children have," he said.
"There is no place in Nigeria where we heard of or have seen our children taken to special schools apart from Borno State. This is a welcome development, and it could serve as a template for other states to follow as a long-lasting solution to insecurity," said Usman Husaini, the chairman of the Fulani herders association in the state.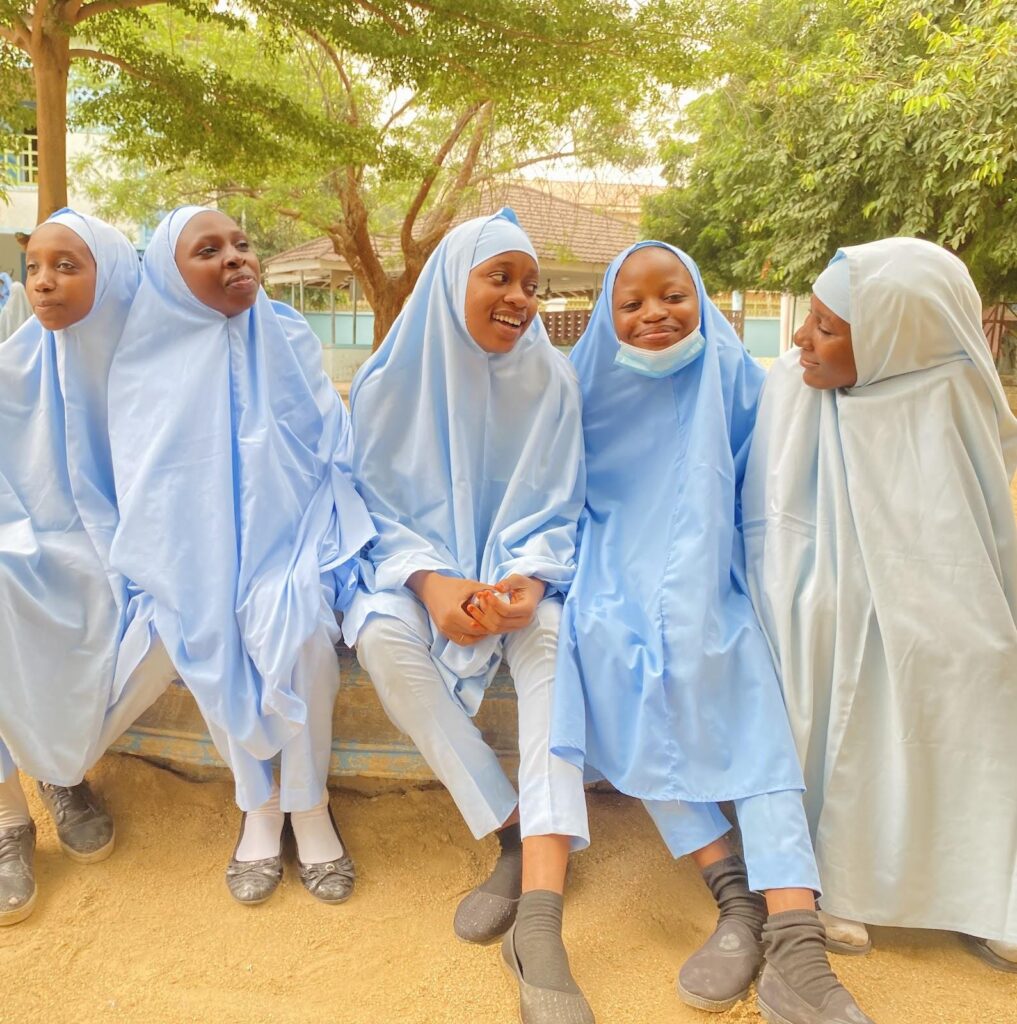 The chairman further added that the only time they heard of such social involvement was during the colonial and military era in Nigeria. He pointed out that they have been neglected even though they contribute immensely to the economy of Nigeria and Africa at large through the cattle business.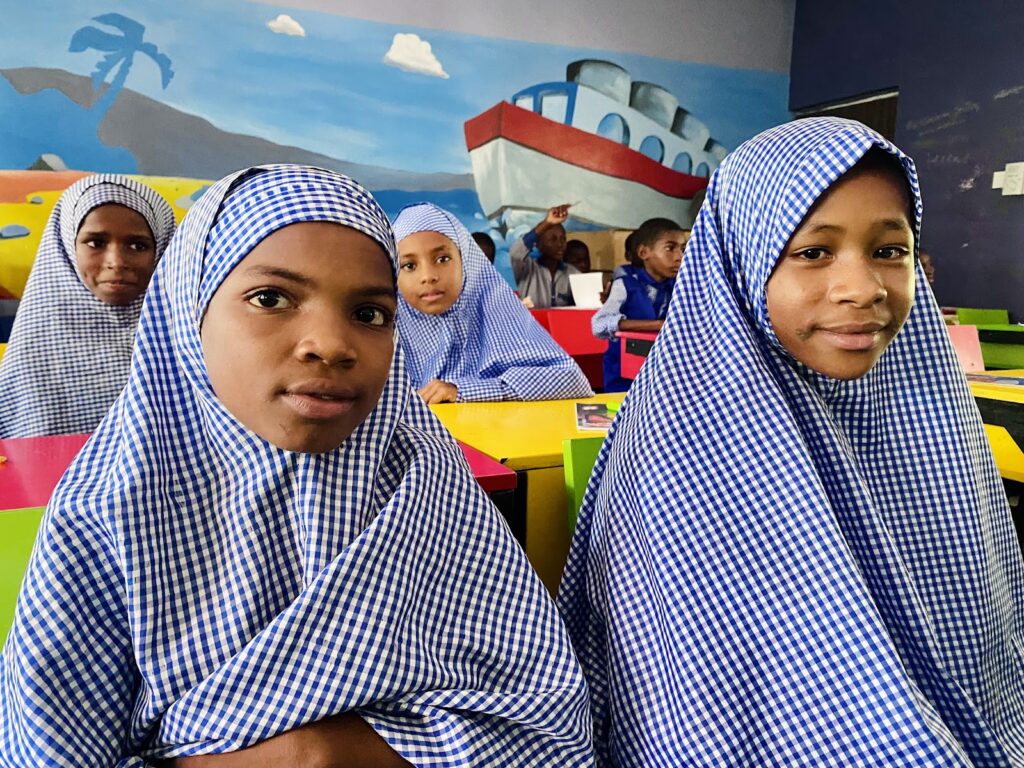 According to the National Commission for Nomadic Education (NCNE), the commission is mandated to cater for the educational needs of the socially excluded, educationally disadvantaged and migrant groups (Herders) in Nigeria because these population segments face significant barriers to accessing primary education due to occupational and socio-cultural factors.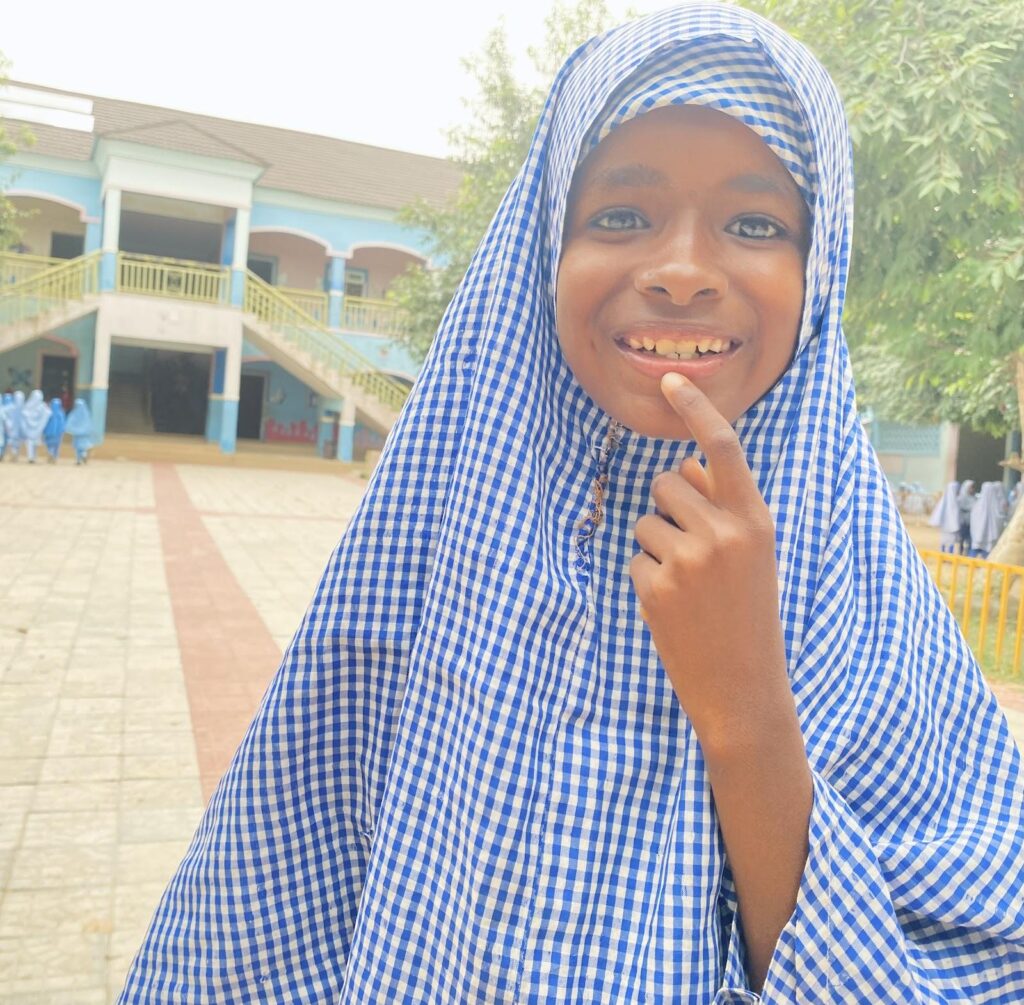 Out of the estimated 10.4 million migrant groups in Nigeria, about 3.6 million are children of school age of which only 519,018 are currently enrolled in schools. The participation of nomads in existing formal and non-formal primary education could be much higher. This justifies Nomadic Education as a strategy for inclusiveness to primary education for nomads in Nigeria.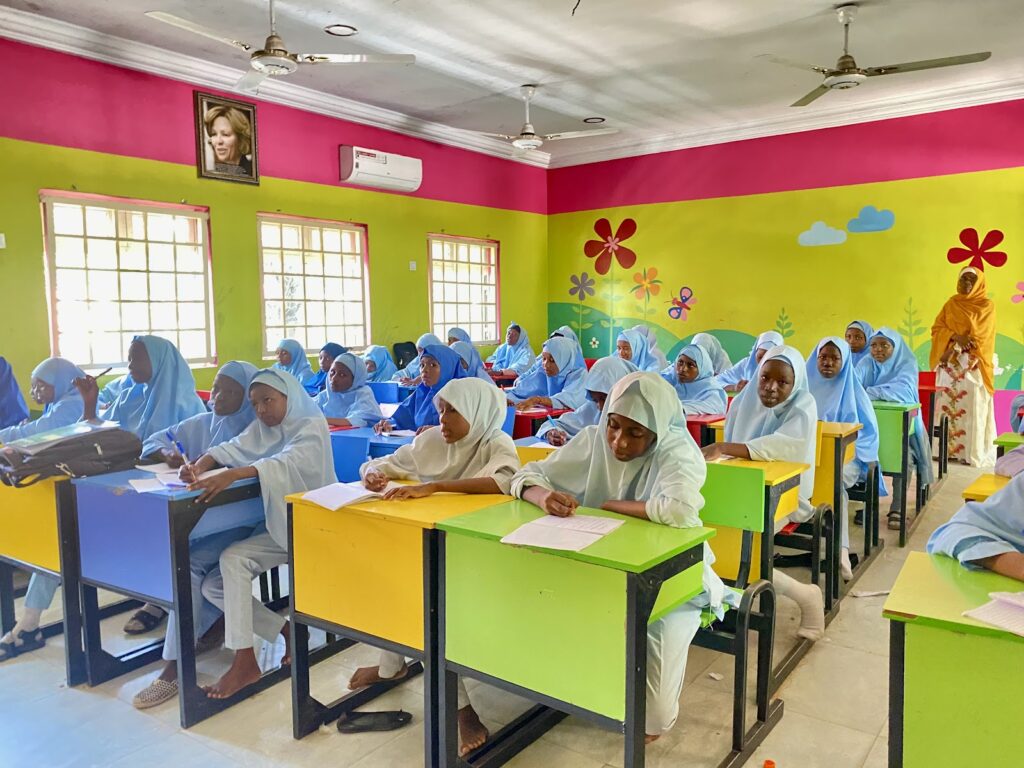 Their lifestyle
A significant number of children within the nomadic community encounter distinctive challenges due to their itinerant lifestyle, the head teacher, Sa'adatu Garba explained. One is the frequent change in residence due to the nature of their parents' jobs. Once construction is completed at the temporary sites they occupy, such families must seek new accommodations, often accompanied by their children. This poses a significant hurdle to their education.
"At times, we categorise these children as dropouts, only to witness their return after several months with various excuses. Our only recourse is to embrace them with open arms, as our entire endeavour is dedicated to their welfare. Any form of punishment or coercion leading them to drop school would be a severe blow to the initiative."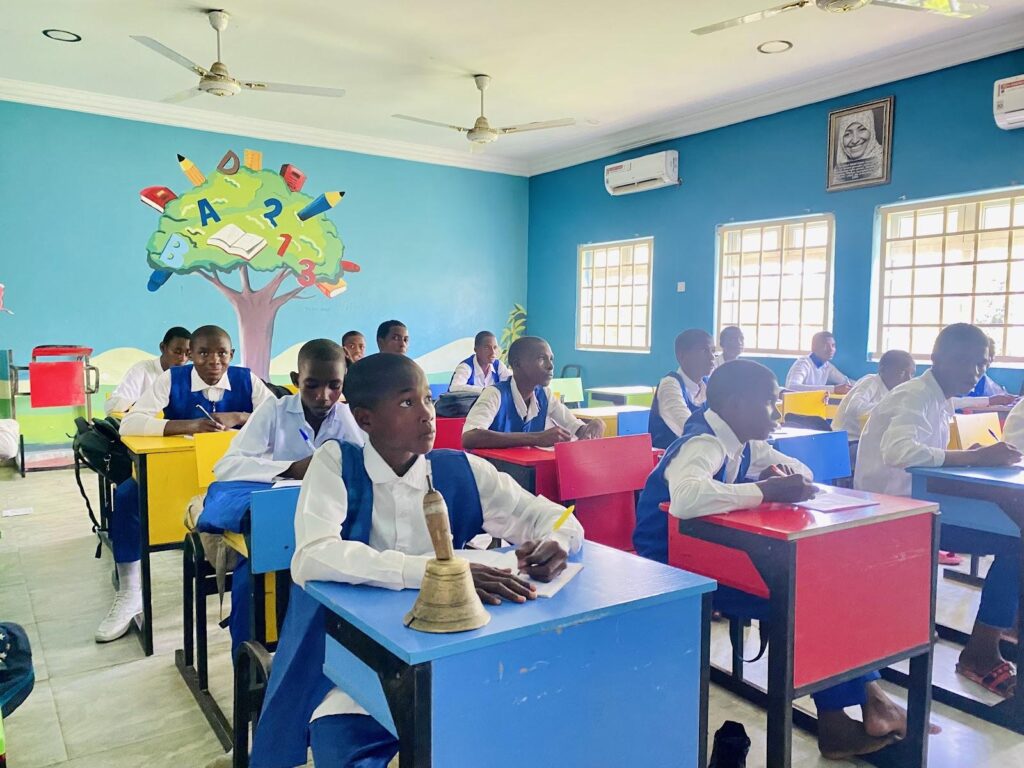 Sa'adatu also pointed out the need for more classrooms, a science laboratory for practicals, an ambulance or school health facility and textbooks for the children. "Next year we will have students that will be sitting for their Senior Secondary School Examination. We will need a laboratory for the science practical examination. Also, extra classes because we are now sharing the school facility with the host community. The students have a strong passion for reading but that has a limit because they do not have what to study with at home."
The school kitchen. Photo: Abubakar Muktar Abba/HumAngle

Brunch time at Aisha Buhari Integrated School Photo: Abubakar Muktar Abba/HumAngle

The quote on this picture reads: "The extremists are afraid of books and pens, the power of education frightens them. They are afraid of women." Photo: Abubakar Muktar Abba/HumAngle
"The Fulani herders, for whom the Fulani school in Maiduguri was established, are nomadic pastoralists who roam with their cattle, constantly in search of lush pastures. Over the years, the pastures they rely on have, for various reasons, become increasingly inaccessible to them. This, in turn, has taken a toll on their livelihoods, rendering them more vulnerable. As history has shown, when people lose their means of sustenance, their vulnerability can potentially lead to social instability," said Dr Omovigho Rani Ebireri, a lecturer in the Department of Continuing Education and Extension Services, University of Maiduguri.
Ebireri explained that the creation of a well-equipped school, staffed by qualified and experienced teachers capable of capturing the attention of these herder children, is commendable. "This is not a far-fetched notion; it echoes the wisdom of Chief Obafemi Awolowo, who once said, 'The children of the masses you fail to educate today will prevent you from sleeping tomorrow.' This statement encapsulates the essence of the matter precisely."
---
Support Our Journalism
There are millions of ordinary people affected by conflict in Africa whose stories are missing in the mainstream media. HumAngle is determined to tell those challenging and under-reported stories, hoping that the people impacted by these conflicts will find the safety and security they deserve.
To ensure that we continue to provide public service coverage, we have a small favour to ask you. We want you to be part of our journalistic endeavour by contributing a token to us.
Your donation will further promote a robust, free, and independent media.
Donate Here