Development
Displacement & Migration
Features
'They Just Pick Up And Move', When Men Leave Displaced Families To Find  Work
For decades, men in certain communities in rural northern Nigeria have engaged in an internal migration tradition that does not include their families. These women, displaced and impoverished by the brutal insurgency, have not seen their migrant husbands in years.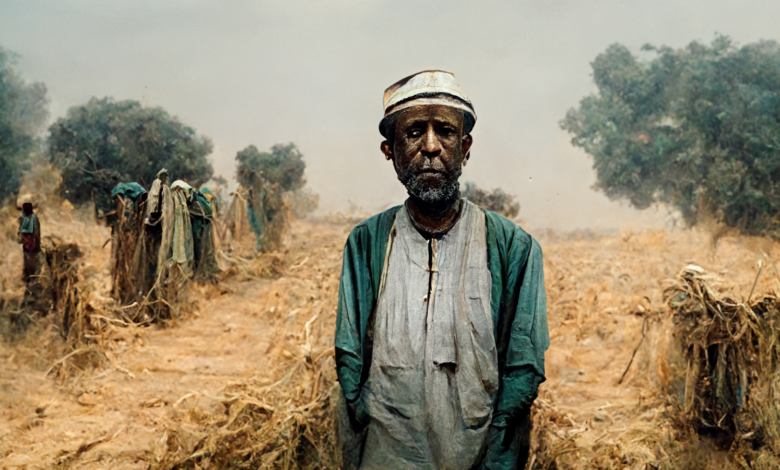 The warmth from the morning sun softly singed Naomi's bare shoulders as she prepared breakfast with a wrapper tied around her chest.
Like every "regular Sunday", she made pap while her children played quietly to avoid waking their father, Yusuf, from his sleep.
After breakfast, at around 9 a.m., Naomi took her bath and got ready for church. It is normal for her to go alone without her family, so nothing seemed out of place when Yusuf was still slumbering in their one-bedroom flat in the Girei Local Government Area of Adamawa, a state in the northeast.
When she returned home at noon, the mattress where her husband was sleeping was bare, only a hollow now on the side he had been laying. Naomi's children still frolicked around the compound, so she asked them where their father had gone. They replied that he had stepped out.
Naomi waited the whole day for his return, and then the next day. When three days went by, she realised her husband was gone.
It's been six years since.
Migrating for a better life
Yusuf had not told Naomi of his plans to move to another town. But years after he disappeared with only a word to a colleague about his plans, she still believes he did it to benefit from a better economic environment.
Among the women she knows it's a common occurrence that their husbands leave without warning and stay away -sometimes for many years.
Other women in Girei have similar accounts of husbands going 'missing' for years and then suddenly showing up.
"They just prefer to pack up and go to another place," Furaira, another woman with a migrant husband says, "and they usually do not come back early."
Internal migration is a common practice in the rural communities of Adamawa, where young men leave home, move to urban areas, and take up petty businesses like hawking items by the roadsides or even rendering services to the towns' residents such as transporting people through motorcycle taxis.
While this move is with the intent of finding work to provide sustenance for the family back home, the matriarchs of the households are often disproportionately affected. Apart from the burden of unpaid domestic work and the responsibility of looking after the children and the elderly, they are further pushed to find work within the community when migrant husbands are inaccessible.
"I have not heard from him," Naomi says about her husband, "I have not received any information about him."
In the first week of his leaving, Naomi thought Yusuf had simply travelled to their hometown, although she did not understand why he had not informed her beforehand or even left a message with their children or their neighbours. "But I realised all his clothes were here, not a single clothing item was missing when I checked. He only left with the clothes that were on his back."
It is a new experience for Naomi as her husband has never had to leave home to get profitable work.
Before Naomi and Yusuf arrived in Girei, they lived with their families in the Gwoza area of neighbouring Borno State, where the insurgency happened to them in 2014. Naomi tells HumAngle how they attempted to flee with their car, but when push came to shove, they abandoned their vehicle and started running through dense bushes on foot until they got to Madagali, also in Adamawa, and then to Girei.
Their first year as displaced people was rough, Naomi recalls. "It was one man that took us into his home until we could find a house."
Yusuf was a butcher in Gwoza and worked in an abattoir where he associated with many herders. He maintained his line of work after the displacement and soon set up a stall where he sold meat to the town's residents. "When he was around, we ate regularly. There was no hunger; there was food in abundance. I cannot even compare then and now," Naomi says, her words ladened with emotions.
After weeks of waiting for his return, or, at the very least, to hear from him, a man who trades alongside Yusuf in the market went to Naomi to tell her that her husband had packed all his knives and tools and that his stall had been given to someone else. "I cried that night, not understanding why he did not tell me where he was going," Naomi recalls, explaining how she was filled with sorrow, anger, and pain.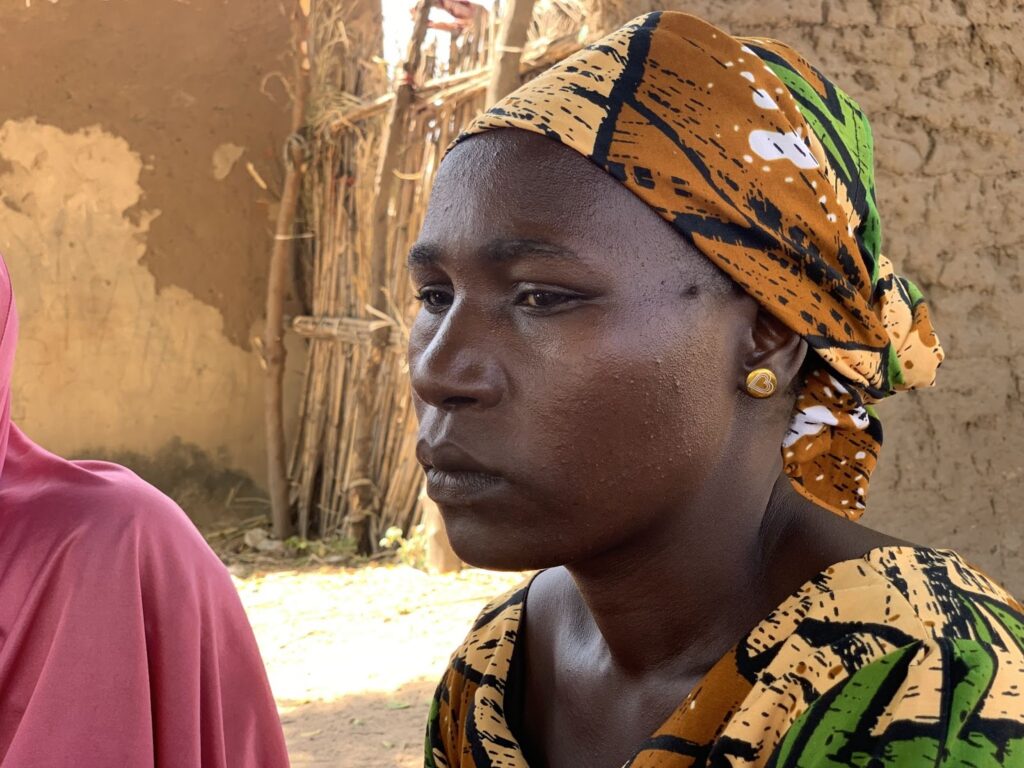 'His migration has been pointless'
The internal migration of rural dwellers, specifically those in the agricultural sector, is a male-dominated practice in the northern part of Nigeria. This is despite the important role rural women play in food production, processing and preservation and how they account for more than half of the agricultural labour force.
With the worsening climate crisis coupled with the various forms of gender inequality women face, their contribution to the sector has been severely affected. The Consultative Group for International Agricultural Research (CGIAR) recently found that women's options to diversify their means of livelihood are very limited.
In its report, the group gave instances of how, when climate-related changes in cropping patterns and livestock production have been observed, men may adopt migrating to relatively better areas, something not necessarily open to women.
This is true for 40-year-old Rahmatu, another displaced woman with a migrant husband, originally from Damboa, Borno State. Back in their hometown, Rahmatu's husband cultivated leguminous crops while she helped with the processing of the crops, especially peanuts, which she turned into cooking oil and kuli-kuli (a snack made from grounded peanuts).
In their first year living in Girei, Rahmatu's husband laboured on farms owned by the town's residents while her business was put on hold. She says that was when their hardship began. "Here, there are no available lands for us to farm. Sometimes he would go to work and get paid so little. Sometimes, he would not be paid at all."
After a year of adapting from a life of comfort to a harsh reality, Rahmatu decided to also take up small jobs like domestic work in affluent neighbourhoods of the town to help with their expenses. However, things did not change. "We are used to farming," she tells HumAngle. She and her husband believed the only hope of a better life was for them to go back to farming, and that could only be achieved if they moved to a place where land ownership was cheaper. But that option was not extended to her.
"He convinced me that he would go to Gombe, where access to land is easier and he left for a year," she said. However, after a year of anticipating his return, Rahmatu's husband came back home empty-handed. "The following rainy season, he left for a year again, and came back empty again. One time he returned with ₦30 (seven cents). I asked what was the meaning of this and he swore that he had nothing."
Rahmatu described his migrating to boost sustenance as 'pointless'. "He gives me all the excuses he can, from saying he has been ill to saying pests ate his crops. I know he makes money over there, but he has never given us. He says he is going to get us food, but he doesn't."
Dwindling hope of return
Gender remains a significant determinant of adaptability to changing realities due to cultural rules and the expectations of a women's role in society.
Oftentimes, if the option of migrating is extended to women, they tend to migrate shorter distances since it is usually harder for them to leave their children or to live away from their families. Other factors, such as discrimination and vulnerability to sexual and gender-based violence, further hinder women from moving away from familiar environments even if the conditions of staying are not favourable.
While staying behind as they allow the menfolk to travel for sustenance seems like the only option for women, Naomi describes waiting for her migrant husband's return as emotionally distressing. "Sometimes I lay awake at night begging God to bring him back. I try to let everything go, but it is hard," she sighs.
Naomi recounts that in the past six years that her husband has been away from home, her father-in-law became critically ill and she was left with handling his hospital bills as well as taking care of him all alone before he eventually died. "That was three years ago, I thought word would reach him [her husband] and he would return, but he still hasn't." Naomi assumes that Yusuf, too, may have died without her knowing.
Rahmatu, on the other hand, appears to be more unfazed by her husband's absence. The couple had agreed he would return in October, but he is two months late without a word of explanation. "It doesn't really matter. My condition remains the same even if he comes back," she says.
Through the years that Rahmatu has taken up petty work while allowing her husband to work in another town, she believes that if they had migrated together, life would have turned out to be more promising for her and her children despite being displaced.
---
Support Our Journalism
There are millions of ordinary people affected by conflict in Africa whose stories are missing in the mainstream media. HumAngle is determined to tell those challenging and under-reported stories, hoping that the people impacted by these conflicts will find the safety and security they deserve.
To ensure that we continue to provide public service coverage, we have a small favour to ask you. We want you to be part of our journalistic endeavour by contributing a token to us.
Your donation will further promote a robust, free, and independent media.
Donate Here