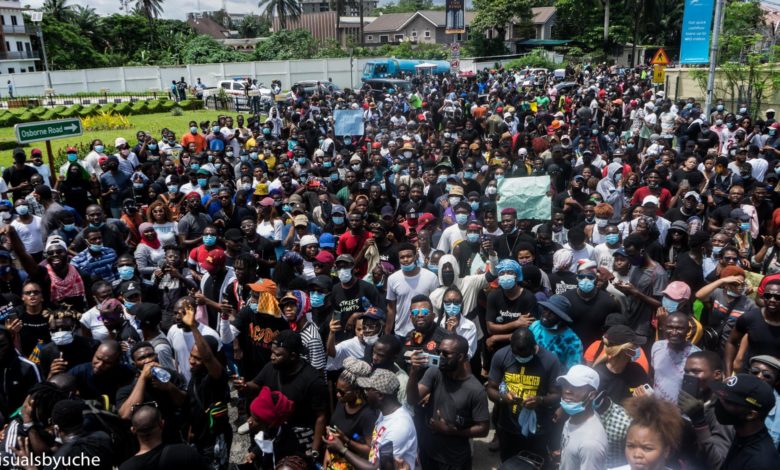 "Talk to all of us, there is no leader," Nigerians in Abuja, Lagos and every state that hosted an #EndSARS protests chanted whenever a government official attempted to negotiate on the side.
'Faceless, leaderless but united' best describes the series of protests that have rocked the nation in the last one week with young Nigerians taking to the streets to call for the scrapping of a rogue police unit – the Special Anti-Robbery Squad (SARS).
Unlike previous protests in recent times, the #ENDSARS movement has no known figurehead individual or organisational leader nor an identifiable spokesperson. It is a movement that is being championed by young Nigerians for the safety of other young Nigerians.
Although several calls to end the SARS menace have been publicized over the years, this recent outcry began on Sunday, October 4 with an online protest after videos of fresh SARS brutality hit the internet.
The entire conversation spiralled from Twitter where millions of tweets went up calling for the Nigerian government to scrap the police unit, originally created to protect the people from armed robbers.
In a bid to appease the people, Nigeria's inspector general of police issued a statement in the evening banning SARS from carrying out stop and search duties and setting up roadblocks.
Mohammed Adamu also said members of the Special Anti-Robbery Squad (SARS) must always wear uniforms.
SARS and other tactical police units have been banned from "invasion of privacy of citizens particularly through the indiscriminate and unauthorized search of mobiles, laptops and smart devices," Mr Adamu said in a statement on Sunday.
They should, he said, focus on cases of armed robberies, kidnapping and other violent crimes.
He also said that police commissioners and commanders would be held liable for the misconduct of officers in the areas they were in charge of.
'We don't want words with no action' – Nigerians
The IGP's statement was no news to Nigerians who have been told four times in three years by the government that SARS was either going to be restructured or banned.
After every official announcement, the rogue police officers return to the streets, profiling, terrorising and wrongfully detaining citizens with no regard for human life.
Following the usual government lukewarmness to the issue, physical protests began to gather momentum on Wednesday with Lagos taking centre stage.
Youths in the megacity staged a 72-hour sit out in front of the State House of Assembly while several other protests took place around the city.
Barely hours after the Lagos protests began, other states followed suit with youths in parts of Edo and Oyo state coming out en masse to call for the unit to be scrapped.
As the protests spread across states, Nigerians doubled up efforts on social media and succeeded in making #EndSARS the number one trending topic in the world on Friday.
With over four million tweets at the time of this report, the hashtag has remained on the top Twitter trend for about one week.
The demand is straightforward – scrap the rogue unit. The movement has gained some international attention with foreign celebrities and organisations jumping on the trend and calling for justice for Nigerians.
British-Nigerian actor John Boyega made a number of tweets calling for an immediate solution for SARS and is expected to join the protests tomorrow in London.
Musicians Big Sean, Trey Songz, Estelle, Chance the Rapper and Wale have also expressed their dismay and endorsed the campaign to #EndSARS.
United in diversity
For a protest without a figurehead, successes recorded have been mostly due to the shared pain caused by actions of SARS officials.
Stories of police brutality, shared by young people and their loved ones on Twitter, increased the camaraderie.
Nigerians of all walks of life have collectively flocked together to see the end of the Special Anti-Robbery Squad (SARS), as, over the past week, people involved in the movement have played a role in one way or another voluntarily.
The movement has seen young people use social media to mobilize protests, donations as well as inform those unable to take the streets in protest on other ways to contribute to the cause.
Starting off as a hashtag, over the week, #EndSARS has taken up a life of its own.
Nigerians in the diaspora are protesting on Sunday at the Nigerian High Commission in London, the Nigerian Embassy in Washington DC and Consulate General of Nigeria in New York, as well as one planned at the UN Headquarters in Geneva, Switzerland and in Germany.
Nigerians in Canada already took to the streets in Toronto on Saturday, joining the nationwide protests to disband SARS.
People have also expressed pride over Nigerians, how irrespective of ethnicity and religion are finally coming together with one voice to fight for the change they want, and finally holding those responsible accountable for their inaction.
Funds are being raised by members of the public to provide food for those who have been protesting.
In Abuja, people were seen distributing food and water, while others picked up the trash at the scenes of the protests.
Tech company, Flutterwave has provided support to enable people to donate to the cause – to support the protests by providing medical treatment for injured protesters, water, masks and securing bail for anyone arrested.
As of yesterday, almost close to N7 million had been raised, $3,845, £235 and more had been donated in other currencies.
Lawyers have also answered calls to secure the release of protesters who were on Saturday, detained in Eleweran, Abeokuta, as well as other stations where others are being detained.
At the time of filing this report, the lawyers were denied entry into the police station, and were unable to secure their release tonight, but left with the intention of returning at first light.
Some of the arrested protesters are Akinbayo Damilola, Akinola Ibrahim, Adeniyi Marcus and Ifedayo Orimolade.
Citizen Gavel, a tech company providing legal aid based in Lagos has also made provision of legal services in collaboration with other legal organisations for all those who may require it as the protests continue.
Gatefield Impact, a subsidiary of public strategy and media ground Gatefield Co., also pledged to support 10 journalists covering the #EndSARS protests and all incidents of brutality. Donations of money from individuals towards supporting journalists began coming in afterwards.
Also, in an effort to engage the older generation who are not on Twitter, WhatsApp broadcasts messages have been spread to inform them of the ongoing movement with details for donations and assistance for those who wish to help.
Again, there is no #EndSARS leader – Nigerians
Nigerians, who are championing the #EndSARS have reiterated that the movement has no leader and have so far resisted attempts by several groups to take over the conversation.
Social commentator Godwin Tom tweeted, "#EndSARS has no leader. The leader is you, it is me. It is us. All of us championing the cause for the change. Once they find one person, they will set up useless meets and deploy their divide and conquer tactics."
Activist @Oloye_ said, "There has never been a time in our history where we all stayed on a topic for so long. Everyone is an #EndSARS influencer. Every tweet is a hit because of the level of interest,
"We cannot waste this moment. We must capitalise on these and effect the change we want to see," he added.
Journalist Arit Okpo wrote on Twitter, "I love how decentralised the #EndSARS protests are. There are people mobilising, fundraising, handling logistics, amplifying. Makes it harder to hijack and divert.
"This is not about one person with a loud voice. This is about thousands of citizens who have had enough," she said.
---
Support Our Journalism
There are millions of ordinary people affected by conflict in Africa whose stories are missing in the mainstream media. HumAngle is determined to tell those challenging and under-reported stories, hoping that the people impacted by these conflicts will find the safety and security they deserve.
To ensure that we continue to provide public service coverage, we have a small favour to ask you. We want you to be part of our journalistic endeavour by contributing a token to us.
Your donation will further promote a robust, free, and independent media.
Donate Here