Armed Violence
Features
News
The Untrained 'Healer' Who Saved Men With Mortal Wounds From Boko Haram
With no formal training in medicine, Babagana Lawan was a sanitation adviser at a local health clinic in Bama, but his "healing hands" saved the lives of two men whose necks had been slashed open by terrorists. HumAngle's Accountability Fellow, Abubakar Muktar Abba, tells Lawan's story for the first time.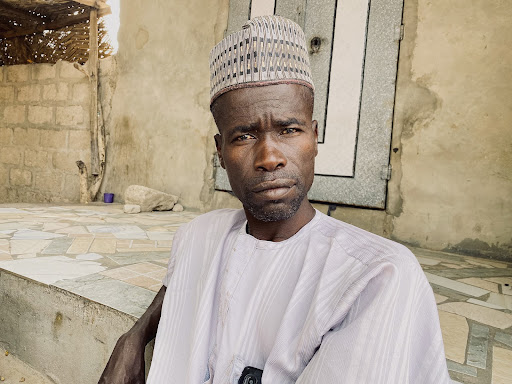 "All six victims were in a pool of blood, their arms tied behind them," Babagana Lawan said about the horrific experience that remains vividly in his mind.
It happened ten years ago in Bama, Borno State, northeast Nigeria, but Lawan remembers it clearly.
Boko Haram had taken over the area. The terrorists had gone to a mosque, tied up worshippers and stabbed them brutally, slashing deeply at their necks.
They had been left for dead. Blood was everywhere. People were desperately looking for medical help.
Lawan, a junior administrator at the clinic in Gulumba, was the only person connected to healthcare within reach.
But Lawan was not a qualified doctor, or an emergency first responder.
An Environmental Health Assistant, his normal role was to inform people of the rules of the clinic, apprise patients of the policies on refuse, and give the community information about how to keep their homes clean and healthy when they were discharged.
But during the conflict Lawan had become much more. Few qualified doctors were left, and he stepped into their scrubs.
Drawing on experience he gained at an early age watching his father at work, people began to see him as the head of the clinic. Moreover, he had stayed when others had not.
Lawan acted without hesitation.
Gushing blood
When he arrived, Lawan found four people who were clearly dead, two were still alive, but barely. He knew they needed urgent medical attention.
They got a wheelbarrow, picked up the surviving victims, lives ebbing away, and rushed them to his home. With the terrorists still in the area, Lawan reasoned his house, which was near the health centre, would be more unobtrusive.
The clinic could come under attack any minute, he thought.
Lawan assessed their wounds. He looked everywhere, the men groaning from the excruciating pain. He discovered they had deep wounds on the back and side of their necks.
Lawan dashed next door to the clinic and brought surgical instruments and other medicines required for an urgent operation, and started to work.
The stitching had to be done in the dim light of a torch. There was no electricity in the whole local government area. Boko Haram had cut it off.
He worked on the men for five hours.
His courage and determination pushed him to quickly do his best, stopping the gushing blood and stitching the gaping wounds.
The surgery was successful, the men stabilised.
"I had always believed I had healing hands," he told HumAngle.
"Despite the risk of further attacks, I performed the surgery on them until 2am and referred them to the University of Maiduguri teaching hospital at about 8am," he said.
Survivors
Mohammad Abba and Bulama Bukar were the survivors of the attack on July 4, 2013.
The vicious slaughter happened as they and others were observing their early evening prayer at the mosque.
HumAngle reached Bulama Bukar, who has never returned to Bama after being discharged from the hospital.
"It was Thursday night. We just finished the prayers. Six of us had remained in the mosque. Suddenly we heard gunshots," Bukar recalled.
"It was Boko Haram," he said, shaking his head in terror, resurrected from his memory.
"They stood in all the mosque exits and ordered us to get out and lay face down. After some time we were tied with ropes, arms locked behind."
Tears filled Bulama's eyes, "I thought it was the end of my life," he said.
Civil servant
"After a while, they started the slaughter, and everything was blank until the next morning."
He said "My only crime is being a civil servant, I was stabbed because I work for the government."
Boko Haram views the Nigerian government and its institutions as symbols of democracy which they referred to as "Taghut", meaning ungodly.
Because civil servants are part of the government, the terrorists consider targeting them as a direct attack on the state. Attacks like this are meant to demonstrate the government cannot protect its own employees.
The mosque slaughter was just one of a series of Boko Haram attacks, attempting to capture Bama. Civil servants, and anyone who could be thought of as a worker for the state was a target, many had fled. Many were killed and injured.
"Up till now, I feel pain in my collarbone," Bukar said.
Shocked
Lawan's work impressed others.
"At the University of Maiduguri teaching hospital I overheard doctors talking about the stitch on my neck, they were shocked to learn that it was not a doctor who had done the surgery," Bukar said.
Babagana Lawan's quick thinking and skill earned him respect within his community. He is considered a man of many talents.
At the time, his job of Environmental Health Assistant at the Gulumba Intensive Health Centre in Bama, was a junior administrative role that would never have seen him take responsibility for medical treatment in normal times.
But at a young age he had developed a passion for medical care while accompanying his father, who managed the primary healthcare centre in Bama. He spent a lot of time in the clinic and watched the doctors closely.
The 49-year-old said "I gained experience in medicine in the mid-1990s when I was in secondary school.
"And by the time I finished secondary school, I had already acquired significant knowledge in medical practice."
But his boyhood dream of becoming a doctor was not to be.
In 2007, Lawan obtained a certificate as an Environmental Health Assistant after working for 12 years in junior jobs at a healthcare centre.
Real test
However, his skills were put to the test when the insurgency hit Bama town. Most of the more qualified people left.
He told HumAngle during that time he treated countless gunshots, shrapnel wounds, and other illnesses in his community.
Although he has no formal training, to the people who know him, Lawan is a healer and saviour.
"Later, I got a job offer at the University of Maiduguri Teaching Hospital, but I declined," he said.
"I am now a head at a healthcare centre in Shuwari community Maiduguri, Borno state.
"I believe there are more locals to care for at Shuwari than at the teaching hospital."
Unsung hero
He doesn't share the medical establishment's surprise at the work he did sewing up those wounds.
"I am equally surprised when people say my work on the slaughtered victims surprises them, because I had always believed I had healing hands."
Lawan's selfless act saved the lives of two people who otherwise would have bled to death.
His story has never been told in the media before.
Babagana Lawan, like many others, is an unsung hero, a man who has dedicated his life to saving others, even in the face of danger.
His story is a testament to the resilience of the human spirit and a reminder of the vital role played by healthcare workers in Borno state.
---
Abubakar Muktar Abba is a 2023 HumAngle Accountability Fellow from Borno, Nigeria.
---
Support Our Journalism
There are millions of ordinary people affected by conflict in Africa whose stories are missing in the mainstream media. HumAngle is determined to tell those challenging and under-reported stories, hoping that the people impacted by these conflicts will find the safety and security they deserve.
To ensure that we continue to provide public service coverage, we have a small favour to ask you. We want you to be part of our journalistic endeavour by contributing a token to us.
Your donation will further promote a robust, free, and independent media.
Donate Here