Displacement & Migration
Features
The Struggles Of Northern Nigeria's Milkmaids
From the violence and cattle rustling in the Northwest to the impact of climate change, the milkmaids of northern Nigeria are forced to navigate a decline in the supply of milk. These are some of their stories.
From childhood, Hafsatu Muhammed's future was set – she would become a milkmaid.
Being Fulani, Hafsatu came from a nomadic background. As she grew, she had no access to formal education and, soon enough, the life of a milkmaid was the option open to her. It was the same for many others in her shoes.
But no one warned Hafsatu that she could lose this economic life she knew from birth. She didn't know that in a bid to support her family, she would endure so much frustration and grief.
"Sometimes we force ourselves to look for milk in neighbouring Fulani settlements so we can resell," she told HumAngle. "Not just because of the economic gain, but because it's the only life we have ever known."
Today, Hafsatu and several other milkmaids walk to places they hope they would be able to buy cow milk. But there is now none available and no choice but to return home empty-handed.
This loss of her business has affected Hafsatu's financial independence. Usually, she would source milk directly from the cattle owners around her and would make brisk sales.
Now the family can only depend on whatever her husband earns from his rented farm in Kajuru.
Losing everything
Once, Hafsatu had only known life as it was in a small settlement near Mararaban Kajuru, Kaduna State, northwest Nigeria.
"I have never experienced any other way of living, so leaving home was hard and painful. We can only be patient and thank God for his mercies."
Hafsatu's life before displacement was divided between her husband, Bashir Adamu, a small scale farmer to whom she had been married for 23 years, their five children, and her business – selling fresh cow milk and yoghurt in Kajuru town.
"I used to leave home to go into town around 11 am and come back home around 5 pm but now, when we do get milk; we leave around 10 am and come back around 11 am because there isn't much to sell."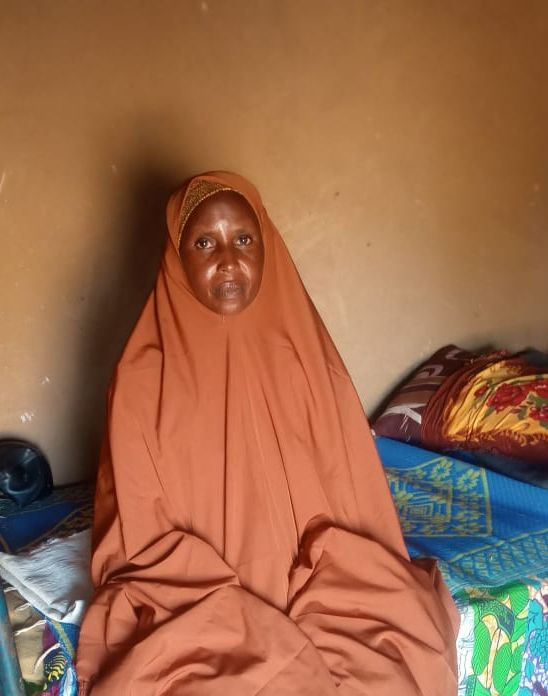 Leaving home in 2019 as a result of an attack on their settlement was a terrible experience. They lost their business, and worse, their home.
Hundreds of thousands of Nigerians have been displaced or indirectly affected by growing insecurity, armed attacks, and ongoing violence in various local governments across the northern region of the country. Fear of displacement also pushes some communities to seek asylum with relatives or acquaintances in safer places. 
"We had to escape in the middle of the night when we started hearing screams of people being attacked at the other part of our settlement, even before it reached us."
Hafsatu and her family arrived in Kajuru on foot in the middle of the night. Prior to that, they had lived in fear as a result of the rumours about numerous attacks on other settlements.
"We had some of our relatives from other settlements run away from their villages as a result of the violence. Losing so much in the process. We couldn't wait for them to directly harm us before we left," she said.
Hafsatu and her family could not return because everything had been set on fire and there was nothing to return to. There was also the risk of being attacked again if they managed to rebuild.
"We were grateful that some of our relatives and other kind people in town offered us places to stay. My family and I are still staying with some relatives.
"We used to have so many options but now things have changed for the worst."
The life of milkmaids in Kajuru has taken a turn as a result of the crisis that has plagued the area, including kidnappings and cattle rustling.
Milkmaids usually gather in one place or move around to sell fresh milk known as nono, yoghurt or millet balls known as fura or dekkere. This has been an acceptable way of life for many Fulani women.
"I cannot tell you the number of people I know who have lost their cattle and source of livelihood as a result of cattle rustling and displacement, but I can tell you many of us have had our lives changed drastically in a short period of time," Hafsatu continued.
Cattle rustling has become a menace to communities in southern Kaduna, leading to loss of lives and sources of income.
The rustlers usually move around with ammunition and weapons such as Ak47 rifles which makes it impossible for the average herder to protect himself or his property.
"I hope that this crisis ends soon, because more than anything, I wish for peace and yearn again for the simple life I had back in our village."
But Hafsatu and other milkmaids in Kaduna State are not the only ones suffering from the impact of conflict on their sources of livelihood.
Climate impact
Sitting under the scorching sun, Maraima Husseini is going through a business crisis. But unlike Hafsatu's, Maraima's is caused by the change in climate in Adamawa State, Northeast Nigeria.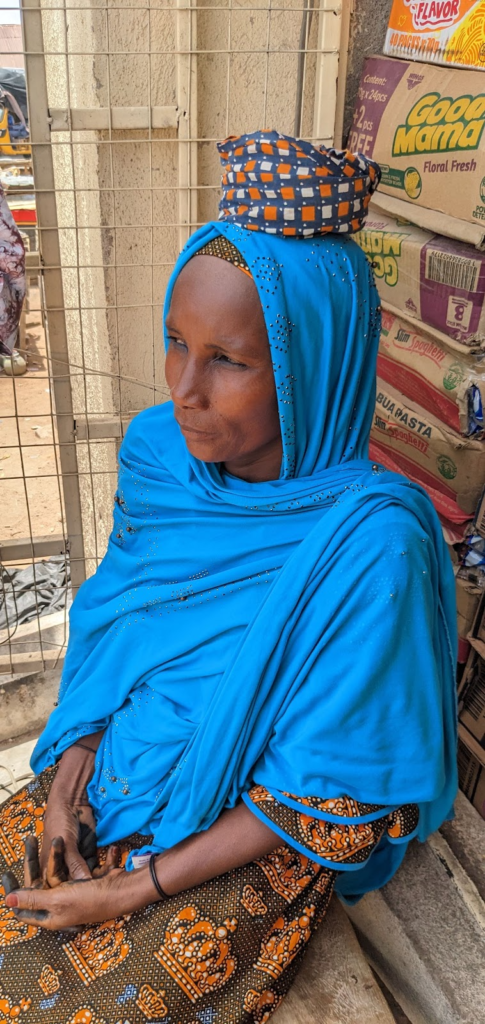 Many northern Nigerian states, including Adamawa, Taraba, and Kaduna are prone to climate change, which threatens the region with warmer temperatures. It also causes a decline in the people's standard of living, especially already vulnerable communities.
"Selling milk is the only life we have ever known. It is from this we buy soap, travel and support our relatives when they are getting married," Mariama said, adding that she started selling milk when she was 12 years old, in Taraba State.
The 45-year-old left Taraba for Baaga when she was married off at the age of 15. She has been married for 30 years.
Like many milkmaids in the region, Maraima gets her milk from the Sullubawa Fulani clan.
But prices have changed.
A small bowl of milk now costs between N3,000 and N4,000. This is due to the increase in cattle food prices, caused by inconsistent rain in the region.
"Sometimes there are cases of cattle rustling, but the biggest issue is the lack of adequate rain in the area that affects grazing and farming," she said.
Maraima usually leaves for Yola, the capital of Adamawa, at around 9:30 am and returns to Baaga around 11:30 am.
Apart from cattle rustling and climate change, the buyers also pose a great challenge.
"Sometimes, people buy milk from us and never pay back," Maraima said.
A 1994 report shows that only about 10 per cent of milk consumed in the country go through the market. With pastoralists accounting for about 95 per cent of milk production in Nigeria.
Despite having the 5th largest cattle production in Africa, the current annual market production falls below the country's demand for an average of 1.45 billion litres as a result of natural and man-made factors.
With the challenges she faces, Maraima sometimes depends on the generosity of her grown up children. "My husband's farming business is also affected by the inconsistent rains and that can cause big challenges to the family in general," she said.
The Food and Agricultural organisation (FOA) reported that about 25 million Nigerians are at risk of experiencing food insecurity in the year 2023, with about 17 million of them located in the northeastern part of the country and the Lake Chad basin.
Zainabu Jomo is the Head of the milkmaids in Kasuwan Yola. She comes into town from Baamba Garambiya, a village close to Yola.
"The money it costs to feed the cows is almost higher than what it takes to buy a cow," she told HumAngle. "Then allowing the cows to graze naturally has been difficult as a result of the inconsistent weather. But all these women cannot stop this business because there isn't anything else to do."
Natural grass is poor in protein and leads to low milk harvests which pushes the harvesters to look at other alternatives that can help with milk production.
A bag of 'dumo' grain shaft used to feed the animals which used to go for about N1,500 per bag is now N4000, Zainabu explained. Then, a much smaller bag of palm kernel powder, which greatly aids in cattle milk production is gotten for about the same price.
Rising temperatures in Taraba
Experiences like these extend to neighbouring Taraba in Northeast Nigeria.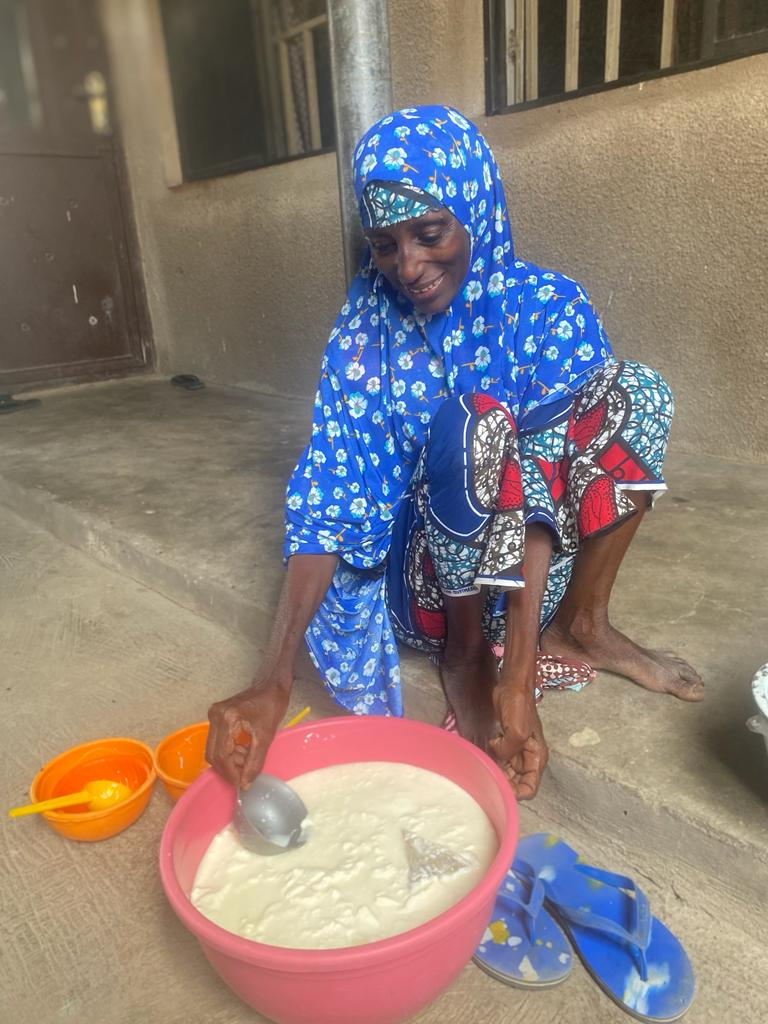 Keta Isihu grew up with an abundance of milk in the settlement of Ardo Kolawa in Taraba State. When she arrives in Jalingo between 10 or 11 am, she walks from house to house to sell her cow milk.
But business has not been going as expected due to the impact of inconsistent rains that limits the feeding of cattle and forces the villagers to send them out for grazing elsewhere. The combination of inadequate rain supply and rising temperatures in the northeastern part of the country has contributed to the loss of wetlands and a decline in plants, surface water, and animal resources.
"I never used to buy milk because we could easily get them from our cattle, but now that we are currently unable to feed them, I buy a small bowl of milk for about 3000 naira from other people and sometimes even that quantity is hard to come by," she said.
There is also the challenge caused by the increase in prices. People sometimes complain about this and refuse to buy or force them to sell at a loss.
Keta's family has currently sent their cattle with some herders to graze in far places. They can only hope they return home with enough milk so they don't have to struggle to get it from other sources.
---
Support Our Journalism
There are millions of ordinary people affected by conflict in Africa whose stories are missing in the mainstream media. HumAngle is determined to tell those challenging and under-reported stories, hoping that the people impacted by these conflicts will find the safety and security they deserve.
To ensure that we continue to provide public service coverage, we have a small favour to ask you. We want you to be part of our journalistic endeavour by contributing a token to us.
Your donation will further promote a robust, free, and independent media.
Donate Here