Analyses
Armed Violence
Featured
News
Solutions & Development
The Rise Of Self-Help Groups And How It Expands The Circle Of Violence (1)
Self-help groups or militias are becoming rampant among ethnicities in Nigeria, with some proving to be more organised than others. Here, HumAngle explores a group referred to as the 'Jukun militia' in parts of Taraba and Benue states in North-central Nigeria.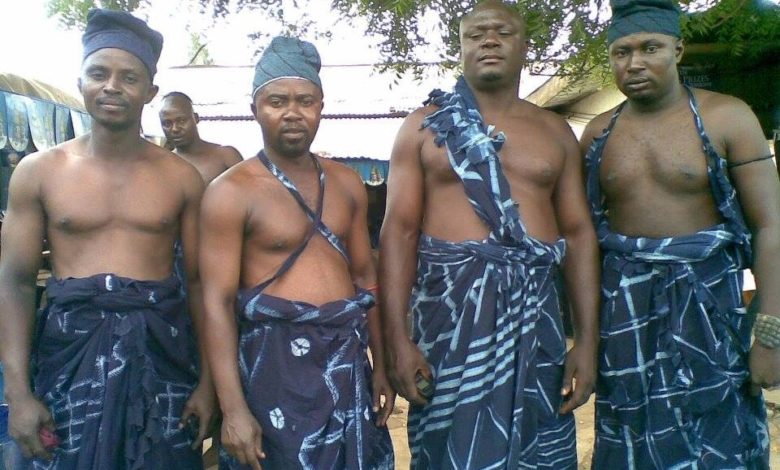 The Jukuns, who live on the upper Benue River in North-central Nigeria, are believed to be descendants of the Kororofa, one of the most influential Sudanic kingdoms during the late European Middle Ages. They speak the language of the Benue-Congo group of the Niger-Congo family.
Presently, they are known to have more dominance in Taraba State, Northeast Nigeria, compared to Benue. The Tivs, another ethnic group in North-central Nigeria,  on the other hand have greater dominance in Benue and less in Taraba. The Jukuns and Tivs have been known to experience interethnic-clashes over dominance of the areas they exist in.
According to Human Rights Watch, the conflict between Tivs and Jukuns revolved around competition for land, as well as the fight for political power and economic resources. Both groups complain of marginalisation where they have less dominance or are a minority.      
The emergence of the armed self-help group often referred to as 'Jukun militia' is not unrelated to the decades-old violent conflict between the Jukun and Tiv ethnic groups in North-central Nigeria.
The New Humanitarian noted in a 2001 article that violent eruptions between the two groups have a colonial-era history from 1959 and were also recorded in 1964, 1976 and 1991-92. These conflicts have continued till the present decade.
The article showed that violence in the second half of 2001 led to destruction by organised bands of Tivs, Jukun, and Fulanis. For example, from the first week of Sept. 2001 onwards, in particular, there was a series of attacks and counter-attacks by Tiv and Jukun armed groups, including on border towns and villages which continued into Jan. 2002. 
When it comes to the issue of assistance in times of crisis, all cultures have their traditional means of settling disputes, explained Dr Christopher Mtaku, an anthropologist from the University of Maiduguri. He pointed out that not too long ago, policemen or police stations were absent in many localities across the country.
"Even in a city like Maiduguri, there are still people who will never take their grievances to the constituted authorities like the courts," Dr Mtaku said. "They only recognise the Shehu. So there are still people who believe in the traditional way of settling disputes and, rather than go to the police, they prefer to go to the Mai Unguwa or Lawan or the Shehu to report their case."
So, does a Jukun militia exist?
Several media reports point to the existence of a militia within the Jukun. A typical example is a news story by Thisday which said an attack was carried out by a militia, although it did not specify if they were from the Jukun ethnic group. Residents, however, pointed blaming fingers at the Jukun militia.
Another report clearly stated that armed assailants suspected to be Jukun militia attacked Afogba village in Donga Local Government Area of Taraba State, 24 hours to the local government election.
Premium Times reported that people on both sides of the divide alleged the existence of a Jukun or Tiv militia.
Daily Trust also reported that the Old BB area in Wukari town of Taraba State came under attack by suspected Tiv militia, resulting in pandemonium. A resident disclosed that armed youths were quickly mobilised to counter the attack before it was repelled by soldiers and police officers.
HumAngle observed that armed self-help groups tagged as 'militia' are emerging from various parts of the country with affiliations to different ethnic groups, all in the name of defending their interests against other ethnicities. Aside the Jukun in Taraba and Benue, they are also reported to exist among the Tivs and Fulanis. 
Joel Awoke, lawyer and chairman of Jukun Wanu Association, Abuja branch, however, said he does not think the Jukun has a militia or has ever had one. "Because a militia refers to people who carry arms and go about maiming and killing people whether for a justified or unjustified course. The Jukun would never have any such militia," he said, adding that often, the Jukun defend themselves. He noted that history has shown they are peace-loving people even though they have experienced wars with several kingdoms and people before Nigeria evolved.
Awoke further said consistent attacks where victims have nowhere to run to make them stand to fight back. "When you are pushed to the wall, you have to defend yourself. This is the defence mechanism the Jukun has devised," he said.
Makai Daniel, a resident of Wukari, a Taraba border town, also stresses that there is no militia among the Jukun and describes them as a peaceful nation, who, based on their history are a warring people who only rise up when they are attacked.
"Frankly, I don't think there is a Jukun militia because what we experience are reprisal attacks," another resident, Tenmuso David, said. "I don't believe in the existence of a militia on both sides, but of a gang somewhere taking advantage of the situation. I think that is where the problem is. There are some bad elements who easily carry out operations and hide under the existing narrative. That is what I think is happening. If the two sides (Jukun and Tiv) can come together, it will help a lot. Instead, everybody is being sentimental and emotional on the whole issue."
But an account of the April 2020 attack on Jootar, a border settlement between Benue and Taraba states, by an armed group suspected to be of Jukun origin points to the probable existence of a militia. Caught on video, two natives, Mmulega Ayarda and Orveren Tordue, described the invaders of their hometown where three people were killed, many injured, and homes destroyed, as "well-armed."
According to another report, "The suspected Jukun militia stormed the border community through Wukari at about 4:00 a.m., dressed in military uniform, and started shooting sporadically." The source, a local, added that "the attackers operated unchallenged for about three hours, even though federal government special forces are stationed in Wukari, two kilometres away from the attacked community." 
The Public Relations Officer of the Benue State Police Command, DSP Catherine Anene, said it currently has no record of a Jukun militia. She pointed out that when there are inter-ethnic clashes, the police try to arrest criminals but are not aware of an ethnic militia.
"To say an ethnic group is acquiring arms and forming a militia can also be interpreted as stereotyping," Anene said. "We cannot say a whole ethnic group is responsible for raising a militia, but there are criminal elements in groups who can do such things."
DSP Anene admitted there are self-help groups who organise themselves for the sole purpose of protecting their communities or their interests. She noted that there were times those arrested claimed their intention was to fight for their group. "But we cannot say categorically that an ethnic group is sponsoring a militia," she said.
The PPRO pointed out that anytime there is an ethnic clash, the police identify criminals who form a group in the name of defending their land. She added that they do not own up to who their sponsors are and it is left for the police to begin to identify them by arresting some. This is when they usually begin to explain that they are armed because they expect attacks on their farms and families. "We have had such confessions," she said, "but we have not had groups who have owned up to having a militia."
What the police do is raid and mop-up arms from those identified in armed groups, DSP Anene told HumAngle. "Those kinds of people can decide to use arms for other reasons such as robbery and kidnapping, so when we arrest them we treat them as such. So far, no group has owned up [to being in any sort of militia]. They always say they get arms to defend themselves," she said, adding that on two occasions, the police have paraded persons manufacturing arms illegally in Kwande LGA. There are also some local blacksmiths in different locations that manufacture arms. "We have arrested and prosecuted them," she said.
The nexus with arms smuggling
The rise of militias in various parts of Nigeria is worsened by the spread and availability of arms.
On March 2, 2020, at the Presidential Villa while meeting with security chiefs and members of the Presidential Committee on Small and Light Weapons, Vice President Yemi Osinbajo said the proliferation of such weapons fuels insurgency in the Northeast and other security challenges in the country. He added that the government was coming up with clear-cut strategies to curb the illegal sale of arms.
Ben Okezie, a security analyst and columnist told HumAngle that light weapons could easily be acquired by anyone with evil intentions in Nigeria, and that they mostly come by land or sea. He pointed out that most ships passing through the country with arms stay offshore and dealers use smaller boats to meet them in the night.
"Most times, when they are coming into the country, they package the guns the same way herdsmen do," said Okezie, who pointed out that he was privileged to have been one of those who discovered the herdsmen arms transport method. "Under their cows, they tie a mattress where they hide an AK47. This could easily be mistaken for their bedding. The herders can't be the ones who buy the weapons but rather, the owners who do that to protect their herd."
According to Okezie, the pirates use similar methods and await the appearance of a ship in the high sea because they are aware most that transport goods carry illegal arms. 
The security expert added that another route is Nigeria's many porous borders, from the fringes of the West to the North, and then through the Cameroon area. "It's a lot of work for Immigration and Customs who are unable to cope," he observed.
Just like drug dealers, gun runners have a cartel that distributes weapons, Okezie explained. He noted that an AK-47 currently sells between N9,000 to N1.2 million, possibly up to N1.5 million, while pump-action guns go for between N500,000 and N700,000.
The good thing, he says, is that Nigeria's customs service sometimes discovers such illegal weapons in containers and should be applauded for that. But "sometimes they filter into the city and that is where the police and DSS come in and carry out mop-up operations."
It would be recalled that in February, Bauchi State governor, Bala Mohammed, made a controversial statement that Fulani herders bear arms for self-defence due to their nomadic lifestyle. Before then, Governor of Taraba State, Darius Ishaku, asked the federal government to allow Nigerians to bear licensed arms to defend themselves because security had degenerated in the country. 
How effective is the effort of law enforcers to ensure guns do not get into the wrong hands and what role is the government playing to ensure the lives and properties of citizens are secured? What happens if communities rise up to protect themselves or armed groups or militias continue to emerge among them to protect their interests through violence?
Okezie, who pointed out that respected members of the society are able to get licensed weapons such as a double-barrel or pump-action, emphasised the importance of community policing where members of the society have access to their Divisional Police Officer (DPO) or area commander. "Anybody, even a secondary school student can join community policing and be helpful by providing intelligence information to the police in his area. It's that simple," he said. 
---
Support Our Journalism
There are millions of ordinary people affected by conflict in Africa whose stories are missing in the mainstream media. HumAngle is determined to tell those challenging and under-reported stories, hoping that the people impacted by these conflicts will find the safety and security they deserve.
To ensure that we continue to provide public service coverage, we have a small favour to ask you. We want you to be part of our journalistic endeavour by contributing a token to us.
Your donation will further promote a robust, free, and independent media.
Donate Here