Armed Violence
Featured
News
The Polarised City (5): How Jos Residents Found Their Way Home
Many left their homes to build another during a decade-old conflict in Jos, Nigeria. Today, they tell the story of how they rise above their sad experiences, economically and socially.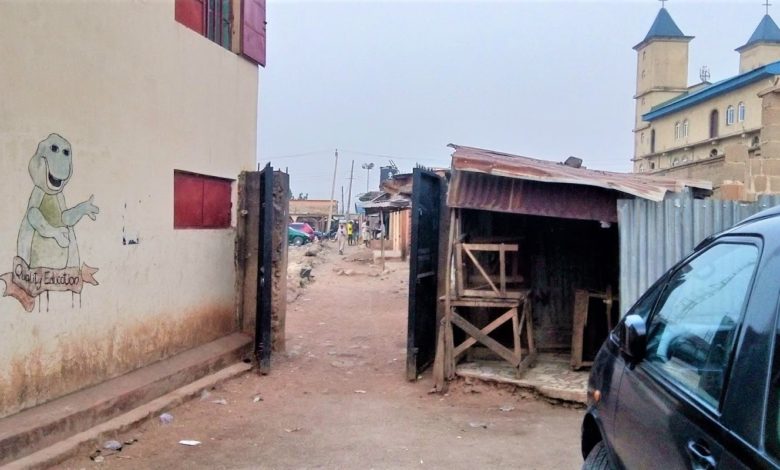 In Chwelnyap, popularly known as Congo-Russia, Dang Choji witnessed the beginning of bloodshed that would later polarise Jos, an often-cold city in North-central Nigeria.
Almost at the same time, in Rukuba, after hearing rumours of trouble, Hamza Uwais dashed out of a mosque where he had just observed the Friday Juma'at prayer, and hopped on his motorcycle.
That same day in Tudun Wada, Paul Felix Pam wrestled with his aunt who held on to him as he tried to cut short his visit and return to his family in a volatile area.
It was Sept. 7, 2001, and it would take years of effort by some communities greatly affected by the ethnic and religious upheaval in Jos to achieve some semblance of unity in the polarised capital city.
The genesis
On Sept. 7, 2001, Dang Choji witnessed an incident outside a mosque in Congo-Russia that stirred the embers of violence in Jos and led to the death of about 1,000 people. "Before then, there was an appointment given to a Hausa man, Mukhtar Muhammed, from Jos North, as local coordinator of the Federal Poverty Alleviation Programme, which some indigenes opposed," he says, adding that this had already prepared the ground for conflict.
Several reports have attempted to analyse the cause of conflict. One described the 2001 crisis as a dispute "over the 'rights' of the indigene Berom/Anaguta/Afizere (BAA) group and the rival claims of the Hausa-Fulani settlers to land, power and resources."
Another found that "among the root causes of much of the inter-communal violence in Nigeria are government policies that discriminate against 'non-indigenes,' people who cannot trace their ancestry to the original inhabitants of an area — essentially relegating millions of Nigerians to the status of second-class citizens."
How they were divided
Hamza Uwais, born and bred in Unguwar Rukuba, was popular for his football skill. 
His father, a trader in general merchandise including automobile spare parts, was the type of person who threw his doors open to people in the community. He was well-respected in the community. The senior Uwais was the discipline master of Jama'atu Nasril Islam (JNI), the state chapter of an association that represents Muslims.
Before the tragedy, Uwais enjoyed many Christmases and Sallah with friends and neighbours in Unguwar Rukuba. They were mostly Christians and there had never been a reason to hate one another. 
What started as rumours describing the trouble in Jos as a communal, tribal, or religious clash soon became apparent to Uwais Junior; it was mainly his religion that was likely to make him and his family prime targets.
At home, Uwais met his family and Muslim and Christian neighbours, and the talk was centred on how they would protect themselves if the violence spread. That night, his family could hardly sleep as they were living in a predominantly Christian neighbourhood. And then morning came with graphic news – Smoke billowed from afar and it was torture waiting to see how events would unravel.
"We lived on the edge of Rukuba, somewhere at the junction," Uwais tells HumAngle in the premises of the University of Jos (Unijos) where he is currently pursuing a degree in Adult Education. "We heard that Muslims were being killed and their houses set ablaze inside Rukuba."
The older Uwais died immediately after his son finished his Senior Secondary School exams in 2000. And when the riots consumed Jos in 2001, it took the Uwais's home with it.
More terrible news
As the crisis was beginning to unfold, a curfew was imposed. Still, the security agencies found it difficult to control the situation. Fortunately, Uwais and his family remained safe. The Mai Unguwa, who was the traditional head of the community, and their Christian neighbours, played an important role in this regard.  
A few days later, Muslims began to move out of Rukuba. But Uwais's Christian neighbours promised to let no harm come to them. For this reason, the Uwais household spent several more years in Rukuba, until 2008, the year Hamza would never forget.
This time around, the trigger was not Congo-Russia but Dutse Uku, Jos Jarawa. "Inside Rukuba, Christians and Muslims engaged in face-to-face fighting," Uwais narrates. "Soldiers tried to rescue Muslims who were a minority. Their homes were set ablaze."
It was at this point Uwais knew they were no longer safe in Rukuba. But while his family left, he stayed behind. Unfortunately, someone spotted Uwais and shouted that he was home. That was when he grabbed one of his mother's bags and fled with a cut to his hand that left a permanent scar. He later learned about the futile effort of the Mai Unguwa and other Christian neighbours to stop the mob that set their house ablaze.
In 2009, the family accessed their house with the hope of renovating it but this never came to pass. The 2010 crisis made their relocation permanent. They have since said goodbye to Rukuba and now live in a predominantly Muslim area in Nasarawa called Yan Shanu.  
"It's just a major road that separates us from our old neighbourhood. When there's tension, people of both faiths gather on each side of the road," Uwais says. Today he makes a living selling fairly used clothing, among other items, in Katako Market.
The ethnic dimension
Like Uwais, 32-year-old Paul Felix Pam lost his father before the first major Jos riot in 2001 that drove his family from Nasarawa Gwong to Tudun Wada, a part of Jos dominated by Christians.
Brought up in a polygamous home, a house with up to 20 rooms, Pam was the first of three siblings from his mother. So, naturally, he became the man of the house at a young age. For this reason, he stopped school at about age 14 and worked at construction sites to help his uneducated mother support the family. Later, when their income improved, he continued his education.
Like Uwais, Pam loved football and organised Christian versus Muslim matches in his neighbourhood. Sometimes, he helped his Muslim friends hawk at Christian homes they could not access.  
At that time, Pam's paternal aunt lived in Tudun Wada and her son usually spent some holidays with them. But the day he took his little cousin back home was when the crisis broke out. After witnessing attacks at Terminus, the two got to Tudun Wada where Pam narrated what happened to his aunt before they switched on the radio.
"That was when we heard the mention of Congo-Russia and Nasarawa," Pam says. "I knew I had to return because my family was in a Muslim dominated area."
But this did not happen. Pam's aunt grabbed hold of him and begged him to stay for his safety. In Tudun Wada, many Muslims were killed and Pam feared for his family. To make matters worse, none of them owned a mobile phone then.
As a result of the 24-hour curfew declared by the Plateau state government, Pam was able to return after some days. He learned that his family had sought refuge in a Baptist church in Nasarawa Gwong, close to the police station.
During that period, some movement was allowed and the then-governor, Joshua Dariye, went round saying everywhere was calm and people could go back to their houses. The same day, Pam's family returned to their home.       
"But this turned out to be a big mistake," Pam recalls, "because the next day became one of the bloodiest. A thick cloud settled over Jos the next morning. To date, I have never seen such darkness as rainfall. Touts used the weather as cover to attack. People were killed and houses burnt."
The attackers were not familiar faces, and some ethnic groups, like the Yorubas, were spared, but indigenes were killed. Later, this ethnic dimension to the crises would indirectly save Pam and some of his family members who were Berom.  
When the touts were about to burn down Pam's house, they argued for what seemed like 30 minutes with his Hausa Muslim neighbours who refused to let the strangers carry out the act. In the commotion, one of Pam's neighbours was injured.
Pam had an uncle who was with them at the time and advised that the entire family should stay indoors. But when their attackers threw locally made bottle bombs, the family tried to get out. Finally successful, they realised two of Pam's younger siblings were still inside because they had hidden under a bed.
By this time, their Yoruba neighbours were assisting each member of Pam's family over the fence and into their residence. This was when Paul's uncle was spotted by the attackers and he fled, leaving the two children behind. When he returned moments later in a police van, it was too late. The boy had died under the bed while the girl followed three days later in the hospital.  
Pam and his immediate family had to start afresh and swapped houses with a Hausa family whose house was also partially burnt in Tudun Wada.
The family's clothing came from donations from the Baptist church. "I remember getting five pairs of trousers and a mattress," Pam says.
Today, Pam has a white-collar job, and together with his family, they try to pick up pieces of their lives again.
The economic angle
There are more stories of elderly residents like Margaret U. Daniel, whose home escaped the series of riots until 2010. Her family of seven had to relocate to Busabiji from Ali Kazaure in Unguwar Daliop, an area mostly populated by Christians but surrounded by Muslim communities. They were fortunate when the arsonists knocked on their door and asked them to leave before setting their house ablaze.
Burnt houses are still sold today in Ali Kazaure. But Mrs Daniel and her family have refused to sell theirs at what she describes as a paltry sum of N2 million, even as some of their former neighbours sold as low as N1.1 million or N1.5 million.
Mrs Daniel's husband is retired and she has tried her hands in a not-so-profitable trade of selling foodstuff. "We are barely able to eat two meals a day, but we're grateful to God," she tells HumAngle.
Then there is Tongryang Christabel Dika, 32, whose family left Unguwar Kade, also in Ali Kazaure for Busabiji after their house was burnt on Jan. 17, 2010.
The Dikas are a family of two women and a widowed mother who is a church cleaner. Tongryang, who is the eldest, is an entrepreneur today.
Some Jos residents like Binyamin Lawal, 35, relocated from Rukuba to Rikkos after the 2002 crisis further polarised the city. A Yoruba Muslim, he speaks fluent Hausa and describes himself as an "acculturated Hausa man."
Lawal's family, like many others, swapped their house and moved into an uncompleted building without doors or windows. "We are still trying to complete the house today," he says. "We struggled to feed and clothe ourselves, and initially dispersed to live with different relatives before we moved into our own home."
Passionate about learning, Lawal struggled to pay his fees through Unijos, where he had his first and second degrees in the Department of Religion and Philosophy. After attempting for years, he eventually won a scholarship to study at Freie University, Berlin, Germany, and is currently a PhD student of anthropology.
An anthropologist's view
Although a victim himself, Lawal explains the situation in Jos from an anthropologist's perspective. 
"I think it's a fight for space, whether the Plateau, Jos, or Nigerian space, and this has to do with our nature as Nigerians," Lawal says. "We think of what Nigeria would contribute to us and not what we will contribute to our country. Whenever we have a space we think is ours, we don't want another person to share it with us."
He further adds that it is this struggle for space that has led to discrimination among people because each entity thinks the other is trying to take part of what belongs to them. "That is why a typical Northerner finds it uncomfortable to accommodate a non-Hausa and non-Muslim. Now, having Jos situated in the North, populated by predominantly non-Hausas and non-Muslims, created the feeling that there was a need to hold onto the space with that in mind. This is where there is contestation," Lawal says.
He points out that this has a religious and ethnic dimension. However, what originally caused the division was ethnicity, but because the ethnic group considered outsiders are Muslims, it took a religious dimension.
Lawal uses himself as a case study: "For example, I have become more acculturated with the Hausas, not because I am from the North, but because I share the religion practised by most Hausas."
"So, when you think of me, you don't think of me as Yoruba but a Hausa man. Whenever I find myself in a space where there are Hausas, I am accommodated. So, the problem has different dimensions. The crises in Jos are linked to this issue of space, and that is why each side tries to dominate."   
---
Support Our Journalism
There are millions of ordinary people affected by conflict in Africa whose stories are missing in the mainstream media. HumAngle is determined to tell those challenging and under-reported stories, hoping that the people impacted by these conflicts will find the safety and security they deserve.
To ensure that we continue to provide public service coverage, we have a small favour to ask you. We want you to be part of our journalistic endeavour by contributing a token to us.
Your donation will further promote a robust, free, and independent media.
Donate Here