Armed Violence
Featured
Features
News
Solutions & Development
The Polarised City (4): How Jos Neighbourhood Watch Makes Christians, Muslims Their Brother's Keeper
The ethno-religious crises in the city of Jos, North-central Nigeria, turned once-peaceful neighbours into enemies. But an initiative launched in 2018 by a neighbourhood watch, where Muslims guard churches during Christmas and Christians on Sallah day, tries to bring its people together again.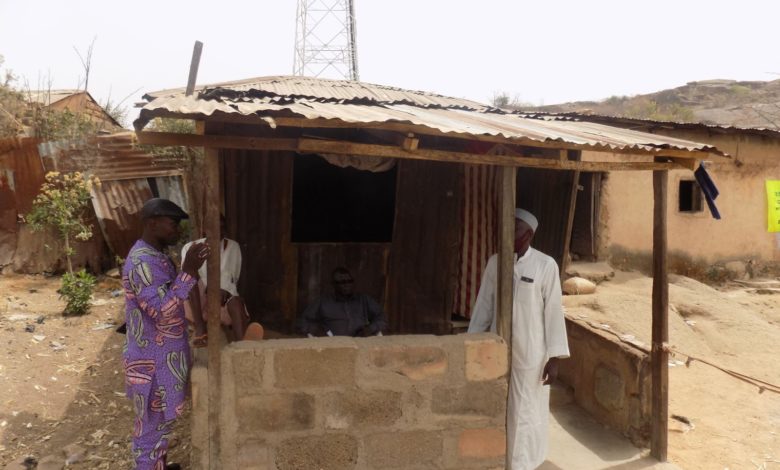 A mob spoiling for confrontation, made up of Christians on one side of a major road, and Muslims on the other, is what Ayuba Luka Maigari easily remembers about Dutse Uku, located in Jos North Local Government Area (LGA) of Plateau State, Nigeria.
In the same part of the city, Idris Khamis Mangalle had grown up playing football in a mixed community. He was the football captain, a position he earned after teammates chose him without minding his language or faith.    
But things quickly changed after the Sept. 2001 ethno-religious crises in the state.
Maigari, who is Christian and a policeman, and Mangalle, a Muslim, found themselves on both sides of the fence as youth leaders, a development consolidated by the establishment of a neighbourhood watch, which adopts a security strategy that involves guarding worship centres using members of a rival faith. 
Road of division
Dutse Uku is made up of Muslims and Christians mostly separated by a major road; Maigari, who is currently the Christian youth leader, tells HumAngle.
So, whenever there was renewed conflict, from 2008, 2010 and beyond, the road served as a no-crossing boundary between the two groups.
Subsequently, with the efforts of elders from both communities, a Muslim/Christian Peace Forum aimed at bringing about lasting peace, was set up.
The reasons were glaring, Commander of the Plateau State Neighbourhood Watch and Public Relations Officer (PRO) of the peace forum, Isma'il Shu'aib points out.
"Since 2001 there has been division, especially in Nasarawa Gwong, Rukuba, from en Shanu to Tina Junction, Dutse Uku to Baptist," he says. "There were barricades. People from both groups could not go beyond because there were hoodlums always ready to create chaos."
In 2018, divisions became more obvious due to the crises and targeted killings of individuals, leading to retaliations by both Muslims and Christians. "Once, a Christian was attacked by some Muslim youths who claimed that Muslims were being killed in Rikkos," Maigari says. "But some other Muslims took him to a hospital where he later died." 
At that time, Mangalle, the present Muslim youth leader, and Musa Hassan, the Divisional Police Officer (DPO), Nasarawa Division, were there to douse the tension. To achieve this, the situation was kept away from the public.
"It was late in the night that the corpse was moved to a morgue," Mangalle explains.
A similar incident occurred during an election where a Muslim was killed.
As such one-off killings threatened the peace of some Jos communities, the people of Dutse Uku reached a resolution backed by a written agreement between Christian and Muslim leaders. It says that if a member of either faith is killed in the community, elders in that area will be held responsible. To make this more binding, traditional heads were made part of the agreement.   
From then onwards, if a Christian committed a crime, Christians joined hands with Muslims to apprehend him, and vice versa. Sometimes they passed judgement together.
"If there's a need to pardon, they do so. If there's a need to imprison, they follow due process through the court of law," Maigari adds.
At another time, a 43-year-old woman's corpse was found. If this had happened before the peace efforts, religion would have been brought into it and accusing fingers pointed at members of the other faith. Situations such as this have sparked off crises in the past, Maigari explains.
"Then again, the neighbourhood watch reasoned that some people were gaining from the crises while ordinary folk were losing a lot," he says. 
As a football captain, Mangalle was worried when the crises brought about disunity in the sport he loves, as teams became polarised along ethnic and religious lines.
"The Christian team became Homas, and the Muslim team Dutse United," he says with a shake of his head. "I resigned."
Later, as the neighbourhood watch strived for peace in the community, Mangalle was chosen as Dutse Uku's Muslim youth leader.
When he wanted to vacate the seat, both Muslims and Christians kicked against it, a clear sign that some progress was being made. With time, he became a mediator for members of both religions. 
During a crisis, Mangalle would dash to where Christians were and initiate peace talks, and he has never been attacked, even though he is a Muslim.
How it works
The neighbourhood watch comprises Muslims and Christians. It also includes both men and women.
It has police backing, which enhances their work, particularly in Dutse Uku. Before then, they dealt directly with the police in gathering information. This led to the founding of community policing which is key to the Jos situation, says Jonah Kumret, Vice Chairman of the Police Relations Committee (PRC), Plateau State Command.
He points out that the neighbourhood watch is different from a vigilante. "It's a baby of the PRC, which made no-go areas accessible," Kumret explains. "During a particular Sallah [annual Muslim festival], we asked the Christians to guard mosques, and then Muslims [guarded] churches during Christmas. We have had mild crises since then."
Today, the effort is a combination of the neighbourhood watch, hunters' association, and other groups who were brought under one body and currently work under the police with the supervision of the PRC.
Although the DPO, Nasarawa Division, Musa Hassan, declined to make an official statement, HumAngle gathered that he has been instrumental in some of the approaches the neighbourhood watch has employed.
Once when a meeting was held in 2018, it turned emotional. "Youths jubilated in Unguwar Rogo because those born there had to leave due to the crises. People shed tears and took pictures together," Shu'aib narrates. "Some could not believe that they were in the middle of Unguwar Rogo, a Muslim dominated area. They embraced one another."
From then, the neighbourhood watch launched a campaign to discourage religious segregation, and with time business flowed because people from both sides could now trade across what was formally 'enemy lines.'
At present, Christians and Muslims mingle in Dutse Uku's marketplace. Also, residents of different faiths live next door to one another, a sign of progress that is hard to find in most parts of Jos like Unguwar Belakazai and Mai Damisa. Though these two communities divided along religious lines currently interact peacefully, they remain Christian/Muslim settlements respectively.
Yohanna Azi, who is in his 70s, is a typical example of how far Dutse Uku has come in its journey towards unity. Although his house was burnt in the 2001 crises, he and his family still live with their Muslim neighbours.
Then the neighbourhood watch introduced a unique approach where Muslim members served as security personnel at churches, particularly during Christmas, and Christians did the same on Sallah day. But this got some mixed reactions.
Their brothers' keepers
In Rikkos, Helen Joseph Inyam was worshipping at Saint Gabriel Catholic Church back in 2019 when she learned that Muslims were outside to provide security for them on that Christmas day. They came wearing blue shirts and black trousers, although some were in completely black uniforms, she recalls. "I was glad. People were shocked though when they saw them." 
But, unlike Helen, Chidebere Amadi, a photographer, had a different experience. He too was part of a church service, but this was in 2020. To date, he remembers the occasion with misgivings. "In my heart, I wasn't comfortable," he says. "You don't know what is in people's minds."
Amadi says he experienced fear and complained a lot. "We can be able to trust them, but they can't trust us. As a Christian you can't go to guard a mosque, it won't work. They won't trust us," he insists. As far as he is concerned, it is difficult to mend fences because they are like a broken marriage.
At present, Amadi is still uncomfortable when he sees Muslims guarding churches because he does not trust them. "I have even faced the neighbourhood watch and told them I am not okay with the idea," he adds.
Sunday Ponfa's role as a security guard and member of the neighbourhood watch at his local church allowed him to witness events from a unique angle. From the beginning, he saw the fear and distrust on the faces of congregants when some asked him to stay alert. Ponfa observed that even the Muslims who came to guard the church were afraid.
But Ponfa's experience did not stop there. After the church service, he noticed how tension on both sides dissolved and the mood turned celebratory as Muslims and Christians sat and ate together.
"The neighbourhood watch does this till today, but there's no complete trust," he points out.
The police do not permit the neighbourhood watch to carry firearms, so each person makes do with a jack-knife or a stick, explains Framah Ezekiel, who is a Watch member as well as an office assistant at the University of Jos (UNIJOS).
Another member of the Watch, Sikiru Garba, who worshipped at Al-Hilal mosque at Rikkos in 2019 when his colleagues were on duty, found it difficult to differentiate between who was Christian or Muslim. "I simply saw them as one," he says.
More work
Despite the progress being made, Babawo Lawal, the Watch's Operation Commander, Nasarawa Division, insists the general society has a bigger role to play.
There is the matter of upbringing and the inability of parents to meet the needs of their children. "This lack of parental care breeds touts," he says. "Another is marrying multiple wives and giving birth to children they can't take care of."
So, while efforts such as the neighbourhood watch, Music Plus Football, and several others have attempted to unite the people of Jos, some children still grow in the vulnerable environment without proper parental guidance.
"We, the neighbourhood watch, are taken to court sometimes when we tackle such youth and we have to foot the bill," Lawal laments. "We also buy uniforms for ourselves. But we are not doing it to get support. It's for our children."
A typical example of the havoc youth in the society could cause happened in 2019 where a member of the Watch, Babatunde Abdulazeez, almost got trapped in a fire trying to disperse a crowd that attempted to burn a church. "We knew the implication. It could have spread to other buildings and led to reprisals," he explains.
But there is still hope with stories such as that of Abdulazeez and Framah, who, like her Muslim colleagues in the Watch, does her share of keeping an eye on mosques, especially during Sallah.
"The first time I went on such an assignment, I didn't find it easy because I thought I could be attacked," she tells HumAngle. But no such thing happened. Instead, the strategy seemed to bring members of the neighbourhood watch together in a manner she did not envisage.
When a Christian member of the Watch dies, members gather for the burial, including Muslims who stand in front of the altar with the coffin during burial service. "We thank God for the peace," she says. "Unlike before, now I enter Muslim dominated areas freely."
---
Support Our Journalism
There are millions of ordinary people affected by conflict in Africa whose stories are missing in the mainstream media. HumAngle is determined to tell those challenging and under-reported stories, hoping that the people impacted by these conflicts will find the safety and security they deserve.
To ensure that we continue to provide public service coverage, we have a small favour to ask you. We want you to be part of our journalistic endeavour by contributing a token to us.
Your donation will further promote a robust, free, and independent media.
Donate Here