Armed Violence
Featured
Features
News
Solutions & Development
The Polarised City (3): Jos Settlement Where Drugs, Prostitution Bind Youths
In Congo, located in Jos North Local Government Area of Plateau State, North-central Nigeria, drugs and sex appear to create a bond among youths in a city where incessant ethno-religious violence has made a mockery of what it once stood for - a home of peace and tourism.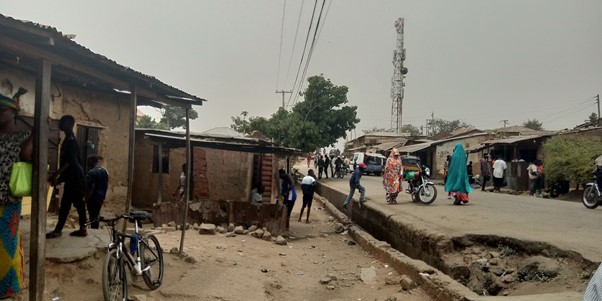 Young women, like Nafisa, 25, in Congo's popular lodge are not particularly dressed like sex workers, and they may not admit they are.
Many young men on the streets, such as Makeway Markus Zang, 27, dress like hip-hop stars, and they are less likely to hide their trading or use of drugs, which is big business and a common indulgence among young people in the locality.
But the lifestyle in Congo and the neighbouring Congo-Russia settlement, which revolves around drugs, sex on the streets, and more is what binds the young.
Although, like some other parts of Jos, there are trained peace ambassadors such as Dang Choji who champions a storytelling initiative to unite Christian and Muslim youths, the lifestyle in Congo appears to be the bigger influencer that blurs ethnic and religious lines.
Hooked
Nafisa likes her codeine and other drugs, especially the one she calls rochi. Alcohol does not fit her system, she admits.
When she is intoxicated, Nafisa is known for picking fights. This earned her the nickname Masifatu (loosely meaning troublemaker in Hausa) among her colleagues.
But Nafisa's story does not begin here where sex is cheap, where drug abuse is the norm and the stench of sweat and marijuana lingers, but elsewhere, under the wings of a soldier husband.
Congo's popular lodge has a wide front porch leading to a large parlour where young men watch TV, some blowing smoke from their mouths to the ceiling.
Inside the compound, Nafisa, seated among a group of women, rises and puts on her hijab as she approaches. As she shares her story with HumAngle, one of her hands continuously scratches at different parts of her body.
Years ago, Nafisa got married to a soldier who treated her in a manner she believed no well-meaning husband should. He had a habit of buying a carton of codeine and other drugs for her.
"And I used to ask him, 'oga, if you love someone, won't you buy a little of this stuff and more of something else?'" she says.
But he did not seem to pay attention and Nafisa began to worry about her growing addiction. She did not want to have children who would be insulted outside their home for having such a mother.
By the time Nafisa's husband was posted to Kaduna, she had already made up her mind to get a divorce. That was how she returned to Jos, where her parents were.
But now she appears to be stuck because she visits Congo's popular lodge often.
"I have been coming here for many years. It has its good and bad sides," Nafisa says. "The good thing is, if you're hungry and the wayward men come around, you can ask for N200 for food. If it's drugs, they won't give you."
Nafisa has a problem with being called a prostitute. She reveals that she now sleeps with men cautiously.
"Sometimes, the people I give my body to for money don't respect me and badmouth one outside, so I try to avoid it," she explains. "The Muslim men always demand sex when you ask them for money, but the Christian men can give you money without asking for sex in return."
A typical example is Dang Choji, a Christian. One of the peace ambassadors trained by Youth Initiative Against Violence and Human Rights Abuse (YIAVHA), Choji has lived all his life in Chwelnyap, better known as Congo-Russia, a neighbourhood that is part of Congo and only different in name.
Dressed in a clean white shirt, dark trousers, and spotting dark shades, Choji's strides are confident on the streets of Congo, a place he calls home with pride.
There are, perhaps, not many young people who have blended into the life of Congo without being a part of its controversial ways like Choji. He has partnered with YIAVHA since 2020 and presently chairs an interfaith committee that visits communities where they preach peace and build confidence through intergenerational storytelling.
Aside Congo, Choji's team are presently working in 20 Jos North communities where they also pay attention to schools. They bring together children from the ages of 13 to 18 into a classroom where an elder relates experiences about the pre-crisis period in the city.
"We tell stories about how we once used to live in peace and celebrate Christmas and Sallah together," he says, a strategy that is recording some success in various parts.
Congo/Congo-Russia
Before the 2001 crisis, Chogi narrates, Muslims and Christians from Congo-Russia and Unguwar Rogo held competitions in a Christian prayer house before Christmas. During Catholic Bazaars, Muslims also attended. In the event of a clash, it was never about religion because those from both faiths were usually on both sides defending their communities.
Years later when the city was engulfed in ethno-religious crises, Non-Governmental Organisations (NGOs) such as the Peace Building Agency, and Search for Common Ground made some efforts. There were also dialogue platforms set up by youth groups, religious and traditional leaders.
"The NGOs worked on the people's minds," Chogi says. "Now in Congo, you can't always differentiate between a Muslim or Christian even though the crises have greatly affected the people."
But Chogi points out that the drug business is intense and has played a significant role in bringing the settlement's youth together. As a result, after the 2001 bloodshed, some pockets of riots did not spread to Congo.
Every Wednesday, an interfaith meeting called 'Living Together', gathers youths and older people in one place. Among other activities, with youths from Tudun Bera and Unguwar Keke in attendance, they listen to a peace programme on Unity FM during which they call in and make contributions.
"We have youth groups, a committee within the community where we elected leaders currently working at curtailing the drug business and safeguarding the community," Choji explains.
But drug peddling, addiction and prostitution in Congo has become a norm and remains difficult to curtail despite these efforts. The name Congo and Congo-Russia did not stick without cause, almost totally erasing the neighbourhood's original name, Chwelnyap.
Choji, who is also a graduate of history, recalls oral traditions passed down about his community.
In the 1970s, there was a military barracks close to Congo. As a result of this, military personnel made a habit of visiting the settlement to relax. Even at that time, the lifestyle in the area was such that fights always broke out and a life-less body lying on the street was a frequent occurrence.
During that period, Nigerian soldiers who returned from peacekeeping missions in Congo and other countries said life in Chwelnyap was like that of Congo. Also, because of the war in Russia, the name Congo-Russia soon stuck.
Thriving drug business
Zang, one of the youth leaders in Congo, runs a profitable drug business. Born and brought up in the same environment, he has been in the business for about five years now and is motivated to continue because the trade fetches him up to N10,000 daily.
Somewhere within Congo, Zang gets his supply of drugs and does not need to venture far to restock. All he needs to do is rise early in the morning and meet his contacts before the streets are flooded for the day's business.
"I know my customers and my customers know me," Zang offers simply. As far as he is concerned, "selling drugs here is a job to us," and more importantly, he uses the income to take care of his two children.
Although Zang deals in drugs and has a group of "boys" selling for him, he plays an important role in coordinating youths in the area, a contradictory influence in a place where some leaders are working to curtail the drug business.
Community effort
Another effort made to bring long-lasting peace among Muslims, Christians and across ethnicities in Congo is the establishment of the Muslim/Christian Forum.
Formed by clergies from both religions in Nasarawa division, it is headed by Ibrahim Choji Yusuf, Ward Head of Chwelnyap.
Set up in 2015 and in conjunction with the Nasarawa Police Division, the forum worked at getting the people in all the settlements to learn to look at crime as an atrocity without attaching it to a religion.
"Now you will discover that a Muslim may have one house at Chwelnyap (Congo) and another at Unguwar Rogo. People started swapping houses," Yusuf says, adding that after observing this, they decided they must find a solution.
Congo-Russia is where the 2001 crisis was triggered, its Mai Unguwa (community head), Yahaya Musa chips in. But today there is relative peace in the area, a change he believes has come to stay.
"The reconciliation in the state also began here," Musa reveals. "Any destruction here is caused by visitors. We have made a lot of efforts amongst ourselves to stop the fight. God willing, we will not have any such incident again. And just as the fight started here, the peace that began here will heal the entire state by God's grace."
Despite some of the gains recorded in this part of Jos,  there is still evidence of past destructions during ethno-religious riots, especially at an area known as Congo junction.
Still, not giving up, individuals like Pam Bala, Secretary Joint Christian and Muslim Forum, are involved in the sensitisation of Muslims and Christians on the negative impact of clashes between them.
Bala recalls when five imams and reverends preached in Congo and about five youths promised not to go back to abusing drugs. Eventually, some of them left the settlement and vowed not to be involved in armed violence again. "This is one of the most vulnerable communities in Jos," he says. "Many youths smoke Indian hemp, and there is the issue of child prostitution."
Toma Maisamari, an immediate past youth leader in Congo, says organising end of year celebrations and other activities has helped in uniting the different religions to a certain extent. He, however, admits that marijuana plays one of the most important roles among the young. "Even when we don't take drugs, we interact with them and sensitise them on the need to live in peace," he says.
Maisamari laments that although Congo-Russia does not have a pharmaceutical company that manufactures drugs or a farm where marijuana is cultivated, drugs continue to get into the hands of end-users in the community.
"The security personnel are not helping matters. They are compromised," he says. "These drugs don't fall from the sky, they pass through our major roads."
The community has called the attention of drug peddlers to the dangers, Maisamari explains. The leaders have also collaborated with the police, National Drug Law Enforcement Agency (NDLEA), and neighbourhood watch. "But the problem persists," he says.
Uba Gabriel Ogaba, Plateau State Police Public Relations Officer (PPRO),  points out that the police constantly engage in raids and have charged persons to court in the area.
Again, not everyone comes to a place like Congo's popular lodge for the drugs available around it.
Fatima Yusuf Abdullahi, who is a Muslim, has lodged there for about two months just to enjoy the relationships it offers. "We live here like brothers and sisters," she says. "I'm here with my boyfriend."
Fatima has a diploma in Business Administration from Nasarawa State University, Keffi and plans to further her education. But at the moment she is jobless and finds Congo a good place to help her unwind.
Although she is aware of the theft, drug peddling and prostitution that takes place in the lodge, she finds it difficult to stay away.
"Police do carry out raids sometimes, but they accept bribes and only arrest the wrong people," she reveals.
Fatima's joblessness is typical of the state of youths in Congo. HumAngle observed that there are few businesses in the area and not a single skills acquisition centre for the young.
"This is exactly what we crave for here," Choji says, pointing to a location he believes will be ideal for such an initiative. "But help is yet to come."
---
Support Our Journalism
There are millions of ordinary people affected by conflict in Africa whose stories are missing in the mainstream media. HumAngle is determined to tell those challenging and under-reported stories, hoping that the people impacted by these conflicts will find the safety and security they deserve.
To ensure that we continue to provide public service coverage, we have a small favour to ask you. We want you to be part of our journalistic endeavour by contributing a token to us.
Your donation will further promote a robust, free, and independent media.
Donate Here