Armed Violence
Featured
Features
News
Solutions & Development
The Polarised City (2): Jos, Divided By Religion, United By Football
As Jos makes efforts to rise from the murky waters of religious and ethnic violence that have besieged it for about two decades, a football initiative is trying to bring its people back together.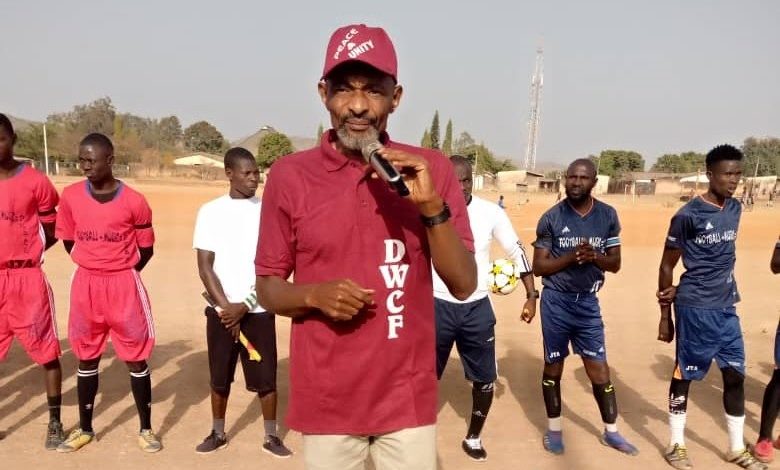 They came from different parts of the once-troubled city of Jos, Plateau State, located in North-central Nigeria. They are young footballers, mostly between the ages of 18 and 25, gathered for a tournament. It was Easter Sunday, April 4, 2021, and it was not their first outing nor would it be their last.
Brought together by Face of Peace Global, a non-governmental organisation, teams Reconciliation, Peace, Love, Humanity, and Forgiveness, a mix of Muslim and Christian youths, play matches to forge bonds their different religions and ethnicities did not help them to.
But how did this all begin?
Imaginary boundaries
The major riots in Jos began in 2001 and have rocked the city multiple times up till 2019. As the "indigene/settler" crisis escalated, Christians (who are mostly Berom, Afizere, Anaguta) and Muslims (mainly Hausa and Fulani) relocated to areas where they felt safe; in other words, among people of their own faith.  
This was what drove Salis Muhammad Abdulsalam, founder of Face of Peace, to set up Music Plus Football.
Abdulsalam's work environment is a reminder of what they set out to do and have achieved so far. On a board are pictures of past tournaments, a testimony of how far they have gone. Sadly, some of his staff members spend more money to commute to the office in order to avoid imaginary boundaries in the city, he tells HumAngle.
"The nature of crises in Jos evolves, which makes it a difficult place to practice peace," Abdulsalam says with a shake of his head. "We have experienced insurgency attacks, religious, ethnic, and farmer/herder clashes. But currently what the city battles with is segregated living where people live among members of their own religion. And if you don't know Jos very well, you will cross those boundaries and behave inappropriately in perception and it could earn you some negative response."
Although these imaginary boundaries Abdulsalam talks of are not labelled, he points out that they are in the minds of people who practically adhere to them.
This is what redirected the NGO's approach to intervention, a move the founder says encourages estranged neighbours to be reunited. But the situation is daunting as people become comfortable with the anomaly.  
"People tend to feel safe when it is their kind who's their neighbour, and the danger is that crimes like murder, child molestation, incest and so on get covered up as a result," Abdulsalam explains. "Just because the culprit is your kind."
Music plus football
As the founder of Face of Peace Global, Abdulsalam, worried about the imaginary boundaries set by Jos residents, decided to do something about this division that started since the 2001 crises which pitched different ethnic groups, particularly the Hausa, Fulani and the Berom, Afizere and Anaguta, against each other. This quickly snowballed into a full-fledged religious conflict.  
So, coaches like Team Unity's Bature Magaji Muhammed and Team Love's Victor Chasu got to work. They moved from one community to the next, recruiting football players to be part of the initiative tagged Music Plus Football: Reuniting Estranged Neighbours.
Chasu, a Christian, went around neighbourhoods such as Duala, Bulbula, Filin Ball and Congo-Russia to get his team together – eight Muslims, eight Christians was what he needed. Done, he sat them down and told them the plan.
"I made them understand that there's a need for us to come together as agents of change in our society, a meeting point for both communities," he tells HumAngle.
Afterwards, he invited them to his home where he set a party in motion. Relaxed, having fun, eating and drinking, the young players listened to their new coach some more. The days after that, Chasu made sure he visited each player at home, and that was how Team Love was born.    
Like his colleague, Coach Muhammed, a Muslim, put his team together as soon as he could, sometime in 2020. "Today, we do everything together," he says. "Some come from Rikkos, Nasarawa, and Dutse Uku."
But it was not all rosy from the beginning, Muhammed explains. The team did not understand each other or relate as brothers right from the start. This only improved over time.
A defender for Team Love, Pankeys Isa, 20, points out that fear and lack of trust for his Muslim peers gripped him at the onset. But, gradually, the feeling that he has a lot in common with his teammates made him realise what they have all been missing. "We don't have those negative feelings we once had towards each other anymore," he points out. Now he enters Filin Ball, Dutse Uku and Unguwar Rogo, areas he once concluded were out of bounds for a Christian like him.
Sadiq Jajay, 18, on the other hand, recalls times he shared with Christian friends. For this reason, once the opportunity to be part of a team came, he jumped in. After all, he used to play football as a boy with friends from the other faith before the crises spiralled out of control.
Unlike some who had, much earlier, severed contact or relationships with those from the other faith out of fear or pressure, Jajay had turned to social media since the crises. "That was the only option we had since we couldn't meet as we used to," he says. Fortunately, he lives in Congo, a place where great progress has so far been made and Muslims and Christians live as neighbours, interacting to a large extent.
"Then there is that exhilarating feeling of being able to move as you please in a city you have lived in for many years or all your life." This is how Sadiq Saleh, 18, felt when he succeeded in erasing the imaginary Muslim/Christian boundaries once engraved in his mind. "During the crises, I was unhappy," he says. "Now I enter anywhere I want to instead of sticking to Nasarawa where I reside and places dominated by Muslims."
Umar Musa Yunus, 25, presently boasts of having many Christian friends. Places tagged no-go areas such as Unguwar Rukuba or Tina in Nasarawa are now open to him, he says.
But not everyone taps from this uniting force Yunus, Jajay, or Isa benefit from. Jos residents like Angela Plang, who has lived in the city all her life, and Aku Michael Joseph are terrified of entering Muslim-dominated neighbourhoods despite these efforts.
"I only passed through Bauchi Road recently. I have not stepped foot there in a long time," Joseph tells HumAngle. "I'm still gripped with fear because of what happened and feel like there can be a reoccurrence."
But Joseph, who considers areas like Bauchi Road and Unguwar Rogo in Jos North no-go areas, points out that there is some level of improvement in Christian-Muslim relations. "During crises, there is always a search when you commute past those areas, but that no longer happens," he explains.
A resident of Bauchi Road, Umar Sadiq Sabo's family had fled from Rusau, a Christian-dominated area, after the 2008 Jos riot. They later returned, but then came the 2010 crises during which they lost their home and permanently relocated.
At that time, Sabo was careful about his movements and avoided areas he knew had few Muslims like himself, such as Gada Biyu, Unguwar Rukuba and several other neighbourhoods. "But currently, I go anywhere I want to," he says. 
One of the strategies of Music Plus Football is to hold matches in different parts of Jos, particularly volatile areas. This enables people from communities to enjoy the tournament and tuck away their differences.
The norm used to be for football matches to be held between wards, but Face of Peace's initiative does not want players to represent their locality anymore. "And it's a tournament, not a competition," Abdulsalam says. "This is meant to encourage team spirit across religious lines."
When Sabo attended one of the preliminary matches organised by Face of Peace, he experienced a surge of hope that his city could return to what it was – a place where people of different faiths and ethnicities across the country lived together peacefully. 
"It's an effort that's long overdue because it fosters peace," Sabo tells HumAngle. "We needed this long before now."
But Sabo was not an instant convert to the Music Plus Football concept. He had concluded it was an impossible feat to achieve when he heard about it. There was no way members of the two rival religions could gather to form a team, let alone having them run across a football field like buddies. But that was exactly what they seemed to be when he witnessed his first match; buddies.  
A good distance away in a field at Duala Barracks, Abdullahi Isma'il had watched Team Peace, a line-up of Christian/Muslim players, try to subdue their opponents.
During the course of the match, Isma'il made a point of interacting with Christian spectators. "I rarely had such an opportunity in Gangare, Jos North where I live," he explains. "I mean, the sport makes people leave their comfort zones and come to an area they wouldn't otherwise."
Then there is Sheikh Sheikh who also watched the match at Duala Barracks on April 4, 2021, where Team Unity succeeded in beating Team Peace two goals to one.
"The amazing part was, I couldn't tell who was Christian or Muslim on the field," Sheik says. "Not Afizere, Berom or Hausa. Your ethnic group doesn't show or matter there. That's the power of football. It unites. If this can be sustained, the crises here will be history."
---
Support Our Journalism
There are millions of ordinary people affected by conflict in Africa whose stories are missing in the mainstream media. HumAngle is determined to tell those challenging and under-reported stories, hoping that the people impacted by these conflicts will find the safety and security they deserve.
To ensure that we continue to provide public service coverage, we have a small favour to ask you. We want you to be part of our journalistic endeavour by contributing a token to us.
Your donation will further promote a robust, free, and independent media.
Donate Here