Environment & Climate Change
Investigations
The Nigerian Villages' Long Wait For Justice Against Oil Giant Shell
After tough legal battles and court verdicts, the communities say they are still waiting for justice to happen.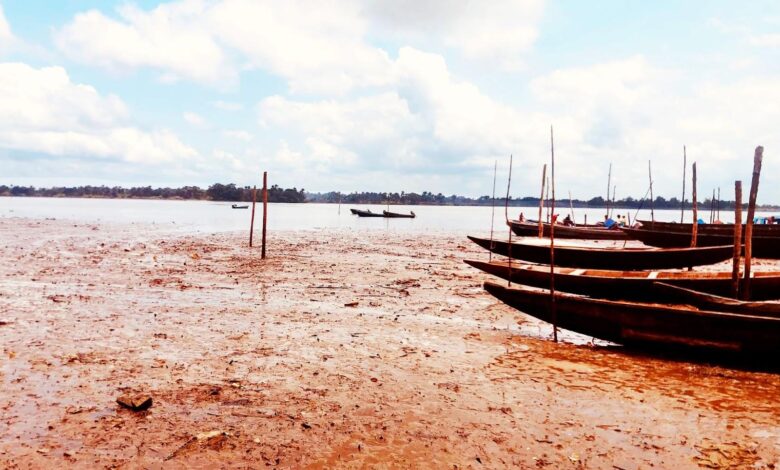 At a quarter past 8 a.m. one day in April this year, Cecilia Agbem and other farmers set out for their respective farms as part of their daily routines in Rivers State, south-south Nigeria. Holding their baskets and machetes, they were eager to fill up their empty basins with cassava as expected during the harvest season.
As Cecilia approached her farm, she could perceive fragments of carbon emission in the atmosphere. When she moved further inquisitively, she discovered that nearly half her farmland was covered in oil. Her crops had burnt to cinder and all hopes of harvesting cassava for sale and consumption quickly faded away.
It was not the first time this had happened. And it would not be the last, as long as Shell PLC continued its operations in the Niger Delta area, she told HumAngle.
"This farm is my only means of survival. First, the oil spill affected our husbands, who are typically fishermen, when it spilt on our waters, and now it has affected us. We can't plant on these lands because they have been polluted by oil. I am calling on the government to help us and intervene. We need Shell to clean up our lands and waters."
Cecilia's desperate plea reflects the voices of many other inhabitants in the communities of Ogale, Bo-ue, Bodo, and other places in the Eleme Local Government Area affected by oil spills from the operations of Shell PLC.
Shell, an international energy company, has played a vital role in helping to meet growing economic and energy demands globally. Since 1937, Shell companies have invested massively in onshore, shallow and deepwater oil exploration in Nigeria, creating thousands of jobs in the process.
But now locals in many Niger Delta communities say the giant oil company's operations appear to be a threat to their safe living. They say decades of oil production had severely damaged the region's swamp, forest, and marine habitats due to oil spillage.
Niger Delta, a region with over 30 million people and 13,329 settlements, has been plagued with oil spills causing endemic danger. Also, Shell recorded 1,010 spills, with 110,535 barrels or 17.5 million litres lost, according to a 2018 report by Amnesty International, a global human rights think tank.
It was 2012 that marked the beginning of the struggle when four Nigerian villagers took Shell to a Dutch court. It was the first time a Dutch-registered company had been sued in a Dutch court for offences allegedly carried out by a foreign subsidiary.
Their operations had vastly affected three villages in the riverine state: Goi, hit by a spill in 2004; Oruma, also hit by a spill in 2005; and Ikot Ada Udo, hit by various spills in 2007.
Over the years, residents of the affected communities have led protests and filed complaints in court over the devastating effects of Shell's operations. But little has been done to curb the menace.
The inability to find solace in the Nigerian courts heightened frustrations and prompted the communities to seek redress from foreign courts outside the influence of the Nigerian government.
In 2015, residents of Ogale and Bille communities in Rivers filed petitions against Shell in a high court in London, asking the court to compel Shell to clean up their polluted communities and compensate them for the damages done. However, the court ruled that the complainants could not seek redress in English courts. In February 2021, the UK Supreme Court decided that the case against Shell could be heard in the UK.
Last January, over 13,000 residents from Ogale and Bille communities of Ogoni land filed a petition in the high court in London against Shell, demanding compensation for the health hazards and loss of livelihoods they have suffered due to environmental pollution.
Ogale, Bille, Bodo, and Bo-ue survive on agriculture and are known for livestock herding, fishing, salt and palm oil cultivation, and trade. Their rich farming history has been destroyed by the oil spillage that has ruined their means of livelihood.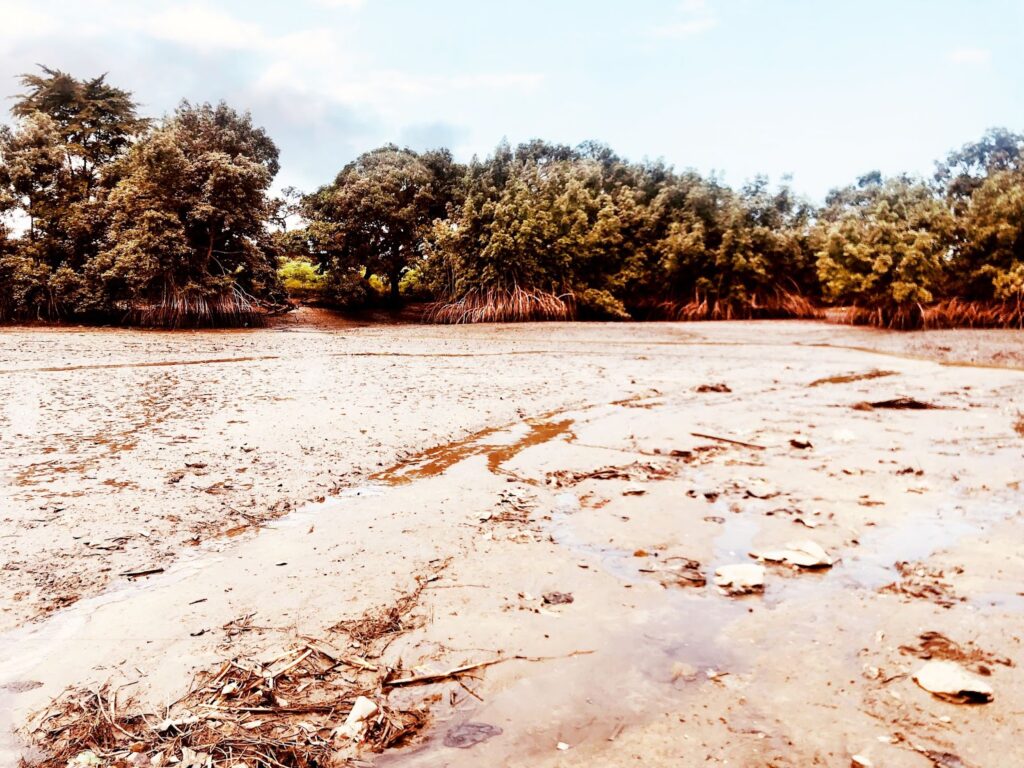 One of the indigenes of Ogale, Duke Amaechi, took us to Bodo to show us some devastating impacts of the oil spillages. Duke is a prominent member of the Niger Delta Cleanup Agenda, an association of Eleme indigenes actively fighting for restoration of their farmlands and waters. When we arrived at Bodo, a gloomy atmosphere surrounded the town. I quizzed Duke, who was seated close to me, "Why does this town look totally different from the buzzing city of Port Harcourt?"
"Bodo was known as the Home of Peace. But that is no longer the case," he replied. "Hunger has taken over the lands. Many of the fishermen have relocated to other states for greener pastures. They see no reason to stay here and suffer the health hazards posed by the oil spillage."
Bodo has over two watersides, making it a town populated by fishermen. One of the watersides situated at the extreme end of the town was largely covered in spilt oil and debilitated buildings. The youth were visibly angry as they sat idle, waiting for the day to end. They returned home as usual without any big catch from their fishing expeditions.
Before now, the waterside was a beehive of activities, locals said. People from different towns trooped in to spread their nets while others navigated through the rivers to Bonny town.
Duke pulled out a white sheet of paper and dipped it into the water. When he removed it, it was visibly stained with oil.
"This is proof to show you how much oil has penetrated their waters. The majority of these men were formerly fishermen. But now, it's certain that the spillage has made all fishing activities on this site almost impossible," he said.
The Chief Security Officer of the Maritime Workers Union Bodo unit, Kobiah Baduaneh, expressed his displeasure over the routine visits from different media houses to cover the environmental hazards without leading to solutions.
"It has affected us majorly because our people are typical fishermen and farmers. Our men are no longer productive because of the oil spill. Our people are also in the hospitals because they inhale these harmful substances," he explained.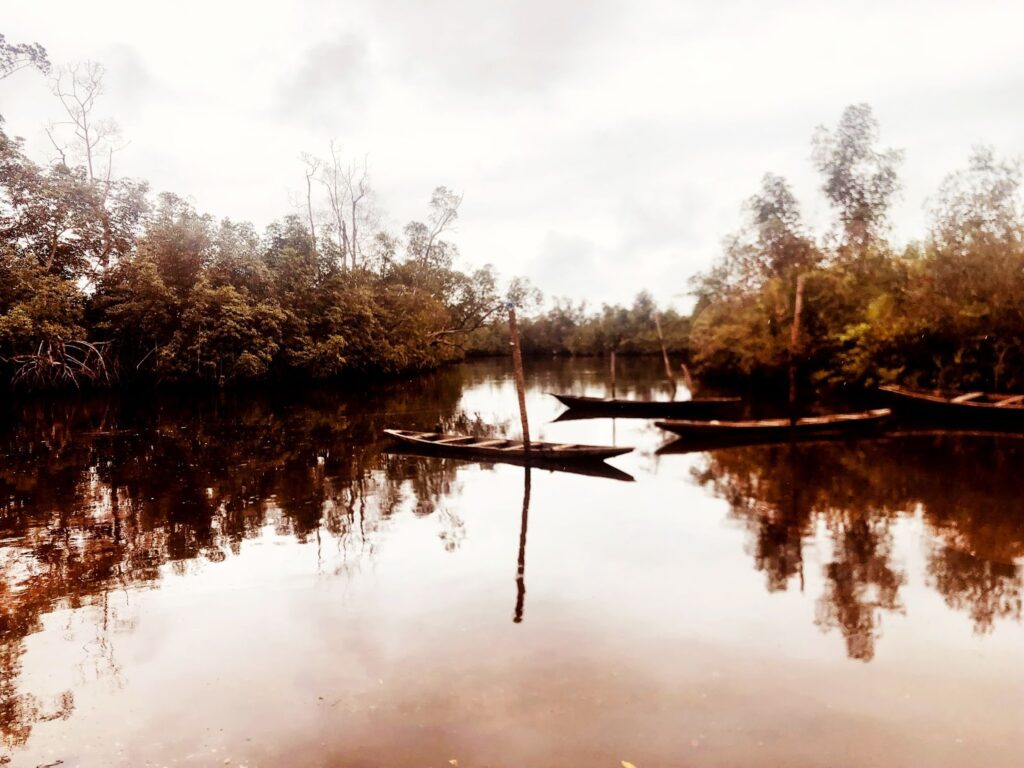 Very few fishermen were present by the waterside. The water had been contaminated and the lush green mangroves had declined.
One of the fishermen, Peter Gbobarah, decried how the oil spills had affected his business and made fishing difficult in the region.
"My father passed away when I was very young. I had to start fishing at an early age to cater for my needs. Sadly, because of the oil spill, we hardly make any money from fishing. Buildings have also been destroyed. We are starving," he cried out in pidgin English.
Another resident of the community, Godwin Gbarabeh, added: "When you look around this waterside, you will notice a lot of people have relocated from this town because of the oil spill. Sometimes, we wake up in the morning and find out our water has been contaminated with oil. We are pleading with the government to implement the clean-up programme to help restore normalcy to our lives."
Perhaps what is more devastating is waking up to find your shelter covered with oil residues. That was Joseph Benjamin's experience. He was a farmer in Bodo, but had to relocate to another town in Rivers for a fresh start after he lost his mini bungalow and other household items to the oil spill.
"I relocated to Andoni after losing my house because of the devastating effects of the oil spills. When I got to Andoni, it was worse. It has destroyed our work as fishermen and our houses. Now I work here in Andoni as a furniture man," he said.
"It is obvious the disastrous oil spill had impeded agricultural productivity, especially fishing, in the community. In the past, fishes like mudskippers, different species of crabs, and other seafood were visibly seen at creeks and river banks. Today, they are no more. Even the mangroves are withered," Duke explained later.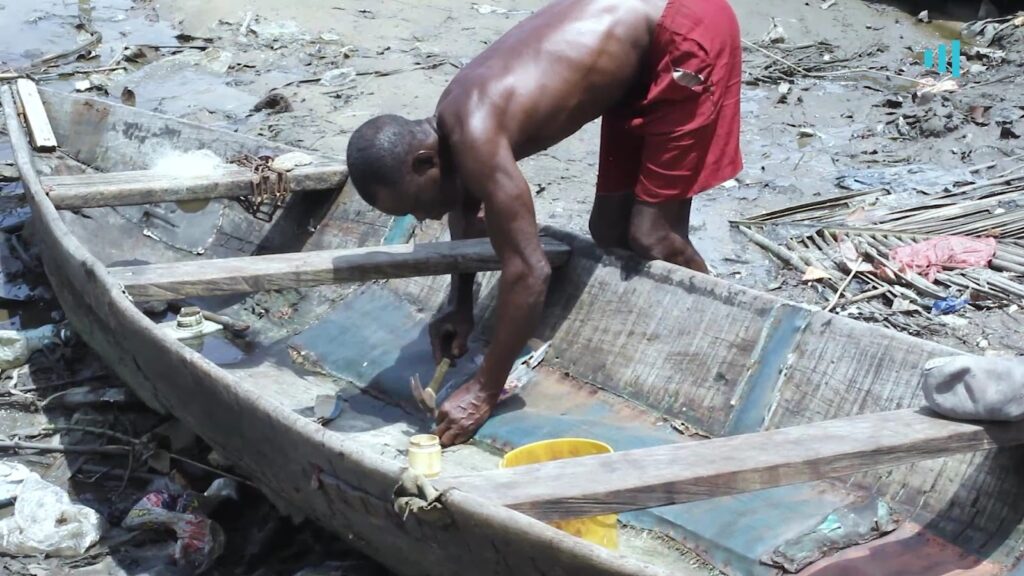 One time, we suddenly noticed a fiery smoke ascending towards the sky. At first, it appeared to be a building on fire, but Duke clarified that the smoke was the aftermath of a pipeline explosion in the community.
Unlike Bodo, Bo-ue is predominantly dominated by farmers. During harvest season, the farmers make bountiful profits from selling their crops in neighbouring cities.
However, things have gone sour.
One of the residents, Gift Nnaku, showed us a basin of cassava she managed to harvest from her farmland, which was little compared to what she used to get during the harvest season. The reason for this poor harvest was because of the oil spillage that ruined her farmland, she said.
"The spill has rendered us helpless. Farmers are frustrated during harvest season. Yams, cocoyams and cassava have been swept away by the oil. I am presently pregnant and have no means of sustaining myself."
Another resident, Monye Nnah, blamed the government's inadequate intervention and other factors for the residents' poor condition. "We don't gain anything from this oil. Shell and the greedy government officials have monopolised it," he lamented. "Our Children have no jobs. My daughter graduated a long time ago and has been unable to get a good job. Companies are no longer coming to invest here because of the environmental hazards."
Despite the UK Supreme Court ruling in 2021 that the claimants had an arguable case that Shell PLC, the parent company in London, was responsible for the pollution, the oil giant has stood its ground that the spills were the result of oil being siphoned from its pipelines by residents of the community.
The company has yet to implement any clean-up programme in the affected communities.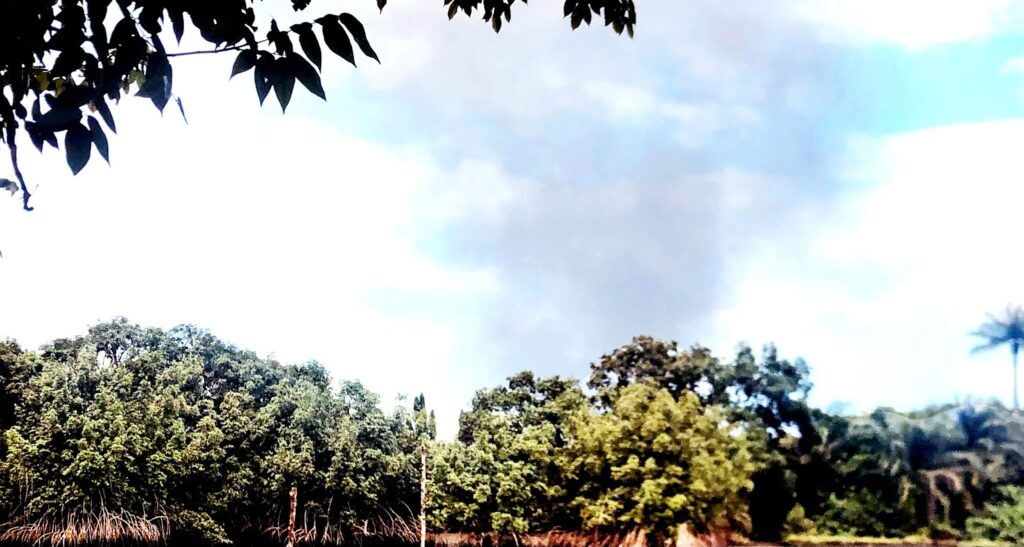 Shell went ahead to announce in 2021 that it plans to sell its onshore oilfields and assets in the Niger Delta after 60 years of highly profitable operations in the area. It said the move was the only viable option because it no longer views activities in the Niger Delta as core to its strategy. This agitated members of the affected communities, who fumed and said it was malicious that Shell had not explained how it planned to address the widespread and systemic pollution linked to its operations. Following rising tensions, In March 2022, a high court barred Shell from any asset sale in Nigeria until a decision was reached on the dispute with the communities.
A member of the Petroleum and Natural Gas Senior Staff Association of Nigeria (Pengassan), Daniel Obeiwe, is convinced Shell is not the cause of the environmental hazards. Over the years, there have been reports of illegal oil bunkering and theft in the communities. The pipeline leakages are largely due to oil bunkering by residents, he argued.
"Everyone keeps pointing fingers at Shell and totally overlook the obvious statistics of illegal oil pilfering in this region. I strongly believe that the majority of these spills were induced by members of these communities. We report cases of pilfering to the authorities regularly."
Meanwhile, it will be hard to remove the thick oil crusts that now make it impossible to plant crops on the land or to detoxify the fields that once produced so much food. It will be hard to drain creeks and lakes of oil so that fish and children can swim in them again. But it may be even harder to repair the damage to human beings.
Some international bodies and human rights protection groups have thrown their weight in support of the movement to hold Shell accountable for the damages done to the local communities.
In February 2023, the human rights organisation, Amnesty International, condemned the actions of Shell, saying that it stood with the Niger Delta communities, "which have been engaged in litigation against Shell for seven years". It further asked the company to "clean up the damage caused and compensate them for their lost livelihoods" and voiced its support for the UK court case.
"The residents boycotted the Nigerian judiciary system because of a lack of transparency, nonchalance and perceived irregularities of the judiciary in this country," said one of the affected residents, who asked to remain anonymous.
"If foreign courts can stand up and do the right thing, I think it will challenge Nigerian courts to do the same thing. For me, such judgments show that the judicial system in this country needs to buckle up and do the needful."
Going to the UK court appears to be the only resort for the local residents. They feel that the government is not protecting them, and they have to take their destiny into their hands. They believe that even when communities protest against the excesses of oil companies, the government tends to support the oil companies and suppress the oil-producing communities instead of backing them. After several attempts, they see approaching the government to resolve any issue as a waste of time, and the communities have decided to take up matters by themselves. Although it is capital intensive, they are hopeful they will see results.
Some of the residents believe compensation is the best solution for the affected communities.
"We are tired of waiting. We see the lies on the papers that Shell has compensated us with millions. That is not true. We have not received any compensation. If they can set up a committee to oversee the implementation of cash disbursement to the affected communities, it will go a long way in settling the grievances we have against them," Sunny Okoh said.
Others are of the opinion that cash settlement is not what is needed. They prefer a total clean-up of the polluted rivers and lands. They say clean-ups were promised, and people were paid to do the work in the past, but they have seen little improvements.
---
Support Our Journalism
There are millions of ordinary people affected by conflict in Africa whose stories are missing in the mainstream media. HumAngle is determined to tell those challenging and under-reported stories, hoping that the people impacted by these conflicts will find the safety and security they deserve.
To ensure that we continue to provide public service coverage, we have a small favour to ask you. We want you to be part of our journalistic endeavour by contributing a token to us.
Your donation will further promote a robust, free, and independent media.
Donate Here