Development
Features
News
The Nigerian Doctor (8): 'Being A Health Worker Affects My Mental Health'
This female surgeon says, like many others, the conditions around her workplace impact her health negatively.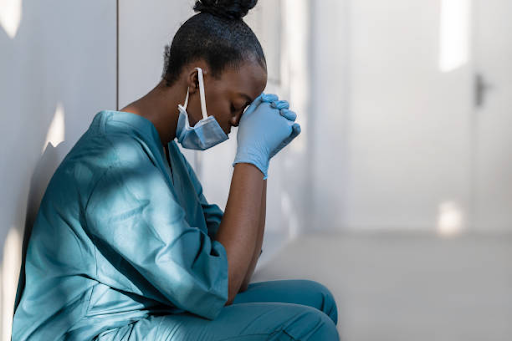 Despite having practised for over 10 years as a medical doctor in Nigeria, Okafor Uloma (not real name) is still not sure of what the future holds for her. 
"What could be more important than healthcare? Even other African and West African countries are getting it right and we have refused to get it right. The state of the nation is a complete mess. No one is taking the health sector seriously. It's someone who is alive that will get to enjoy his money or do other things," she laments.
Effect on mental health
"The joy of being a doctor is lost. I get grumpy going to work and I feel sadder being a doctor here than happy. I mean we trained to become doctors, to be able to help save lives but what we see now is that you get very frustrated trying to do that."
"I don't feel that enthusiasm of going to work and it's beginning to affect a lot of health workers' mental health. Because we do a lot of shouting. We need to get the joy that the job is supposed to bring to us."
Before the strike, Uloma had a simple routine of waking up, getting her family ready to set out for the day, and then finding her way to the Abuja National Hospital to attend to her patients but now "when I wake up, I first do my meditation. Sometimes I take more time to do my daily prayer and reflect, then I step out to take long walks of about ten thousand steps a day. I get back and start reading because I'm preparing for exams to leave the country. I also drink tea, watch television and attend Mass. In the evening I prepare dinner while I wait for my husband to return from work, then pray again and sleep. That has been the cycle."
Once in a while, she takes out time to hang out with her friends as a way of refreshing her mind and other times she is on her phone scrolling through social media or checking up on people she has not heard from.
Impact on training
Uloma explains that the rate at which doctors now write exams qualifying them to practice outside the country than the exams required to practice within the country is alarming. "That is how bad it is and you won't blame them for leaving," she adds. "The life of the health worker also matters." 
She further says that there have been situations "where I and other doctors had to bleed ourselves to donate blood for a patient. Sometimes doctors have had to make contributions from their 'mega salaries' to help indigent patients. It is that bad that these days some hospitals get to photocopy prescription papers. It is that bad." 
Uloma laments that most instruments or machines are either not available, outdated or broken down, and not being replaced. "In most cases, if we want to learn new procedures, we have to buy our instrument with our money and sometimes we have to take it to the government hospital to use. For instance, there are some patients who would need certain surgeries and you know you can do it with an endoscopy telescope, you don't need to cut them open and you need to even get more skills with the close procedure using the endoscopes. As the doctor, you'll buy an endoscope and you bring it to the hospital because you want to gain that skill because the hospital doesn't have any." 
The patients 
Uloma is worried about her patients. Some have reached out to her and she refers them back to the clinic with "I'm sorry I can't help you."  
Fortunately, her private practice gives her the opportunity to attend to some of her patients. But there is a problem. There are patients who were already scheduled for surgery.  "So, most of those surgeries might not even hold. Some consultants might not be operating because how will one person be the chief surgeon who will assist him? Every staff member has their own duty. Usually, the surgeon will always need an assistant."
This means some patients' surgery will be rescheduled or delayed, you know, and that causes them more pain. Time is also wasted because, "with the strike, you can't do so much because there are a lot of people waiting to see just one doctor." 
Uloma gives an example: "Now a patient was scheduled for a procedure to aid our diagnosis and then this strike happens. That patient might be prioritized and put on top of the list but might not even get the surgery."
Not being able to see or help her patients is a heart-breaking experience for Uloma. According to her health records, officers may not know how serious a case is and then give a far-off appointment because there are a lot of people waiting to see a single consultant.
Some good experiences
Uloma has been a practising medical doctor for 11 years now. "I graduated in 2010 and my experience has been fun, to say the least. In the initial phase, it was actually good. It's also been challenging as a female doctor, it's been empowering too because I've been able to take a job that most people consider challenging." 
She says being a woman who is required to manage her home and holding a job which requires her to be there most of the time has been empowering and yet challenging.  "It gives me a lot of confidence and courage as a female surgeon in training. It has been the best part of the job for me, to be in a surgical speciality because surgery most times is affiliated to men and I get to compete in the forefront with them. I love being a surgeon, I enjoy every bit of it."
But there are times when Uloma becomes overwhelmed with the challenges that come with being a female doctor. "It's actually not easy balancing the home front and the work front. There is a lot of juggling to be done." 
Also, "women are usually stereotyped because it's a woman practising. She's expected to be weak or have certain flaws. She is expected to work almost twice as hard to prove her worth but over time, the influx of women into the medical field shows that things are beginning to change and they now respect us more."
Uloma urges the Nigerian government to "listen to us. The life of the health worker and doctors matters. We are not asking for so much compared to what our counterparts are earning outside this country. Yes, we understand the state of the nation but we still deserve better. I mean, it takes a lot to do this work. So that we can do it and save lives perfectly. It's one thing to go to work happy and then do the work and deliver."
At least 353 Nigerian doctors have been registered to work in the United Kingdom in the last 100 days. 
According to reports, the General Medical Council shows that at least 353 Nigerian-trained doctors were licensed between June 10, 2021, and Sept. 20, 2021.
Also, between July 24, 2020, and Sept. 21, 2021, about 862 Nigeria-trained doctors were licensed in the United Kingdom (UK) despite the COVID-19 pandemic. Overall, 8,737 doctors who obtained their degrees in Nigeria currently practise in the UK.
---
Support Our Journalism
There are millions of ordinary people affected by conflict in Africa whose stories are missing in the mainstream media. HumAngle is determined to tell those challenging and under-reported stories, hoping that the people impacted by these conflicts will find the safety and security they deserve.
To ensure that we continue to provide public service coverage, we have a small favour to ask you. We want you to be part of our journalistic endeavour by contributing a token to us.
Your donation will further promote a robust, free, and independent media.
Donate Here