Features
Solutions & Development
The Initiative Enabling Nigerian Farmers To Grow And Earn More
Local farmers in some parts of the country are growing their yields thanks to an initiative providing modern training and products. HumAngle examines its impact in the Kubau area of Northwest Nigeria.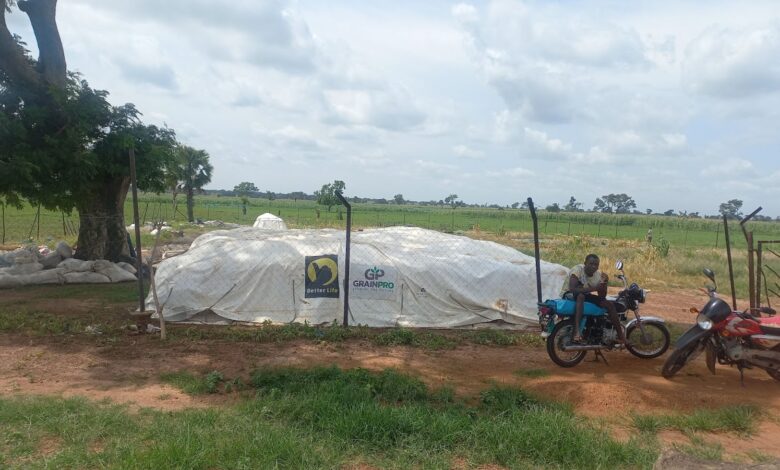 At age 30, Titus Nuhu had his portion of the extended family land. After all, he was now a grown man with a wife and children. So, he cultivated the land and his wife planted after him.
But there was a problem.
The family never farmed above the subsistence level, which meant they only grew enough to meet their own needs. They grew either soya beans or maize, but it was never beyond half a hectare. "We simply planted and harvested," Nuhu told HumAngle. Affording fertiliser had always been a huge challenge.
Then, in 2019, Babban Gona, an agriculture company, came to Hayin Gada, Nuhu's hometown in the Kubau area of Kaduna, Northwest Nigeria.
"They came then, sensitising the public about what they offer," he narrated. One of those offerings is the provision of fertiliser, herbicides, seedlings, and training. They also give their members thread, needles, and sacks to bag their produce. These were all given as a loan to boost farmers' capacity.
After harvest, the farmer is expected to give 20 bags per hectare to the Babban Gona company. They would, in turn, research the current market price, take out the monetary equivalent of all the services they have provided and return what is left to the member. If the organisation makes a profit selling the produce when the cost goes, it gives the farmer a bonus.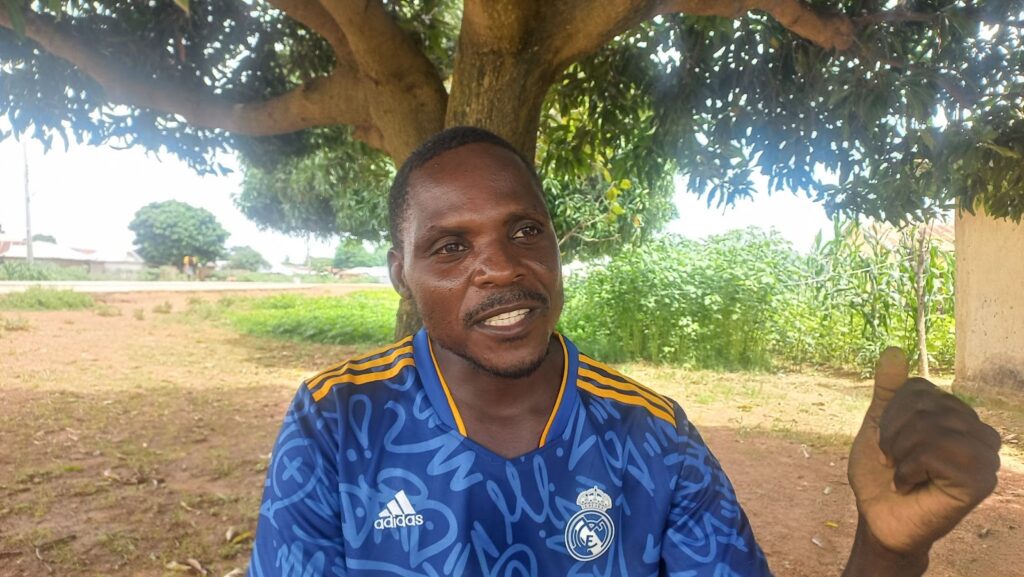 Big farm, big reward
Babban Gona is an agriculture company that aims to overcome "a key underlying structural problem that keeps Nigerian smallholder farmer members poor – low economies of scale." Its name is a Hausa expression that directly translates to big farm.
Nuhu signed up after learning all he could about the initiative. "They said they would give us fertiliser, we would farm and they would also help us take care of our farms. That if we encountered any challenge, they would be there to render support as long as we followed their guidelines," he said.
Many people in Hayin Gada did not like the fact that they had to give up 20 bags of their produce with the promise of either payment or a bonus, and therefore declined to join.
But locals like Nuhu felt that since they did not have the capacity to farm large scale, there was no harm in giving it a try. Before he got married, he was in a home with both parents and five siblings, so he knew what it was like to run a farm at the subsistence level for many years without a drastic shift in a family's economic life.
"We used to go and cultivate the land for about five days by ourselves. My mother and sisters followed with the planting. If we are done, we join them in planting," Nuhu narrated. "Today's farming gives 10 bags. Back then, we didn't make more than half a bag. Now we get up to 45 to 50 bags of grain from the same size of farm that produced only 15 bags in the past."
The memories of struggle, of many years of toil without significant impact, were enough to make Nuhu take a bold step. That bold step was Babban Noma.
Some of them who joined dedicated a portion of their farm to working with the organisation and left others out of the plan. The first year, Nuhu worked on an entire hectare under the loan arrangement with Babban Gona. Before then, he had passed through some training on modern best practices.
"After they gave me fertiliser, they sent the farming coach to come around and check my progress," he explained. This went on every week. Sometimes, the coach came around. At other times, he would call Nuhu's phone and make an observation. It could be that Nuhu needed to apply more fertiliser or the farm needed to be weeded.
Nuhu was taught a new method of applying fertiliser. Using a soft drink cap, he would slice the ridge with a tool, usually a hoe, and bury a cap or two of fertiliser close to the plant instead of simply pouring it on the plant. This reduces the possibility of rain washing it away.
Back then, a bag of fertiliser in the market was ₦6,000, Nuhu said. Using fertiliser effectively would have cost him ₦48,000 ($63), an amount he could not afford. Currently, it costs ₦21,000 ($28). By providing fertiliser alone, the project saves local farmers up to ₦168,000 ($220) per hectare. This is aside from the two litres of herbicides per hectare and seedlings they are given. Of course, all these, including costs incurred for training them, are repayable through the 20 bags of grain they hand over to Babban Gona after harvest.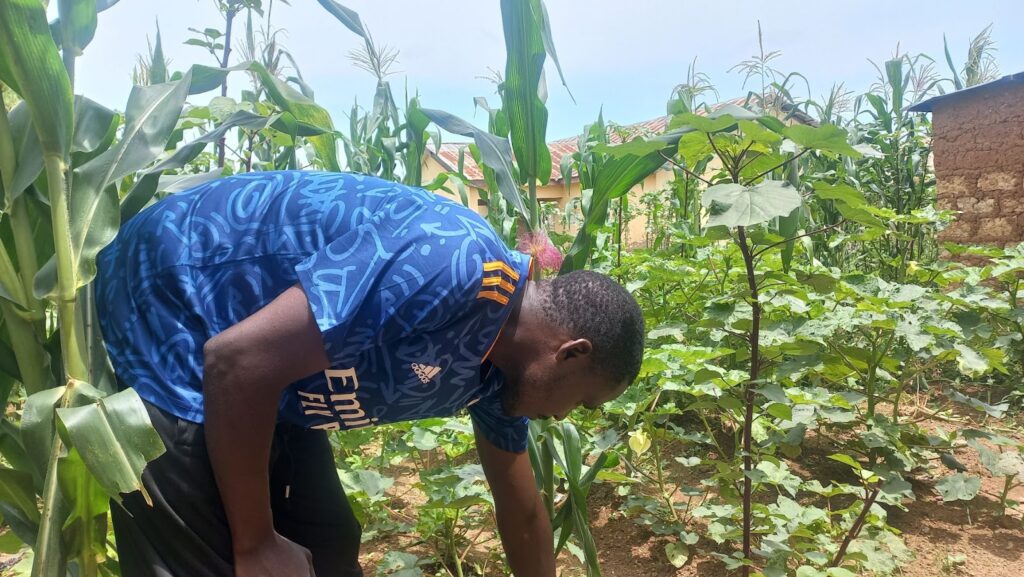 Nuhu's metamorphosis
From an ordinary farmer who cultivates to feed his family, Nuhu has, over the years, become what can be considered a big-time farmer.
"The first year, I farmed a hectare and got 40 bags of maize. Before then, it was hardly more than 15 bags," he began.
By 2020, when word spread and many more people in his locality became part of the partnership, Nuhu was advancing. The company had noticed his effort and upgraded him to a two-hectare member. This means that his allocation had been doubled from eight bags of fertiliser to 16. The same went for herbicides, seedlings, packaging bags, and his bonus after the company had profitably sold his 20 bags.
"When this happened, I shared the farm with my younger brother. I did a hectare and a half." Nuhu got 70 bags at the end of the farming season, while his brother had 20. That was when it dawned on them that farming, with the company's support, had indeed brought them good tidings.
Nuhu is now 40 with two wives and four children. His children are enrolled in school and the entire family enjoys better healthcare.
"Now we are into farming as a business, unlike before when we were simply doing it for our own consumption," he said.
He goes on to talk about northern Nigeria and how farming is the people's major occupation. He believes traders cannot grow their income without going into farming.
"Our parents hardly got beyond 20 bags. But today, some make between 200 to 2,000 bags. No matter what, you can't consume more than 10 bags. So the rest is for the market."
Presently, he works on four hectares. Two are inherited while he pays a lease on the rest.
But there is something awkward about Nuhu's decision to maintain only two hectares under the Babban Gona arrangement. If it is as lucrative as he says, why is he not running all four under the company?
Apparently, his past experience had taught him to re-strategise.
In 2021, Nuhu got only 40 bags of maize from two hectares of land. Everything went to Babban Gona. He insisted he did not run at a loss because his other farmland was not under the company's loan scheme.
"After taking out their loan, they later gave me the remaining money from the 20 bags," he explained. "So, they deducted their loan from the market price of the 20 bags and returned the rest of the money to me, which amounted to ₦340,000."
He pointed out that another reason he maintains total control of a portion of his yields is that the company does not give enough loans for him to farm beyond two hectares. "If they did, the entire town would join Babban Gona," he claimed.
But then he continued that only trusted members can get more loans. This is because some people who collect goods from the organisation neglect to follow through with the agreement. "Some don't even go to their farm," Nuhu said, adding that sometimes Babban Gona approaches him to recommend farmers who would be committed.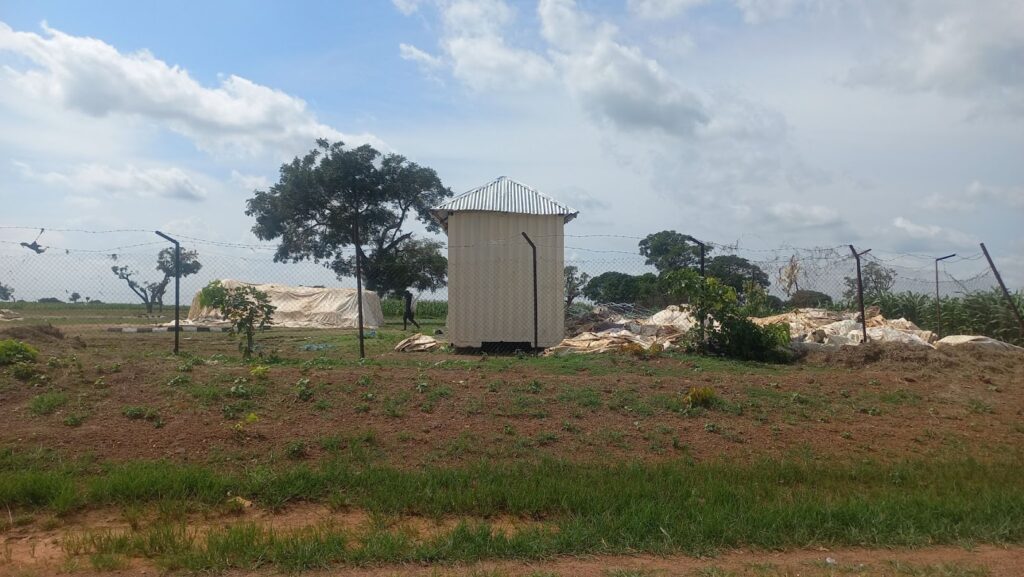 Coaching and supervision
There is a good reason Nuhu is successful in his business. Babban Gona assigns its staff to oversee the work of every farmer.
"Wherever we are, we don't hesitate when we hear that one of them is looking for us," Nuhu said. The organisation has the contact details of all members, including the location of their farms and residences.
"They do this to verify that, indeed, you have a farm. Then they measure it to see that it's indeed up to a hectare," he continued.
The staff also check to see that a farmer follows the training they were given from the onset. They ensure, for example, that the farmer planted exactly five metres between plants. The rule is also to sow one seedling per hole. "If they notice a mistake, they are aware that it's possible to mistakenly sow two instead of one," Nuhu said. In this case, they advise the removal of one plant to fill up a vacant space on the ridge.
One of the staff members is Solomon Enoch, a field officer in charge of communities the company categorises under Igabi Hope.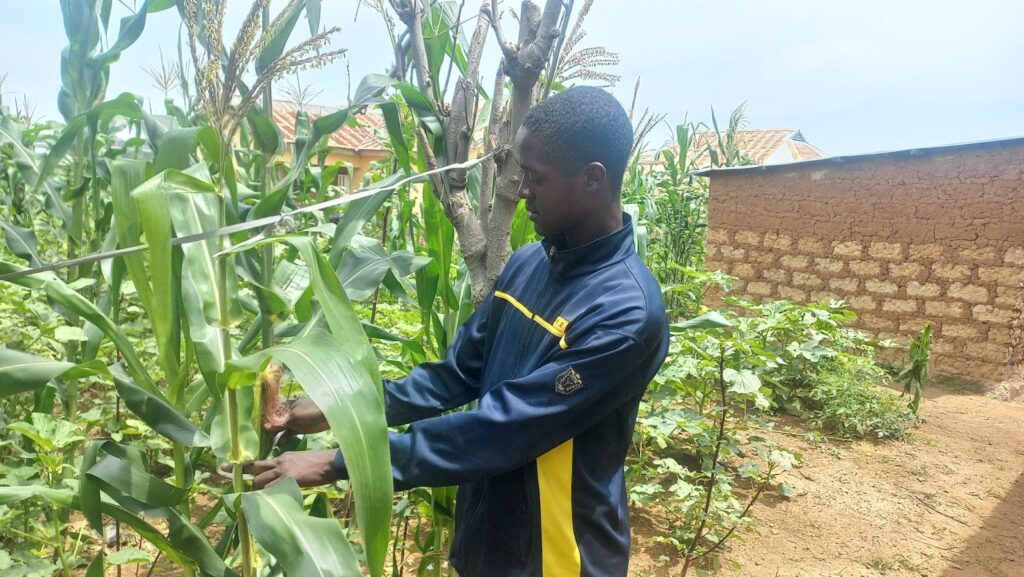 Enoch's responsibility is to ensure that everything goes well with the farmers, especially regarding the coaching or mentorship they receive. If there's an issue, he ensures it is tackled. This could either be a concern farmers have or their urgent need for more herbicides or fertiliser.
The structure
The Assistant Supervisor of Babban Gona, Sabiu Sani, 41, explained how the company categorises areas where some of its members are drawn from. They are divided into five groups in Kaduna State that include Giwa Hope, Igabi Hope, Ikara Hope, Lere Hope, and Soba Hope. Farmers under Igabi Hope alone are recorded to be up to 6,976.
Sani reclined on a sofa in the parlour of a twin bungalow. The buildings served as the company's local office in Pambegua, a town in Kubau about two kilometres from Hayin Gada. Opposite the room is a door that leads into a similar space. But this particular room was busy with farmers attended to by a customer care officer.
Co-founded by Kola Masha, who is also the Managing Director, Babban Gona was established in 2011. It kicked off its operation in Ikara. Now, it operates in about eight states in Nigeria, including Bauchi, Jigawa, Katsina, Kebbi, and Taraba.
"In Pambegua, we focus on maize because it's the favourite crop here and the risk is minimal. The weather is also favourable for the crop," he pointed out.
There are several reasons why the programme found a home in Kubau local government area, Sani explained. One was the people's lack of knowledge of modern farming practices. Another was the lack of finance.
"If you look at the community we are in, about 80 per cent of them are predominantly farmers. They farm for many years, but one can hardly see their progress. This stagnates their social and financial development and many other aspects of development. Some could not even take their children to school. You would see someone who has been a farmer for 10 to 15 years, yet his children are school dropouts because he cannot afford to pay their fees. He is unable to pay the meagre fees even for public schools."
These are the two major challenges the company attempts to resolve for locals, Sani said. So, for two to three days, members undergo training on best agricultural practices.
"We expose the farmers to the exact planting period. Many are not meticulous about plant spacing. The best practice we always encourage them to adopt is 20 by 75 centimetres," he said. "What I mean is that the space between the plant is 20 centimetres and the space between the two ridges is 75 centimetres. The spacing matters a lot.
"We even do our calculations and tell you that if you keep to what we have directed you to do, we know that at the end, without going to your farm, we can predict what your produce for the year would be."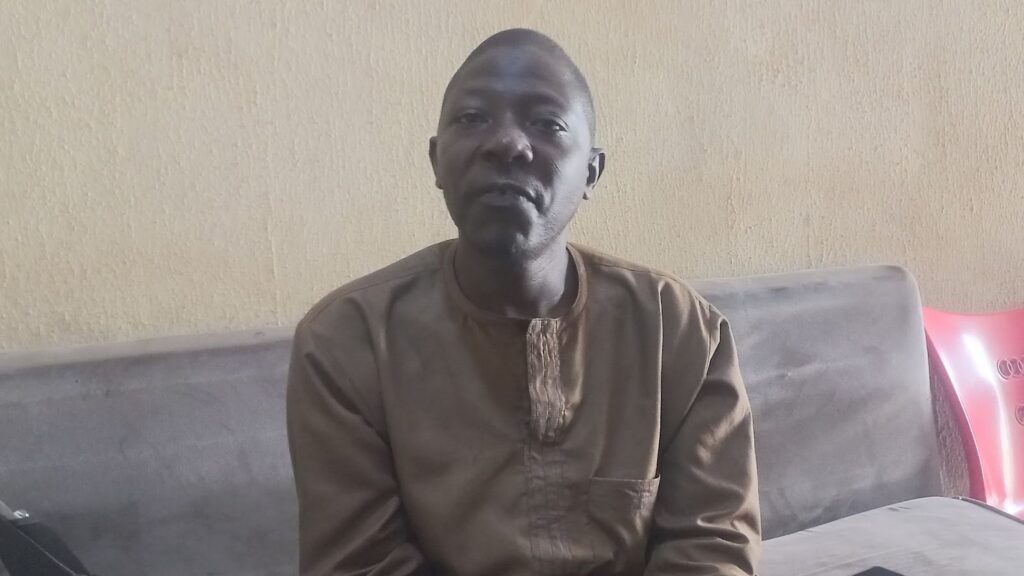 Sometimes, however, it could be difficult for people like Sani to convince the farmers that their traditional approach to farming is wrong.
The way it works
Babban Gona is not a nonprofit. It is a full business venture, and this is why, according to Sani, when a farmer gives 20 bags of grain per hectare, the organisation researches the market price. Then, storing the goods, it calculates its total expenditure on the farmer, takes out the monetary value and gives the farmer the rest.
Later on, when prices go up, Babban Gona sells and shares the profit with the same farmer. This is what becomes the latter's bonus.
There is another angle to the business, Sani added. Because the organisation has built a relationship with companies who produce fertilisers, herbicides and other products they loan out to farmers, they are able to get huge discounts. In this way, the farmers also form a large market for the goods Babban Gona is indirectly selling to them.
No more lease
Lawal Isiyaku, 31, has always been a farmer. Unlike others, he considered himself pretty successful before he learned about the programme. A father to seven children and husband to two wives, he was already cultivating five hectares of maize and making over 200 bags. So, what attracted him to Babban Gona?
Isiyaku was paying a lease on three hectares of land. Now, he uses only the two he legally owns and still makes good money.
"In 2022, I made about 91 bags from those two hectares," he said. "So I am making more profit than before when I got 200 bags or less from five hectares."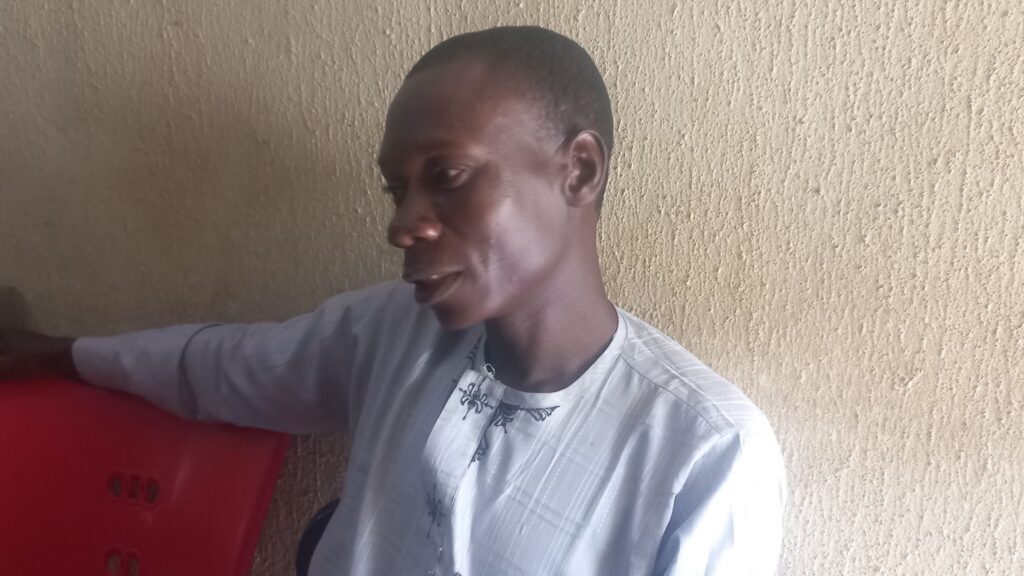 If Isiyaku used to harvest 200 bags of produce from five hectares, this means he is currently making almost half the produce he made with five. And this time around, there is no lease payment, which ate into his profit. His lease used to run up to as much as ₦70,000 ($93).
He is also encouraged by the fact that apart from the loan he gets, the company gives him a bonus at the end of the harvest.
"In 2022, I got a bonus of about ₦70,000," he told HumAngle. "If you're found to be faithful in fulfilling your 20 bags obligation, Babban Gona can let you farm up to 10 hectares."
Bye-bye to the toolbox
Before now, Sani Danda Lawal, 40, farmed part-time. Once he was not carrying his hoe, he left his village for the township, where he was a mobile cobbler who carried a rectangular toolbox.
"Farming wasn't meeting my needs," he explained.
As a boy, Lawal's parents used to farm guinea corn and other food types. From three hectares, if they made much, it was usually about 20 bags because they never applied fertiliser.
Eight years ago, after he became part of the programme, Lawal took farming seriously. He put his energy in a hectare.
"My first year, I got 25 bags. Before then, the highest we made was 12 or 13 bags. I then gave Babban Gona 20 bags and held five bags. I removed zakat [mandatory wealth tax for Muslims] of two bags. The money I later got as a bonus would buy me like 10 bags."
As far back as Lawal could remember, needs had piled up. Like having a house of his own, for instance.
"I used to live with an extended family and usually there was always a time when you would be told to build your own house," he began. "At that time, I really needed to build my own house because we were getting overpopulated. It was with the money I got from Babban Gona that I was able to buy a plot of land at ₦50,000 and build. I built eight rooms."
Unfortunately, by 2022, Lawal had a poor harvest and got only 35 bags of maize. He got five bags elsewhere and gave the company the agreed 40 bags.
But his life had turned around so far for good, he insisted. He once made over 100 bags from two hectares. Then Lawal made a show of listing his achievements – "Now I have three wives. My children are ten. I built my own house. I have even started a network under me of members."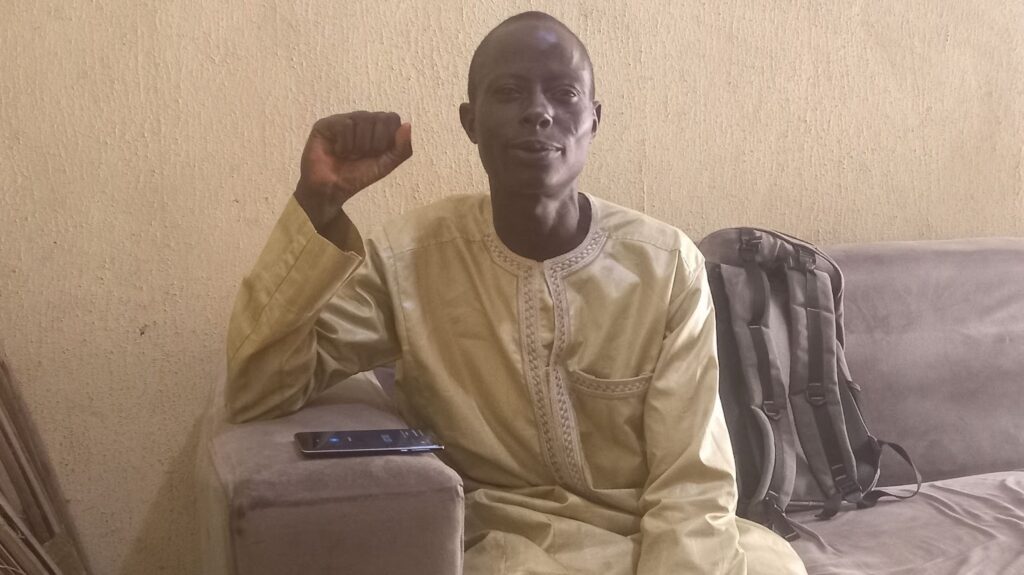 Becoming a staff member
Interestingly, some farmers grow to become part of Babban Gona's staff. In this way, they get the training field officers to benefit from.
Sani himself is a typical example. Four years ago, he was only a farmer under the programme. Under his father, he started off in 2014 as a farmer. It was his only occupation at the time and they had about eight hectares of farmland. "We used to farm soya beans, guinea corn. Sometimes, we also lease a portion of the land," he said.
It was around that time he learned about Babban Gona. "I had gone out at one particular time and heard about an organisation that was out to train farmers and also give them loans to farm. I was not available, so I sent my wife. That was how she joined a network of farmers, and later, I joined under her, too."
Sani started with two hectares at Babban Gona. What attracted him was the claim that one could get as many as 35 bags of grain per hectare. He thought it was all a lie.
"Right now, anyone who gets just 35 bags in Babban Gona, we don't even consider that person as one who tried enough," he said. "The experience that I had before Babban Gona was that one who tried could get up to 25 bags of grain."
In his first year, Sani got 88 bags of grains from two hectares. Forty went to the company, and he was later given ₦250,000.
"Now we farm up to eight hectares," he added. "In 2021, Babban Gona gave me over ₦1.1 million."
And that was how Sani grew his business. In 2014, he bought a piece of land. The following year, he started building a house. By the fourth year, he had entered the house. "Now I have a house that even if you give me five million I won't sell to you," he said.
That was when Sani decided to join the organisation. From the same business, he has put his son through a private secondary school he is proud of. Now, the young man is a medical student at Ahmadu Bello University, Zaria.
Then there is his daughter, who wants to study nursing after scoring 261 in her Unified Tertiary Matriculation Examination (UTME).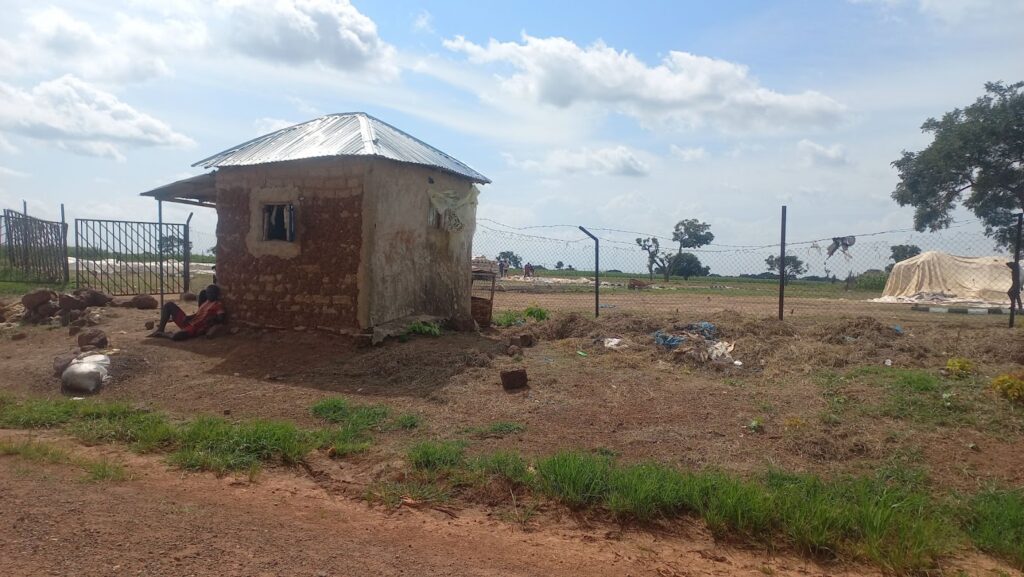 Fears
Sani told HumAngle there are wrong notions about the programme that have prevented some locals from participating. Some fear that if they have a rough farming year, they will be prosecuted.
"Provided you follow the instructions given to you, such as the right time to do certain things, you can't fail," Sani said, adding that the reason for such failures is that sometimes people just want to continue with the traditional way of farming or do what they are used to.
Then there is also the notion that the organisation is linked to a particular religion, mainly Christianity, because of the people who came with the initiative.
Others worry about Zakat and whether the company would take responsibility for it. "But the farm is yours and Babban Gona has no influence over that," Sani explained. "Some ask that if they give 20 bags, how are they supposed to remove two bags? Will Babban Gona allow them? Our answer is that you can give the 20 and buy two and give as zakat because the religious obligation is for you. It's not on Babban Gona."
There are also two ways to settle the contract between the farmer and Babban Gona, Sani continued. If a member fulfils his end of the bargain and delivers 20 bags per hectare, it means he has fulfilled his contractual obligation. But, giving 18 bags, for example, would mean that one has not fully fulfilled the contractual obligation.
"So, when Babban Gona decides to select a specific number of farmers to support the following year, it would rightly give priority to those who gave 20 bags, thereby meeting both the financial and contractual obligations. Such a person would also be able to grow his farm from one to two hectares the following year."
---
Support Our Journalism
There are millions of ordinary people affected by conflict in Africa whose stories are missing in the mainstream media. HumAngle is determined to tell those challenging and under-reported stories, hoping that the people impacted by these conflicts will find the safety and security they deserve.
To ensure that we continue to provide public service coverage, we have a small favour to ask you. We want you to be part of our journalistic endeavour by contributing a token to us.
Your donation will further promote a robust, free, and independent media.
Donate Here