Features
Humanitarian Crises
The Illegal Trade Endangering The Lives Of Children In Nigeria's Northeast
Ready to Use Therapeutic Food, also called Plumpy'Nut, intended as a last-ditch treatment for malnourished children in insurgency-ravaged areas such as Borno, is being stolen and sold in the markets of Maiduguri.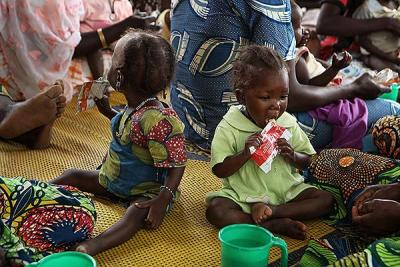 The passageways of Maiduguri's Moromoro market are swarming, as usual, and the cries of traders calling out the prices of their measures fills the air. But underneath the barking, another voice attracts attention – a middle-aged man waylays passing shoppers discreetly, gesturing at two sachets he has on a plastic mat.
"Won't you buy Tamoa for the kids?!"
He is selling the sachets for ₦150 each.
These are sachets of what is properly called Ready to Use Therapeutic Food (RUTF), It does not belong here in Moromoro or any other market at all. The silver, red and white packets are supposed to be for use in official clinics to feed children in dire need.
HumAngle learned that there were many more of such sellers in Moromoro market. Sellers were also found in Muna and Custom markets, where among the ordinary goods, material stolen from aid stations can also be found for sale.
This lucrative trade is supported by dangerous and alarming practices that include the deliberate starving and hiring out of malnourished children to black marketeers.
Food insecurity, malnutrition and the role of the RUTF
Described by UNICEF (United Nations International Emergency Children's Fund) as "a wonder-food for the world's children," the RUTF is essentially a sachet of easily digestible paste used in treating Severe Acute Malnutrition (SAM), or severe wasting, a condition observed to be common among children under the age of five.
Wasting, when children have low weight for their height, is brought upon by "acute but severe periods of food shortage, disease or both." This is caused by food insecurity, a situation which has plagued Nigeria's Northeast, as a result of the decade-long insurgency in the region, as well as climate change and soaring food prices.
With food prices increasing, and poor harvests due to floods and conflict in the region, more and more children are expected to become malnourished. Earlier this year, UNICEF estimated that 400,000 children in the Northeast would come down with Wasting. The UN agency also predicted that over 75,000 children would likely die because they lack access to treatment.
To reduce the number of malnourished children in the Northeast and to prevent possible deaths, UNICEF has a long-running "therapeutic feeding programme" which ensures that over 117,000 children in the region enjoy "free nutrition, screening, and counselling."
The sachets of RUTF are a key part of the strategy. They are easily transportable and have a long shelf life. Each sachet contains a highly nutritious paste which is packed with calories, vitamins and minerals.
The paste is sweet, and children like it. Feeding stations and clinics often have boxes of sachets in store, and as they are given out at a fast rate, they are always being replenished. These things make boxes of RUTF a highly desirable, and easily stolen item.
Other International Non-Governmental Organisations (INGOs), NGOs, as well as state and federal governments, also procure the RUTF to aid in eliminating malnutrition.
According to the regulations, only healthcare workers should be able to get hold of Tamoa (the local name of the RUTF). Its appearance in local markets suggests corruption of the system by officials and black marketers.
Abuse and sale of RUTF
Hauwa Idriss, a trader and women's leader in the Ruwan Zafi community along Gamborou Ngala road, was at a health clinic when she saw a commotion.
"At the registration centre, the official became suspicious of a woman and asked her to breastfeed her child, but the child couldn't suckle. It was later found that it was not her child and she was rejected."
HumAngle learned that in order to get RUTF, some women hire malnourished children whom they present to clinics in order to register as recipients of the therapeutic food.
Some go as far as feeding their children harmful substances which induce runny stomachs in order to qualify them as recipients.
In order to get the RUTF, parents of a malnourished child is required to take them to a Primary Healthcare Centre (PHC) where they would be examined once registered they are able to collect sachets in bulk on a monthly basis, while the wellbeing of the child is reviewed to track their recovery.
Parents have been reported to use citric acid (and sometimes detergents) which induces vomiting and purging in their children, causing speedy weight loss. This gives them the "low weight for height" appearance necessary to be given RUTF by a clinic.
Hauwa says of the incident she witnessed: "They use the children and if they luckily register, the Tamoa proceeds are shared with the original mother."
Apart from the deceit by some parents and community members, Primary healthcare centres have also complained of cases of burglary in stores housing the RUTFs.
The people diverterting Tamoa away from the clinics are making a profit at the expense of thousands of children in the areas where they conduct their illegal sales. This is because, apart from depriving malnourished children who are genuinely in need of the RUTFs by illegally obtaining them, the diverters are also exposing adults and children to health complications by offering them the therapeutic foods, unprescribed.
"He has developed ulcer in his mouth," Abubakar, a nurse at a Primary Health Centre (PHC) in Gwange area of Maiduguri told HumAngle of a boy who had been fed the RUTF without a prescription.
"He is over 10 years old and RUTF is meant for children under the age of five," Abubakar added.
Eating RUTF, which is also known as Plumpy'Nut by aid workers, is supposed to be a last resort for critically malnourished children. The peanut-based paste contains a cocktail of vitamins and minerals that could cause a reaction in a person who already has a normal level of these chemicals in their body.
There is an alarming list of possible side effects that include diarrhoea, vomiting, fevers, skin infections and shortness of breath, health workers say.
Search for a solution
The illegal sale of the sachets has become so rampant that PHCs and NGOs in Jere LGA of Borno State organised a community meeting seeking to come up with solutions that would address the crime.
In the meeting, which HumAngle attended, Mammadu, a repentant Plumpy'Nut thief confessed.
"I used to buy them and send them to the Chad Republic but I don't buy them anymore," he said. "I promise to put in my best to fight the abuse of Tamoa henceforth."
A community leader at the meeting then lent his voice: "Some of the women come over here from another area or even LGA to get registered for RUTF," he began, adding that it would be easy to spot and accost "fake" recipients of the Tamoas if volunteers and health centre officials responsible for handing out the items are "from our locality."
"The vendors are seen around RUTF distribution centres whenever it is time for distribution. There is also a popular joint near Kasuman Shanu junction where women meet to sell RUTF," an unnamed official of a local NGO present at the meeting said.
"Drastic measures should be taken against the women selling RUTF as well as the local vendors that buy them," he continued, suggesting that the officials of Muna, Custom, and Moromoro markets where the items are being sold should be sensitised on the dangers of unprescribed consumption, and that law enforcement agencies be involved in fighting the sales as well.
---
This report was produced in partnership with the MacArthur Foundation under the 'Promoting Transparency in Insurgency-Related Funding in Northeast Nigeria' Project.
---
Support Our Journalism
There are millions of ordinary people affected by conflict in Africa whose stories are missing in the mainstream media. HumAngle is determined to tell those challenging and under-reported stories, hoping that the people impacted by these conflicts will find the safety and security they deserve.
To ensure that we continue to provide public service coverage, we have a small favour to ask you. We want you to be part of our journalistic endeavour by contributing a token to us.
Your donation will further promote a robust, free, and independent media.
Donate Here