Armed Violence
Features
The Girl Who Fled Her Parents' Home To Escape Boko Haram
When Boko Haram were roaming Gwoza, hunting for young girls either for rape, forced marriage, or recruitment into terrorism, Kaltume chose to abandon her parents' home. She has not seen them since. She told HumAngle her story.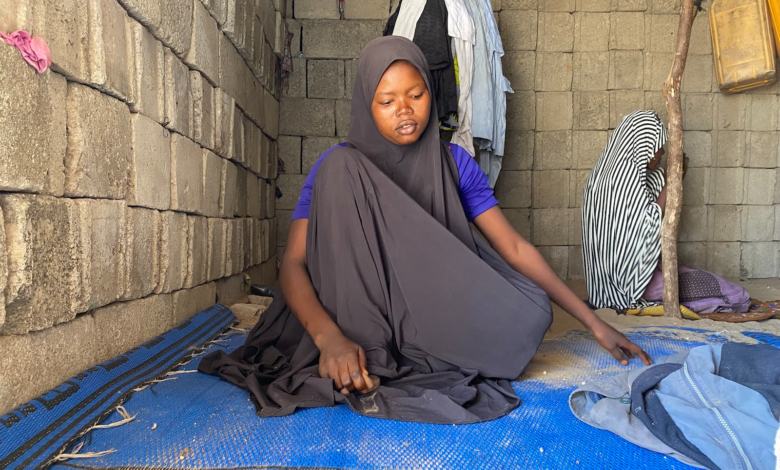 Seven years ago, young Kaltume Modu made a huge decision that has hung over her life ever since.
Aged only 12, she ran away from her parent's home, the only home she had ever known, into an uncertain future.
If she had stayed, she is certain her life would have been much worse.
At that time, Boko Haram controlled major parts of Gwoza local government area of Borno State, where her family lived.
In 2016, communities like Kaltume's village of Barawa, near the border with Cameroon, were constantly under attack.
Boko Haram raided her village frequently, taking anything they wanted. One of the things they regularly took was young girls.
Hide and seek
Everyone knew the girls were being made to become the terrorist's "wives". They were being forced into sex. Or they were being forced into becoming terrorists themselves, turned into human improvised explosive devices and sent into crowded areas.
It is likely many of these girls were killed in other ways too.
Kaltume Modu hid under her bed and behind kitchen doors whenever the alarm was raised about a raid. It became an unending game of hide and seek.
At 12 years old, Kaltume had already reached puberty, being a child would no longer save her from the terrorists' attentions, another reason she could be picked on if she was spotted.
News of her friends disappearing, or being seized in front of their families, continued to ignite more reasons to run away. She constantly felt she could be the next victim.
According to Kaltume, she shared the idea of leaving the village with her parents but they rejected it. They asked her; where would she go? After all, everywhere was occupied by Boko Haram.
"They will catch you along your way out and they could kill you," Kaltume says her father told her.
"My parents despised the idea, they said there is nowhere to escape and even if I succeeded, where can I go?"
But she had seen several girls being forcefully separated from their parents by the terrorists. She knew her own parents could not protect her. Leaving home was the best she could do to save her life, she decided, and her parents' refusal to accept the idea meant she would have to go without saying goodbye.
Night dash
Kaltume was not the only one in the village who thought escape was a better option. There were other young women who wanted to get out.
After furtively talking it over, one night they crept out of their homes, and dashed out of the village in the middle of the night, taking nothing with them.
"I eventually escaped the village together with some women at night without the consent of my parents, we trekked a long distance before we reached Pulka" Kaltume said.
Kaltume left without a word to her parents nor to any of her siblings.
"I did not tell them because they will never agree for me to leave," she added.
Capture
She and the other girls walked a day-and-a-half northwards, the Gwoza hills to the east, by now they were crawling with terrorists. To escape they would have to walk around them.
They reached Pulka, at a road junction about 21 kms away from her home.
When Kaltume got to Pulka, a community between Bama and Gwoza local government area, she met her uncle who had fled months ago as a result of terrorist attacks. Kaltume stayed with him.
A few months later, bad news reached Kaltume. Her village had been attacked and this time many people had been captured.
Her family had not escaped.
Kaltume said Boko Haram seized her parents, siblings, and any others who could not flee the village. They were rounded up and dragged into the bush.
Kaltume's eyes filled with tears at the thought of this. She said: "I haven't heard anything from them, I don't even know if they are alive or dead."
Fate
Since then she has not heard a clue about their whereabouts or what their situation is. Life is miserable without them, she misses them.
"I regret leaving them behind, but there was nothing I could do. Had I known they would be taken by Boko Haram I would have stayed with them, so that at least we will be together wherever fate took us," Kaltume said.
Kaltume prays everyday for her family to be released and found.
For now she tries to live as they would have wanted, without them. But her family's ambitions for her have been thwarted. She said: "My father's dream was to get money and enrol me in school but Boko Haram made this dream impossible for me to achieve."
Life was tough in Pulka. Hunger and lack of humanitarian assistance forced them to relocate to Gomari Kirikiri village near Bama.
But Boko Haram attacked Gomari Kirikiri and this led to the displacement of the people from the community, including Kaltume and her uncle's family.
"Boko Haram attacked Gomari and we ran into Bama town. Then a few months later we relocated to Maiduguri to settle in this building" Kaltume said, gesturing at the uncompleted building she calls home.
Kaltume and her uncle's family are one of 11 households coming from Barawa living in the uncompleted building, little more than a pile of blocks and a makeshift roof, on the outskirts of the Borno state capital.
A dangerous trap
Life is still hard for Kaltume. She recently turned 19 without her parents.
"My uncle is a poor man, several times he can't afford to get us what to eat and that is how we manage. I can't ask for more than what he provides to me even though I desperately need more," she said.
Like many displaced women, she embroiders caps to make a living, but she finds it hard to deliver them on time because she can't afford to buy the materials.
Life as a displaced woman is beset by pitfalls, Kaltume knows. She is aware that other women make ends meet by taking money from men.
Men with negative intentions are known to exploit vulnerable women like Kaltume in illicit affairs, taking advantage of their needs to indulge their own desires.
She told HumAngle just how vulnerable she is as a displaced woman. It's a dangerous trap to her.
Forced sex is, after all, one of the things that caused her to flee her parent's village.
A friend
But although life is hard, Kaltume is not facing these hardships alone.
In the same building lives Maryam Ali, who is also from Barawa. They were together at Gomari Kirikiri before it was attacked. She is Kaltume's friend and they mostly spend time together.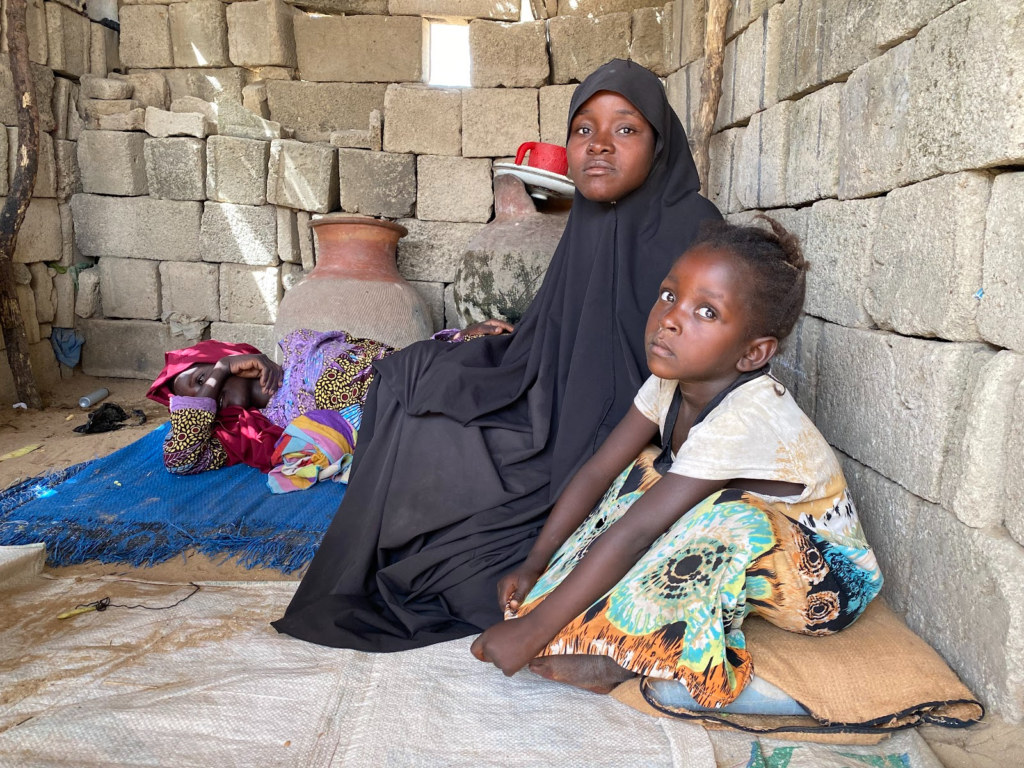 Maryam and her three children, Safiya, Modu Gana, and Suleiman, fled Barawa six years ago, a year after Kaltume left. Her journey to the uncompleted building they now squat in went through another hellish route. 
She and a number of other women were intercepted by the Nigerian military and accused of being the families and wives of Boko Haram.
She was detained together with her children for a year and half in Giwa Barracks in Maiduguri.
"We escaped and fled Barawa six years ago when the town was attacked severely. And we were intercepted by the Nigerian Army on our way to secured areas" Maryam said.
"They said we were wives of Boko Haram and they took us to prison in Giwa Barracks. I spent one year and about five months with my children as a prisoner wrongly accused," she said.
Three years after her release, Maryam depends on running errands, she goes to work on farmlands and gets paid by farmers. "We get the small they give us, like N200 and sometimes they give us some kilos of grains", she said.
Maryam and Kaltume are just two of the displaced victims of terrorist raids on towns in Gwoza, many of which are still deserted to this day. They now live in makeshift homes all over the North East, with little access to any help.
They have been in this situation for many years now. 
---
Support Our Journalism
There are millions of ordinary people affected by conflict in Africa whose stories are missing in the mainstream media. HumAngle is determined to tell those challenging and under-reported stories, hoping that the people impacted by these conflicts will find the safety and security they deserve.
To ensure that we continue to provide public service coverage, we have a small favour to ask you. We want you to be part of our journalistic endeavour by contributing a token to us.
Your donation will further promote a robust, free, and independent media.
Donate Here