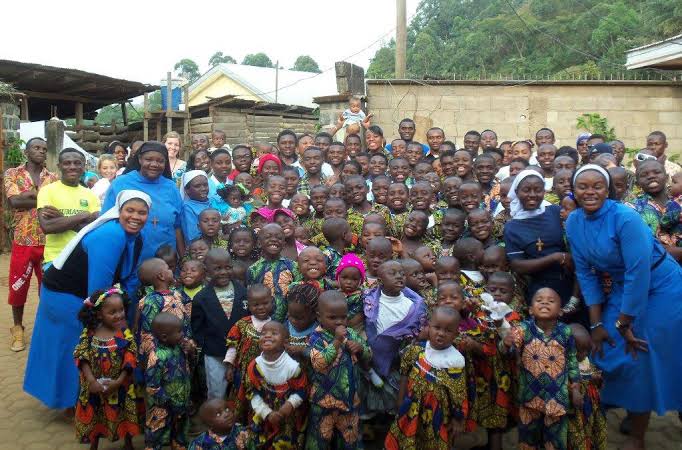 Some years back, a French national was murdered in broad daylight in Cameroon's economic capital of Douala.
Responsibility for the heinous crime was quickly placed on the thousands of "street children" that roam the streets of that commercial city and the media hurriedly went to town with accusations associating the children without any known residences with almost all the crimes in the city.
For the first time, these young Cameroonians, popularly known as "nang'eboko" (outdoor sleepers) came out strongly to protest against the injustice that has over the years been doing them as they are always "falsely accused" of all the evils that visit most cities and big towns in the country.
This bang has helped bring into focus, the travails of these other Cameroonians, who constitute an integral part of the national community and not a community apart.
One of the boys, who identified himself to HumAngle as Hervé Djoukeng and 'President' of one of the twenty-three sectors of the Douala metropolis into which the French Catholic charity "Chaîne des foyers Saint Nicodème" has divided the city for easy interaction with the "abandoned children" said he and his colleagues have had enough of the "false accusations and name-calling".
Accompanied by one of his friends, Ebene Boban Conrad Brice, the boys presented their national identity cards to show that they were legitimately part and parcel of the national community and as such had a right to be protected by the laws of the country.
"People fear us once we are identified as 'street children'. We are not responsible for all the crimes committed in this city, especially in Akwa which is reputed to be the most crime-prone quarters in the city. Whenever a serious crime is committed in the city, the police swoop on us even when nobody has accused any of us.
We are just easy targets for the police because we are seen as the most impoverished who can easily be tempted into committing crimes. I am not saying that some of our colleagues are not criminals. But so also do criminals abound within all strata of our society", Djoukeng declared angrily.
He revealed that some of his colleagues commit crimes because they are tempted and solicited by very responsible members of society. He revealed: "People come to us to render them all sorts of services. Some come to pay us to harm others.
Highly-placed women in society who are starved of sex come to us to satisfy their sexual desires. Even homosexuals come and pay us to sleep with them. The temptations are too much".
Ebene Boban Conrad Brice was furious that people only talk of the bad side of the "nang'eboko". He charged the police for being ungrateful to the boys.
"We have easily the best information networks in the cities as far as crime is concerned. And police exploit us and our networks in the various cities to track down criminals. They don't even pay us for the great services we render to them.
Most of the big crimes that have been solved in the big cities were solved thanks to our information networks and the assistance we give to the police. Unfortunately, however, nobody mentions these our positive contributions towards the reduction of crime within our society", Conrad Brice declared.
Rev. Sister Marie Roumy, the French lady who was at the head of Chaîne des foyers Saint Nicodème at the time and who was considered in Douala as an incarnation of Mother Theresa of Calcutta came out strongly to corroborate what Conrad Brice said.
She had copies of newspapers with stories indicating that most of the evidence police gathered in connection with the murder of the French national was given by "street children".
Reminded that she could not completely refute the fact that most "street children" are crime-prone, Rev. Sister Roumy insisted that these children would do better with assistance than with accusations.
She revealed: "When I started working with street children, I discovered that they are very well organised. They are organised in small groups which have their leaders. They struggle to survive because they have no employment. Some used to steal but they did not like stealing for the sake of it.
They are forced into stealing in order to survive. They were very eager to work with me. I told them to stop stealing and I got them involved in three very tempting projects and I was very surprised because none of them pick-pocketed, nor attacked anybody in the street during the exercise.
Shortly afterwards, there was the incidence of the February 2008 'hunger riots' with which they were not concerned. However, it was due to their assistance that the looting that accompanied the riots was stopped. After this, I wrote to the authorities pointing out the benefits to be reaped from assisting these children. Since then, the government has started thinking about them.
Many of these children are being assisted to come out of the woods and they are claiming their right places within the society. So, when the media accuses these children of being responsible for the murder of the French national, I am very angry because this is not true".
What drives these children into becoming "street children"? Hear Rev. Sister Roumy: "They are children who were abandoned by their families. Generally, their parents are divorced. One or both of the parents remarry and when the children go to their new homes, they are not wanted.
Nobody wants them, not even their parents and so their last resort is to the streets. Most times, they are subjected to violence wherever they go. When their fathers marry new wives, their step-mothers don't want to see them or treat them very badly. There are some cases where the children are subjected to witchcraft in cases where both parents are dead.
Thus the children have nowhere to turn to but the streets. Dislocated African families most times don't have a comfortable place for children of the first marriage. And in cases where some family members take in the children of their deceased brethren, it is to subject them to all sorts of domestic work and torture.
These children go to the streets not because they want it, but because they are not wanted in any homes. They must struggle in any way possible to survive. It should not be forgotten that all human beings have a right to a future and a place under the sun".
In Cameroon's largest and most populated metropolis of Douala alone, there are about 3,000 street children and the Ministry of Social Affairs puts the national figure at about 20,000.
If the re-insertion results of Chaîne des foyers Saint Nicodème are anything to go by, then the government could succeed to a larger extent in salvaging most of Cameroon's street children from the pangs of evil men and women who live in plush neighbourhoods.
"Chaîne des foyers Saint Nicodème" reveals that for a period of fifteen years they returned at least 5,000 to their original families. They trained between 500 and 600 in various trades and found accommodation for about 170 of them who eventually quit the streets.
"More than fifty others now sleep in hangars at their own expense and the little subventions we give them. Among those who have something to do, there are some who run cafeterias, some are night watchmen, and some are mobile hawkers.
We have been asking for assistance from the council areas where these children are found in order to help the children but to date, no council has responded positively to our demands.
After the murder of the French national for which the children were accused, they came together and were about to march to the Governor's Office but we stopped them. We told them violence does not pay and as usual, they obeyed".
The achievement figures enumerated by Chaîne des foyers Saint Nicodème are very impressive given the fact that the Catholic charity operates on an annual budget of less than twenty million (about US$40,000) compared with those registered by the Ministry of Social Affairs which has an annual budget of about nine billion FCFA (about US$18 million).
According to the Ministry of Social Affairs, its programme for the socio-professional integration of street children in the cities of Douala and Yaounde registered 435 street children, of which 119 were returned to their families and 62 reintegrated in school.
Despite the fact that the Ministry of Social Affairs does not concentrate its budget on street children alone, the annual budgetary appropriation for street children in that ministry, according to one of the ministry's senior officials who elected to remain anonymous, "is more than one hundred times that of the Douala Catholic charity Chaîne des foyers Saint Nicodème. Don't ask me where our ministry keeps all the budgetary allocations intended for the "street children".
---
Support Our Journalism
There are millions of ordinary people affected by conflict in Africa whose stories are missing in the mainstream media. HumAngle is determined to tell those challenging and under-reported stories, hoping that the people impacted by these conflicts will find the safety and security they deserve.
To ensure that we continue to provide public service coverage, we have a small favour to ask you. We want you to be part of our journalistic endeavour by contributing a token to us.
Your donation will further promote a robust, free, and independent media.
Donate Here