Featured
Features
News
Solutions & Development
The Divided City (3): In Kaduna's Kajuru, Christians Filled Ablution Jugs, Spread Prayer Mats
From 2017, violent ethno-religious conflict drove Muslims and Christians apart in Kasuwan Magani, a settlement in Kajuru, Northwest Nigeria. But this has changed for the better.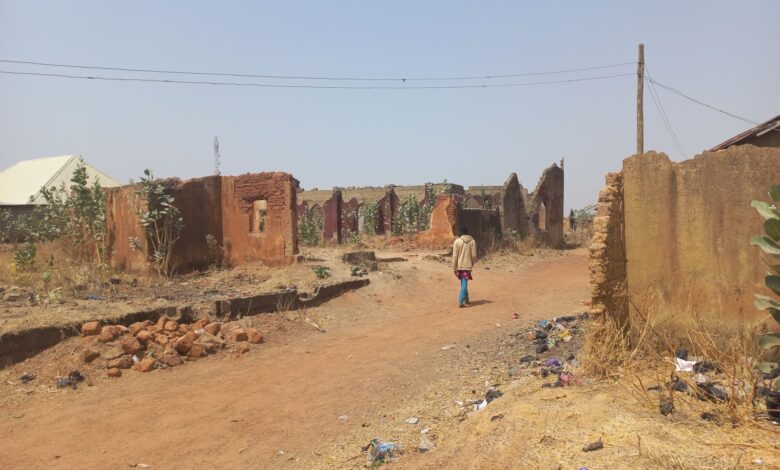 Solomon Magaji, 33, did something he had never imagined he would do in his lifetime – he filled water jugs at a mosque in Kasuwan Magani, Kajuru Local Government Area (LGA) of Kaduna State, Northwest Nigeria. Yet, he was not about to perform ablution like the Muslim faithful or drop to his knees in prayer.
In this same Kasuwan Magani, a popular trading settlement in Southern Kaduna, about 55km away from the capital city, Muslims mostly occupy lands close to the highway while the majority of Christians live in the interior. If a Christian ventures into town, where the community's bustling market is located, they are likely to return in a body bag or simply go missing. If a Muslim dares to go into the hinterland, most times to access their farmland, a similar tragedy may occur.
This was what life was like in Kasuwan Magani before the community embraced initiatives from organisations like Plan International, Interfaith Mediation Centre (IMC), and Mercy Corps, interventions that turned things around for the better. Its youths, such as Magaji, Aminu Aliyu, and several more alongside clerics and other local leaders, took steps that continue to bring adherents of the two faiths together.
Becoming enemies
In 2019, violent conflict engulfed Kajuru when "gunmen suspected to be Fulani herdsmen, invaded Unguwan Barde, mainly inhabited by the indigenous Adara ethnic nationality at around midnight, killing 11 people and setting houses ablaze.
"The incident was said to have led to reprisal attacks on Fulani settlements, resulting in more killings and destruction."
Governor Nasir El-Rufai put the number of Fulanis killed first at 66 and later at 130.
Long before then, in 2017 not less than 37 people were reportedly killed in Kajuru LGA. The conflict was said to have started when "some Fulani youths allegedly went to a village at Unguwan Uka to avenge the killing of their kinsman."
There were other incidents and the stage seemed set for continuous warfare. But it appeared fate had other plans.
Water from unusual guests
In 2018, Magaji was among those invited by Plan International to a primary school in Kasuwan Magani. Right there under a tree, youths gathered, eager to hear what the meeting was all about.
"They said they needed 20 youths – 10 Muslims, 10 Christians, and five males, five females. They gave us a form and we filled it in. Later on, we who scaled through got messages. We were invited for training in Kaduna," he narrates.
With the knowledge they got, Magaji and his team thought of how to resolve the disaffection amongst their people. So, they organised football competitions and peace rallies where they entered Muslim and Christian dominated areas and gave out flyers. It was a great start.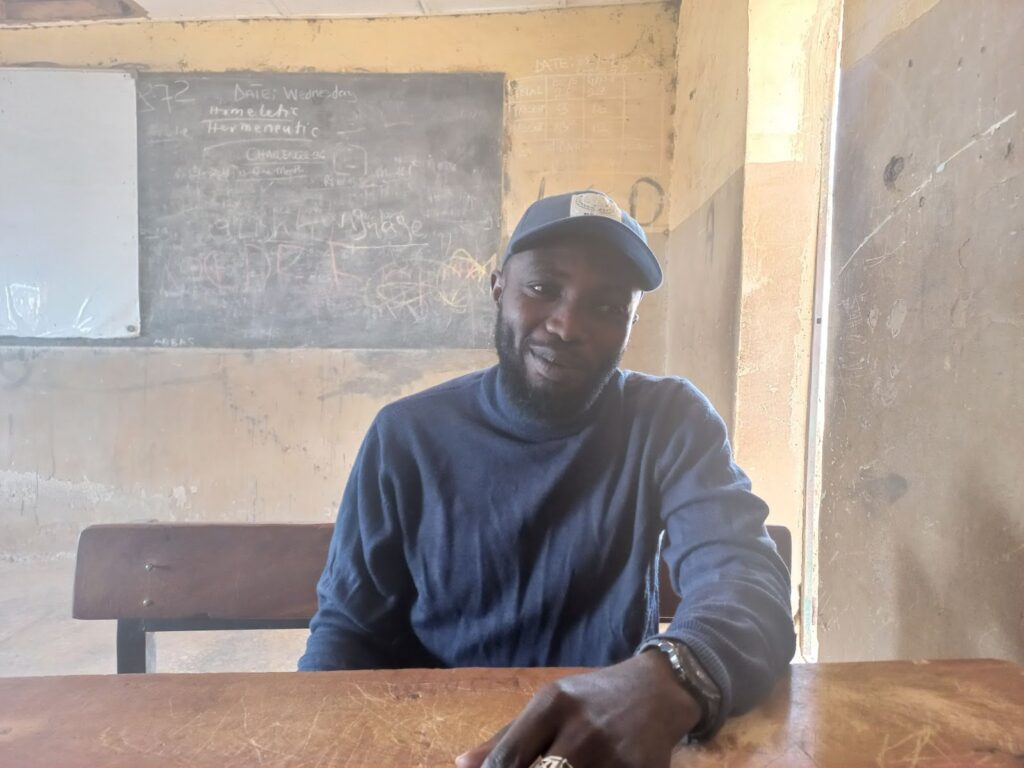 "We decided that we shouldn't allow anyone to use us because of selfish interest. Being part of any religion is a choice and humanity is the first thing we should prioritise." This was the message Magaji and his colleagues spread with gusto.
The team also created sporting activities where they set up six teams, each with 12 members evenly divided among Christians and Muslims, within Kasuwan Magani. There was also athletics, card games, and Ludo.
"Women competed in athletics with four per team, two Christian women and two Muslims. Also, four each for those who played Ludo," Magaji explains.
After the selection, the teams were brought together and given names like Kauna (love), Hakuri (patience), and Salama (peace). But the most remarkable experience for him was when they did what could be described as the unthinkable and served Muslims in the mosque.
"Muslims who came to pray and never thought they would see a Christian there saw us handing water to them," he says, his eyes lighting up. "After what we did there, we did not go back to our homes. We got multiple invitations to different households, visiting and eating. That's how, gradually, you see Muslims entering our neighbourhood and we too are doing the same."
Today, Magaji enthusiastically joins any meeting that advances peaceful co-existence in his town. "Even when I am not invited," he adds, "I'm a peace ambassador."
Early warning, early response
One of the meetings Magaji is usually part of are those organised by the Interfaith Media Centre. Although he is not officially one of their ambassadors, he joins hands with people like Aminu Aliyu, 27, who is a youth leader in Kasuwan Magani.
"When IMC came to Kasuwan Magani three years ago, they met us at the peak of crises. Then, Muslims couldn't enter Christian-dominated areas and likewise Christians couldn't pass through a predominantly Muslim area," Aliyu tells HumAngle.
The centre started by engaging with the traditional leaders. Before then, when these leaders came together to meet, they all went back and told members of their faith what transpired and even encouraged them not to agree, Aliyu says.
"But Imam Muhammad Nurayu Ashafa and Rev. James Movel Wuye explained to the traditional leaders the role they could play in quelling the conflict amongst their people." Ashafa and Wuye were once actively engaged in violent conflict before they joined forces and co-founded IMC.
The traditional leaders felt the effort should not stop there, but advised that religious leaders should also be brought in because their roles in churches, mosques, and Islamic schools would prove invaluable.
This was how clerics received training for two days and started work alongside traditional heads in earnest. They ensured youths were brought in because they agreed that if the young learned how to guard against conflict, it would make their work easier.
Now onboard, youths like Aliyu got into action. Trained as Community Peace Observers (CPOs), they were armed with a fresh approach to conflict which they once had no knowledge of.
"They trained us on early warning concerning anything that was happening in Kasuwan Magani," Aliyu says excitedly. "We sit down with traditional leaders and clerics. If we hear that something is happening and we can do something about it, we do so. If we can't, we let the clerics and traditional leaders know."
The role of Aliyu and his team could be likened to that of secret agents within Kasuwan Magani. Nothing seemed to pass their notice because they were in schools, worship centres, in the market, at the football viewing centres – they were everywhere.
With an air of importance, Aliyu elaborates: "For this reason, whatever happens in Kasuwan Magani, if it has anything to do with religion, I would be called. And this is despite my young age. And as God will have it, the youths of Kasuwan Magani listen to me a lot and believe that I would never deceive them. I do what I can because Kasuwan Magani is my town and I don't have any other community to call my own. I tell the youths this."
Muslims at an Easter rally
Aliyu has a knack for getting his team to accomplish feats. And what they achieved through the power of visitation and during the 2021 Easter rally stands out till this day in his community.
"Gradually we started visiting amongst ourselves. We meet, say like six or seven of us, and go to where Christians we work with reside," he recalls. "We eat with them and spend quality time, up to four hours, and even pray there in the neighbourhood."
While this was ongoing, Abdulfatah Abdulhameed, 31, another youth passionate about peace in the land formed a group they call Kasuwan Magani Peace Ambassadors.
A recipient of the Care Project championed by Plan International, Abdulhameed walked in Aliyu's footsteps.
"We started taking this initiative alone as a group and soon involved others. At this point some neighbourhoods were not willing to be part of it but we continued to create awareness," he says. "We began to talk to a group of 10 or 20 people that if we didn't work at peace together, no one would do it for us. We all grew up here."
Gradually they gained more acceptance and understanding among community members. They came together and made it a point to visit homes where an occasion was taking place, be it Muslim or Christian. The strategy was to lead by example.
This move by Abdulhameed and Aliyu's team seemed like a one-off shocker for Christian residents, but there was more to come. The following week, some Christians paid a return visit and this also surprised those in Aminu's neighbourhood. Still, this was just the beginning.
As Easter drew close, Aminu and his team got more ambitious. They asked their Christian counterparts to involve them in the customary rally.
"They [Christians] said they didn't think it was possible, that's why they never thought of it," Aliyu continues. "And this is because in the history of Kasuwan Magani, such had never happened, that a Muslim was part of the Easter rally."
That year, 70 Muslim youth backed the move and said they were ready. "The Christians said we should come out." And they did.
On that day, Aliyu and many other Muslims went round Kasuwan Magani during the festive season.
"There were Muslim youths who had said that they wouldn't ever partake in the rally, because they didn't view Christianity as a religion. But on that day, you wouldn't know who was a Muslim or a Christian amongst us," he recalls eagerly.
The excitement this development brought was so great that "if you come to Kasuwan Magani, you would wonder what festival was taking place. There has never been anything like it."
Muslims were even larger in number than Christians, Barnabas Aminu, a Christian, adds.
When the rally ended, they all went home, had their bath and gathered at a primary school. There, the celebration continued up till about 6 p.m. This was not the end of it.
Months later, Christmas day came and Aliyu and his team organised visitations to a point that some Christians complained when their homes were not included. "I would apologise and say I would come. For three days I didn't stay in my place of business because I was getting numerous invitations," Aliyu says.
Handling conflict triggers
Many Kasuwan Magani residents, like Barnabas Aminu, 39, who is Christian, were born and bred in the community. So, they remember the good years when members of different ethnicities, be they Hausa, Fulani or Adara, did business, went to farm and even school together.
"From 2017 to 2019, we had religious crises caused by intermarriages between Christians and Muslims," he recalls.
Once, the trigger was when a Muslim man was courting a Christian girl with the intention to marry her. Christians felt due process was not followed and yet the man took the girl away.
"Christians said they didn't agree. They were not against the marriage but required that the right steps should be taken. This led to crises where people were killed."
IMC had since devised an approach to checkmate conflict that stems from intermarriages and similar issues.
Ashafa remembers how a girl once converted to Islam and a Muslim kept her in his custody while her family searched for her.
"I facilitated the return of the daughter to her parents. The Christian family had come to complain that their daughter had been kidnapped," he narrates. "We called the girl and interviewed her and she said no, that she was convinced. But the girl was 16 years old. So, we insisted that she be returned because she needed to be 18."
Another instance was when a Muslim convert died. She had embraced Islam when she was alive and yet had a Christian background in Benue State. When she passed and the family came to take her corpse, the Muslims said the corpse was theirs.
"So, we had to intervene."
The IMC appointed Muslims who attended the burial in Benue. After all, what the family wanted was for their daughter to be buried in the village. In the end, the family got what they wanted and the Muslims performed the Islamic rituals at the deceased's burial.
"There are many other such instances where we helped in situations that would have escalated to bloodbath," Ashafa says.
Uniting
As distrust slipped away, residents of Kasuwan Magani began to respond to issues that affected their town as one people.
"Sometime in May or June 2021, kidnappers came in the day time to Unguwan Makurdi to rustle cows and kidnap people," Aminu tells HumAngle, "and both Christian and Muslim youths resisted them until the police arrived."
No one was abducted except for the cows stolen. "If that unity was not there, the Muslims could have allowed the incident to happen without interfering because it is a mainly Christian residential area."
Akilu Muhammad, a leader of Jama'atu Izalatil Bid'ah Wa Iqamatus Sunnah (JIBWIS) in Kajuru LGA, is an exemplary elder as regards visitation. He is also a strong advocate of early warning, early response in terms of conflict.
In Jan. 2021, people ran helter-skelter when some armed Fulani men stomped Kasuwan Magani. Along with several members of the settlement, Muhammad investigated and found out that they [Fulani] were not there to attack the people. Apparently, over 300 cows belonging to them had been rustled and they were on a mission to trace the bandits.
"So, we now spoke to our people and let them know there was no cause for alarm," he says, noting that the incident could have been enough to trigger a violent reaction in the past.
In 2020, the Adara people of Kajuru complained about incessant terror attacks that led to the killings, looting, and destruction of properties.
A recent HumAngle report shows that though there is relative peace between ethnicities in the area, increasing terror attacks in Kajuru is likely to cast a cloud of suspicion amongst its people.
Although the youths continue to play a vital role in sustaining peaceful co-existence, Muhammad says he has not left them alone. "We work day and night with youths like Aminu [Aliyu]," he adds and lists multiple foundations that have come to their aid.
"They [youths] needed to understand that our differences will remain, because we are of different faiths. That's what we need to understand and also respect. You have no right to talk down on another's belief."
Muhammad stressed that one of the major challenges they have had is controlling young persons who abuse drugs.
"Their activities lead to clashes," he says, and then in a tone that implies he was not giving up on them he adds, "We have met with them and they understand us."
Kajuru has come a long way
One of the key players in Kajuru's transition into a society trying to leave its gory past behind is Imam Nuhu Sha'aban. Eightyish, lean and yet forcefully vocal, the Muslim Affairs leader for Kajuru LGA recalls the tough and long journey to relative peace.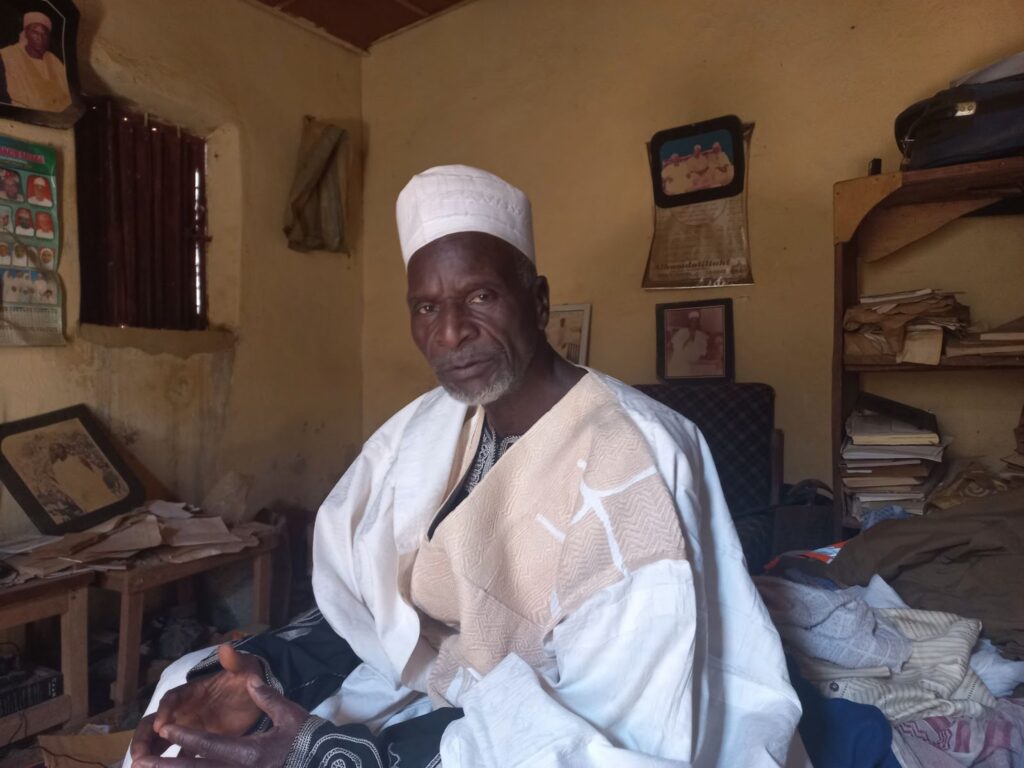 "We got victory over the religious crisis here, which has taken place for about three years," he says and goes further down memory lane – after Shehu Shagari (Oct. 1, 1979 – Dec. 31, 1983), Kasuwan Magani recorded the first crises 'in the country' in 1980. "Then there was peace for about 40 years."
A series of conflicts followed afterward. "I remember how we sat with the Emir of Zaria, Alhaji Shehu Idris, then with representatives from organisations in the United States. This was when crises brewed in Zangon Kataf and Kafanchan. We even got a certificate," he recalls proudly and shows off a now worn certificate given to him by IMC.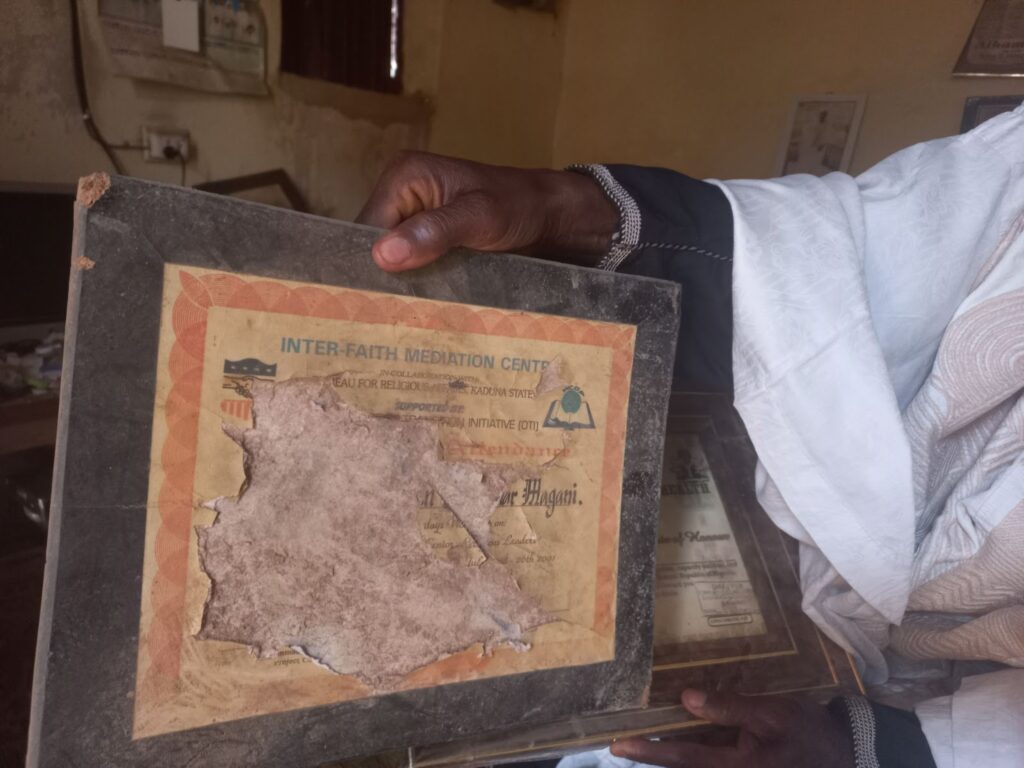 "After that, the leadership of CAN and Jama'atul Islam waded in. We had a conference where we sat with Bishop Matthew Kukah, Arch Bishop Jatau, and other Christian leaders. We sat for seven days."
Sha'aban talks about several committees set up by the local government under its former chairman, Cafra Caino, and the role played by Governor Nasir El-Rufai and Samuel Aruwan, the Commissioner for Internal Security and Homeland Affairs. There were also contributions from religious leaders and representatives of the Adara people.
After Sha'aban talked about how international organisations came to Kajuru, it seemed like the whole world worked at fixing the local government. But this could not have been possible without women like Farida Ibrahim, 26, a housewife-turned-peace ambassador. Also a recipient of IMC's workshops, she joined several other women under a forum called Advocacy Woman for Peace Building to reach out to children and drug addicts within their locality.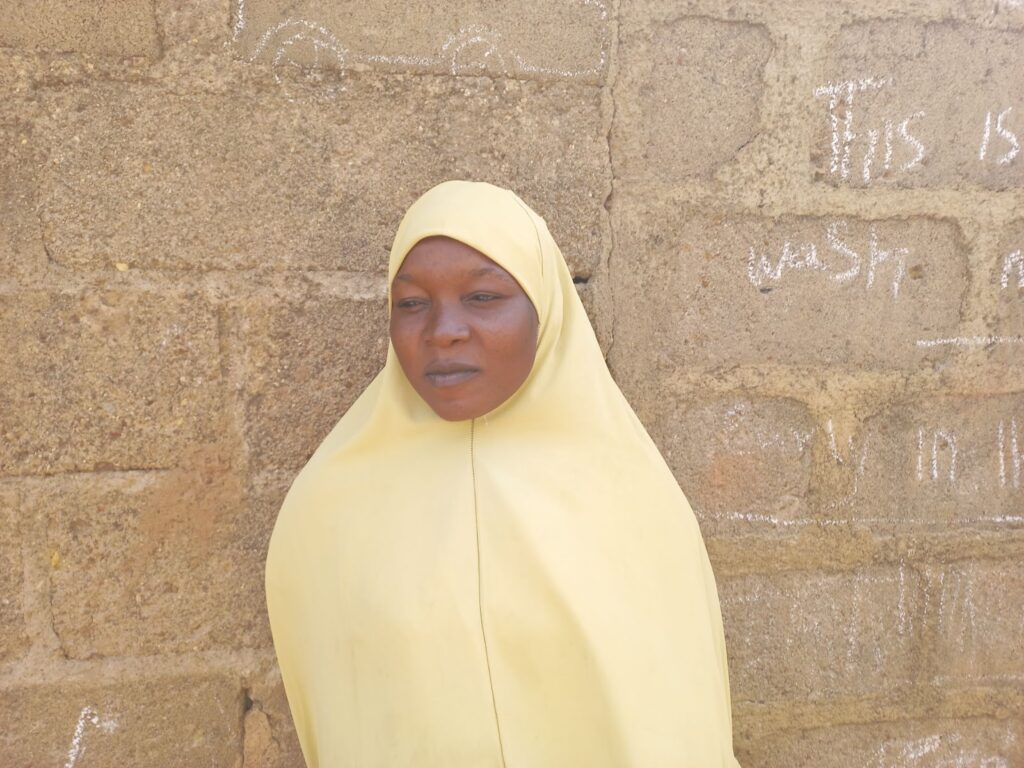 Kajuru is about 55km away from Kaduna, the state capital. So, to access parts of Southern Kaduna, many travellers must pass through Kasuwan Magani situated in an area where terrorists, locally called bandits, continue to kidnap and kill at will.      
Dantuma Makama, the immediate past CAN chairman of Kajuru LGA recently raised an alarm that although there is relative peace due to the activities of NGOs such as IMC, Mercy Corp and Global Foundation, terrorist attacks are already breeding distrust amongst the people.
While Makama called on the government and security agencies to tackle terrorism in the area, he also urged NGOs not to relax and to continue helping the communities stay at peace with one another. 
---
Support Our Journalism
There are millions of ordinary people affected by conflict in Africa whose stories are missing in the mainstream media. HumAngle is determined to tell those challenging and under-reported stories, hoping that the people impacted by these conflicts will find the safety and security they deserve.
To ensure that we continue to provide public service coverage, we have a small favour to ask you. We want you to be part of our journalistic endeavour by contributing a token to us.
Your donation will further promote a robust, free, and independent media.
Donate Here