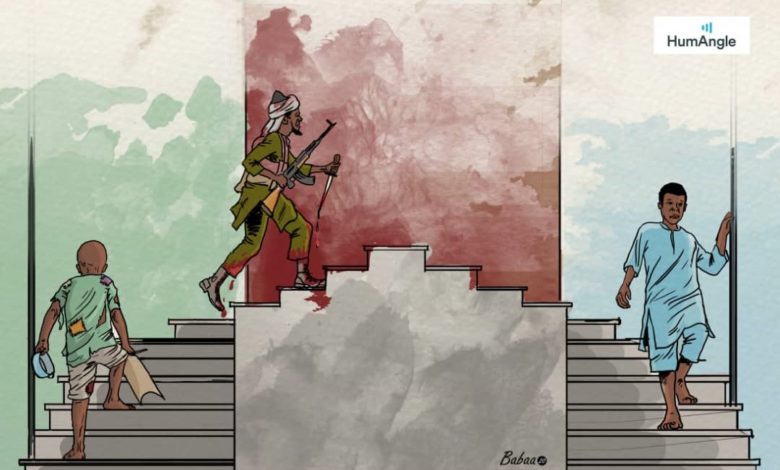 Nothing about Usman's* demeanour is menacing. The 25-year-old, thin as a rake, radiates good cheer wherever he goes. He is often in the company of others at one of Maiduguri's prominent displacement camps, where he lives with two of his wives. Whenever he grinsㅡand he does so generouslyㅡhis lips reveal an adorable set of buck teeth. Usman could not possibly kill a fly, one would think. But then, one would be terribly wrong.
As he settles on a brightly coloured floor mat, he leans forward, rests his left leg on the ground and keeps the other one erect to form a right-angled triangle. His sitting posture exposes hyperpigmentation in the ankle and side of his left foot, likely from frequent prayers. For the next two hours and 10 minutes, he tries to summarise the events of 13 years of his life.
Originally from Usumanari, a village in Banki District, Usman was taken to Maiduguri, Borno State capital, as an almajiri (migrant student) when he was still very young. He started attending the lectures of Mohammed Yusuf, founder of Boko Haram, in 2007 at the railway terminus. He was only 12 but he was not the only teenager enthralled by Yusuf's biting rhetoric against the larger society.
Maiduguri's railway district was the birthplace of Boko Haram, hosting the group's meeting point: the Ibn Taymiyyah mosque. Yusuf, who was originally from Girgir, a village in Yobe State, had started the sect in 2002. For many years, he preached radical Islam and denounced Western education because it was "mixed with issues that run contrary to our beliefs in Islam". A great orator, he succeeded in persuading thousands of young Muslims, including almajiris.
As he schooled, Usman also farmed in Chuku Ngudowa, a community in the Lake Chad region. After raising enough money, he ventured into the illegal importation of fuel through Gamboru, a market town in the Ngala Local Government Area, close to the Cameroon border. With his proceeds, he got married and soon started raising a child, and then another. Life was good.
But a crisis erupted in 2009.
There were clashes between Yusuf's followers and police officers over a new regulation mandating the use of helmets, leading to many deaths. Yusuf, in his widely circulated lectures, invited people to jihad (holy war) and encouraged them to learn shooting, arm themselves, and be ready to sacrifice their lives "to fight the infidels". The police doubled down, arrested even more members of the sect, and killed others. Then the insurgents themselves went on a killing rampage that did not spare even civilians.
Yusuf was eventually captured by the military and handed over to the police. Shortly afterwards, the police presented his corpse, punctured lavishly with bullets, to journalists and claimed he tried to escape. With the death of the founder, a new leader, Abubakar Shekau, emerged.
At this time, Usman was at Gamboru. Some members of Boko Haram had travelled to Maiduguri to join in the fight but he had stayed back. The situation worsened and he eventually left for his village. After some time, the late founder's loyalists started gathering to meet and strategise. Then Shekau instructed all members to converge in Sambisa, a forest about 60 km southeast of Maiduguri that has since served as a crucial hideout for the group. Without a second thought, Usman made his way to the forest alongside his wife and children.
"We used to fight and return, fight and return," he says, adding that he was involved in the "conquest" of Bita, Gwoza, Michika, Mubi, and some other places.
After each attack, the insurgents would share the booties and the Boko Haram leadership would buy the seized goods from them. He feels the battles were a religious duty and says many of the jihadists even complained whenever they were excluded from fighting assignments.
In the middle of raids and gunfights with military operatives, he continued his business at the Cameroon border. He would buy a litre of petrol at N500 and resell to other insurgents at the rate of N1500. He got a lot of money from these trips, he admits. While in Sambisa, he married a second wife and then a third. Again, "Life was good."
Years into the insurgency, he relocated to Michika, a town in Adamawa State, after the Daulat (territory controlled by the jihadists) spread to the area. He spent five months there with his family before moving to other areas.
He says he got everything he wanted while in Sambisa and the only problem he experienced was military air raids, which killed and injured a lot of people, "especially women and children".
HumAngle had reported in April that information from Boko Haram defectors and former captives suggested that military strikes did not only "neutralise" insurgents and their families but also led to the loss of innocent lives. Leadership of the terrorist group itself claimed in a video released in 2016 that some of the schoolgirls abducted two years earlier in Chibok were killed by airstrikes.
Bye, Boko Haram
"We started hearing about the Safe Corridor programme over the radio and they also threw flyers in the bush, which contained messages about it in English, Kanuri, Arabic, and Hausa," narrates Usman.
Nigeria's Defence Headquarters had launched Operation Safe Corridor (OSC), a multisectoral programme, in 2015 and kickstarted it a year later. Its aim was to "rehabilitate repentant Boko Haram militants and reintegrate them back into their respective communities as productive law-abiding citizens". Despite widespread criticism from those who consider the programme premature or a misplacement of priorities, it has since gone on to graduate hundreds of former Boko Haram members.
Usman had started regretting leaving the city for Boko Haram's Daulat especially as his economic fortunes took a downturn. The routes outside the group's territory were not easily accessible and, in his words, "things by then were not moving well".
But it was not just the lack of money and space to move freely that bothered him. He also found the wanton carnage upsetting. "If they found you selling things, they would slaughter you. And when we went to war, we killed everybody except children. We began to tell ourselves that Allah would not forgive us if we ended up like this," he says.
At first, he left Sambisa for Minimawo, a community in Cameroon. Then he discussed his plan to desert with each of his three wives. Two were glad to escape with him. The third called him crazy and said she would rather go to Nigeria as a suicide bomber. Fearing she might snitch, he lied that he was only testing her faith. He later sneaked out with the other two wives and together they travelled to Bankiㅡsometime in 2018.
Hello, Safe Corridor
Usman had barely been in Banki for a week when an operative of the Civilian Joint Task Force (CJTF) accused him of being a member of Boko Haram and reported him to the military. When the soldiers questioned him, he replied that he surrendered voluntarily and claimed he was only a Qur'an school teacher to the women back in Sambisa.
"I told them I came out because I wanted to embrace peace after reading the messages on the flyers," he says.
He was not assaulted, he adds, except by one soldier at Bama. At Bama, he repeated his lie about working as a teacher. The military personnel then transferred him to Giwa Barracks, and then the Deradicalisation, Rehabilitation and Reintegration (DRR) camp in Mallam Sidi, Gombe State.
Usman did not reveal that he was among the jihadi fighters and knew how to operate automatic rifles till his admission into the Safe Corridor programme in Gombe. "I confessed because they told us everything we did was between us and Allah, that the government had forgiven us and nothing would happen to us again," he explains.
In total, 159 people were enrolled in the third batch of the programme, which he was part of.
The first dramatic event at the DRR camp: While the men were still in confinement, a soldier visited them and asked if there were any Christians in their midst. They replied no. He then asked if any of them were interested in becoming Christians. About 12 people raised their hands. But they later explained that they thought they would be released quickly if they converted. "How could we become Christians when we were ready to sacrifice our lives for Islam?" some of them asked sarcastically.
Vocational skills were taught at the facility including tailoring, cosmetology, welding, shoe-making, and carpentry, which Usman opted for. The ex-jihadists also attended classes on theology, civil education, and drug abuse.
One of Usman's ugliest memories from the camp was connected to the food, which he describes as somehow. "We were often served maize flour. Sometimes, it was enough while sometimes it was not enough," he says. "We complained to one General about the food when he came to us. He talked to them but there was no improvement."
He later fell sick, with swelling both in his tummy and limbs, and blamed it on malnourishment. He was taken to a hospital within the state and admitted for three weeks. Throughout the period, a soldier and intelligent officer were assigned to guard him. Though he survived the episode, by his count, seven others were not so lucky.
The deaths he described may, however, not have been connected to the food served. Another person from the same batch who spoke to HumAngle described the meals as "enough", though the latter was speaking in comparison to the notoriously cruel conditions at Giwa Barracks.
HumAngle could not reach the Defence Headquarters for comments. A call placed to a phone number associated with the agency did not scale through and an email sent to it has yet to be acknowledged.
Asked if the religious lectures had any impact on him, Usman dismissively claims they were not different from the ones he received in Sambisa, except that "boko is haram [western education is forbidden] there". One thing he learnt from the classes though was how to interact with regular people.
Back with civilians
The former insurgents started to get uneasy after a couple of failed promises about their release. Having spent 10 months under the programme, which had far exceeded the original schedule, they opted for a protest. After some months, a graduation ceremony was held and classes stopped being held. Three weeks later, they resumed some of the lectures to revise what they had learnt.
"They told us people in Borno were not ready to receive us. We kept waiting and they kept telling us different stories," Usman recalls, adding that the participants remained adamant regardless.
One day, they decided to embark on a hunger strike, which lasted 48 hours.
"They asked what we wanted and we told them we wanted to be released. They kept appealing to us but we insisted we wouldn't eat. We told them they were infidels and this was their habit. Then they locked us up thinking we wanted to escape. We said we just wanted to be released and if we wanted to escape, we would have done so."
That night, additional troops were invited and stationed at the camp. Two days later, the participants were assembled and they maintained their position. The next three or so days, the authorities asked them to have their bath in preparation for release. They also handed them N20,000 each.
But they were not introduced back into society right away. First, the military transferred them to the Umaru Shehu Rehabilitation Centre in Maiduguri, where they spent months learning different skills. Again, the military was reluctant to release them after they had spent the agreed time.
"We protested. After three months, we told them we have spent the money we were given in Gombe, so they should release us. We are tired of staying here. Some of us started to abuse the IOM (International Organization for Migration) officials," he narrates.
The authorities informed a commissioner from the Borno State government about the development. They were released the next day. Some of them got materials from the IOM to enable them to start businesses; others did not.
Back with family
After his arrival at an IDP camp in the state capital, Usman was eager to reunite with his wives, whom he had not seen in over a year. He learnt that one of them was in Miniwawu, a town in Cameroon, while the second was in Banki with his two childrenㅡand a new husband. He was heartbroken.
The old Usman would have taken the law into his own handsㅡhe, in fact, swears that the man would not have lived to see the next day. But the new Usman had another idea. With the help of a patron popular among the IDPs, he filed a petition at a court in Bama and got his wife back.
He sent about N14,000 to his second wife in Cameroon for transportation expenses and, today, all three are together.
Life as an IDP
"It is very hard," he acknowledges. "Things have changed. But it is destiny."
For Usman, it feels like a reversal in fortunes. While in the bush, he was not only a powerful fighter who commanded respect and instilled fear, he was also a highly prosperous businessman. Even while he was an almajiri, he made more than enough money from trading and farming in the Lake Chad region. Now, he struggles to fulfil his obligations as a breadwinner.
The IOM gave him and another Safe Corridor alumnus a grinding machine about a week to his interview with HumAngle. But he had to borrow money to set it up and get fuel to run it. Though he has a food ticket that entitles him to a monthly allowance of N17,000, it is not enough to cater for his large family.
"There is also the problem of stigmatisation," he adds. "People talk about us … but not to our face."
From interacting with other displaced people, some of them have become aware of his infamous past. But he also heard stories that moved him, especially from former detainees at the Giwa Barracks. "Some were not even members of Boko Haram but they really suffered," he says. The "some" included three of his own brothers, who now also live in Maiduguri after they were released.
Usman is still in touch with many of his colleagues during the Safe Corridor programme. Discouraged by the lack of resources and the government's failed promises of supporting them to turn a new chapter, some now regret deserting and are giving a thought to returning to Sambisa. But not Usman.
After hearing the question, he chuckles sheepishly, stares at the floor, and distracts himself by fiddling with strands from the plastic floor mat. Though, while in Gombe, he had told the authorities there was no way he could rejoin Boko Haram as they could not possibly trust him enough, all roads to Sambisa are not shut to him yet. All he has to do, he says, is change his location and join a different cell of fighters.
"I know the routes, but I wouldn't go back because I have left this thing for good," he finally guarantees.
But does Usman want the decade-long insurgency to end? "Yes," he replies, "especially since we have now become part of the 'awaam [ordinary people]."
He then explains why he thinks only military force can end the wave of violence for good: "Back in the bush, there were small boys that were coming up and have been indoctrinated. They are the ones taking over. And they are even more zealous and brutal."
---
This is a multiple-part report; click here to read other 'The Deradicalised' stories.
---
Through this series, HumAngle with the support of the Africa Transitional Legacy Fund (ATJLF) examines the lives and pasts of alumni of the Federal Government's deradicalisation and rehabilitation programme, Operation Safe Corridor.
---
*A pseudonym has been used to protect his identity
---
Support Our Journalism
There are millions of ordinary people affected by conflict in Africa whose stories are missing in the mainstream media. HumAngle is determined to tell those challenging and under-reported stories, hoping that the people impacted by these conflicts will find the safety and security they deserve.
To ensure that we continue to provide public service coverage, we have a small favour to ask you. We want you to be part of our journalistic endeavour by contributing a token to us.
Your donation will further promote a robust, free, and independent media.
Donate Here