Analyses
Development
Environment
News
The Cost Of Lagos' Poor Air Quality On Lives And Properties
Air pollution in Nigeria's commercial capital, Lagos, is killing people. Despite warnings and steps from the World Bank, pollution has persisted. Recent GIS data extracted by HumAngle shows the areas most affected by the scourge.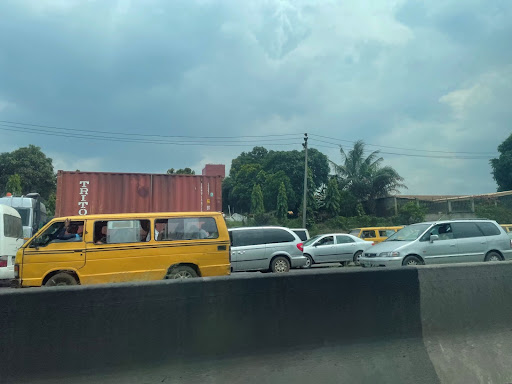 Recent GIS data has revealed that several areas in Lagos are at great risk of deaths and economic losses due to poor air quality. 
The GIS data reviewed by HumAngle shows that the places closest to the central part of Lagos have the poorest air quality due to the highest levels of Nitrogen Dioxide (NO2) in the air around these places.
Higher levels of NO2 are common in places like Ikeja, Mushin, Somolu, Surulere, Ikorodu, Yaba, Lagos Island, Lagos Mainland, Banana Island, Lekki Phase 1, Victoria Island, Maroko, Ibeshe, Ofin, Agege, Ojodu, Agbede, and Egbeda areas. 

On the other hand, the places from Alimosho, near the Ikotun area and extending far into the western part of Lagos state including Egbeda, Ojo, Badagry, Agbara, and Festac town have a lesser concern for the NO2 in the environment. At the other extreme, the western part of the state also has the same level of concern for the quality of air due to low concentration. This area covers places including the general part of the Lekki area, Orisha-Epe, Oko Orisa, Ebudu Leki, Ilagbo, Ise, and the Igbogun areas.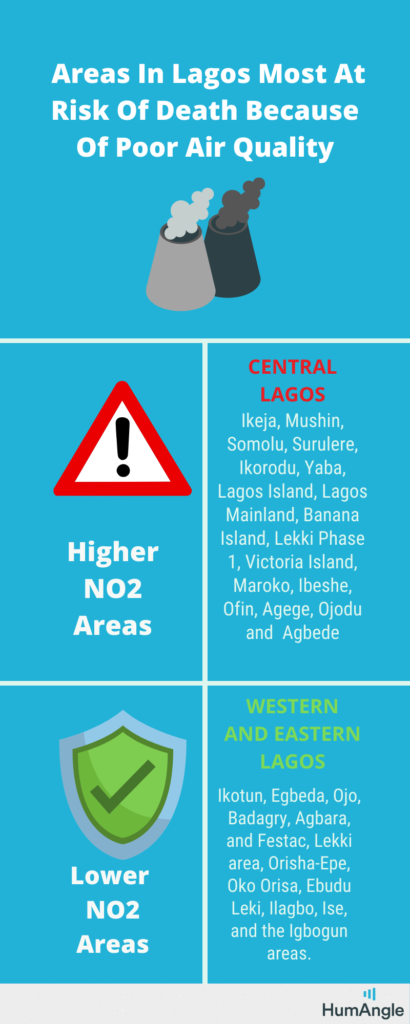 Generally, the safety limit of the NO2 gas is at less than 0.1 PPM. Parts Per Million (PPM) is the mass of a chemical or contaminate per unit volume of water. The gas becomes dangerous at various levels as it grows higher than this.  From an analysis of the GIS data, the average level of the gas is between 0.11 PPM and 0.5 PPM in 2021. This figure has risen by 0.22 PPM since 2020, just as it did at the same rate from 2019. This means that the progression is sufficient to be harmful around the city in a few years as the limits continue to saunter into critical levels.  
There are several things responsible for this.
In 2020, the World Bank published a study that revealed Lagos State lost $2.1 billion in 2018 due to air pollution. This pollution caused illnesses and up to 11,200 premature deaths that affected about 2.1 per cent of the Southwest Nigeria state's GDP. The report indicated that most of the victims were children under five, with adults facing heart diseases, lung cancer, and chronic obstructive pulmonary disease.
The World Bank report noted that "ambient air pollution is caused by pollutants such as nitrogen oxides, sulfur oxides, ozone, air toxics, and fine particulate matter with an aerodynamic diameter of fewer than 2.5 micrometres (PPM 2.5). These are dangerous because they can pass lung barriers and enter the bloodstream, contributing to mortality and morbidity. While the WHO guideline for the annual mean PPM 2.5 concentration level is 10 μg/m3, Lagos has recorded levels of 68 μg/m3, in the same range as other polluted megacities such as Beijing, Cairo, and Mumbai."
There are 20 Local Government Areas (LGAs) in Lagos state. Of the 20 LGAs, about seven places; Ikeja, Ikorodu, Ikoyi, Agege, Somolu, the Lagos Lagoon area, Lagos Mainland, and  Lagos Island have the poorest air quality due to the concentration of NO2 in the air. GIS analysis suggests that the level of traffic and the positioning of electricity-generating power stations near various neighbourhoods where Lagosians develop and live may be combining to create the level of harmful gas concentration in the air. 
What is responsible for the emission?
Lagos is the most populous city in Africa, with some estimating the population at 14.3 million, some at 14.8. When the metropolitan area is considered, Lagos is the most populous metropolitan city in Africa, with over 21 million residents. This population (almost 10 per cent of Nigeria's total population) is cramped into 358,862 hectares or 3,577 sq. km which is about 0.4 per cent of the total land area of Nigeria
The main ways in which NO2 gets in the air is from the burning of fuel from motor vehicles, power plants, generators, and off-road equipment.
As of 2019, Nigeria was estimated to have at least 23 million small gasoline generators that are eight times larger than the national power grid, according to the Access to Energy Institute (A2EI). The presence of these pollutants contributes massively to the death of air quality in Lagos.
Power plants contributing to NO2 emission
There are three main power plants located within Lagos's central areas. The University of Lagos power plant is situated towards Ojo, the Island Power Project is at Lekki Phase 1, and the Island Power Project is in Lagos Island.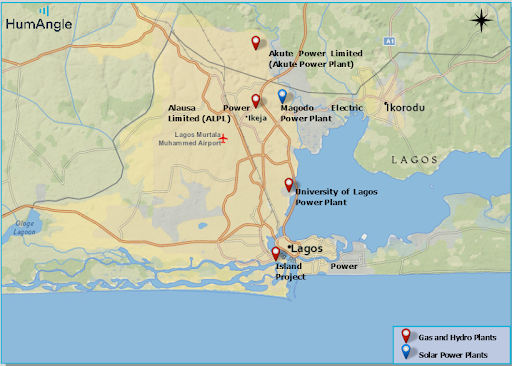 The arrangement of these gas power plants means that they contribute NO2 to the quality of air which is concentrated along the central Lagos area. Interestingly, none of these power plants is positioned in places the air quality data marked for their low concentration of the gas.
Steps towards saving Lagos and its inhabitants
The World Bank, in the 2020 report, while seeking a solution to Lagos's raging environmental situation, said it would "propose various options, keeping in mind that they can be effective only when implemented simultaneously. Low emission vehicles could reduce air pollution if they adopt cleaner fuels. Old generators could be decommissioned but alternative power sources must be put in place first."
It also mentioned that "Lagos is making some progress in initiating laws that still need to be implemented." 
Although Lagos passed the Lagos State Environmental Protection Agency Law to establish the Lagos State Environmental Protection Agency (LASEPA), LASEPA's functions, which include monitoring and controlling the disposal of waste in Lagos State and advising the State Government on all environmental management policies, has not effectively covered adequate grounds on air quality. Lagos State has also enacted the Environmental Pollution Control Law, to provide for the control of pollution and protection of the environment from abuse due to poor waste management. Yet, it is lacking in enforcement and control of pollution. 
The World Bank, in referencing the absence of cogent steps and its collaborative efforts, mentioned that "in the future, priorities could include long-term monitoring of air pollution, centralised health data by age and cause of mortality or morbidity, an inventory of polluters and better analysis of the impacts of indoor pollution on health."
"Investment shortfalls can be curtailed through innovative financing. That is why we are exploring with IFC, the issuance of a Breathe Better Bond (BBB). This innovative financing instrument will offer an opportunity to tackle air pollution and greenhouse gas emissions by investing in climate-friendly infrastructure projects while improving the quality of life."
While it is important to examine alternative means of energy sources in Lagos and to set up long term infrastructure to mitigate the impact of the pollution, Lagos may not escape constant pollution until it resolves its transportation crisis, its overpopulation, and poor quality of life due to absence of several amenities. 
***
All GIS data were sourced from the Lagos Air Quality Google Earth Engine Project and extracted by Mansir Muhammed and Kayode Adeniyi.
---
Support Our Journalism
There are millions of ordinary people affected by conflict in Africa whose stories are missing in the mainstream media. HumAngle is determined to tell those challenging and under-reported stories, hoping that the people impacted by these conflicts will find the safety and security they deserve.
To ensure that we continue to provide public service coverage, we have a small favour to ask you. We want you to be part of our journalistic endeavour by contributing a token to us.
Your donation will further promote a robust, free, and independent media.
Donate Here